He-Man and Skeletor fans are smiling like a Cheshire Cat with the news that Masters of the Universe is returning to the small screen. As revealed by film-maker Kevin Smith at Power-Con in Anaheim this past weekend, the popular animated series is continuing in the shape of an anime show titled Masters of the Universe: Revelation.
The war for Eternia begins again! Superstar director Kevin Smith continues the original series' story right where it left off in Masters of the Universe: Revelation, a new series telling the epic tale of what may be He-Man and Skeletor's final battle. pic.twitter.com/41rOXjZLtO

— NX (@NXOnNetflix) August 18, 2019
Smith will serve as a showrunner and executive producer of this series that's set to pick up where the classic '80s cartoon left off. If that isn't enough to whet your appetite, then the news that the animation will be handled by Powerhouse Animation, which has done a jaw-dropping job on Castlevania, should seal the deal.
Speaking about the show, Smith said, "I'm Eternia-ly grateful to Mattel TV and Netflix for entrusting me with not only the secrets of Grayskull, but also their entire Universe. In Revelation, we pick up right where the classic era left off to tell an epic tale of what may be the final battle between He-Man and Skeletor! This is the Masters of the Universe story you always wanted to see as a kid!"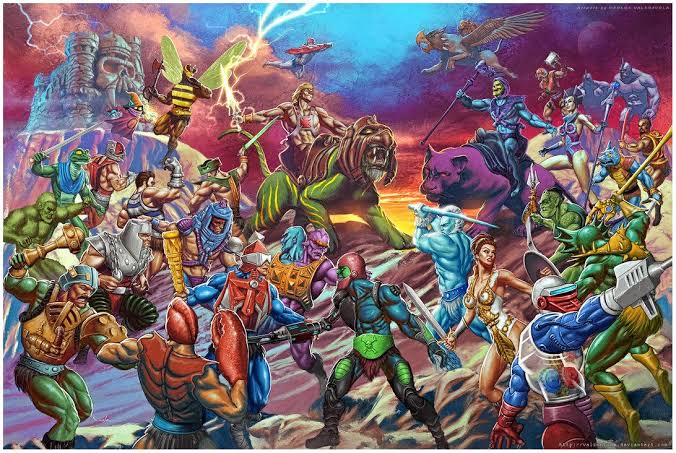 Unfortunately, there's still a vocal minority airing their distaste that Smith will be involved with the show. Even though he's achieved massive success in the independent film scene with movies such as Clerks and Dogma, his work continues to be divisive.
It's fair that his sense of humour and film-making style might not gel with everyone, but there's no doubting his nerd credentials. Smith is a fan, first and foremost, and understands these properties better than many others. He's a wealth of knowledge and that's important when handling an intertwined, elaborate franchise such as Masters of the Universe.
If you follow his Fatman Beyond podcast, you'll hear Smith and his co-host, Marc Bernardin (who's one of the writers on Revelation), discuss numerous pop-culture properties and often how they'd approach these franchises. Their honesty is refreshing as is their ability to spot gaps for their own improvement as storytellers and delivering something that fans would enjoy.
What should put the doubters even more at ease is the work he's done in the Arrowverse directing episodes of Supergirl and The Flash. None of these episodes screamed of any Smith-isms nor did they deviate from what fans expected. In fact, they were enjoyable and demonstrated that Smith is more than capable of managing complex properties.
With a live-action He-Man and the Masters of the Universe film coming, starring Noah Centineo as Prince Adam/He-Man, the world is about to get a little more power from a popular '80s franchise. Hopefully, Kevin Smith's Masters of the Universe: Revelation will prove to be a perfect companion to the film and fans of the old animated series and toyline.