From Dragon Ball Z to Naruto, we've compiled the ultimate list of the greatest legendary anime fights ever. Don't miss out on these epic battles!
RELATED: The Top 14 Best Superhero Anime Of All Time Ranked
Now, there are many different series in the world of anime where the action sequences are exceptionally well done. However, a select few series prove the anime medium is not nearly appreciated enough. For example, Jojo's Bizarre Adventure is a 2012 anime with some of the best animation and impressive fights throughout the series. Other classic series such as Yu Yu Hakusho, Cowboy Bebop, Naruto Shippuden, and Dragon Ball Z all have some of the best fights in anime history and deserve mention.
However, anime fight scenes have reached a whole new level in recent years, with standout battles that will have you on the edge of your seat. We all remember Goku's fight against Frieza, an intense battle responsible for many of us falling in love with anime. As a result, anime fans have received the opportunity to see some of the best battles from this exhaustive medium known to man. And now, we will rank fifteen of the best and most legendary fight scenes in anime history. In order to determine the best anime fights of all time, we have narrowed it down to include only two fights per anime to ensure particular action series does not take up all the spots on this list.
15. Seras Victoria vs Zorin Blitz – Hellsing Ultimate
To kick off this list, we are starting with one of the most badass fights in the entirety of the Hellsing Ultimate series. While yes, there are some better fights in the series where Alucard dominates, there is just something special about this sequence. Seras finally gives in and becomes a vampire, increasing her already powerful self to the point where she quickly has the upper hand against Zorin and her armed forces. In fact, Zorin's men were quite literally shaking in their boots at the sight of Seras all vamped out.
From here, we get a great, entirely one-sided fight, with Seras easily taking out all the troops with no problem. To make matters even worse, she takes Zorin by the head and wipes the floor with the vampire (and no, that is not a metaphor, as she actually drags the poor woman across the floor). Then, finally, in a two-minute sequence of absolute brutality, Seras finishes her off without holding back. This is an underrated fight that deserves its place on this list.
14. King Bradley vs Scar – Fullmetal Alchemist Brotherhood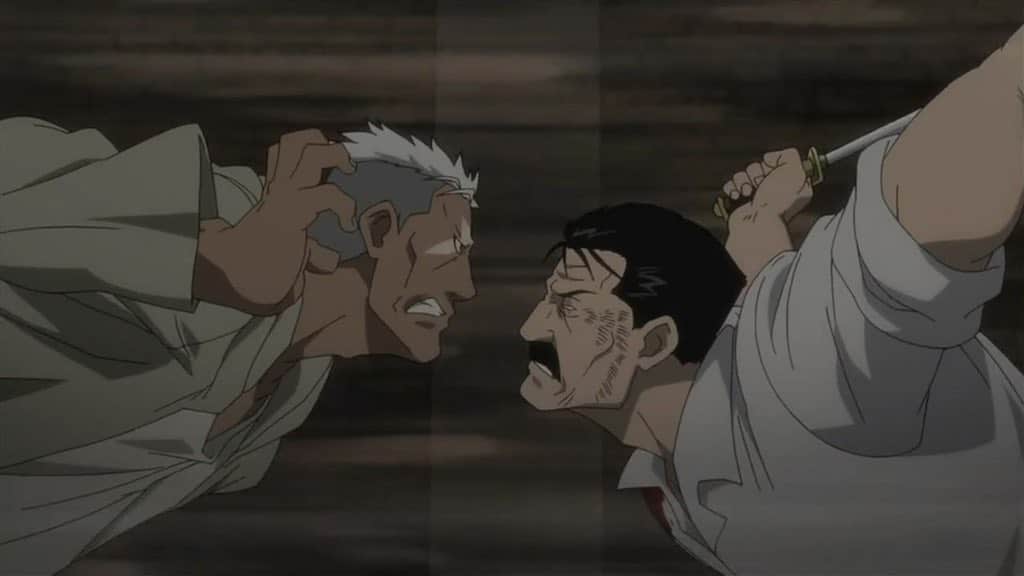 As the highest-rated series on MyAnimeList, it should come as no surprise that a fight from the anime would be included here. And with the emotion placed behind this fight and the fact that Scar is one of the most underrated characters in the series, it certainly counts as one of the best in a long time. While the animation may not be as great as some other fights on this list, Studio Bones still did a fantastic job.
The overall fight sequence was incredible, with two men wanting to survive going head-to-head. Neither held back, with Scar finally embracing alchemy despite promising himself that he would not. In addition, there was Bradley's entire speech regarding Scar's faith, and then the light hitting them as what many assume to be divine intervention. Finally, the battle came to a head when Scar sliced off Bradley's arms, and he did not even blink, catching the blade with his teeth and stabbing Scar in the shoulder. Ultimately, Bradley lost the fight, but it was still a great battle that deserves to be on the list of the most legendary anime fights.
13. Yuji Itadori & Aoi Todo vs Hamai – Jujutsu Kaisen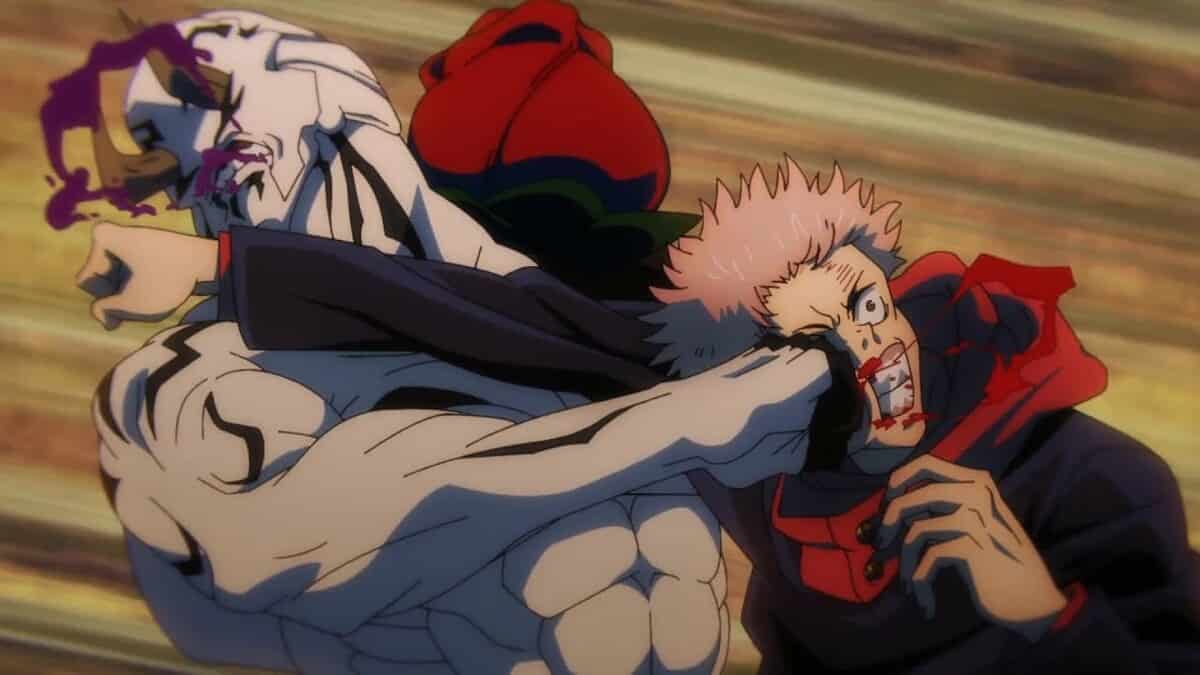 There are many epic fights throughout the series, even in the first season alone. For example, Yuta and Getso's final battle in Jujutsu Kaisen 0 (2021) is terrific. But the 'Besto Friendo' duo between people who have known each other for a few hours, but fight like old friends, is a prime example of a good fight. Despite Gojo ultimately taking Hanami out (or at least scaring him away) after everything was said and done, Itadori and Todo put up a great fight.
The most impressive aspect of this duo's fight was their exceptional coordination, despite barely having time to learn the other person's fighting style. The entire sequence where they run up the vines to attack Hanami is impressive, with MAPPA going all out. And this is outside of Itadori's newly acquired Black Flash move that was a turning point in their battle. As arguably one of the most memorable fights from the series, this made a 23-minute episode feel like it was over in five.
12. Goku vs Jiren – Dragon Ball Super
Of course, it makes no sense to hold back when you are fighting in a multiversal martial arts tournament to save your universe. And that is precisely what the members participating on Goku's team did; they fought with everything they had. However, Goku's fight against Jiren brought with it one of the most hype moments in the entire series, outside of being just an excellent fight. Regarding anime fighters, Goku will always be relatively high on the list, and this fight is a prime example of why that is the case.
Outside the superb animation that came with Dragon Ball Super, the hand-to-hand combat was very impressive despite the fight dragging out for almost four episodes. Jiren proved to be a powerful opponent, with the strongest fighters from Earth not even able to hurt him. As a last resort, Goku shocked everyone (audiences included) with his new technique, Ultra Instinct. To this day, the music is still being memed all over the internet. And the iconic silver-blue glow surrounding his silhouette will forever go down in history as a moment comparable to his first Super Saiyen transformation.
11. Shigeo Kageyama (Mob) vs Toichiro Suzuki – Mob Psycho 100
Season 2 of Mob Psycho 100 brought some of the best action sequences in the entire series. For example, we get the group of espers led by Mob's brother, Ritsu Kageyama, and his blonde friend, Teruki Hanazawa, against Ryo Shimizaki, which is a show of the animation studio's creativity. However, the best fight in the series must be Mob and Toichiro going head-to-head and nearly destroying Seasoning City. It is a pity that so many people avoid this series because of the animation style, as Studio Bones does not hold back when the action sequences kick-off.
As one of the best-rendered fight sequences, Mob and Toichiro's fight brings an immense sense of finality. We see Shigeo finally go full out and unleash all his rage and other pent-up emotions in this fight. If you have ever wanted to see people throwing buildings at one another, then the second season of Mob Psycho 100 is the place to be. The animation is beautiful, and the background design is haunting with the blood-red skies that make it seem as if the world is ending. This fight sequence will have your jaw hanging on the ground the first time you watch it.
10. Shinra Kusakabe vs Shō Kusakabe – Fire Force
There is no way to have a list of the most legendary anime fights without including this masterpiece of a sequence. Not only do we get some superb animation and a final battle to end all final battles, but the show also incorporates scientific theories surrounding time, heat, and the universe into the fight. Episode 21 brought with it memorable action that will forever go down in history as one of the most jaw-dropping fight scenes ever made. Kudos to David Production for their amazing work on this show; they certainly deserve the recognition.
With that said, Shinra wanted to be an excellent big brother and bring Shō home, and while we do get the emotional breakthrough later in the episode, the fight is an entirely different story. Not only does Shinra manage to reach new speeds, but he also transcends the barriers of space and time to get to his brother. The fight starts pretty one-sidedly, with Shō looking to have the upper hand, but Shinra exceeds everyone's expectations in classic Shōnen style. This fight between brothers is easily a top ten legendary anime fight that perfectly incorporates the right amount of hand-to-hand combat with its superpowered attacks.
9. Genryusai Shigekuni Yamamoto vs Yhwach – Bleach: Thousand-Year Blood War
As Captain of the 1st Division with the highest authority in the Gotei 13, Yamamoto is expected to be extremely powerful. In fact, it is a recurring trope in anime that at least one of the old men in the series will turn out to be ripped and incredibly strong. That is no different from what we see in the newly animated arc of Bleach. Despite seeing Yamamoto go up against opponents in the original series, it was difficult to gauge just how strong the old man truly was. However, Bleach: Thousand-Year Blood War gave us one of the best fight sequences ever.
Yes, we know Yhwach is strong and all that – blah, blah, blah – but it must have been a painful experience to be humbled by Yamamoto's unnecessarily OP Bankai transformation. No, really, the old man could make parts of buildings and the ground disappear with just the touch of his sword. And then, he began emitting so much heat the ground beneath his feet began melting away, making him untouchable. Throw in the unsettling sight of those blood skeletons, and you really cannot argue that this was what one could consider a 'peak' fight. Unfortunately, Yhwach does end up killing Yamamoto, but it is safe to say the old man did not go down without a fight, making it one of the most legendary anime fights.
8. All Might vs All for One – My Hero Academia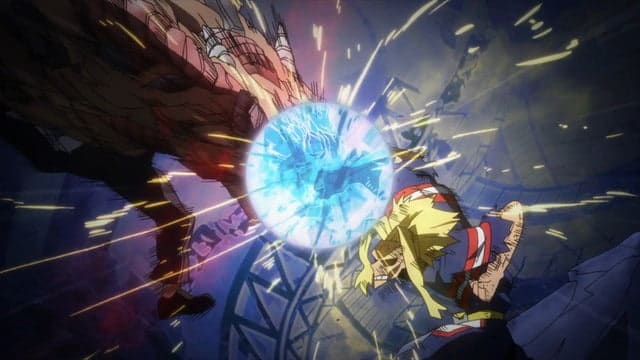 Admit it; you cried when you saw the last embers of All Might's One for All begin to dissipate after he beat All for One. On a serious note, My Hero Academia is one of those series where it is filled to the brim with longstanding rivalries and epic fights. For example, the show's most recent season saw an epic battle between the Pro Heroes, UA Students and the League of Villains. Aizawa cutting off his own leg without so much as blinking will forever be a genuinely badass moment from the series. However, as far as legendary fights go, All Might's last battle against the series' biggest villain is a highlight of the show.
Season 3 of MHA saw All Might go head-to-head with the series antagonist and his arch-nemesis to save his students and protect his successor. The fight was incredibly brutal, and heartbreaking for fans to see the Symbol of Peace's reign come to an end. And the fight was not epic just for the sake of emotional stakes but also because All Might may have struggled, but he gave us one of the best final fights for a hero in the series. In addition, his 'United States of Smash' move will always go down as one of his most iconic after he destroyed All for One with a single punch. For someone who had so much to say during the fight, nothing will change the humbling beat down One for All received on that fateful night.
7. Saitama vs Boros – One Punch Man
The entire premise of One Punch Man is to have a main character who is so strong that nobody can beat him. Despite the show using satire to comment on other series where the protagonist is OP, many fans actually became invested in Saitama's antics. While our bald-headed hero is still searching for a worthy opponent, the end of the show's first season brought us one of the most epic and beautifully animated fights in anime history. This came in the form of a cocky alien who was looking for the strongest opponent in the universe. Unfortunately, Boros tried to roll up on the wrong planet when he chose Earth.
The fight was extremely intense, with Boros proving much stronger than both Saitama and the audience initially thought. Not only do we get to see an explosion of colour and some fast-paced action, but we also see some fantastic hand-to-hand fighting. At some point, Saitama unleashes a bunch of 'Serious Punches', which has Boros literally explode into nothing more than blood and flesh before pulling himself back together and regenerating. If that is not enough to convince you, Saitama gets flung at the Moon and shoots himself back at Earth, where he ultimately defeats the rip-off Super Saiyen 3.
6. Eren Yeager vs War Hammer Titan – Attack on Titan
Yes, you absolutely knew this one was coming. While there are too many epic fights from Attack on Titan to include on this list, Eren facing off against the War Hammer had fans screaming at their screens in excitement. Not only was the fight highly anticipated, but it broke all the laws of anime in a single blow. Eren was relentless and made no joke of securing the War Hammer titan as quickly as possible. There is only one other fight that tops this one in the series. And what makes this even better is this fight was animated by MAPPA and not Wit Studio, but it still managed to make it into the top ten legendary anime fights of all time.
With that said, Eren did not give the War Hammer time to transform fully, attacking the poor Titan before the fight began. Of course, many people argue he could do this so easily because the holder of the War Hammer was not combat-ready. However, it does not change that this specific type of Titan was extremely powerful hence why he wanted to acquire it. Furthermore, Eren shocked all the other shifters present when he transformed into the Attack Titan three times, manifesting fully formed Titan bodies that he disregarded to win.
Then there was the soundtrack, the intensity and the absolute chaos ensuing around him while the fight occurred. Hajime Isayama really is a genius for the things he managed to come up with in the anime and manga series.
5. Isaac Netero vs Meruem – HunterxHunter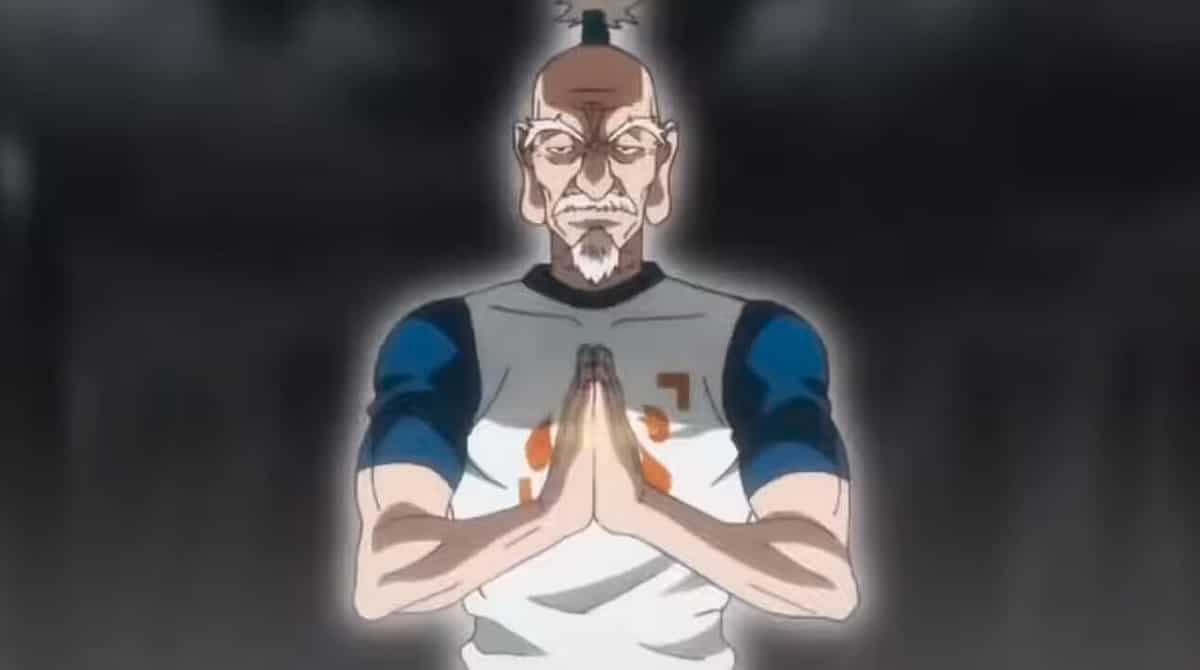 The Chimera Ant Arc brought with it some of the most horrifying sequences in the entirety of HunterxHunter. That said, it also paved the way for some of the most epic fights in anime history. And while Gon's fight with Neferpitou was insane, nothing quite compares to Netero and Meruem's final battle. What makes the showdown between these two powerhouses much more impressive is that audiences felt an emotional connection to both characters. Fans sympathised with Meruem because of his gentle treatment of Komugi, while Netero was a fan favourite that nobody wanted to see die.
Unfortunately, both end up dying, with Netero sacrificing himself in the process to achieve this. But it does not change that their fight is one that will stay ingrained in the brains of many fans. Even after Meruem removed some of the old man's limbs, Netero did not relent. Not to mention the incredibly terrifying imagery that came along with Netero's 100-Type Guanyin Bodhisattva technique. We saw two of the strongest characters in the series go head-to-head, even placing Killua and the Spider Troupe's fight on the back burner. It is a pity the series more or less ended after the Ant Arc, as fans everywhere would love to see more of their beloved characters.
4. Kyōjurō Rengoku vs Akaza – Demon Slayer: Kimetsu no Yaiba – The Movie: Mugen Train (2020)
Ufotable and Koyoharu Gotouge were so wrong for what they did to Demon Slayer fans everywhere with this movie. While we got to see one of the best fights of the century, they did us so dirty by killing off Rengoku's character so soon. This is understandable in terms of the plot as it is for the development of Tanjiro's character. However, it does not make this fight hurt any less. It also does not make this fight any less epic, but the emotional impact certainly adds to their battle's overall weight and significance. Not to mention, we get to see one of the Hashira cause a cocky Upper Three demon to quake in his boots and run away.
The entire sequence on the train leading up to Rengoku's face-off with Akaza was beautifully animated and so well executed. However, the actual fight between Rengoku and the demon had fans looking at the series in a new light. Ufotable went out of their way to give us one of the most visually stunning fight scenes ever, especially when Rengoku unleashes his Flame Breathing, Esoteric Art: Ninth Form technique. The final moments of the fight where Rengoku is holding onto Akaza so tightly the demon rips his own arms off to run away will forever remain a priceless moment in the Demon Slayer series.
At least the fire Hashira died knowing he nearly took out Akaza, which is another painful reminder that fans won't get to see how much stronger Rengoku could get in future. This is one of the most heartbreaking and legendary fights in an anime series of all time.
RELATED: 10 Notable Characters in Demon Slayer: Kimetsu no Yaiba
3. Katsuki Bakugo & Izuku Midoriya vs Nine – My Hero Academia: Heroes Rising (2019)
Luckily My Hero Academia: Heroes Rising (2019) is considered canon to the overall series, or one of the best fights in anime history may have been forgotten. Easily, this Bakugo and Deku team-up is one that fans have wanted to see since the start of the anime. And this film finally delivered, giving us one of the most intense battles in the whole show while blowing fans' minds with the fantastic animation. Plus, the battle had a huge emotional impact, with Deku giving up his dream of becoming the number one hero by passing on One for All to Bakugo so they could win. Midoriya saying: "This is my last…Detroit Smash!" will always tug on your heartstrings when you re-watch the scene.
As for Nine, that villain certainly had no idea what was coming when he faced off against two super-charged versions of Bakugo and Midoriya. The two were extremely coordinated, showing Nine no mercy as they relentlessly pursued him in the battle. At some point, he was tugging his own hair and trying to figure out why they were so powerful. Their final blow, mixed with the emotional soundtrack, made for one of the most beautiful shots in the entire series. Undoubtedly, this fight has earned its spot in the top three most legendary anime fights of all time.
2. Tengen Uzui & the Demon Slayers vs Gyotoru & Daki – Demon Slayer
The Entertainment District Arc was highly entertaining, and while fans were expecting animation on par with previous seasons, nobody thought Ufotable would try to break our brains. The second season of Demon Slayer ended with one of the highest quality animations seen in recent years, not disappointing at all with Tanjiro, Inosuke, Zenitsu, and Nezuko's fight against Daki. But then, they took it a step further with Gyotoru's appearance and fight against the Sound Hashira, Tengen. There was no part of the multi-episode fight that did not have fans on the edge of their seat in excitement.
​The coordination between Zenitsu and Inosuke to take down Daki was exhilarating, while Tanjiro and Tengen were trying to take out her older brother, Gyotoru. Despite losing an arm to do so, Tengen gave the Upper Six demon a beating he will never forget. And this is beside the full-on transformation we get from Nezuko, where she completely destroys Daki to protect her older brother. There is no amount of words to describe the epicness of this battle and how visually breathtaking it was to watch on both the big and small screens. Honestly, Ufotable is doing a fantastic job with the series, and fans everywhere really appreciate it.
1. Levi Ackerman vs Beast Titan (Zeke Yeager) – Attack on Titan
Let's just give the animators at Wit Studio a round of applause for the hard work animating this scene. A total of four months is how long it took for the studio to animate this scene. And while that may sound excessive, if you look at the fluidity, attention to detail, and vibrant colours, it makes four months seem too short to create such a masterpiece. However, Levi going up against the Beast Titan is undoubtedly the most legendary, God-tier fight in anime history. Well, 'fight' may be a strong word because, if we are being honest, Levi was just straight assaulting the man. In fact, as we see later in the series, he full-on traumatised Zeke and clearly was not done with him even after doing all that damage.
RELATED: These Are the Top 13 Best Anime Games of All Time
Our beloved Erwin Smith opened the gap so Levi could make his way through to grab Zeke from the Beast Titan. Despite having an entire wall of Titans ready to defend him, Zeke was not expecting the Scouts to send a single soldier to fight him. Instead, the one-man-army that is Levi Ackerman sliced down the wall of Titans, dropping them like dominoes before he attacked the Beast Titan. Everyone collectively gasped when he took Zeke down in a few fluid hacks and slashes and then brought the seemingly unbeatable down to his knees.
It was a satisfying moment ruined by Zeke's cowardice when he eventually fled the scene. Of course, Levi gave chase, with his menacing, bloodied, crazy-eyed silhouette standing atop the wall, becoming one of the most iconic moments in the series and definitely making it one of the most legendary anime fights of all time. If you haven't checked this series out yet, this is your sign to do so.
Which Anime fight do you think is the most legendary?