Like the movies before it, the Marvel's Guardians of the Galaxy game, which launches on 26th October, looks to blend high-octane action sequences with an epic '80s soundtrack. And the songlist includes Wham!, Blondie and Rick Astley!
In fact, the big-budget game (developed by Eidos Montreal) boasts a lot of cool favourites you can expect to hear through the game:
Blondie – Call Me
Blue Oyster Cult – Don't Fear The Reaper
Bobby McFerrin – Don't Worry Be Happy
Hot Chocolate – Every 1's A Winner
Wang Chung – Everybody Have Fun Tonight
Tears For Fears – Everybody Wants To Rule The World
EUROPE – The Final Countdown
New Kids on the Block – Hangin' Tough
Pat Benatar – Hit Me With Your Best Shot
Bonnie Tyler – Holding Out for a Hero
KISS – I Love It Loud
Flock of Seagulls – I Ran
Culture Club – I'll Tumble 4 Ya
Mötley Crüe – Kickstart My Heart
Simple Minds – Love Song
Rick Astley – Never Gonna Give You Up
Frankie Goes To Hollywood – Relax
Def Leppard – Rock Rock Till You Drop
Rainbow – Since You Been Gone
A-ha – Take On Me
Soft Cell – Tainted Love
Loverboy – Turn Me Loose
Autograph – Turn Up the Radio
Wham! – Wake Me Up Before You Go-Go
Scandal featuring Patty Smyth – The Warrior
Starship – We Built This City
Twisted Sister – We're Not Gonna Take It
Billy Idol – White Wedding
And that's not even the complete list.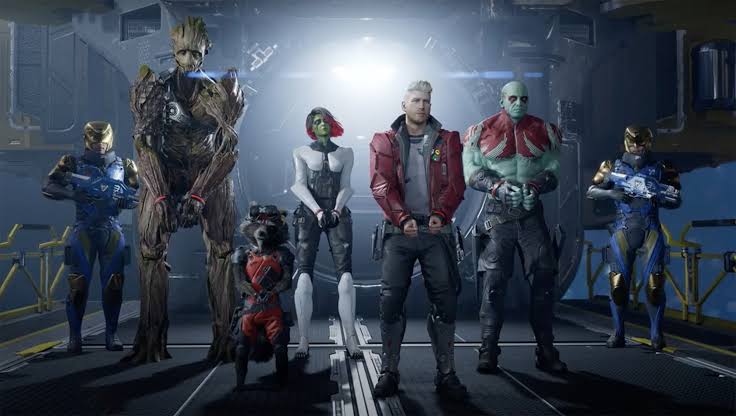 Today, a new TV spot for Marvel's Guardians of the Galaxy sets the stage for the release of the upcoming game. In the new cutscene, Star-Lord, Gamora, Drax, Rocket and Groot discuss strategy before defaulting to their Plan B: an assault co-ordinated to Mötley Crüe's "Kickstart My Heart."
It seems that this is actually a mechanic found in Marvel's Guardians of the Galaxy. Players will be able to call a Huddle during combat and choose which motivational words to offer the team. "If chosen correctly, all of the Guardians will receive a powerup, making it easier for them to bang enemy heads while listening to one of the game's 30 headbanging tracks," a press release states.
Marvel's Guardians of the Galaxy is a single-player action-adventure game featuring an all-new story. You play as Star-Lord, a former space pirate and resistance hero, now leader of the Guardians of the Galaxy. Time to show the universe what your band of legendary misfits is made of. You got this. Probably.
Will Square Enix redeem itself after 2020's Marvel's Avengers was met with harsh criticism? Well, they seem to be on the right track (excuse the pun). It could very well be a huge comeback for the publisher and a surprise hit for fans.
Marvel's Guardians of the Galaxy game is coming October 26, 2021 to PS4, PS5, Xbox One, Xbox Series X|S, and PC.