We've all noticed the similarities between Injustice's Lex Luthor and Bruce Willis. Should the Die Hard actor have played the role in a Injustice movie based on the character? We certainly think so.
In the world of DC comics, hardly any other timeline is as dark as the Injustice one. Based on the fighting video game developed by NetherRealm Studios (the ones responsible for the legendary Mortal Kombat series,) Injustice is set in an alternate reality where Superman has turned to the dark side.
The Injustice universe features some alternate versions of well-known characters, including some villains that might not be as villainous in their cruel homeworld. When the world's strongest hero becomes a villain, it stands to reason that his greatest foe would become one of the good guys. That's where Injustice's Lex Luthor comes into play.
After Superman kills the Joker, Batman, and some other heroes and villains, join forces to oppose the Kryptonian villain. One of the most valuable assets of Batman's new team is none other than Lex Luthor, who in this universe is Superman's closest friend. Such a layered character would need a great actor to portray him, preferably someone who already had a physical similarity with Lex Luthor – like Bruce Willis.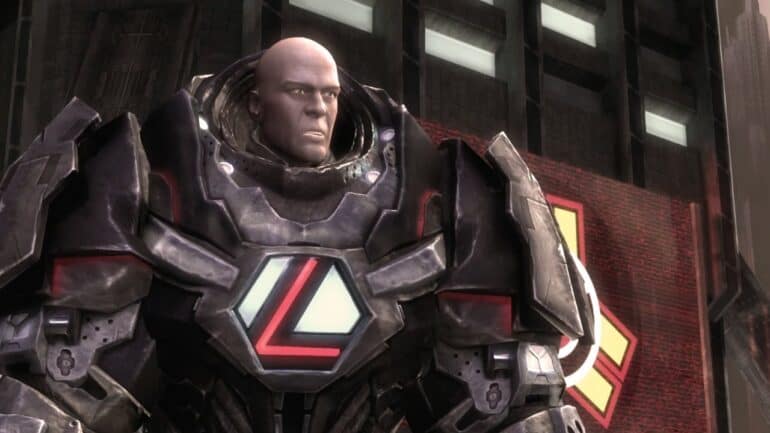 Tragic Hero
Over the years, Bruce Willis has proved to be a great actor when it comes to portraying somehow troubled characters, but badasses otherwise. For example, his role as David Dunn in the superhero thriller Unbreakable would be a great fit for someone like this version of Lex Luthor.
Even though Luthor might sound like one of the good guys in this universe, he still had a past as one of Metropolis' shadiest characters. This would mean that he'd be a pretty conflicted character as far as motivations go, it might even be the first time that Luthor's fear and hatred of Superman is entirely justified.
There's a certain nuance to a character like Lex Luthor – and not just the Injustice Luthor. This is a man who hates Superman so much that he won't care if he endangers Metropolis if that means saving the world – or taking it over.
Someone like Bruce Willis – who has played both dramatic characters and gung ho badasses – would give Lex Luthor the complexity he demands. Not to mention that Willis has perfected the art of the "cool guy brooding" for over six decades.
If Looks Could Kill
One of Lex Luthor's most prominent features – other than his genius-level intellect and his massive ego – is the fact that he's bald. Some comic versions of Luthor actually use his baldness as a justification for his vendetta against Superman. When it comes to bald actors, one name that immediately comes to mind is "Bruce Willis."
Male pattern baldness aside, if being bald was all it was needed for someone to play Injustice's Lex Luthor, we'd have Jason Alexander as our first choice. No, the guy who plays this version of Luthor would need to be someone who's middle-aged and jaded, someone who could look like they went to hell and back.
At 67-years-old, Bruce Willis continued to play the action hero. Until recenlty. Sadly, the family of Bruce Willis shared that the actor is retiring following a diagnosis of aphasia.
It would have been great to see him back in action in a more passive role, especially if that means having a live-action Injustice film.
Knowing DC and Warner Bros., and considering the positive fan response to the latest Mortal Kombat movie, we might be getting that Injustice film sooner than later. Let's just hope that we get someone at least half as good as Bruce Willis in the role.
What do you think? Would Bruce Willis have been a great Lex Luthor in an Injustice movie?