At a retail price of R39,999, the ASUS ROG Zephyrus G14 is a bit high on the pricing side. That said, there is a lot to love about this gaming laptop.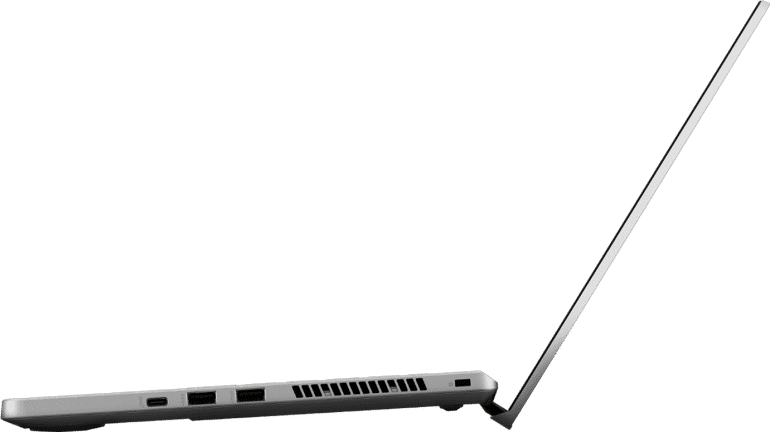 Gaming laptops are often heavy, clunky machines with washed down performances as a result of less powerful specifications due to battery life concerns, and the prices are just ridiculous. Thankfully, the industry has addressed many of these issues, while also offering various options for their ranges to fit your budget.
ASUS has been one of the brands to push its portable gaming range, offering one of the widest selections on the market today. In June, they announced the launch of five new laptops for the South African market, which included the ASUS ROG Zephyrus G14 – labelled as the world's smallest gaming laptop.
Small makes for great portability, but where the ASUS ROG Zephyrus G14 really shines is what's packed into such a minuscule frame, along with a few nifty features that make it stand out from the crowd.
We dive deeper.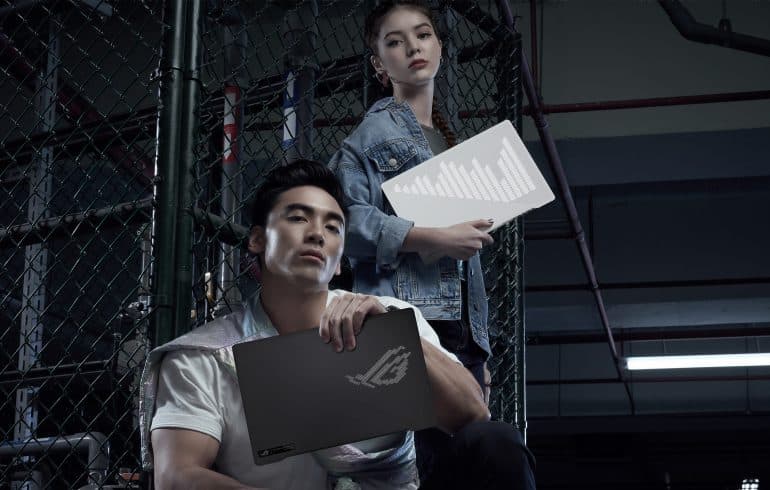 Build and Design
Earlier this year I reviewed the ASUS ROG Zephyrus G15 (2020), another Ryzen rig with a small form-factor to the ultimate in portable gaming. While that may have been impressive size-wise, it's got nothing on the much smaller, ASUS ROG Zephyrus G14.
The unit measures in at 324x222x19.9mm for the variant we received and there is an even thinner version of the ASUS ROG Zephyrus G14, which is 17.9mm thick, but missing quite a unique feature I'm sure many gamers would want – more on that in a minute.
Given its size, there's no doubt that it was also going to be on the lighter side. Weighing just 1.7KG, it's also the lightest gaming laptop we reviewed this year. In comparison to your average laptop, it's not that much heavier either, anywhere in the region of 20-40g. Although, if you really want featherweight designs, there are a few that feature around the 1KG mark – but none for a gaming unit.
The unique feature mentioned earlier is fitted on – perhaps into – the lid. ASUS has given buyers the option of its AniMe Matrix design, which provides an LED lighting display on the lid. As the name suggests, the LED config is animated, and, even more impressive, customisable. Here you can add text, graphics and a set of pre-configured animations.
As I'm sure with many others, the first text I tested was my name, scrolling across the one half of the AniMe Matrix design. Even more interesting is that the brand has split the matrix into two sections, allowing you to feature animated graphics on the one half of the ASUS ROG Zephyrus G14, and a more conventional text-based approach on the second. If you want to go for the extreme, you're not limited to simple text, but animated explosions and the likes, which can be used on either section.

As mentioned previously, the AniME Matrix edition adds on an extra 2mm in thickness and roughly 10g in weight as well. A small price to pay for such an excellent feature.
The rest of the build for the ASUS ROG Zephyrus G14 is very minimalistic in comparison. There are no awkward cut-outs and over the top grilles. The unit features a very tidy rectangular design, with rounded edges to bring some softness to the aesthetic. While the grilles for the vents aren't over the top by any means, it's still has a small semblance of flair to it, split on either side of the Zephyrus logo.
In terms of the port configuration, there is plenty to offer as well. On the left-hand side, you have the power port, an HDMI output, as well as a USB Type-C port, which doubles as a charger for the device. There's also a DisplayPort for an additional monitor. On the right-hand side, there are two USB 3.0 ports and another Type-C port. There's also a Kensington lock for security.
When it comes to connectivity, the device offers a single audio jack, and in terms of wireless connectivity, offers Wi-Fi 6 and Bluetooth 5.0.
While ASUS does offer their fair share of stylised gaming laptops, some more outrageous than the next, I love the design ethos on the ASUS ROG Zephyrus G14. It's a simple approach overall, which owners can decide how much flair they wish to add themselves by means of the AniMe Matrix LED configuration on the lid. Brilliant.
Screen and Display
The ASUS ROG Zephyrus G14 features a 14" screen. It has a non-glare finish on its IPS panel, which has a 60Hz refresh rate. ASUS does offer a higher refresh rate variant at 120Hz, but it's limited to a 1080p resolution.
Speaking of resolution, the unit offers a WQHD display at 2560x1440px. One would have suspected that due to its size the ASUS ROG Zephyrus G14 would have featured a lower resolution option as standard, but the increased pixels make for some great gaming displays.
In addition to this, the unit also comes with the standard certification with 100% sRGB colour range, and is Pantone® Validated with adaptive sync. These make for some great visuals, whether you're gaming, watching a movie, looking at images or designing your next creation.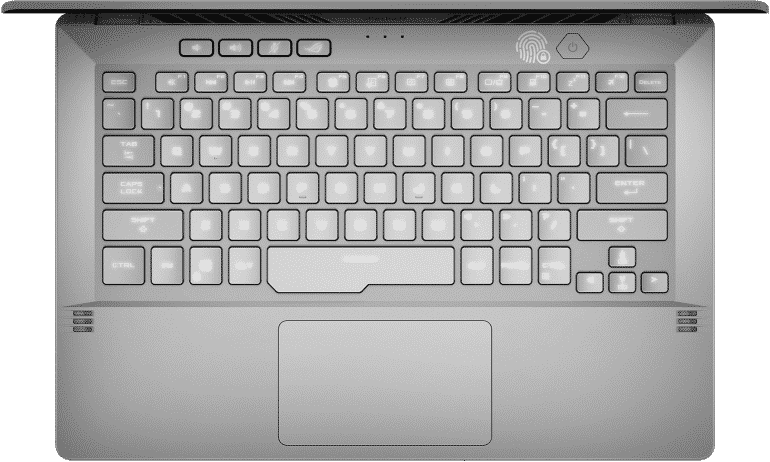 Performance and Battery
When it comes to hardware specifications, don't let the small size fool you. The ASUS ROG Zephyrus G14 throws punches well beyond its bantamweight class. A full rundown of the specs include an AMD Ryzen 9 4900HS 3Ghz, Nvidia GeForce RTX 2060 with Max-Q and 16GB DDR4 3200MHz RAM. In terms of storage, the unit we received for review sported a 1TB Intel SSD 660p Series (M.2 80mm PCIe). All of this runs on a 64-bit version of Windows 10 Home.
ASUS does offer a more cost-effective option for potential buyers, which includes a 512GB option and an NVIDIA® GeForce® GTX 1660 Ti option.
The unit has a similar setup to that of the G15, with an upgrade on the CPU front. With its higher resolution screen, the native 1440p resolution gaming has slightly lower frame rates, but that's to be expected. When decreases the resolution to 1080p, the performances are better when compared again to the G15, however, the difference here is that the laptop's screen upscales the visuals to 1440p, which will look a tad better, but not as good as native 1440p.
With the setup, I was even able to increase the resolution to 4K gaming, which is then downscaled to the 1440p, but still looks better overall, albeit with slightly lower frames rates then. The RTX 2060 is more than capable of handling itself when it comes to 2K and 4K gaming.
Handling gaming with ease translates into day-to-day usage as well. The ASUS ROG Zephyrus G14 breezes through the standard tests, from multiple browser tabs, WiFi downloads and video playback all concurrently, without batting an eyelid (metaphorically, that is). It just does what you ask of it and doesn't complain at any point.
In terms of the battery life, for the above-mentioned daily driver testing, the unit easily managed to surpass the 11-hour mark on several occasions. For more conventional usage, it can easily go beyond the 12-hour mark. This means you can easily be away from the office, or any power outlet, and easily still make it through a conventional workday. That's very impressive for any laptop, and even more so on the world's smallest gaming laptop.
If you wish to eke out just that little bit more of power, you can turn off the LED lighting, which can give you up to 30 minutes, which also means it doesn't consume all that much battery life to begin with, which is great.
Another huge plus-point of the ASUS ROG Zephyrus G14 is that the heat dispersion is also carried out without fuss. While there is some noticeable heat under heavy load, it's not more than any other laptop and doesn't get nearly as hot as many other gaming units I've reviewed this year alone.
I keep saying it, but it's true, this is impressive for the size, where everything on the inside will be fitted more closely together on the smaller form factor.
Conclusion
If you're a no-frills gamer looking for a solid gaming laptop in terms of performance, while looking aesthetically pleasing without too many over-the-top design elements, the ASUS ROG Zephyrus G14 is definitely your preferred bet. It's compact design and lightweight build make it extra portable, moving towards the Ultrabook specifications in this regard.
This is impressive considering it's still powerful enough to play 4K gaming on at the same time.
Had this been an option earlier in the year when I bought a variant of the G15, I would have definitely considered it, albeit the lower-powered GPU and SSD storage.
The ASUS ROG Zephyrus G14 is a very good gaming laptop.
The Review
ASUS ROG Zephyrus G14
If you're looking for an ultra-portable, sleek-looking, powerful and solid gaming laptop, the ASUS ROG Zephyrus G14 is a very good option. If you have the budget, there are very few competing laptops in this range.
PROS
Minimalist design
Extremely compact and lightweight for a gaming unit
AniMe Matrix LED lid
11-hour+ battery life
Great performance with AMD Ryzen 4900HS CPU
CONS
A little pricey for some budgets
Review Breakdown
Ease of Learning

0%

Ease of Use

0%

Design

0%

Performance

0%

Enjoyment

0%

Value for Money

0%