Anime hair is something that can't exactly be defined logically. We've seen a ton of anime characters get a total hair re-do thanks to a power-up or something crazy along those lines. With primary colours though, there are some traits that we can find a consistent level of similarities between the characters that possess them. We've already discussed anime characters with blonde hair. Today, we'll highlight anime characters with red hair and discuss what makes them so fun to have in our favourite shows.
Before that, we need to establish some regular characteristics of red hair anime characters. Primarily, they are usually hot-headed, aggressive and super passionate. They also tend to be strong, even beyond the plot armour levels that are expected of members of the main cast. These are some of the best types of guys and girls to have on the side of a protagonist for sure.
Here is our list of coolest characters with red hair
Sora – No Game No Life
Older brother to Shiro and another half of one of anime's most dynamic duos, Sora is the perfect example of an anime character with red hair. A confident and sometimes cocky main character, he's the type of person to protect his sister with everything he's got. As a good brother to Shiro, his determination to raise her properly is one of the best parts of his abilities. He's a fast thinker, even in high-pressure situations. He also has a twisted sense of logic that has been helpful for him throughout the anime series.
At a young age, Sora always believed that humans were weak and stupid. However, after meeting Shiro, he regained his faith in humanity. His only problem is that whenever he gets separated from his sister, he loses his self-confidence. He's a truly loyal character and one that's always ready to help out with all he can do.
Shanks – One Piece
"Red-Haired" Shanks is one of the most impressive characters in the One Piece universe. With a deep track record of notorious piracy, he's gained the respect of marines and pirates alike. He's one of the Four Emperors of the sea, a title given to the four most notorious pirates in the New World. Shanks might have a crazy reputation, but in actuality, he's a pretty lax guy.
When visiting East Blue years before Luffy's piracy, he met a young Luffy and was a major reason why our cherished main character is where he is in the story.
Shanks has shown himself to be selfless and compassionate like in Marineford where his intervention prevented the loss of more lives for both sides.
Sasori – Naruto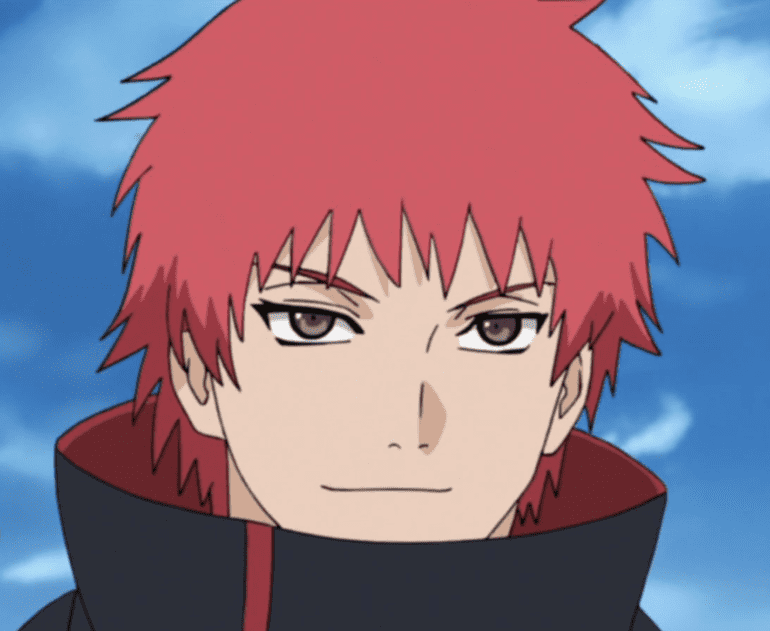 Originally leaving his village twenty years before the events of Naruto Shippuden, Sasori is a member of the Akatsuki group of rogue shinobi. With notorious ties to some of the Naruto universe's strongest characters, Sasori definitely had the strength to back up his presence in the Akatsuki.
He's a user of the puppetry ninjutsu technique that allows him to control puppets at a level of mastery that was unrivalled by his grandmother Chiyo and Kankuro. In fact, he was also the creator of Kankuro's puppets which bare Sasori's mark of a red scorpion.
As a red haired character, he definitely exhibited that unnatural strength commonly associated with redheads in anime.
Eijiro Kirishima – My Hero Academia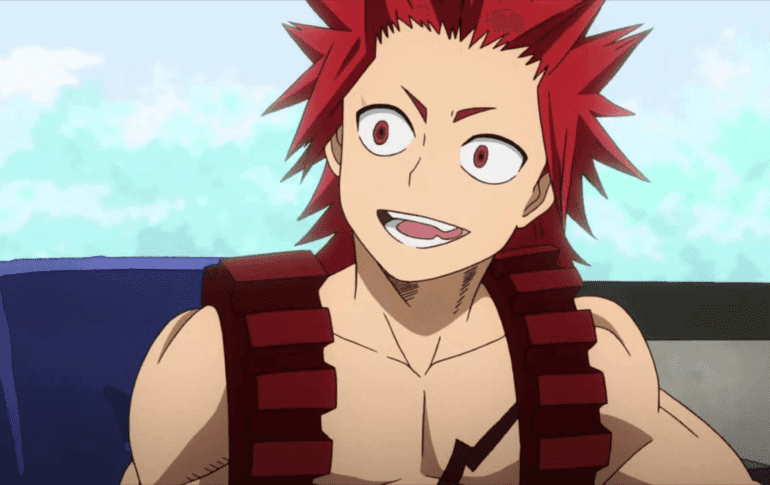 As a student in Class 1A, Kirishima is commonly present in the arcs and storylines in the series. With his presence consistently felt, he's been shown to be supportive of his classmates. He uses a hardening quirk that is able to help him hold his own against most opponents he encounters.
Later on in the show, he gained the ability to strengthen the extent of his hardening quirk. This form gave Kirishima a more monstrous look with a nearly indestructible capability for his ability. Shown to have a higher potential for improvement, it seems like there's more to see with where he goes from here.
As a red-haired character, Kirishima does justice to their common traits of being a loud and noisy guy. His passion is truly respectable in the face of both strong allies and menacing opponents.
Renji Abarai – Bleach
Friend to Rukia and one of the most popular characters in the Bleach universe, Renji is a redhead to the core. He's a bit of an arrogant character in a humorous way, constantly trading insults with Ichigo. When it's time for a serious fight though, Renji is one that should not be messed with. He's a quick and powerful character that is able to take on some of the most dangerous hollows around.
As a friend to Rukia, he's extremely protective and willing to go above and beyond to protect her. He's also a lieutenant with the Gotei 13's 6th division, making him one of the strongest on record.
Working towards his dream of surpassing Byakuya, captain of his division, Renji is a determined character that may one day become a captain himself.
Erza Scarlet – Fairy Tail
One of the most powerful characters within the Fairy Tail guild, Erza is one of the original red-haired anime characters that shone a spotlight on just how different and respectable these characters can be. In the anime, she's able to use a large range of magic armours to fight and use a near-endless variety of weapons.
Originally, she was a bit reserved and quiet within the guild, but with the help of Gray and her friendship with Natsu, Erza was able to develop a closer bond with her guild members, and grow stronger in order to protect her friends. She's one of the best red-haired characters due to her strength and status as arguably the strongest character within the Fairy Tail guild.
Gaara – Naruto
From the sand village, Gaara was originally a ruthless and psychotic killer when introduced in the first Naruto series. He was born as a "cursed" child with a similar backstory to Naruto. He had the one-tailed beast within him and this led many to believe that he was a demon beyond redemption. However, along with the development of the show, Gaara learned to be a better person to both his village and former rivals from Konoha.
Following the iconic trait of red-haired characters, Gaara's strength has been unquestionable right from the start. He's shown himself to be able to handle a good number of opponents with a near-indestructible level of defensive capabilities thanks to his sand. Later on in the show, he's able to perfect his abilities and eventually work his way towards becoming Kazekage, the leader of the sand village in the second part of the Naruto manga.
Sho Hinakawa – Psycho Pass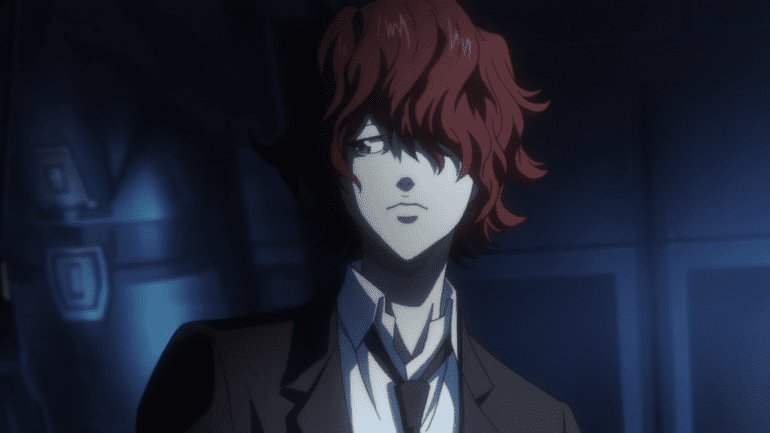 Enforcer in Division 01 of the Criminal Investigation Division within the Public Safety Bureau, Sho is a man in his 20s with a genius level of intellect. He's able to understand hologram technology far beyond the reach of his peers. This is displayed by his ability to recognize that Kirito Kamui uses a hologram in disguise. He's also capable of quickly distinguishing between different drugs when he encounters them.
With a shy personality and a reserved attitude, he struggled with depression while growing up. This led him to drug addiction and other issues he has to battle while juggling his role as an enforcer. He's a redhead that shows some diversity within the community of redhead characters in anime.
Zora – Black Clover
Black Clover's Zora is a member of the Black Bulls, one of the most powerful magic squads in Clover kingdom. He kind of sports a somewhat psychotic look with a leather mask that covers the underside of his face and leaves his mouth uncovered like a Ninja. He's a cynical and grumpy character that is often quite disrespectful to those around him. However, Zora is actually not a bad person, but rather someone that has problems relating with people.
His magic is one that is ash-based and allows him to create some deadly magical traps that are able to catch opponents off guard. The traps primarily reflect the magic of other characters back against them. He's also able to create large scale traps for battles that will be tough without some original preparations prior to them.
Taiga Kagami – Kuroko's Basketball
Deuteragonist and essential part of Seirin's success, Kagami is a redhead to the core. He's hot-blooded, talented and determined to give his all in a game. His exceptional talent is recognized by his teammates and opponents dubbing him "the miracle who did not become one of the miracles".
This title is a reference to the fact that Kagami possesses a level of prowess in Basketball that can be said to rival the well-respected Generation of Miracles basketball squad. Kagami is also an absolute monster on the court with skills that allow him to go toe-to-toe and even beat members of the famous Generation of Miracles.
What other anime characters have red hair?
Red Haired characters sure are interesting to watch, and there's no way they'll ever back down from a challenge. That's why we love them! These are some of our favourites, but there are a lot more that deserve a spot among the best.