From Goku to Kaneki, white-haired anime characters have become iconic in the world of anime. But who is the most iconic? Find out in this article!
RELATED: The Most Powerful & Strongest Anime Characters Of All Time Ranked
Where anime is concerned, there are always an array of unique-looking characters. From elaborate costumes to hairstyles that defy gravity, you can surely find something in the world of Japanese animation. However, one distinct trait seems to accompany many fan-favourite characters in various shows. And that is silver or white hair, a trait found in some of the most recognisable characters. The meaning of white or silver hair in a character can mean several things but usually seems to be associated with great power, wisdom, innocence or villainy.
This article will examine some of the most iconic white-haired anime characters to determine who is the most iconic of them all. While there are many white-haired anime boys, we will include both guys and girls in this list. And will stick to including one character per anime as shows such as My Hero Academia, Naruto, Bleach, and Seven Deadly Sins have numerous whiteheads walking around. So, without further ado, here is a list of the top twenty most iconic white-haired characters ever. As a side note, this list is not ranking the characters in terms of strength but rather popularity.
20. Kirari Momobami – Kakegurui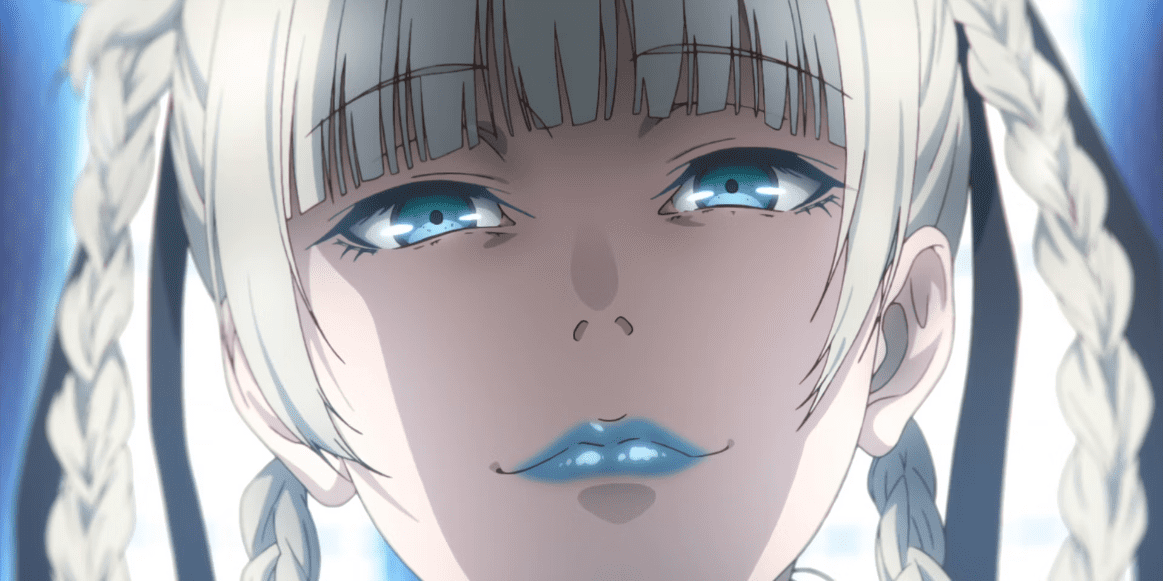 Although her hair colour sometimes appears to be on the blonde side, she looks to be a white-haired anime girl for the most part. As the primary antagonist in the series, Momobami attends Hyakkaou Private Academy alongside Yumeko Jabami. As the 105th Student Council President of the school, she is responsible for the institution's current system, where everything is settled via gambling. Although she appears to be a proper lady on the outside, she is anything but on the inside.
One could easily consider her a narcissist because of the way she belittles those around her. This is in addition to her psychopathic and manipulative personality traits that came up with the cruel pet system in the school. Of course, only an individual as cold and calculating as Momobami would encourage bullying, mistreatment, and emotional torment of her fellow student body. As a result, she has earned her spot on this list as an iconic white-haired anime character.
19. Mirajane Strauss – Fairy Tail
As expected for many of the female characters on this list, they have gained their iconic status by becoming the waifu of many male anime fans. This is not different for Mirajane, the older sister of Lisanna and Elfman. As an S-Class mage of the Fairy Tail Guild, her long white hair is one of her most distinctive traits. Currently, she is a very loving and caring person who plays a motherly role within the guild. As one of the most popular members in the guild, she is also very talented, serving as a model for Sorcerer Magazine.
However, this was not always the case. Prior to Lisanna's pseudo-death, Mirajane was nicknamed 'The Demon' for her fear-inducing temperamental personality. Not only did she possess great power, but her magic type also had many demon-like elements, leading her to question her own humanity. However, after losing much of her magical abilities, she also loses her will to fight, all leading to her drastic personality change and the sweetheart we see in the series currently.
18. Nao Tomori – Charlotte
As a titular character of Charlotte, it would be illegal to make a list of white-haired characters without including Nao Tomori. As the student council president of Hoshinoumi Academy, she is most recognisable when she has her iconic camcorder out to film the abilities of other power users. Although sweet in her own way, she can still be considered somewhat narcissistic, a trait which seems to resonate with many white-haired anime characters.
Her eccentric behaviour, however, is a large part of why she is such an iconic character. Nao is bold and outspoken, not holding back on what she says. Because she is so straightforward, we also know she loves roasted corn and meat. But her most commendable action was helping the main protagonist, Yuu, overcome his crippling depression following the death of his younger sister, Ayumi.
17. Nate River (Near) – Death Note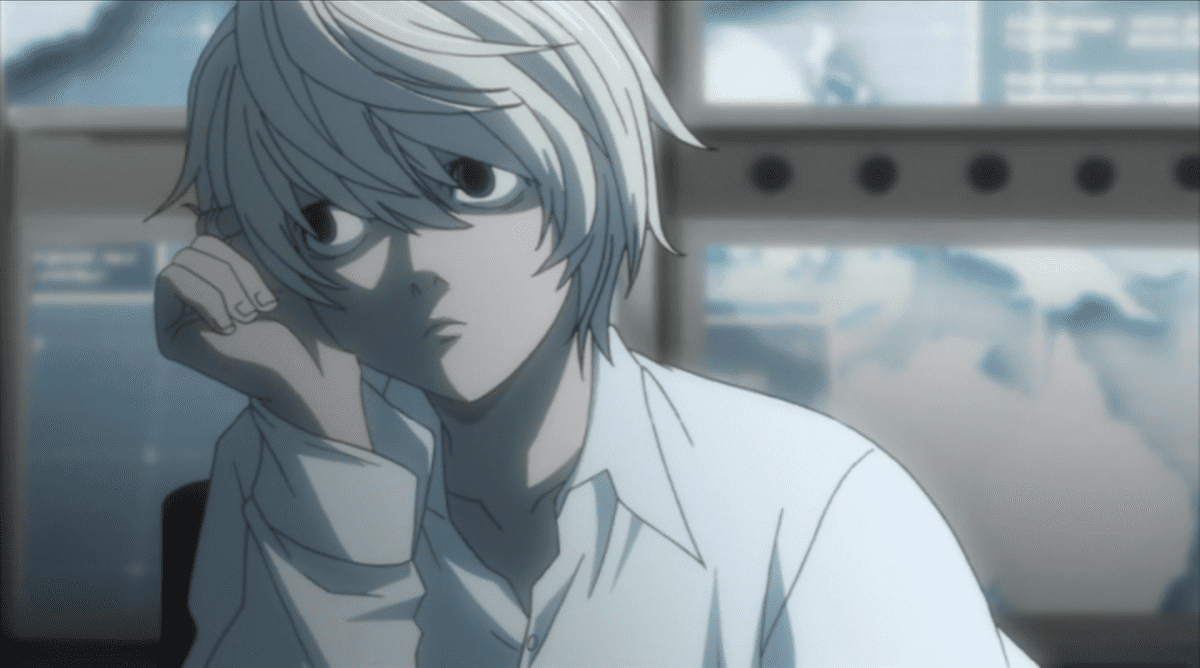 Better known as Near, Nate serves as one of L's successors. Raised in Winchester, England, in an orphanage for gifted children, Near took over Kira's case after L's demise in the anime series. Although many fans are still upset about this turn of events, it does not change that Near is one of the most iconic white-haired anime characters. Unfortunately, he is overshadowed by Light and L's epic cat-and-mouse dynamic.
With an appearance that has him somewhat resemble L, his white hair sets him apart from many of the other characters. With genius-level intelligence, the kid lacks social skills and does not know how to interact properly with others. However, his deductive powers are impressive, especially how he managed to bring the battle with Kira to a head and finally end Light Yagami's reign of terror.
16. Garou – One Punch Man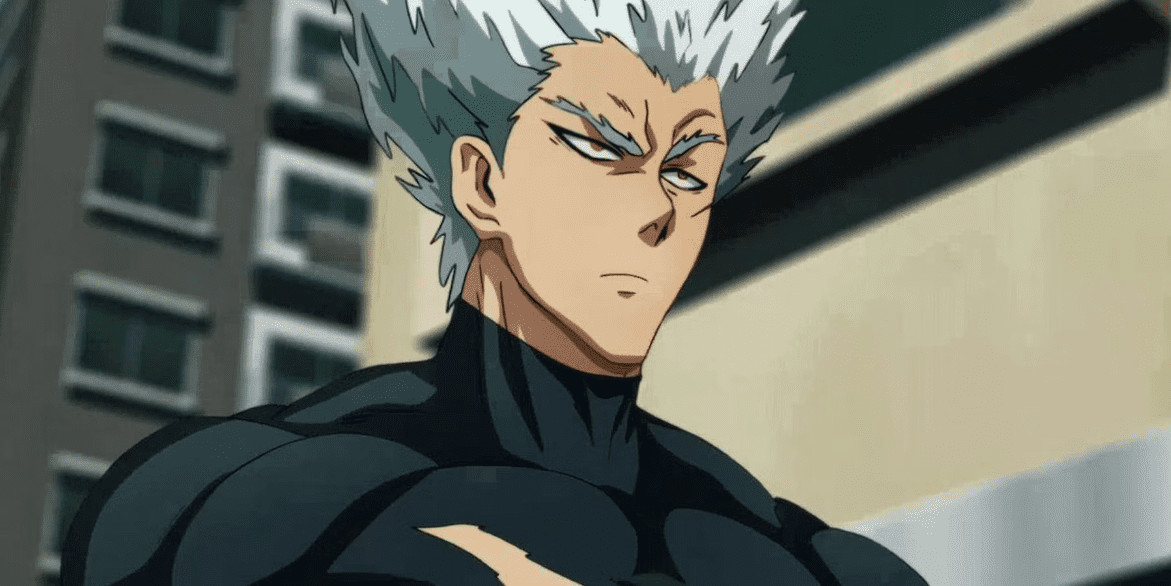 Despite being presented as a minor antagonist in the last two seasons of One Punch Man, it is without a doubt that Garou will make a formidable foe for Saitama in the show's third season. However, he still is one of the most iconic white-haired anime characters for his brutal and violent attitude towards heroes in the OPM universe. With a strong opinion of heroes' and villains' places in the world, he still has a sense of morality.
And this can be seen in one of the most epic sequences in the OPM series. His fight against the heroes outside the shed he and Tareo hid in was terrific. In fact, it put him on many fans' radars. Well, that and the hilarious manner Saitama keeps beating him without realising he is doing so. We look forward to seeing where his character will ultimately end up in the series.
RELATED: Who Is the Fastest Anime Character?
15. Shiro – Deadman Wonderland
Finding a white-haired anime character with a more iconic look than Shiro is extremely difficult. With all white hair, eyelashes, eyebrows, and skin-tight costume, it is difficult to mistake her for anyone else, especially not with those contrasting red circles found across her entire costume. In the anime, she is one of the first people Ganta Igarashi meets upon arriving at the prison. However, the duo has a history not fully explored in the series, with Ganta and Shiro turning out to be childhood friends.
Shiro has two personalities, one being the bubbly, clumsy girl we see for most of the series. With a very innocent outlook on life, she loves Ganta and only wants what's best for him. However, her second personality, known as The Wretched Egg, is the opposite of Shiro's real personality. This personality is sadistic and cruel, showing no mercy to those who oppose her. It is no wonder she is such an iconic anime character, as it seems the best anime girls are the ones who have split personalities.
14. Elizabeth Liones – Seven Deadly Sins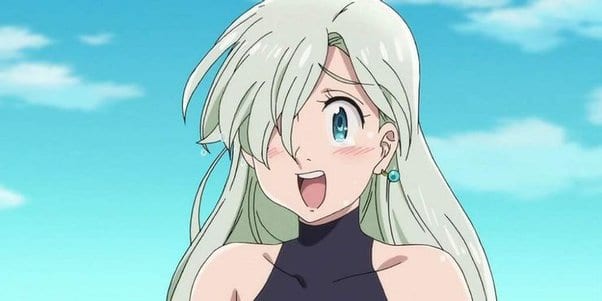 Speaking of split personalities, we have another iconic white-haired anime character waifu who easily earned her spot on this list. As the current queen of the Kingdom of Liones, caught-up anime fans would know she is the 107th incarnation of Melodias' fated lover, the Goddess Elizabeth. By the time the Sins had to battle the Ten Commandments, Elizabeth had awoken her abilities as a goddess and unlocked her memories from her previous life.
Although Elizabeth's personalities are more or less the same as each incarnation, she was very sweet and caring before her awakening. Always opting for the peaceful route, the queen had a very warm attitude towards everyone, including strangers. However, she was very insecure about her lack of ability to help the Sins fight. Once she became stronger, she was more independent and assertive, very similar to the person she was, with her divine abilities unlocked.
13. Tōshirō Hitsugaya – Bleach
A quick stroll through Soul Society will have you realise that there are quite a few iconic white-haired anime characters in the series. However, the most iconic has to be the young Captain of the 10th Division. As possibly the shortest member of the Gotei 13, Tōshirō's white hair and icy blue eyes stand out among the other extravagant character designs. But, of course, his serious personality matches his cold external appearance, as does his icy Zanpakutō.
Despite his child-like appearance, Tōshirō is very mature, contrasting to Rangiku Matsumoto, his overzealous lieutenant. Due to his appearance, Rangiku Matsumoto hates anything child-related, including childish people. In addition, he hates being referred to as anything other than "Captain Hitsugaya," but entertainingly enough, he only addresses others by their last name.
12. Meiko Honma (Menma) – Anohana: The Flower We Saw That Day
Referred to by her nickname, Menma, this is one of those characters who are iconic because the mention of their name warrants traumatic flashbacks. As a protagonist in the show, Menma is a sweet ghost girl who wishes to reunite her friend group who grew apart following her death. She appears to the group leader of Super Peace Busters, Jinta Yadomi. This was the name of their friend group when they were kids.
Menma is an iconic white-haired anime character due to her tragic background and empathic nature. Despite being very caring and cheerful, Menma struggles with feeling lonely due to no person other than Jinta being able to hear or see her. Although, she finds a way to communicate with all her friends by writing messages in a notebook. Ultimately, she is very empathetic and cries when her friends seem hurt and upset. But she remains positive and lively, somewhat crossing over into being slightly childish (although this is probably because she died while still a kid).
11. Kanade Tachibana – Angel Beats
As the face of one of the most heartbreaking anime series in existence (outside Clannad Afterstory), it is difficult to forget Kanade's iconic white hair and stone-cold personality. As the student council president of the Afterlife school, Kanade is often referred to as 'Angel' by the infamous Afterlife Battle Front. The nickname was coined by the leader of the Battle Front, Yuri, after discovering Kanade had some unusual abilities and believing it to be a divine gift from God.
Although she is initially presented as the series' main villain, Kanade turns out to be one of the titular heroines. Appearing as emotionless and robotic, Kanade turns out to be extremely intelligent and well-calculated. However, later in the series, we see her show real emotion as her friendship with Otonashi blooms, and she finally opens up to him. In addition, we see she is actually very clumsy, with no sense of self-preservation and a high pain tolerance, making for a rather endearing titular character.
RELATED: Who Is The Smartest Anime Character Of All Time?
10. Gintoki Sakata – Gintama
As the main character in Gintama and the president of the Yorozuya, it would be a sin to leave this high-skilled samurai off this list. If ever there were an iconic white-haired anime character, it would be the lazy Gintoki. With hair which is usually in a mess (or a frizzy exaggerated afro if exposed to heat), the lazy samurai's hooded eyes and blue and white yukata are easily recognisable at first glance.
As stated above, Gintoki is very lazy and, as a result, is permanently broke and behind on rent. Addicted to gambling, he enjoys appearing wise to younger people despite not knowing what he is talking about. Despite this, he is very dedicated to his job and uses his impressive skills and abilities to help people. Gintoki's most likeable trait is his sarcastic nature which clashes with his pretentious act of cowardice quite well.
9. Inuyasha – Inuyasha
Judging from his name alone, it should come as no surprise that Inuyasha is the eponymous main character of the series. As such, this half-demon-dog is easily one of the anime's most iconic and recognisable characters. It would be near impossible for an anime fan not to know who this is at first glance. With his bright red Kimono, white hair and bangs, and pointed dog ears, Inuyasha is a rather memorable white-haired anime boy.
Of course, with such a notable appearance, he has a strong personality to match. With a very aggressive and determined approach to more than just fighting, Inuyasha can come across as rude to people he does not like. He is also quite impatient, proud, and very hot-headed, immediately choosing to strike someone when annoyed. Due to his volatile nature, he comes across as very childish, and much to his friends' dismay, can prove to be very tiring to handle. Do not be deceived, however, as disliking Inuyasha's eccentric personality is incredibly difficult.
8. Norman – The Promised Neverland
As one of the titular characters in the horror anime, The Promised Neverland, Norman is another widely recognised anime character with white hair. At Grace Field House Plant 3, Norman is an 11-year-old orphan considered "Premium quality goods" because of his intelligence. As a math prodigy, his intelligence surpasses not only that of his peers but also of the adults of this nightmarish world they reside. The only people as smart as him are his companions, Emma and Ray.
With the identification number "22194" tattooed across his neck, we only ever see him in his white uniform from the orphanage. Overall, Norman is a calm and calculated boy who is very reliable. Despite being a realist with a complex personality and conflicting moral compass, he is still very kind, gentle, and caring. This is especially prevalent in his guilt for worrying about his own life in addition to everyone else. He often compares himself to Emma's selfless nature and considers himself selfish. However, that's just his insecurities talking because we all love Norman or else he would not be on this list.
7. Emilia – Re:Zero
Despite Emilia receiving much backlash in the series for her remarkable resemblance to Satella, the Witch of Envy, anime fans everywhere have fallen in love with the silver-haired half-elf. With long silver hair, pointed ears and amethyst eyes, it is no wonder she caught the eye of our main character, Subaru Natsuki. But, of course, we cannot speak of Emilia's appearance without making mention of her trusty spirit, Puck, a grey and white cat who provides her with protection. Even when we cannot see him, he is in an emerald stone she wears around her neck.
Because of her lack of interaction with the outside world due to living in the woods in isolation, Emilia has a strange way of speaking, using words only used by the elderly in her world. However, she is very kind and enjoys taking care of others. Strangely enough, she believes this action to be selfish despite it making her a good-hearted person. Ultimately, we see her childish side once in a while when she is faced with new situations she has not yet experienced. Naturally, she is one of the biggest waifus on this list.
6. Shoto Todoroki – My Hero Academia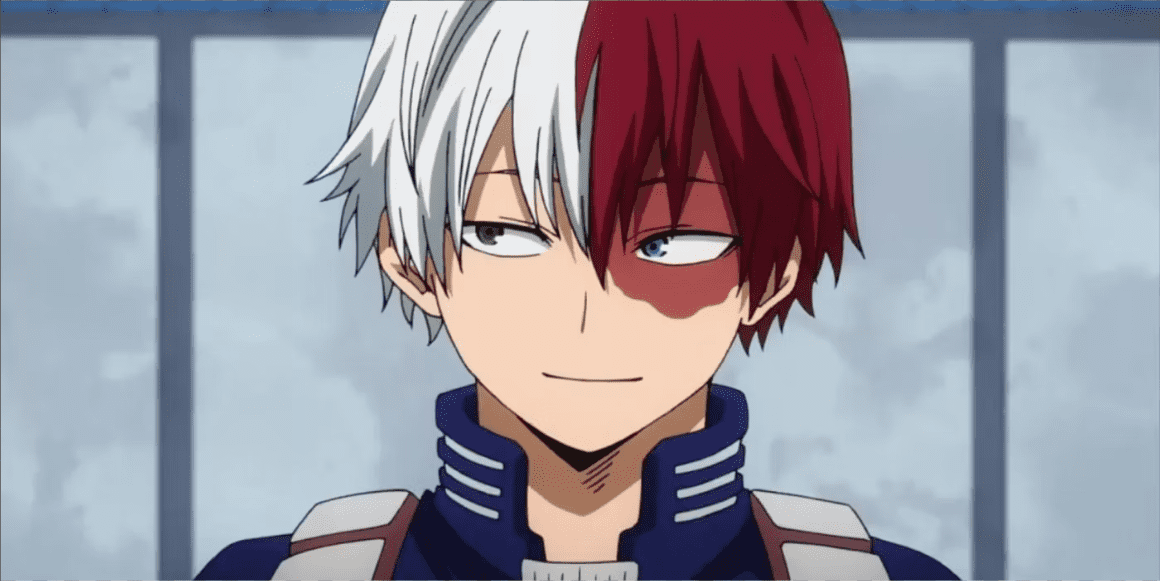 As the son of pro hero and current Number One Hero, Endeavour, Todoroki made it onto this list by technicality. Because while he has red hair on his left, he also has white hair on the right side of his head. So, we must count him as a somewhat-of-a-white-haired character. Proven by the fact that he has made it this high in the top ten of this list, not much of an introduction is needed for this iconic character.
Sporting not one quirk, but two, Todoroki has a burn mark covering his left eye. Because of his heterochromia iridium, he has one turquoise eye and one brown eye and is often labelled as the most attractive in his class. When he was first introduced, Shoto was very cold and aloof, but after the main character, Midoriya, offered him some words of encouragement at the U.A. Sports Festival, he became more friendly. While still being on the more introverted side, Todoroki at least offers a few jokes and smiles every now and then.
RELATED: 21 Best Anime Characters With Red Hair
5. Tengen Uzui – Demon Slayer
Introduced to us as early as last year during the airing of the Entertainment District Arc of Demon Slayer, it is shocking how popular the character has become in such a short time. Easily, Tengen entered the top five of this list as one of the most iconic white-haired characters of all time. Prior to being a Hashira in the Demon Slayer Corps, Tengen was a ninja and the only survivor from his shinobi clan. Not only does his good looks resonate with female fans of the series, but the fact that he has three wives has earned him much attention from his male fanbase.
If there were one word to describe the Sound Hashira, it would be "flashy". As can be noted from his appearance, Tengen enjoys extravagance. So naturally, he has a very boastful personality, often referring to himself as a God. He also has very high standards, expecting much from Tanjiro, Zenitsu and Inoskue when they participated in his stamina training. However, despite his entertaining insults and self-parading, we see his caring side when interacting with his wives. Overall, not only is his hairstyle and character design iconic, but so is his personality.
3. Ken Kaneki – Tokyo Ghoul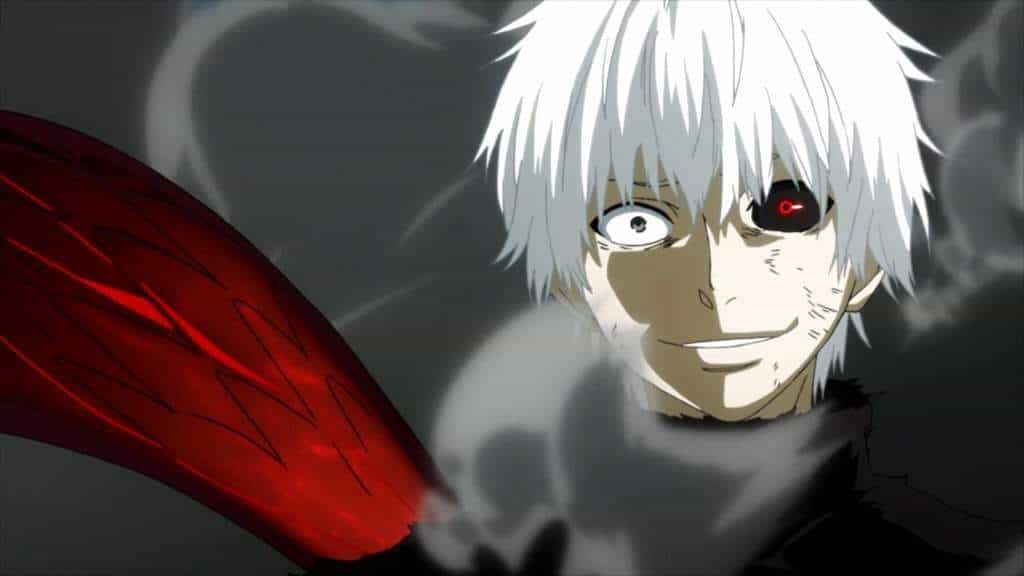 If this had been made a few years earlier, Kaneki easily would have made it to second or first place on this list. However, in light of recent events (that being the release of some iconic new anime series), he was bumped down to the third spot. However, it will not change the fact that the one-eyed king is the most prominent white-haired character in anime history. For much of the first season, we initially see him as a dark-haired, shy boy. But after Yamori tortures him for ten days, he finally has a mental break, causing his hair to turn white.
From here, there is no turning back for the half-ghoul as his initial soft personality becomes lost for much of the second season. Instead, we get a cold-blooded, ruthless killer who, honestly, is completely badass. But ultimately, his true nature wins out, and he creates a world where ghouls and humans can live together peacefully. This is a massive testament to his good-hearted nature.
2. Satoru Gojo – Jujutsu Kaisen
It is absolutely psychotic how close Gojo came to taking the top spot on this list. Even more so is how popular this character became since the first and only season of Jujutsu Kaisen dropped in 2020. However, one cannot argue with facts, and the fact of the matter is that Satoru Gojo is one of the most iconic white-haired characters in the anime world right now. Sporting snow-white hair and brilliant blue eyes known as the Six Eyes, Gojo is considered to be handsome within the show's universe and outside it. His most notable characteristic, however, is the blindfold he wears over his eyes. If he is not sporting the blindfold, we see him in sunglasses with his hair down.
In terms of his personality, Gojo appears to be playful and carefree on the surface, often acting idiotic to be funny. However, we quickly learn he is cruel and unsympathetic towards sorcerer executives and his enemies. While it is good that Gojo is confident in his abilities, he comes across as arrogant in battle as he deems himself to be invincible. But, as we have seen him demonstrate a few times, he is terrifying when he wants to be and may be closer to invincibility than we realise.
1. Killua Zoldyck – HunterxHunter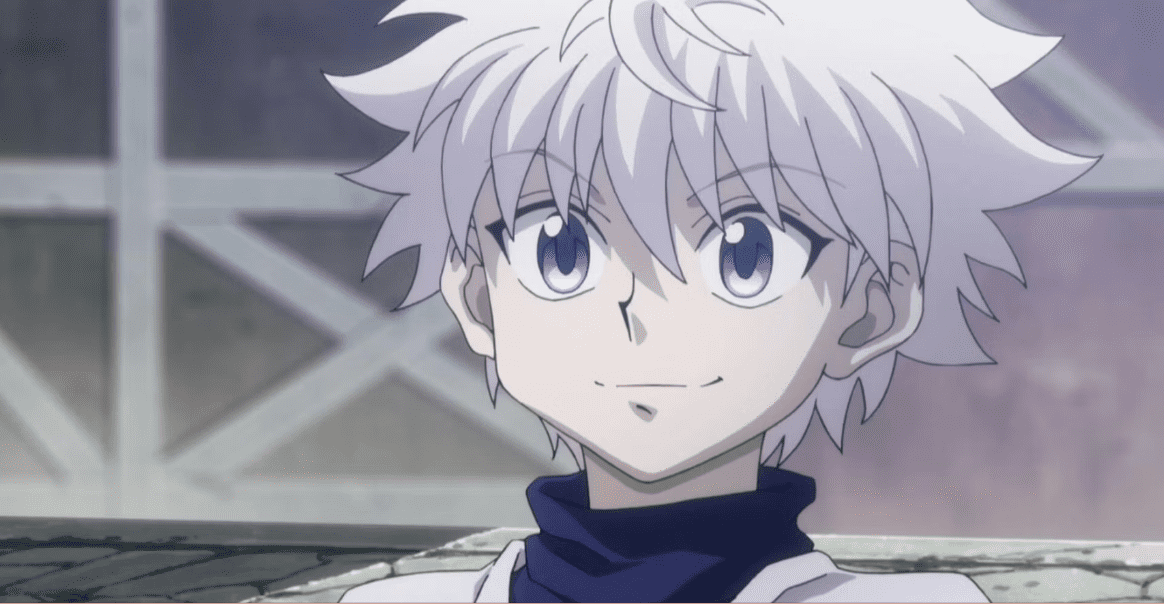 Regardless of how popular Gojo has grown to be, Killua is still the most iconic white-haired character of time. While a congratulation is in order, it is worth mentioning that Gon and Killua are two of the most popular anime characters of all time, generally speaking. Of course, the white-haired boy is a member of the Zoldyck clan, a family of world-renowned assassins. His iconic white hair and cold, blue eyes are dominant trait in the family that has been passed down to him. Usually sporting a white t-shirt, shorts and sneakers, Killua's laid-back and innocent child-like appearance is almost deceiving.
RELATED: Best Blonde Anime Characters – Does Hair Matter?
We come to find out that Killua was initially very cold and distant due to the nature of his upbringing. However, when he meets the overly enthusiastic Gon Freeks, he slowly becomes more caring and kind-hearted. Despite this, he is very dangerous, striking fear into the hearts of many people who try and cross him. As we see early in the series, Killua has no qualms about ripping a man's heart out in cold blood. But, overall, he is a ruthless killer who is loyal to his friends and has not lost his humanity like his older brother, Illumi, has.