Over the years, the Star Wars gaming franchise has offered players engaging, well-written single-player experiences. Recently, however, due to controversies surrounding micro-transactions and a bunch of cancelled games, this has not been the case. Respawn Entertainment has decided to revive this legacy with Star Wars Jedi: Fallen Order and prove that there is still so much more for fans to experience.
Star Wars Jedi: Fallen Order sees players taking on the role of Cal Kestis, who initially seems like just another guy working to earn his keep in the galaxy. During an unfortunate accident, Cal uses his Force power to save his friend which reveals him as to be a Jedi Padawan, one of the few who survived Order 66. With his secret out Cal is forced to go on the run to escape the Empire's Inquisition and the deadly Force wielding inquisitor called The Second Sister. Cal is joined by two unlikely friends, Cere Junda and Greez Dritus, who set out to help him rebuild the Jedi order.
The story does start off a tad slow but quickly unfolds into an adventure that fits the Star Wars tone perfectly. It's a classic tale of you against the world, struggling against the odds to become victorious.
It's quite clear right of the bat that Star Wars: Jedi Fallen Order takes inspiration from many of the games that have come before and combines their best parts into a breathtakingly exhilarating experience. With a dash of Darks Souls' combat, a pinch of Metroid exploration and a heavy dose of Uncharted's action set pieces, it is an amalgamation of the best from theses franchises. Of course, this does not mean that the game does not have an identity of its own as this is still a Star Wars game at heart.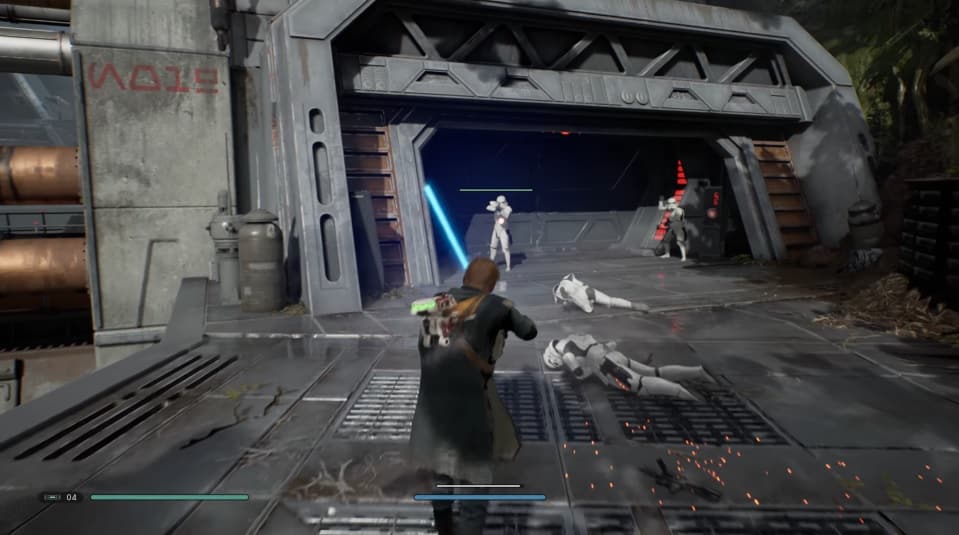 While exploring the game's various planets, which you can travel to in any order you choose, players will be completing various environmental puzzles using their wit and Force powers.  These puzzles aren't overly complicated but there were one or two that had me stumped for longer than I would like to admit. Although Cal is quite adept at traversing his environment there were times when there just wasn't enough precision in his jumps which caused me to miss a particular rope dying over and over. This didn't happen a lot but when it did I did find it frustrating.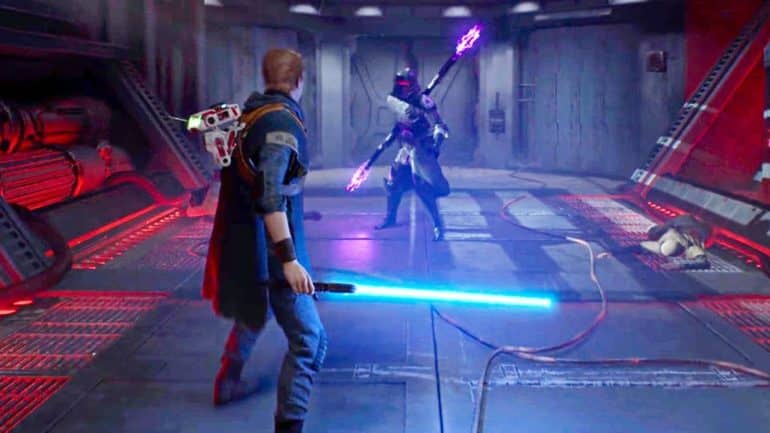 Each planet has its own distinct ecosystem filled with deadly wildlife. Taking out the threats involves a combat system reminiscent of the Dark Souls games. Succeeding in combat means keeping your distance and striking only when the time is right. Sure, you are able to plough through one or two Strom Troopers like they are nothing but most of the more powerful enemies require a bit more finesse. It's not nearly as tough as Sekiro but it no doubt takes some inspiration from its approach to combat.
Mixing things up is your Force powers, which can be combined in and out of combat in some interesting ways. For instance, slowing down a blaster shot and then Force pulling an enemy into it will quickly take care of them. As Cal gains experience, he will be able to gain new abilities and improve the ones he has. The same goes for your little droid friend, BD-1, who can also gain abilities as Cal upgrades him at special workstations.
While combat can be challenging, there were a few difficulty spikes that made me feel frustrated, although these were few and far between.
Customisation also plays a part in the game. Players will be able to change out various parts of Cal's lightsaber, that can be found scattered throughout the galaxy, Change Cal's clothes, give their starship, The Mantis, and even BD-1 a new coat of paint. These don't change the gameplay but adds a nice little level of customisation to the game to help get you immersed in its world.
Developing a new Star Wars game must have been an uphill battle for Respawn Entertainment. Many fans believed that this would be the last nail in the Star Wars gaming coffin. Instead, the developer has proved that there is still so much more left to explore in the Star Wars universe.
Star Wars Jedi: Fallen Order stands side-by-side with the best Star Wars games out there and we can't wait to see what else waits for us in a galaxy far, far away.
The Review
Star Wars Jedi: Fallen Order
Star Wars Jedi: Fallen Order stands shoulder-to-shoulder with some of the best Star Wars games ever developed, and we can't be happier about it.
PROS
Gorgeous environments
Wielding a lightsaber
Combat system
Clever environmental puzzles
CONS
Some frustrating difficulty spikes
Story starts off slow
Review Breakdown
Storyline

0%

Gameplay

0%

Graphics

0%

Replay Value

0%

Sound and Music

0%