Star Wars has got some of the most powerful and formidable characters around. From beskar-plated Mandalorians to terrifying Sith lords, you can't travel far into the galaxy without finding someone with enough power and determination to forge their own path. Let's look at some of the most powerful Star Wars characters.
RELATED: The 8 Best Star Wars Characters of All Time, Ranked
10. General Grievous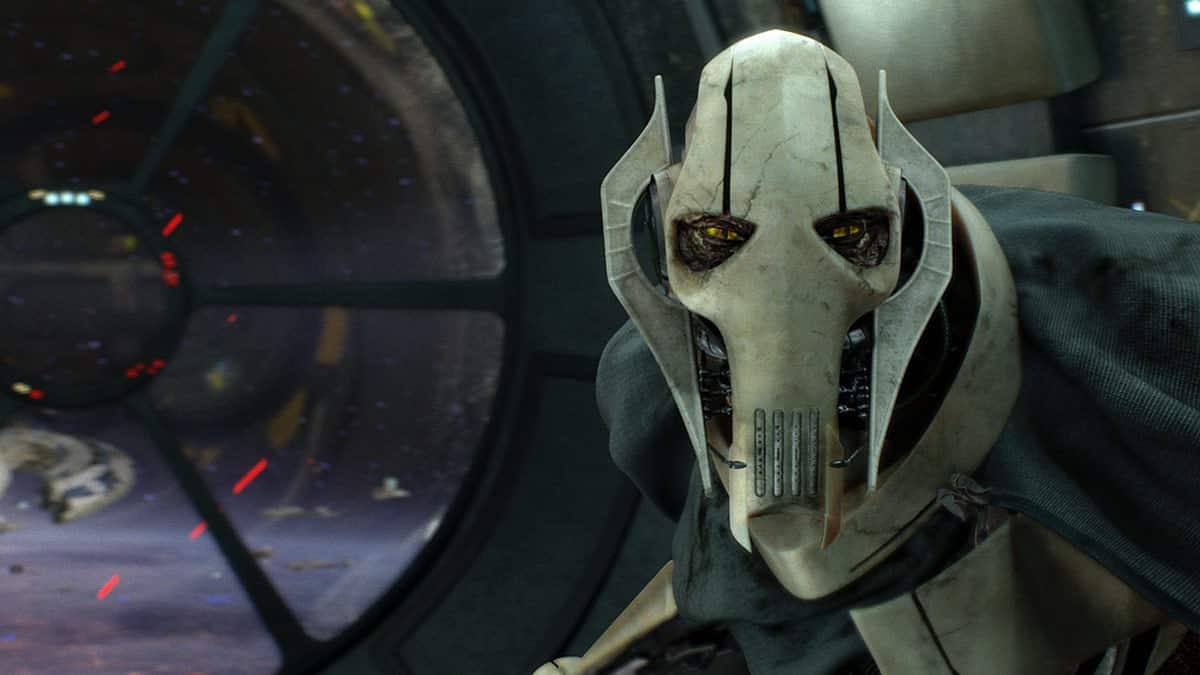 Before Grievous spent his time flying around the galaxy and hunting Jedi, earning himself a reputation as one of the most dangerous combatants alive, he was Qymaen jai Sheelal. Sheelal was born on Kalee, a couple of years before the Clone Wars, and when his planet became a target of the Yam'rii, he learned the combat ways of his people and became regarded as a legendary figure.
He was ruthless and eventually took on the name Grievous, cementing himself as a Warlord of Karee obsessed with combat. Finally, after protecting his planet for years, he ventured out into the galaxy, destroying many and earning himself a reputation.
His hatred of the Jedi had been slowly growing throughout the years. Finally, it came to a head when the Order chose to protect the invading Yam'rii and losing thousands of his people in the process. Word of his adventures reached the Sith, and Dooku set out to train him in lightsaber combat and recruit him as the leader of the droid armies.
It was a proposition he couldn't refuse, especially when it came with the bonus of defeating Jedi. So when Dooku told him about an opportunity to increase his skill through cybernetic enhancements and give himself an advantage over the Jedi, he didn't hesitate to say yes. The Sith turned him into an unstoppable machine.
He was further reconstructed after a shuttle crash, which he believed to be the Jedi's fault, destroyed what remained of his original body.
Grievous' past and cybernetic enhancements have made him a formidable opponent. He can wield four lightsabers at once, despite not being force-sensitive, and has injured multiple Jedi in his lifetime. His skill has made him one of the most powerful characters in Star Wars.
Fortunately, he was defeated by Obi-Wan Kenobi in Revenge of the Sith. But, unfortunately, Order 66 wasn't far behind.
9. The Grand Inquisitor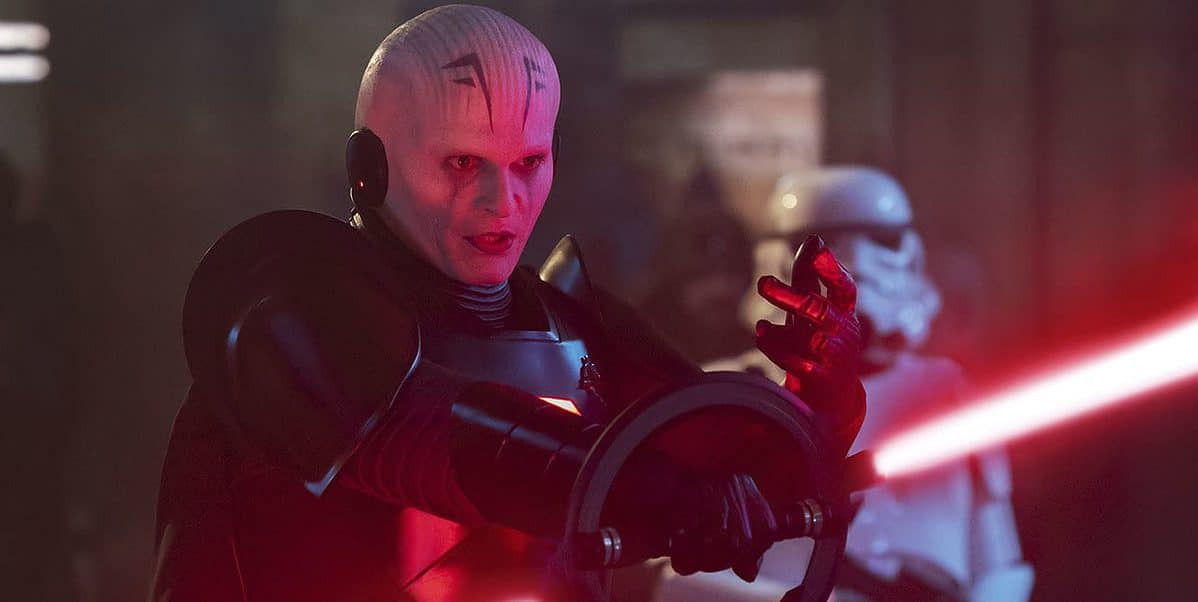 He was once a Jedi Knight and guard of the Jedi Temple who arrested Ahsoka Tano after she was blamed for the bombing of the Jedi Temple. However, he despised for the Jedi, specifically Chief Librarian Jocasta Nu, when he was denied access to Jedi Archives despite proving himself a skilled individual.
He fell to the Dark Side soon after the Order poorly handled Ahsoka Tano's trial but masked his turn so well that even the most powerful Jedi could not sense his fall. He officially became the Grand Inquisitor when Emperor Palpatine recruited him and allowed him access to the secrets of the Jedi Archives.
The Grand Inquisitor was often shown to be cold and analytical. He knew so much about the Jedi and their combat style that he could identify who a Jedi had been trained by almost immediately, proving this when he identified Kanan Jarrus' former master in 10.6 seconds. His greatest weapon, besides his lightsaber, was his opponent's fear, and he believed that for the Galactic Empire to succeed, it needed to purge itself of all weakness.
He could use all seven forms of combat recognised by the Jedi Order and had a double-bladed lightsaber that could spin at incredible speeds. He used to end combat with as little effort as possible and efficiently defeat Jedi.
His efficient use of Jedi knowledge and his calculating ways, paired with his skills with a lightsaber, made the Grand Inquisitor one of the most powerful Star Wars characters. Moreover, he could use these skills even as a Force Ghost.
8. Asajj Ventress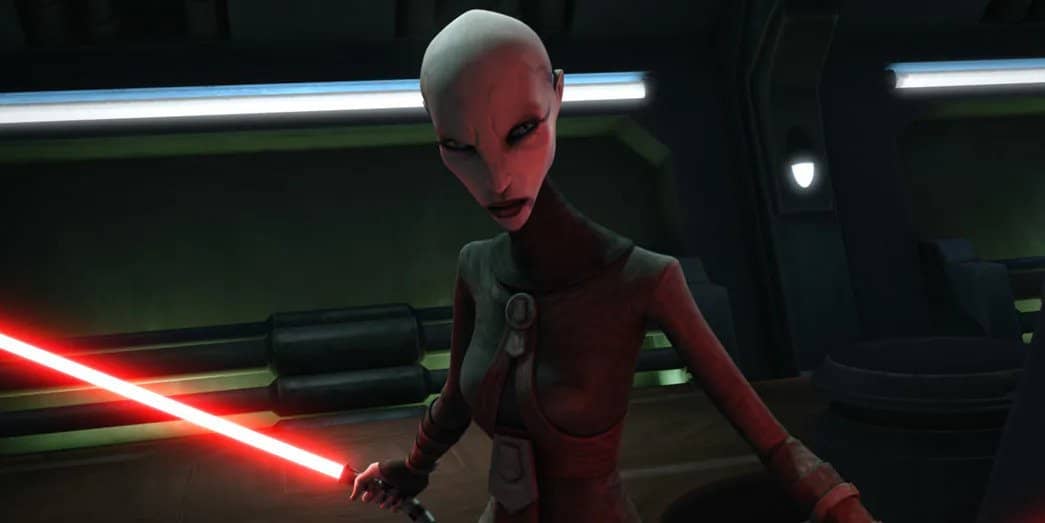 Ventress has been a slave, a Jedi Padawan, an assassin for the Sith, a Nightsister and a bounty hunter. She was taken as a slave but later found by Ky Narec, a Jedi Knight who raised her and taught her the ways of the Force in hopes that she would one day join the Jedi order. But unfortunately, Narec's dream for her did not come to pass.
When pirates defeated the Jedi, Ventress fell to the dark side of the Force. She began defeating the pirates and was eventually found by Count Dooku, who made her his apprentice. Her skill earned her a reputation, and she often fought against Obi-Wan Kenobi and Anakin Skywalker.
However, Darth Sidious began to fear her power and had Dooku eliminate her as a sign of his loyalty. She survived this betrayal and briefly returned to her home world before taking up bounty hunting. This led her to ally herself with characters like Obi-Wan Kenobi and Ahsoka Tano.
Ventress was often shown to be vindictive and uncaring. Still, after Dooku betrayed her, she grew empathetic, instead choosing to only hurt people when they gave her no other choice.
She was incredibly skilled with a lightsaber, having learned Kar'Kai, and wielded two lightsabers that could be combined into a double-bladed weapon if necessary. Ahsoka Tano has said that Ventress was "too powerful for any one Jedi to fight alone."
She was skilled with mind tricks, telekinesis and taming beasts. Her Force-choking proved to be particularly lethal when she was angry or in pain. Ventress is one of the more powerful characters in Star Wars and one of the most tragic.
She renounced the Dark Side and sacrificed herself to save the one she loved, stepping in the way of the Force lightning meant for him and enabling him to escape and renounce the Dark Side himself. The Jedi honoured her, and she and her yellow lightsaber we laid to rest alongside the other Nightsisters on Dathomir.
RELATED: The Mandalorian Season 3: Everything We Hope To See In The Star Wars Series
7. Count Dooku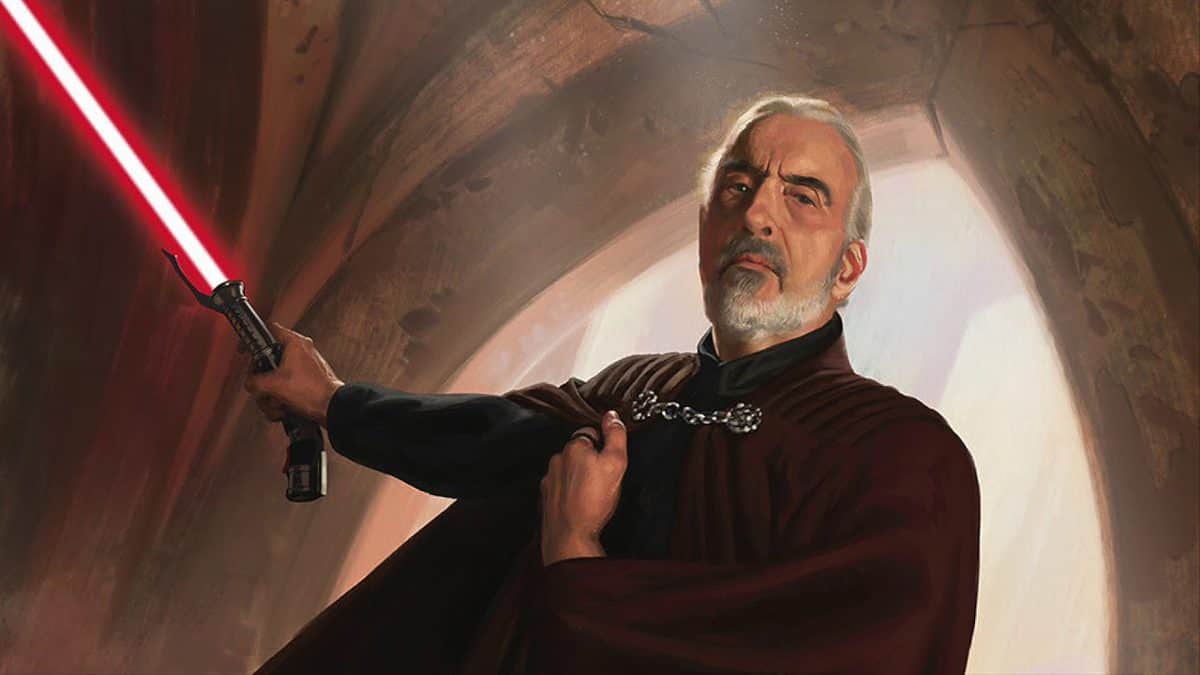 Dooku, otherwise known as Darth Tyranus, was a former Jedi Master who fell to the Dark Side. He was an apprentice to Darth Sidious during the Clone Wars and worked hard to carry out his master's plans. Unfortunately, his blindness to the treacherous ways of the Sith and the fact that he was just a pawn would prove to be his eventual downfall.
As a child, Dooku was abandoned by his family, so the Jedi took him in, and he was personally chosen as a padawan by Master Yoda. His began a slow fall, starting when he learned the truth about how he was abandoned on the stairs of his father's palace. It quickened when the Jedi failed to warn Protobranch about a potential solar storm.
He eventually grew to become a Jedi Master and trained Qui-Gon Jinn, teaching him his ideals. While Dooku was more focused on the future, Qui-Gon focused on the present and the will of the force. Dooku believed that the Republic was corrupt and that the Jedi Order had become too connected to it.
He left the Order after he saved his home planet and took on the title of Count. Shortly after that, Dooku was approached by Darth Sidious, and his fall to the dark side was complete.
Dooku was charismatic, manipulative and immoral, but all he really wanted was order in the galaxy, which he believed Darth Sidious would provide.
Dooku was one of the more powerful characters in Star Wars. Even in his old age, he was highly skilled with a lightsaber (Mace Windu is said to be his only equal). He defeated Anakin Skywalker multiple times throughout the Clone Wars and was responsible for cutting off his hand in Attack of the Clones. However, he was defeated and decapitated when the former Jedi Knight became powerful enough. He was skilled with Force Lightning and telekinesis, using them simultaneously or interchangeably depending on his end goal.
6. Darth Bane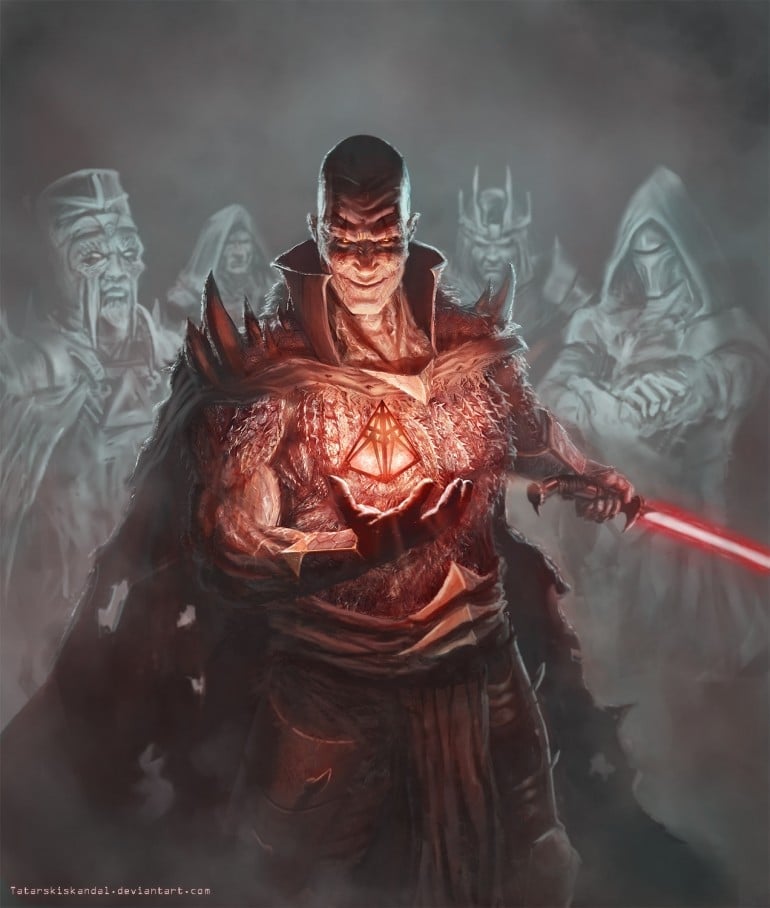 Bane was one of the most powerful Sith lords ever and was the sole survivor of the Brotherhood of Darkness' destruction. Recognising that the Sith's infighting had been the cause of their downfall, he reformed the Sith Order and implemented the Rule of Two.
After his passing, the Jedi assumed that the Sith was gone as well, and peace was restored to the galaxy for a time. However, his rule would eventually prove to be the downfall of the Jedi Order. Nevertheless, he was a formidable warrior and a brilliant mastermind whose trickery earned him a place as one of the most powerful characters in the Star Wars universe.
5. Darth Plagueis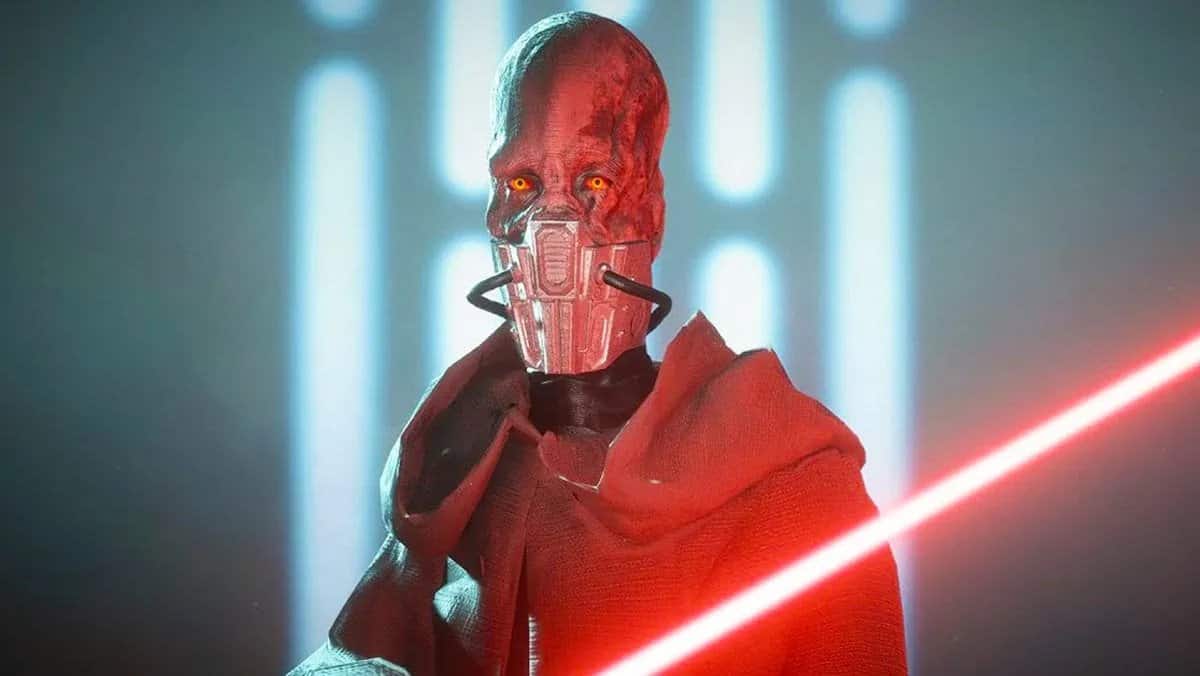 The master of Darth Sidious lusted for immortality and used science to manipulate and mutate midi-chlorians to create life. He worked with Sheev Palpatine for years with plans to rule over the galaxy for ten thousand years. But unfortunately, his need for immortality blinded him to the progression of his apprentice.
Despite being one of the most powerful characters in Star Wars, Plagueis could not survive the ambition of his apprentice.
4. Darth Sidious / Emperor Palpatine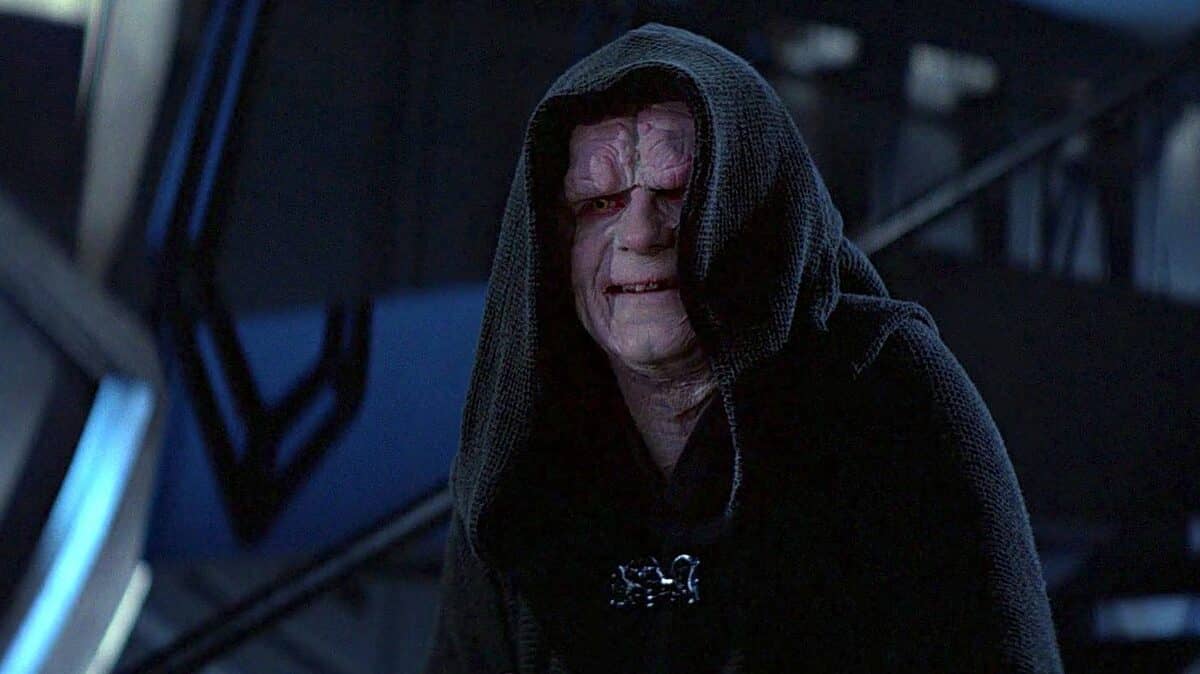 Darth Sidious was one of the destructive maniacal Sith lords and the most powerful character in Star Wars. He caused the fall of the Galactic Republic and the Jedi Order, using his two personas through which he was able to manipulate most events in the galaxy.
He was eventually defeated through the combined efforts of Luke Skywalker and Darth Vader but returned from the grave through his old master's practices. His granddaughter finally defeated him in Rise of Skywalker.
He was ambitious, manipulative and intelligent. He easily lured Anakin Skywalker to the dark side and tricked most of the galaxy into believing he had its best interests at heart. Palpatine was proficient with a lightsaber and had unlimited power, which he used in many ways.
Sidious was definitely one of the best villains introduced in the Star Wars franchise, but Star Wars fans were happy to see him destroyed both times.
RELATED: Star Wars: Looking Back At The Cast of the Skywalker Saga
3. Darth Vader / Anakin Skywalker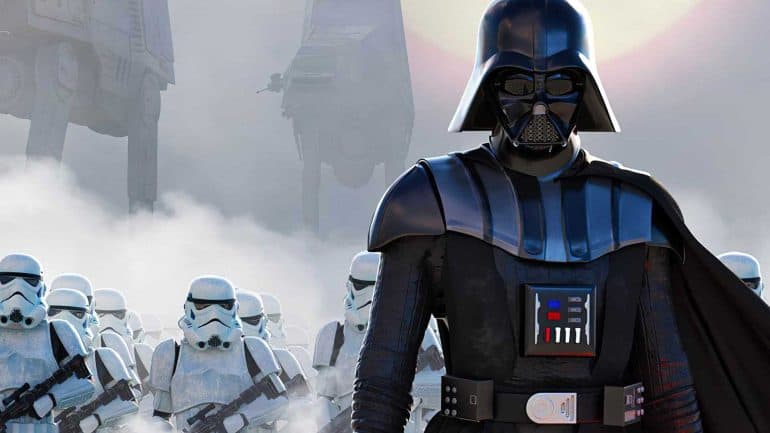 Darth Vader is one of the most powerful characters in Star Wars, which has been made more and more evident by recent Star Wars TV shows.
He was born of the Force, meaning he had the strongest connection with it compared to any Force-sensitive person before him. As a Jedi trained in the ways of the force by Obi-Wan Kenobi, and eventually worked his way up to Jedi Knight and took on Ahsoka Tano as his Padawan. Because of his strong connection to the Force, Anakin was one of the strongest Jedi alive.
Before he was manipulated by Palpatine and fell to the dark side, Anakin was kind and cared deeply about those he loved. During his first year as a padawan, he would sleep on the floor of Obi-Wan's room to ensure that his Master didn't disappear.
His anger and guilt always bubbled below the surface, and it was easy for his Master to see that something was troubling him a lot of the time. In addition, Sheev Palpatine manipulated him throughout his career as a Jedi, and this caused him to distrust Obi-Wan and the order. All of this, combined with his inability to discuss what he was troubled with, with those he loved, made his fall to the Dark Side all the more tragic.
As Darth Vader, he was angry and, at times, impulsive but soon fully embraced the dark side of the force and devoted himself to further developing a relationship with it and expanding his power. He has become a hardened man over the years, ruthless in his takedown of those who battle against the empire and completely devoid of mercy. He does not care who he has to cut down to ensure the Empire's survival and would gladly resort to any means to pursue his goals.
However, after he learned about his son, memories of his wife and past life began to resurface, and Vader began to fear Luke and how his presence was changing him. While he, at first, refused to believe there was good in him. So, in a final act of redemption, Anakin Skywalker sacrificed himself to save his son and, by extension, his daughter.
His love for his wife and his need to keep her alive was his downfall, but his love for his children was his redemption.
RELATED: Why the Best Star Wars Stories Aren't Found in the Films or Disney+ Shows
2. Master Yoda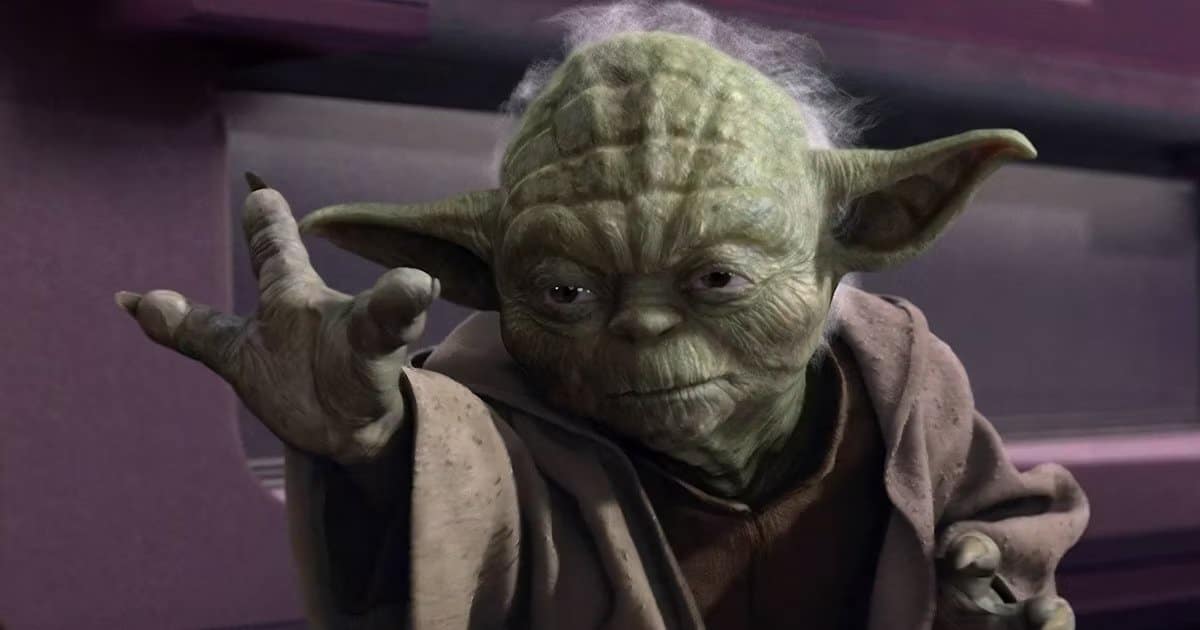 Yoda was one of the oldest, wisest and most powerful characters in Star Wars. He was responsible for training Count Dooku, Mace Windu, Luke Skywalker and several other Jedi in the ways of the force. He played a vital role in unlocking the path to immortality. The old Jedi was against allowing Anakin to train as a Jedi, but Kenobi would have taught him with or without the permission of the council to honour his late master.
Master Yoda is one of the most skilled lightsaber combatants. He moves with a speed you would not think him capable of. He easily took on Count Dooku after the Sith foolish challenged his old master to a duel and almost defeated Darth Sidious had the Sith not resorted to foul play. During the Clone Wars, Yoda was seen taking on multiple enemies at once and defeating them easily.
He was also very skilled with the Force, and his age didn't affect this in any way. He could telekinetically pick people up easily, deflect any projectiles thrown or shot at him and create barriers using the Force. He could also absorb Force lightning and read the history of a person's soul.
He guided Luke Skywalker, manifesting as a visible presence to guide his padawan through the trials he faced.
1. Abeloth
Abeloth was one of the most powerful beings in Star Wars and could use both the dark and light sides of the Force. As a result, she became the Beloved Queen of the Stars and the Bringer of Chaos.
However, before she was a powerful force user, she was a mortal woman known as the Servant and served the Ones. She later became known as the Mother after she was able to keep the peace between the Father's Son and Daughter.
As she grew older, she feared losing her beloved family. To prevent this, she bathed in the Pool of Knowledge and drank from the Well of Power. But unfortunately, this corrupted her, turning her into Abeloth, and resulted in the very thing she had been trying to prevent.
Son and Daughter imprisoned her in many artefacts until they and the rest of the Ones were vanquished. She was later set free by Darth Caedus when he tried to change his future and brought chaos to the galaxy until Luke Skywalker and his son eventually defeated her.
She was so powerful that mortals could not understand the depth of her power and has been described as a nova and a living Force Volcano. She was able to shapeshift at will, with only Luke Skywalker and Vestara Kahi able to see her true form.
She was a master at hand-to-hand combat and tricked many Sith and Jedi before her eventual end. She could also teleport short distances, Force Heal, redirect and use force lightning, and feed on fear. She also knew Sever Force, was capable of pyrokinesis and cryokinesis and could use Force Flight and disable lightsabers from a distance.
Abeloth was a formidable opponent, and one the galaxy might struggle to survive if she ever returned.
RELATED: The 10 Best Star Wars Scenes & Moments From Each Movie
Which of the most powerful Star Wars characters is your favourite?