With the recent woes of Huawei and the Google Play Store saga, Samsung has been the de facto leader when it comes to budget smartphones in South Africa. However, it has seen many challengers pop up during the same time to attempt to steal some of the prime market share. Samsung's changing naming conventions hasn't made it easy for consumers to know which units would be in line with the budget. The team corrected this in 2019 when it switched to a simpler Galaxy A range. The recently released Samsung Galaxy A22 fits the bill as a lower end mid-range smartphone.
In recent weeks I've reviewed the Tecno Spark 7 Pro and Xiaomi Mi Redmi Note 10 5G, both of which are solid mid-range smartphones. With a few additional challengers coming in the next few weeks, will Samsung's line-up have what it takes to fend off the newly introduced contenders?
Is the Samsung Galaxy A22 worth your hard-earned cash?
Samsung Galaxy A22 Build and Design
As with any Galaxy smartphone, the Samsung Galaxy A22 follows the standard mould. It doesn't matter if it's a flagship or budget smartphone, the chassis and design ethos remains the same. With the most recent Samsung smartphones, the brand has opted for the rounded corners approach, which is evident in the S21 units and even the latest Galaxy Fold3.
The A22 comes in four different colour options. This includes Black, White, Mint and Violet. The unit I received for review was Mint. It's a soft, matte-like finish. This colour looks great. In addition to that, the camera island also looks decent. It differs quite significantly to other Galaxy smartphones, going with a clustered approach. For those in the know, there was quite a bit of fuss around the design approach with Apple, relating it to a stove plate.
Irrespective of the design, it's not bulky at all. It sites quite close to the rear cover and doesn't protrude too much. What the smaller camera island does is make quite a bit of room for open space. With Samsung fitting its logo toward the bottom end, there's a lot of open real estate. We haven't seen much of this recently, with many manufacturers aiming to be as visible as possible with large camera islands or logos to go along with it.
The front end looks a bit dated. There are large bezels around the screen, with a fairly significant chin to boot. This is in contrast to the much better-looking rear.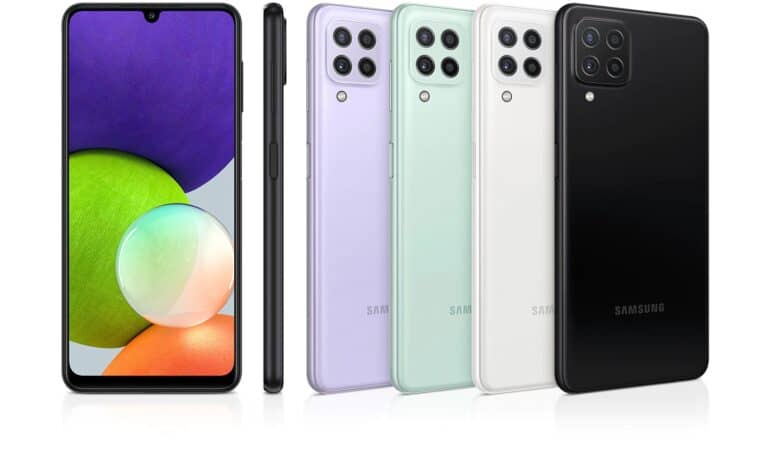 Screen and Display
As is the norm across most smartphones these days, the Samsung Galaxy A22 features a 6.4" screen. What really stands out here, though, is that Samsung has fitted a Super AMOLED panel. This is great for potential buyers, as the unit features a close to flagship viewing experience.
It also has a 90Hz refresh rate, 84.3% screen-to-body ratio. However, where it lags compared to other top-end devices is that it only has a 720×1,600px resolution. This gives it a 274ppi pixel density. This is the same resolution found on the Tecno Spark 7 Pro – where I note that there's very little noticeable deterioration on general viewing for anything from a 720p display. And, that's exactly the case here again. The added benefit the A22 has over the Spark 7 Pro, however, is that it has a much brighter screen and with its AMOLED panel, much better contrast as well.
Samsung has fitted a teardrop notch for the front-facing camera. With the bezels as large as they are, the start of the camera is outside of the screen's borders but ends up cutting halfway into it. This, then, results in the need for the notch, as opposed to its other more premium units using the singular notch cut-out, which looks a lot neater.
The 90Hz refresh rate isn't bad either. Unlike a few other mid-range units offering this option, it doesn't dim the screen too much as a result. In fact, the brightness remains relatively stable whether using the increased refresh rate or not.
There's not much known about the screen protection on the A22. Unlike other Galaxy smartphones that tout some of the best Gorilla glass protection, there's no mention of that here. In fact, I don't notice a factory-fitted screen protector either, which many other Samsung smartphones sport.
Specifications
One of the more interesting choices Samsung has made for the Galaxy A22 is to fit a Mediatek SoC under the hood. Previously, Samsung would have either opted for its own Exynos chips or a variant of the Qualcomm range. The unit fitted here is the Mediatek Helio G80. This is an Octo-core CPU, which has x2 2.0GHz Cortex-A75 and x6 1.8GHz Cortex-A55 CPUs. This is the same chipset found on the Tecno Spark 7 Pro. It also includes a Mali-G52 MC2 GPU.
In terms of capacity, the unit I received had 64GB internal storage with 4GB RAM. There are three variants of the A22, with the highest option being the 128GB and 6GB RAM model. Again, as with the Spark 7 Pro, it features a 5,000mAh Li-Po battery.
Its standout hardware has to be its camera. Unlike many of the other mid-range smartphones, the Galaxy A22 fits an impressive quad-lens camera setup. Running through each of the lenses, this includes a 48MP main camera with f/1.8, (wide), PDAF and OIS. The supporting cameras include an 8MP (f/2.2, 123˚) ultrawide lens and two 2MP lenses – one for macro and one for depth.
For many manufacturers in recent years, being on the latest build of Android has become much easier to adopt. As a result, even on this lower-end mid-range smartphone, Samsung still runs the latest Android 11 OS. This is supported by the One UI Core 3.1 firmware, which runs atop the Android OS.
The list of features offered with the Core UI is on par with any of the other A-series smartphones, which is a great bonus.
Performance and Battery Life
The performances on the Samsung Galaxy A22 are impressive. With Samsung's Core firmware, it runs a much lighter version of One UI. This means that you won't any issues navigating the menus and other tasks native to the device. Its animations are also very snappy and feels crisp overall. The experience is really good.
Multitasking is a breeze as well. Even when running multiple tabs on Chrome, viewing HD videos on YouTube or playing a few games, it's still easy to switch between these apps without any issue and pick up right where you've left off.
Samsung does a lot more with its variant of the MediaTek Helio G80 chipset. Whereas the Tecno Spark 7 Pro offers Geekbench scores of 370 and 1,300 for single and multi-core scores, the A22 blasts that out the water. It manages to eke a much more impressive 560 and 1,710 scores for the two tests. Needless to say, that's quite a bit of improvement over its competitor.
Battery life is also very impressive. Although not nearly as efficient as the Spark 7 Pro, it can still survive comfortably into a second day before requiring a charge. Additionally, it's also capable of a five-day standby time when not in regular use. The additional power consumed to improve performance comes at a small cost compared to other mid-range units. But it's a small sacrifice most users will be comfortable, if not happy, with.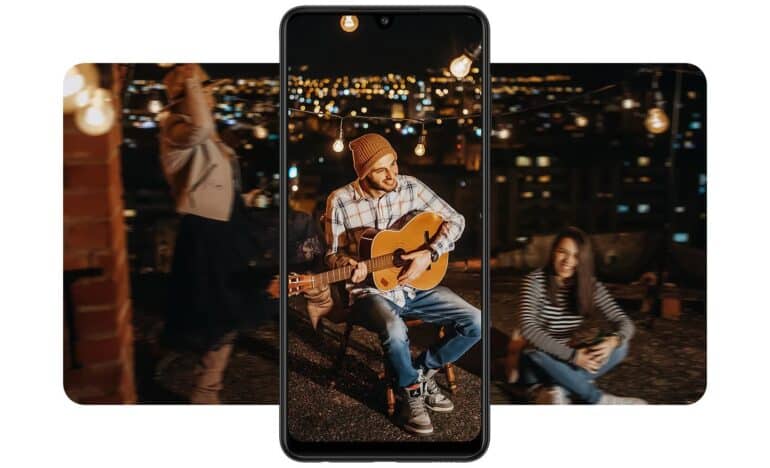 Camera
As stated previously, the Galaxy A22 features a quad-lens camera. This, compared to the many other mid-range units which feature only a dual-lens or triple-lens camera configuration. But it's not on paper where it counts.
Thankfully, the unit does well when it comes to image quality. The main 48MP camera produces great visuals that are bright and bold. It's a noticeable change in brightness and colour reproduction compared to other mid-range units. When reviewing your shots on PC, some of the detail is lost when blown up, so don't expect the best clarity when zoomed in. However, it's still very good overall.
Furthermore, the camera setup also includes optical image stabilisation. This is another feature that's not always standard in this category. This makes a significant difference when filming and even helps the autofocus for much quicker snaps overall. These are all very useful for moving objects or when you're the one moving around.
Another one of the aspects other mid-range units don't have is the wide-angle lens. This is great for landscape or panorama shots. While it is a nice-to-have feature, it doesn't always produce the best image quality. Moving too fast results in a fairly blurry photo. Slowing it down to snail pace won't guarantee a crystal-clear image, but is quite a lot better overall.
All in all, the camera on the Galaxy A22 is much better than many others at this price point.
Is the Samsung Galaxy A22 Worth Purchasing?
As the battle for supremacy rages among sub-R4,000 smartphones, consumers are going to be left with quite a few questions. Most predominant among these would be which feature to sacrifice when it comes to your choice, as many mid-range manufacturers simply cut one of two features to focus on others, while still attempting to keep costs to a minimum. But that's not the case with the Samsung Galaxy A22.
While it still costs an impressive R3,999, it doesn't cut any corners. The brand attempts to deliver on features across the board to give you the best set of options available when making your purchase. Yes, it doesn't hit the mark on all of them, but still better than leaving some out altogether. This makes the Samsung Galaxy A22 one of the best options when it comes to content creation for social media and the likes.
The Review
Samsung Galaxy A22
The Samsung Galaxy A22 is one of the best lower-end, mid-range smartphones available on the market today. It provides quite a decent set of features to the end-user. It may not reach the heights expected on all of them, but does a great job overall with what it has to work with, while still keeping pricing at a very competitive mark.
PROS
Decent design
Very good mid-range camera
Lightweight One UI Core firmware
Good battery life
Excellent performance
CONS
Would've liked an increased resolution
Review Breakdown
Ease of Learning

0%

Ease of Use

0%

Design

0%

Performance

0%

Enjoyment

0%

Value for Money

0%