The words "racist", "racism" and "Star Wars" are not often heard together. However, the new trilogy of films has fans and actors questioning whether the creators are guilty of racism.
John Boyega starred as Finn, an ex-Stormtrooper and resistance rebel in the latest Star Wars sequels.
Speaking to GQ magazine, the actor made controversial remarks. He blasted Disney, stating, "…what I would say to Disney is do not bring out a black character, market them to be much more important in the franchise than they are and then have them pushed to the side. It's not good. I'll say it straight up."
Star Wars: The Force Awakens
L to R: Kylo Ren (Adam Driver), Finn (John Boyega), and Rey (Daisy Ridley)
Ph: David James
© 2015 Lucasfilm Ltd. & TM. All Right Reserved.
Boyega added that his other non-white co-stars Kelly Marie Tran and Oscar Isaac's storylines were also sidelined; while the white actors, Daisy Ridley and Adam Driver's characters, received all the nuance.
Disney has been at the forefront of implementing diversity on and behind the screen. It is therefore ironic that one of their leading black stars would level these accusations against the company.
However, after analysing the new trilogy, it does seem that Boyega has some grounds for complaining. While it's easy to label certain actors as attention-seeking social justice warriors, here though, Disney and the creative team for Star Wars, led by producer, Kathleen Kennedy seem to have dropped the ball.
Star Wars: The Force Awakens
Finn (John Boyega)
When Star Wars: The Force Awakens was released, the marketing and trailers did indeed push Finn to the fore. There were even images of Finn wielding a lightsaber. There was the duel between Finn and Kylo Ren, which gave fans the expectation that perhaps Finn would become a Jedi Knight.
So we have a black character who was visibly promoted during the marketing and who we were led to believe might become a Jedi. Finn also has an interesting backstory, a First Order Stormtrooper who develops a conscience and defects to join the rebel alliance. Yet, when we get the final film in the trilogy, The Rise of Skywalker, he seems to have become a nothingness character with very little to contribute to the story. Somewhat one dimensional, with the sole purpose of screaming after Ray when she is in danger.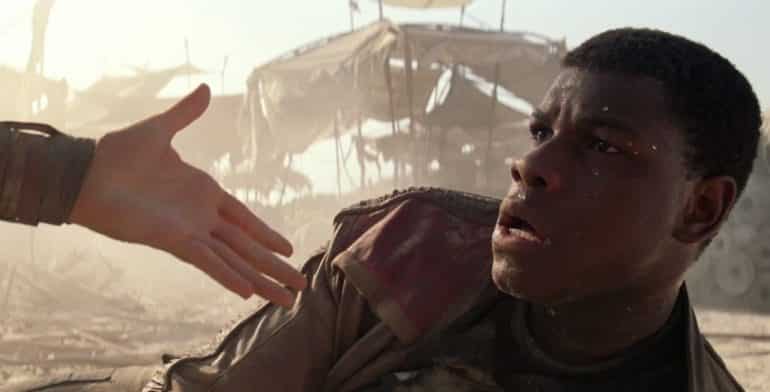 So is Star Wars or the creators racist?
Often, when actors jump on the social justice bandwagon, it seems to be for publicity or attention. In this case, Boyega might just have grounds for his racism accusations about Star Wars. It seems that Disney or Kathleen Kennedy merely used Boyega to tick a diversity box and ended up guilty of tokenism.
Time will tell if Boyega's career will be affected by calling out a major studio like Disney. In the meantime, let's hope Disney learns its gross error and does not look to gain market share amongst minorities while paying lip service to true diversity and proper storytelling and character development.
What do you think? Is Disney guilty of racism in Star Wars Are the Star Wars creators racist?