Looking for LEGO Star Wars: The Skywalker Saga's best secrets & Easter eggs? You've come to the right place.
The LEGO Star Wars series has always been the pinnacle of LEGO video games. Wacky adventures and fun shenanigans across the galaxy seem to resonate with kids and classic Star Wars fans around the world. With LEGO Star Wars: The Skywalker Saga, developer Traveller's Tales has taken everything great about Star Wars and mixed it up with the fantastic humour of LEGO. This makes for a solid game with a ton of heart.
Considering how much effort that was put into creating this game, we've decided to compile some of the LEGO Star Wars: The Skywalker Saga Easter eggs you can find if you choose to engage on this epic adventure. The majority of these Easter eggs span the most iconic moments in Star Wars and other popular Warner Bros. properties, so eagle eyed fans should enjoy spotting them during gameplay.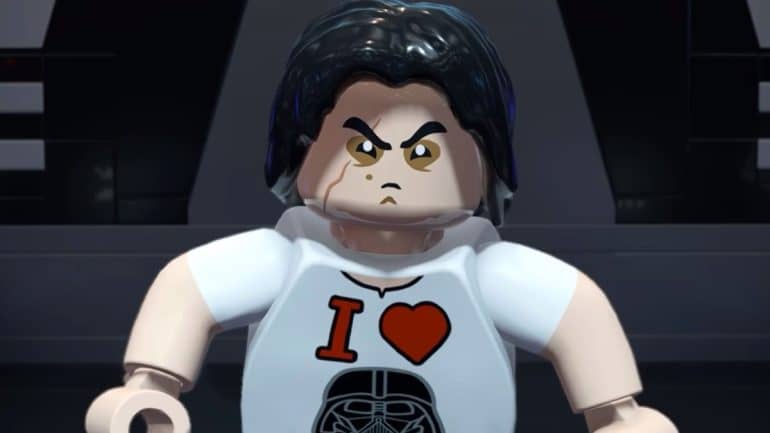 Unique interactions between characters
While this may be a LEGO game that exaggerates a lot of the events, there are still pockets of solid Star Wars knowledge left for die-hard fans to spot. LEGO Star Wars: The Skywalker Saga secrets are typically based on actual events that took place canonically and this is shown well with the interactions.
In-game, you have access to over 300 playable characters with many unique traits. One of the more interesting secrets lies with our spaghetti western Mandalorian protagonist. When encountering Tusken Raiders, they won't fire their weapons at you, showing that the events of the show have created a sort of pact between the two parties. This is pretty nifty as Tusken Raiders can be quite a pain to deal with when you're on their bad side.
Similarly, we've also got some other interactions between characters across different trilogies that we never got to see on the big screen. In one particularly interesting one, Kylo Ren (a huge Darth Vader fanboy) gets nervous at the sight of Darth Vader and tries to calm himself down. Perhaps spotting the uneasiness, Vader condescendingly calls him off. We couldn't help but feel for poor Kylo for blowing the chance to speak to his hero.
As a hilarious parody of a parody, LEGO Star Wars: The Skywalker Saga Easter eggs also reference Spaceballs. If you're unfamiliar, Spaceballs was a Star wars parody released back in 1987. It had a C-3PO copy character called Dot Matrix who was basically a gold robot with a wig. In the game, C-3PO wears a mop on his head that makes him look similar to his parody counterpart. The Spaceballs references don't just stop there as Jabba the Hutt is surrounded by pizza in a scene of the game. A clear callback to Pizza the Hutt from the parody movies.
LEGO Star Wars The Skywalker Saga Easter Eggs – Non-Star Wars Movies
In clever fashion, the game references some iconic movies that Star Wars actors starred in. A great example of this is Harrison Ford whose claim to fame is also shared with Lucasfilm's Indiana Jones. In a level for The Force Awakens in the game, it is possible to stumble upon the legendary Ark of the Covenant from Raiders of the Lost Ark. This is a pretty nice Easter egg that calls back to an era where we were blessed with Harrison Ford taking the center stage.
We also got to see another actor get a shout out in the form of Liam Neeson who played the wise Jedi Master Qui-Gon Jinn in The Phantom Menace. His role in the iconic film Taken is hilariously referenced in his dialogue. While playing as the character, your puzzle solving attempts are usually accompanied by a line referencing a "particular set of skills" that could be helpful. This memorable line is a heartwarming spin as it lets us picture Qui-Gon as a vengeance seeking badass dad.
For the most dedicated film fans, we've got a secretive movie Easter egg. In the final level of the sequel trilogy in LEGO Star Wars: The Skywalker Saga, we see Beaumont, a minor character played by Dominic Monaghan mention that Leia refused to approve his request of a "second breakfast". The actor also portrayed Merry in The Lord of the Rings and his character was a Hobbit. Hobbits have interesting traditions and second breakfasts are a part of them. It was nice to see this reference in the game.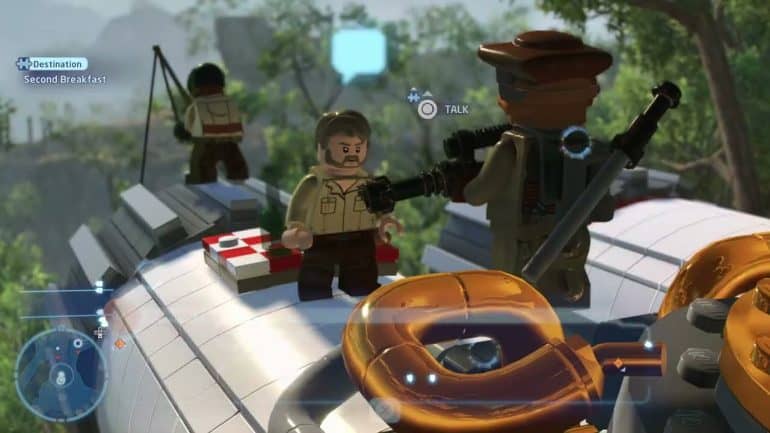 Interesting references to previous LEGO Star Wars Games
In The Skywalker Saga, we also see some major throwbacks that are sure to tug at the heartstrings of dedicated LEGO Star Wars fans. Within our list of LEGO Star Wars Skywalker Saga secrets, veteran fans will enjoy this. In some levels, there are copies of previous games that can be found and collected.
You can find a copy of the first LEGO Star Wars game within The Phantom Menace level, and there is also a copy of the second game during the first level of A New Hope. These copies are also accompanied with a few more games and tucked away for only the keen players to spot.
As a nice treat, we've also got the iconic Stormtrooper hot tub gag making a return. It's always nice to see our aim-starved soldiers taking a break from all the misses once in a while. For the LEGO Star Wars: The Skywalker Saga Easter eggs, you'll need to explore quite a bit before finding the relaxing troopers.
Cool Star Wars Secrets
LEGO Star Wars: The Skywalker Saga secrets are always worth finding as they are presented in the most unsuspecting ways. For example, an adult Anakin swings his lightsaber during an idle animation, and when he does it enough, it briefly turns red before reverting back to blue, startling the unsuspecting Jedi and teasing his tragic future.
Also, we see little pockets of references to the highly popular prequel meme community on the internet. Anakin's hatred for sand is a standout one, and the infamous theory tying Jar Jar Binks with the dark side as a Sith Lord is also present.
Many LEGO fans who are deep in the community know that the LEGO model Millennium Falcon is one of the hardest sets to complete with 7,541 pieces. Keeping the fun and unpredictable trend of LEGO Star Wars: The Skywalker Saga Easter eggs in the game, Han Solo references this by saying that he'd prefer to escape in one piece instead of "7,000 little ones".
Did you know any other cool LEGO Star Wars: The Skywalker Saga secrets and Easter eggs?