Pinterest is a social media site designed for hobbyists. Pinterest users "pin" (hence the name) content they find interesting, such as recipes, DIY projects, and much more. But Pinterest is also an excellent place to make some sales.
Creating a business account on Pinterest is radically advantageous. Advertising through Pinterest is an optimal strategy for increasing brand-related engagement. Furthermore, a Pinterest ad campaign highlights new, creative ways for potential clients to utilize your product. For example, it allows adding tons of your product pictures and related ads for publishing. Of course, this will require a set of good design skills and a database of images that can be downloaded from high-quality libraries, like Depositphotos or others available online for free.
Launching a Pinterest account for your brand is a wise and profitable step, so let's sort out the details on how to do it!
Step 1: Create your business account
On Pinterest, there are millions of personal accounts. So anyone can make one and start discovering and sharing ideas. But of course, Pinterest also offers opportunities for brands to create accounts.
Starting a business account on Pinterest transforms its millions of users into potential customers. There are several advantages to leveraging Pinterest for sales and brand awareness, including:
Highlighting products and services with visual appeal
Defining unique applications for the items you sell
Reaching new demographics
To create a business account, either convert your personal account or make a new business one:
Go to Pinterest.
Select "Sign Up" on the top-right side of the screen.
Select "Create a business account."
Pick a work-related email, create your password, and enter your age. Consult your company for this information, if applicable.
Select "Create an account."
Type into fields as prompted to explain your business.
Choose whether or not you wish to run advertisements, and choose next to complete the process.
Commence the campaign with your new business account!
Step 2: Choose your campaign target
Before proceeding, think about the best imaginable customer for your brand—and be precise.
Many businesses cast their net too wide when advertising via Pinterest. Consequently, they never evolve beyond a rough understanding of their customers. As such, they never get the engagement they seek.
Identify your target market
So, how should you consider identifying your target audience? First, you need to consider who your customers already are by asking a few questions:
What is their median age?
Do they have shared hobbies?
What are their common, unifying traits?
How much income do they earn?
You should get something pretty specific. For example, research may suggest that middle-class urban women between 25 and 40 are your target. Or perhaps, you determine your market is rural-dwelling men over 80 (in which case, Pinterest isn't exactly the best platform).
Study your competitors
Analyzing competitors is a great shortcut. Consider similar brands that you know are successful. Chances are, they know their target market pretty well. Furthermore, you can tell you've chosen the right target when your ads interest the kind of user you want.
Let's take a look at this Pinterest ad from Best Buy:

While this is a fairly standard example, who sees the ad is a huge part of its effectiveness. By advertising on Pinterest, Best Buy saves money by not simply showing the ad to everyone. Instead, they offer it to relevant Pinterest users that line up with their target market. In this case, it's along the lines of:
Gadget enthusiasts
Above-average income
Pet owners
Remember, specificity beats generality. So while fewer people will see your ad, those who do are far more likely to purchase your product.
Ultimately, you can think about Pinterest as a city. Overall, it has a young, predominantly female population. More specifically, some neighborhoods (topics) have home cooking enthusiasts. Others are mainly populated by fashion lovers. Therefore, it's vital you post your ads in the proper neighborhoods where your customers are.
Step 3: Set up your campaign budget
What's great about Pinterest is that it's cost-effective. You can specify search terms so that only your target audience sees your ads. Thus, you can get away with running fewer expenses.
Despite being cheaper than conventional advertising, setting a campaign budget is critical. This will ensure that your campaign is on track and effective.
Expenditure expectations & calculations
So, how much should you expect to spend? That depends on how many views you seek.
A typical business account on Pinterest looks at cost-per-mile (CPM). In the digital marketing world, a mile consists of 1,000 impressions (a.k.a views). A business will pay between $2 and $5 per mile, regardless of if anyone buys the advertised product.
Thus, getting as many clicks (engagements) as possible is key to formulating your budget. But there are other considerations, too, which include:
Target engagement rate
Budget ceiling
Maximum bid
Sales goal
You'll also need to consider content costs. As a visual platform, most Pinterest ads include an image or video.
For example, you may wish to factor in the costs of royalty-free stock vector files for crisp, attention-grabbing graphics like these: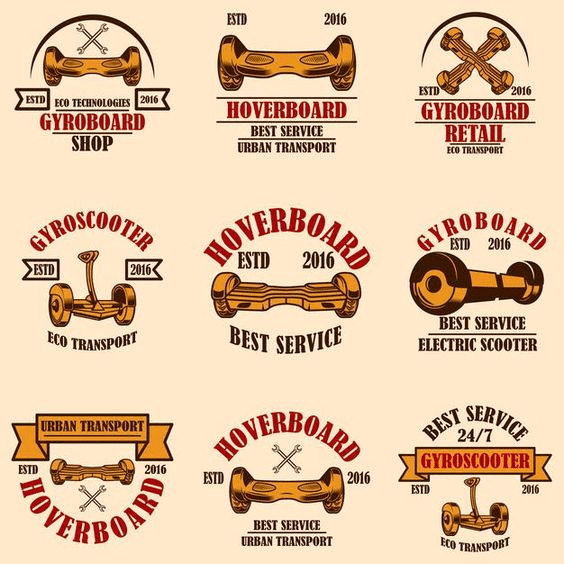 Source: Pinterest
Once you define your budget and craft a campaign plan, it's time to create ad groups.
Step 4: Create ad group
Ad groups are how you'll organize your Pinterest campaign. Don't overthink them—they are groups of ads sorted by their target customer.
To organize your campaign, determine what audience will engage with each ad the most. Then, use each type of audience as the basis for your ad groups. This helps keep your advertising plan organized into 3 levels, which are:
Campaign → ad groups → ads.
Form search keywords
But how do you determine which audience to designate an ad? The easiest strategy is to figure out keywords. Generally, keywords fall into 3 types (excluding negative search terms):
Broad match—Users may type any combination of keywords, plus synonyms.
Phrase match—Users must enter keywords (or variations) in a specific order.
Exact match—Users must enter the same phrase.
These types of keyword matches influence how many people see your ad. A broad match ad will target a wider audience, but engagement rates may be lower. By contrast, an exact match will target fewer users, but with more engagement.
Keyword types contrast
Let's say you sell shoes. You choose "canvas shoes" as your keyword.
With a broad match keyword, your ad may show up for a variety of similar searches. These may include "men's sneakers," "high-top sneakers," "footwear," and more.
With phrase match searches, you narrow down your audience a bit. People must type the keywords in the order they're listed. For example, "canvas shoes for men" or "red canvas shoes" would bring up your ad.
Finally, exact match searches require that users enter your keyphrase precisely as you specified to see your ad. They would need to enter "canvas shoes" without variation. While search volume may be lower, those who see your ad are explicitly looking for your product.
Furthermore, one company can have multiple targets—this is why specialized ads are so vital. Here are some examples of advertisements from different groups (Best Buy again):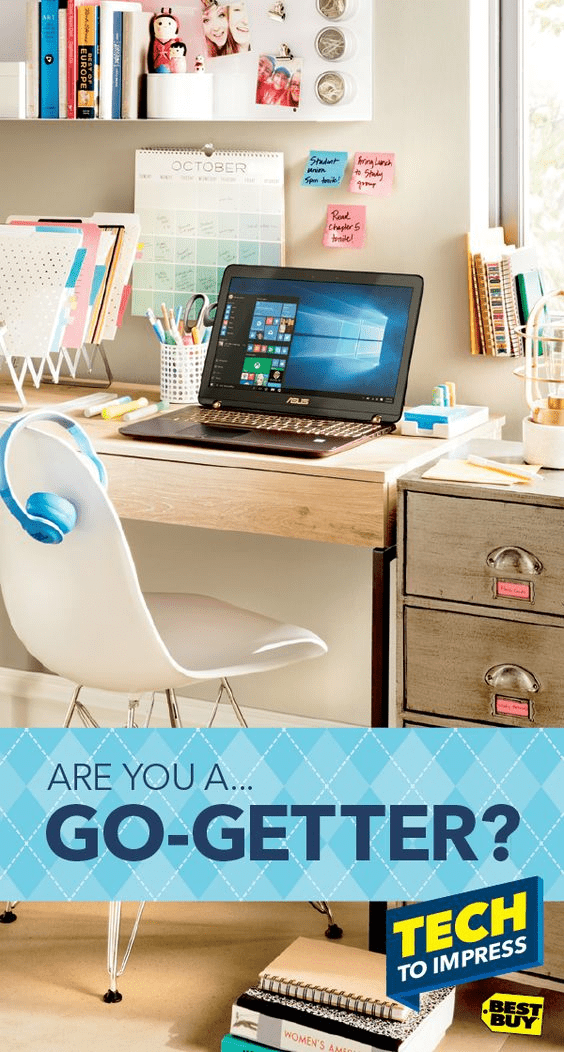 Remember to track your data and make adjustments to each ad group if needed. Sometimes a little trial-and-error is necessary to create an effective campaign!
Step 5: And now…build your audience!
Once you've identified your markets, it's time to cast your net in the right spot. Your hard work in narrowing down your bank of potential customers helps enormously here. On Pinterest, it's all about creating posts that specifically excite the groups you've chosen.
If you're still confused about which groups to appeal to, consider your options. Pinterest is home to countless shared boards. Users with common interests may join these boards. For example, boards may be dedicated to baking, woodworking, video game modding, and many more.
Using the right boards to grow your brand is an excellent strategy to expand an audience. For example: if your company manufactures jigsaw parts, a woodworking board will offer many people on the lookout for products resembling what you provide.
Just remember that it's crucial that you go beyond your ads.
Take Warby Parker. Warby Parker's Pinterest business account includes a board called "Library Inspiration." While these pins aren't directly related to the eyewear they sell, they allow the brand to plant itself into the Pinterest community via a common interest. Taking a step back from advertising displays a human element—one that builds trust between both consumers and companies.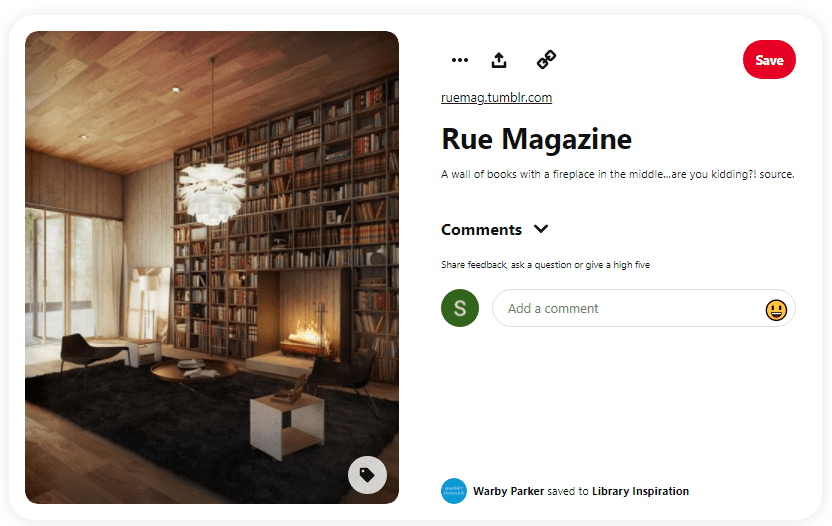 The big takeaway for building your audience is this: Focus on creating relationships. This means you'll operate your business account as a personal account during your growth phase. Creating ads should remain reserved for your conversions/selling phase. Just don't forget to remain personable and avoid seeming "sales-y."
Step 6: Create your ad
Here comes the most fulfilling part of the campaign for creative types: creating ads! As you explore Pinterest, you'll notice users communicate via pictures, animation, screenshots, and video recordings. Thus, a strong ad must be eye-catching.
Again, the key to marketing on any social media is to skip the sales pitch. When you name your ad, avoid the usage of cliches like, "The all-new (product)." Instead, name your post as one operating an individual account would.
Most importantly, the best ads don't appear to be ads. Here's an example for added clarification:
Input links
So now, after creating some compelling ads, you'll want to track them so you can check in with how well they do. Inputting URLs allows you to easily keep up with important data, like views and clicks.
Navigate to Pinterest's "Ads Manager" to view your choices. You'll encounter a few terms, such as:
Third-Party Tracking—Enables you to use other platforms to track and integrate results.
Parallel Click Counting—URLs that do double-duty by redirecting customers and counting clicks.
Dynamic Tracking—A comprehensive lead generation analysis tool.
There are many more tracking parameters, you can check out Pinterest's help center for more information.
Step 7: Finally, post your ad!
Now it's time to put your Pinterest campaign to work! Simply hit the "Create Ad" option on your Pinterest business account and go from there!
Remember to attach URLs and tracking tools so you can assess the performance of each ad. Search engine optimization (SEO) is important on Pinterest, too. Choose the right keywords, and you'll be greatly rewarded.
Conclusion
Creating a Pinterest campaign is a rewarding, cost-effective way to grow brand awareness and drive sales. You'll gain access to a pool of nearly 500 million customers and counting. Besides, Pinterest content offers an endless ceiling of ad creativity. Not only do people spend hours a day browsing content, but businesses receive higher returns on investments than ever before. Now, all that's left is keeping track of your sales and creating better and better ads as you proceed!