In the build-up to the release of Final Fantasy 7: Remake, we're taking a retrospective look at some of the highlights of this iconic gaming franchise from the past few decades — the Final Fantasy protagonists and characters. So, sit back, and enjoy our trip down memory lane, filled with plenty of Moogles, Espers, Chocobos, and Cids.
In any of the Final Fantasy games, you're liable to spend tens of hours getting all the way from scrappy-young-chosen-one-on-their-first-adventure to slaying the godlike final boss. You'll also spend all that time with a rag-tag bunch of party members, usually including teenagers, aged warriors, and strange talkative beasts. Most importantly, you'll usually be in control of one leading protagonist, whether it's on the field map, the world map, or in dungeons.
Some Final Fantasy protagonists and characters have been more memorable than others, with some cementing their place in gaming culture forever. It's hard to say what makes a good Final Fantasy protagonist, and we will all have our favourites, but this list is based upon a few loose criteria: how memorable they are, how enjoyable they are to spend time controlling, and how good their character arc is. As always, results may vary. But without any further ado, lets jump right in…
Warrior of Light (FFI)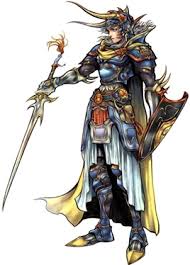 The OG Warrior of Light from the very first Final Fantasy is placed here because of their sheer lack of anything substantial as a character. In the first Final Fantasy title, you formed a party of four warriors out of various classes, and there really wasn't much to their characters at all. They went out, they fought bad guys, and saved the world, the end, without any dialogue or backstories that would form part of the later franchise instalments. It was only in later releases like Final Fantasy Dissidia that this game even had a protagonist defined formally as the Warrior of Light, along with a unique appearance, but even then, due to his origins, there was nothing much that could be done with this generically adventurous person.
Luneth (FFIII)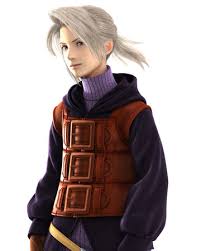 Luneth was in much the same boat as the Warrior of Light in the previous entry, as a generic, random adventurer without any personality. However, he only just edges out into second last place because of the few updates provided in the DS release. Until that point, Luneth was just a generic Onion Knight, but a few extra scenes and character moments in the re-release, while not much, help make this plucky young kid feel more like an actual person.
Firion (FFII)
Firion was the first protagonist and character in an Final Fantasy title to actually have a bit of a personality or backstory, which was already an improvement. He has family, friends, and motivations (to some extent). However, it's clear that the series writers were still finding their feet at this point, and looking back at Firion, he is a comparatively flat character, whose motivations are pretty much the same as those of his party as a whole, without anything really differentiating him meaningful as an individual. Impressive for his time, Firion finds his low place on this list as a result of being the first steppingstone that many more complex characters developed from.
Bartz Klauser (FFV)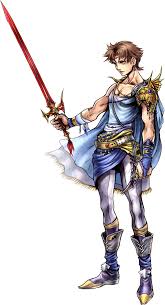 Bartz is set up to be one of the all-time most-generic hero characters right from the start. An orphan, he wanders the world as a generic..um…wanderer, with minimal ambitions aside from just helping out and earning some Gil. However, he shows a surprising level of complexity compared to some earlier entries in the series. He turns down the initial heroic call-to-adventure, and it takes him a bit more time before he even commits to saving the world. His personality is more rounded, with a range of emotions for different situations, and in many ways he feels like an actual person, facing enormous odds and challenges, but maintaining his easy-going personality, albeit with a developing sense of maturity as the game progresses. He also has an adorable chocobo sidekick, Boko, which can only add to his appeal. However, Bartz falls short when compared to the depth of Final Fantasy IV's protagonist, and it can feel like a bit of a step back to engage in this rather simpler adventure in Final Fantasy V (excellent job system notwithstanding).
Vaan (FFXII)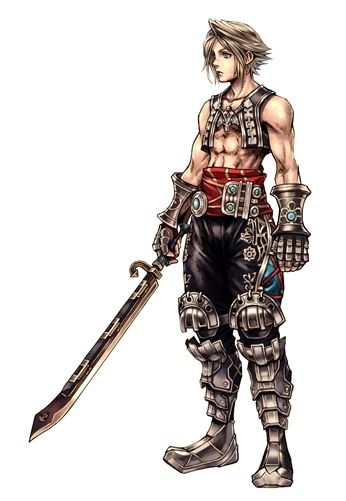 Much has been said of Vaan, and he is in many ways one of the more divisive protagonists in the series. Even to use that word courts controversy, as it is definitely arguable that Vaan is not the protagonist but is actually just a viewpoint character for the player to control. Originally, badass Captain Basch was intended to be this instalment's protagonist, and indeed most of the plot revolves around him and Ashe. Vaan on the other hand doesn't seem to have much going for him beyond his constantly stated desire to become a sky pirate, and his ability to stand in the background of cutscenes while more important people speak. But for me, I think the issue is more one of execution than of purpose. Vaan is important to the plot, and in many significant ways, the main party's cause would have failed without him – it is Vaan that convinces Ashe not to give in to despair and to stop dreaming of living with her dead husband. As a result, Ashe does not follow the directions of the god-like Occuria, and instead charts her own path for the destiny of Ivalice. Ashe and Vaan were meant to be counterpoints, both having experienced great loss but having handled it in different ways. However, because this doesn't always come out in dialogue as well as it should, Vaan, unfortunately, finds his place towards the bottom of this list. At least he's still more important than Penelo…
Lightning (FFXIII)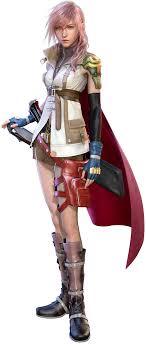 Lightning is another character where I can really see what they were trying to get across with her, but I just don't enjoy spending that much time with her in practice. She gets her position here rather than lower much as the result of her having three games, meaning that we spend a bit more time with her and get to know her a bit better. Final Fantasy XIII begins in medias res, with events already in the middle of unfolding, and we meet Lightning as an extremely cold, emotionally distant character. While we later learn what family drama led her to become this way, she remains very difficult to deal with for her party members. Over time, she eventually warms up ever so slightly, showing genuine emotions for some of the people around her. The biggest problem with Final Fantasy XIII is the way in which the party spend most of the game just following the orders of beings greater than themselves for reasons they don't fully understand, leading to a huge lack of agency in Lightning as the protagonist. By the time her story concludes in Lightning Returns, she has challenged those same forces that sought to control her, and has found a measure of peace, meaning that we can at least lay Lightning to rest with some element of closure.
The Adventurer (FFXI)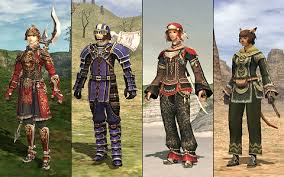 What will be said in this section will be true of many MMO protagonists, and indeed applies to both Final Fantasy XI and Final Fantasy XIV, the two online instalments in this franchise. We spend so much time playing an MMO like Final Fantasy XI that we tend to get quite attached to our character to a greater extent than in many other games, meaning that our fondness for them as the protagonist of a story is developed in rather a different way to the offline games in the franchise. The biggest problem with Final Fantasy XI's protagonist is a lack of agency – while we do go to fantastic places and achieve fantastic things during the hundreds of hours spent playing an MMO, there is always the lurking sense of "but thou must" when it comes to quests. We find a quest and our player character happily accepts it and sets out to slay five boars or an ancient dark god or what have you. There is very rarely the sense that our character would say no to a request because of something they find personally repellant about it. This means that MMO protagonists can rarely have the range of emotions or depth that offline protagonists can and suffer very little internal conflict or growth. Ultimately, your adventurer from Final Fantasy XI is placed here because of the personal adventures you had with them, which are highly variable for each player.
Warrior of Light (FFXIV)
Everything I said in the previous section about the MMO protagonist of Final Fantasy XI applies here to the MMO protagonist of Final Fantasy XIV. But what gives this one the edge over the former is two main reasons: firstly, the march of technology means that the storytelling mechanisms and cutscenes are more advanced in Final Fantasy XIV than in Final Fantasy XI, allowing a greater range of events to occur to your character, making what happens to them slightly more interesting. Secondly, with the release of the Shadowbringers expansion, which I maintain is one of the best MMO expansions ever, Square Enix actually got playful with your generically amazing hero character. At this point in the plot, you had spent hundreds of hours as the most amazing hero of the world, with good guys flocking to you and bad guys fearing you. In Shadowbringers however, you are thrust into a world that either dismisses you or fears you, and the very notion of what it means to be a hero (and a Warrior of Light) as you previously understood it is challenged. This kind of subversion of expectation works excellently in the plot and is a fantastic piece of character development for every player in the game, and a great development on what it means to be a generic MMO hero.
Terra Branford (FFVI)
Final Fantasy VI is a remarkable game, and the main one people bring up in fights with Final Fantasy VII fans over which was the best FF game. It also has a huge list of party members and characters, most of whom get outshone by the series villain, Kefka. This means that Terra, while an impressive protagonist, is less memorable to the overall proceedings than some other title's protagonists. Beginning the game as a slave, this half-Esper heroine is freed by good fortune and then sets out to destroy the evil empire that enslaved her. The main interesting element of Terra's character is her outsider status: she is feared by many people for her magical abilities and is not even fully human. While she does achieve a lot in stopping Kefka, Final Fantasy VI is much more the sum of many different memorable moments than it is Terra's story alone, placing her here on this list, but she will always have a place in our hearts as the series' first female protagonist.
Squall Leonhart (FFVIII)
Squall was designed to be a rock-star-ish, melancholic young bad-boy-with-a-heart-of-gold, but what many people instead saw was a mopey, monosyllabic source of mockery. And while that is a fair assessment, it is also too much of a simplification of who Squall is. Squall has more or less grown up in a school for mercenaries, and as a teenager has deep issues about abandonment, leading to him pushing people away and not having any close friends. When we have control of him, he mostly articulates his feelings only inside his own head, for the benefit of the player, but doing little else for those around him. However, events conspire to thrust him into contact with more people, and eventually to take command of an entire military. The biggest shift in his character is his romance with Rinoa, who eventually breaks through Squall's icy exterior and gets him to feel something again. There are some interesting angles to explore here – Squall makes it fairly clear that he would do almost anything to keep Rinoa safe, up to and including going evil. However, that side of things doesn't get much detail fleshed out into it, and the whole thing does come across very high-school melodrama. As these kinds of romances don't appeal to everyone, Squall has earned his place near the middle of this list, but he most certainly maintains his die-hard audience of early 2000s scene kids fans.
Noctis Lucis Caelum (FFXV)

The plot of Final Fantasy XV is a bit of a shambles, especially in the second half, but what really makes it as a playable experience is the interaction between Noctis and his three friends. Noctis himself is not terribly distinctive: a prince, unsure if he even wants the throne and trying to measure up to his father, is thrust into a war where his entire nation and the world itself are threatened, and he must step up and take responsibility for saving it. And that generic description is more or less what we need to know about Noctis from start to finish. However, throughout the course of your multi-hour adventure, you will spend so much time with Noctis and his friends, and realise that they just have so much personality between them, that only deepens over time as their bonds of brotherhood grow. Final Fantasy XV is unique in that it's not really about the big plot, although that certainly reaches a great climax, but really much more about all the moments in the middle, and it can feel like one of the best camping and adventuring simulators at times. This means that Noctis, while superficially having much less depth than other people on this list, earns a special place in a player's heart if they stick with his admittedly flawed title.
Cecil Harvey (FFIV)
Cecil, the original edgelord of Final Fantasy, was also its first protagonist to have a genuinely decent character plot and development, which incidentally also intersected with the main antagonist's plot for the first time in a meaningful way. Cecil begins the game as a Dark Knight, serving the king of Baron. With a strong belief in right and wrong, Cecil hates the evil orders he has to follow, which is expressed physically in the depressing Dark Knight persona and appearance he takes on. Cecil continually struggles with his own self-hatred, until he finally overcomes it at the midpoint of the game and takes on the mantle of a holy knight, a Paladin, signifying his growth as a character narratively, physically, and game-play wise. It's a great intersection of gameplay and story beats. Throughout the plot, Cecil is also struggling to understand and accept his nature as a Lunarian, and comes into conflict with his brother Golbez. Cecil's strongly defined character and well-presented arc make him a firm favourite of many Final Fantasy fans to this day. 
Tidus (FFX)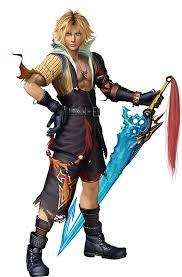 Let's address the elephant in the room: when people think of Tidus, they mostly think of that abysmal, meme-worthy laugh scene, the one populating the internet before the word "meme" even existed in its current form. However, as many people forget, that scene makes complete sense in context, and in many ways the weirdness of it comes from the voice acting still being fairly amateurish for the Final Fantasy franchise at this time. Taken holistically, Tidus has one of the most interesting character arcs of any series protagonists, and one which ties excellently into the themes of the game as a whole. Final Fantasy X is all about the what seems like the inevitable spiral of death, and what that does to a society. The heroes of this story exist to give hope to this world and to break out of that spiral. Tidus begins the plot as a pro athlete, with few concerns in his life beyond his inferiority complex about his missing father. However, he is soon thrust into a strange new world, and while looking for a way home, not only falls in love, but discovers that he himself is a magical construct and therefore not even real. A fish out of water archetype, Tidus has many delightful scenes where he challenges the rigid hierarchy of the world or humorously misunderstands the ways in which things work in Spira. His eventual acceptance of his own "death" for the sake of the world, giving up the woman he loves, is one of the most heartwarming moments in the franchise, and goes a long way to show how far Tidus has evolved over the course of the game. Tidus feels realistic and human, while still being heroic and engaging as a protagonist, earning him the third-highest spot on this list. Only in Final Fantasy could a ghost with daddy issues about his father who became a giant monster whale generate any sort of realistic human reaction from the player.
Cloud Strife (FFVII)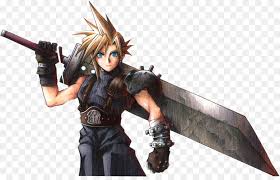 More than any other Final Fantasy protagonist, Cloud is emblematic of the series as a whole, and of JRPGs in the west. He is the archetypal spikey-haired-big-sword protagonist. But there's so much more to him too, and even Final Fantasy VII's own expanded media doesn't always quite capture Cloud's depth, turning him into far more of a stereotypical edgelord than he was in the original title. Cloud is presented to us first as a badass, uncaring mercenary that might secretly have a heart of gold, somewhere deep, deep under there. He has a personal vendetta against the Shinra Corporation and against series badguy, Sephiroth. If that had been where he had ended, then Cloud would have been fairly generic and forgettable (Don Corneo comedic-side-plot aside). However, we learn that everything we had known about him was actually a lie: Cloud was actually a failed soldier that, after demonstrating a moment of heroism during a tragedy, was captured, tortured, and experimented upon until he had a mental breakdown and took on elements of his best friend's much cooler personality. The way this is presented to us as players is exceptional, as clues throughout the game indicate this without giving it away, and we learn that the Cloud we know at this point is someone entirely different. Cloud himself must come to terms with who he is, and he pieces together his personality in the later sections of the game to finally understand who he is as a person and to accept himself for who he is. When he leads the party at the end of the game, he is a confident, powerful warrior that has been through hell and back and become stronger for it, and it is this element of Cloud that gets ignored in most other media, focusing instead of the tortured side of his personality. But in reality, Cloud overcame those difficulties, and in so doing, created a reimagined version of the stoic, generically good hero character we had become so familiar with in other titles up until this point.
Zidane Tribal (FFIX)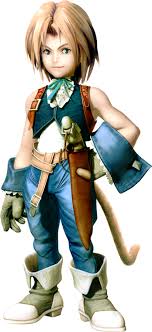 Every party member in Final Fantasy IX has a statement that sums up who they are as a person. Zidane's is "Virtue – You don't need a reason to help people." This, above anything else, indicates why he is such a delightful protagonist to play with. Zidane is a thief, drawn into a simple enough plot to kidnap a princess that turns into a globe-spanning effort to save the world. Zidane, at least initially, joins in because it is the right thing to do, and it is only later that the story takes on much more significance for him personally. And while Zidane is heroic, he is never generically so, displaying a wide range of witty banter and a few personal flaws (his womanizing habit being the worst of them). Zidane is not what people expect a hero to be, and he certainly never sees himself as a hero, preferring to play the dashing rogue, and yet a hero is what he becomes. He experiences emotionally traumatic moments, such as when he thinks his beloved Dagger is lost to him, or when he believes himself to have been made as a soulless puppet, but he always bounces back and emerges stronger for those moments. He has positivity for days, and always cares about those less fortunate or more victimized in society, but he does so without being sanctimonious. He always struck me as the kind of guy that anyone could be friends with, sooner or later, as his infectious personality inevitably grabs a hold of you sooner or later. Tellingly, at the end of the game, Zidane almost sacrifices his life to go back and try and save the villain, who now lies defeated, but that's just the kind of guy Zidane is. When you play as him, you want him to succeed, and you love seeing what antics he will get up to next. Zidane may not have the most dramatic, or complicated, or extensive character arc out of everyone on this list, but what he does have is heap-loads of charm and passion that position him perfectly in this game that already runs primarily on those two qualities.
What do you think of our list? How would you rank the Final Fantasy protagonists?