If you grew up in the late '80s, you'll remember the euphoria of opening a present and realising it was a He-Man and the Masters of the Universe action figure. Heck, you didn't even care if there was a shortage of the main characters, because even Moss-Man and Fisto were awesome to have in your collection.
Well, now in 2021, the Power of Grayskull is back! Not just on Netflix, with the two MOTU shows, but also in the toy stores. Yip, the O.G. He-Man and the Masters of the Universe action figures are back on the shelves.
Mattel sent us a few He-Man and Masters of the Universe figures to check out, so let's see if the power is still there.
Faker
Who the hell is Faker? Ah, if you recall, he was one of Skeletor's cronies, who was the perfect merger between He-Man and the great bonehead himself. He possessed Skeletor's blue skin and purple attire, while he was blessed (or cursed) with He-Man's face and bad hairstyle.
Taking one look at this figure, it looks like a picture-perfect replica of the original line, including its mini comic titled "Sucker Punch"—but it's not. The power punch action has been removed and the figure is far better for it, as it shows just how far toy design has come in over three decades.
While he still comes with a removable chest plate and sword, there are far more points of articulation and you can take off his belt too. The feet, knees, legs, arms, elbows, and hands are all movable, allowing for more detailed poses and movement. Plus, if you have other figures, you can also remove and swap out body parts, to create a unique-looking figurine. So, go ahead and live out your Frankenstein dream here!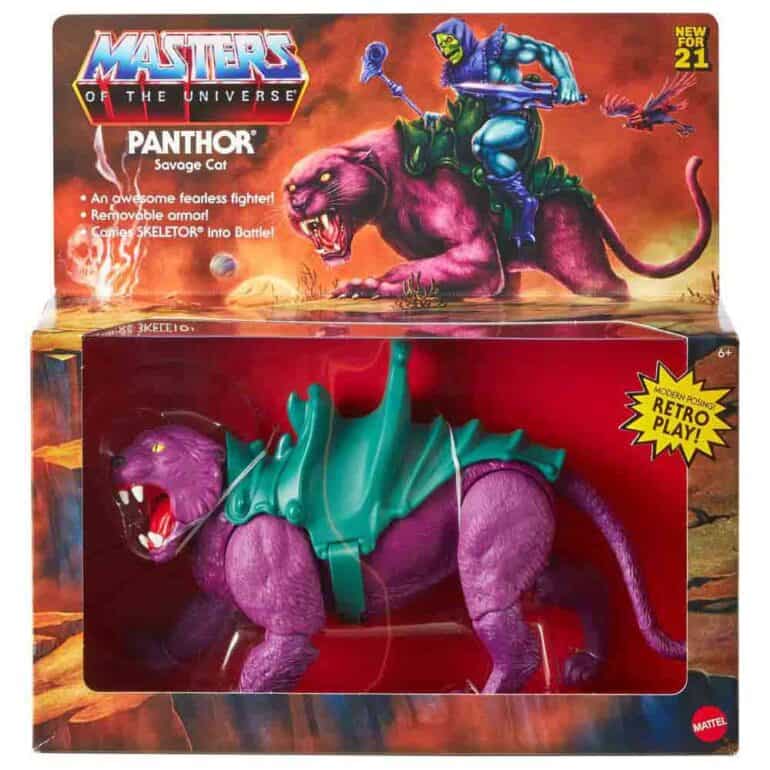 Panthor
While everyone harps on about how cool Battle Cat is, let's not forget that Panthor was the real MVP of He-Man and the Masters of the Universe. Skeletor's trusty companion was released in 1983 as a 5-inch figure with velvet-like fur and a detachable saddle. However, over time, this fur would fade and you'd have a patchier and worn-out Panthor.
This new version of the character is an upgrade and a half. While the 1983 first edition of Panthor had one singular pose, this new version has several points of articulation, allowing for more interaction and poses with other characters. Additionally, his head and mouth are fully movable, so if you want to put Prince Adam's head in his mouth for him to chew on, you can do so without hassle.
Whereas before Panthor felt like a limited figurine or statue, Skeletor's companion now feels like a fully-fledged character in this toy line. He's totally purr-fect!
Make sure you check out our review of He-Man and the Masters of the Universe figures below.