Q: Is Harry Potter a ripoff of Star Wars? A: Yes and no. It is another retelling of the Hero's Journey. But the similarities are hard to deny.
In 1871, the English anthropologist Edward Burnett Tylor was one of the first in his field to draw attention to the similarities between the myths and legends of otherwise vastly different cultures. This phenomenon would be further observed by American writer Joseph Campbell, who published a book called The Hero with a Thousand Faces in 1949.
Thanks to Campbell and his theory of the monomyth, narratologists popularized the concept of "The Hero's Journey" as a fundamental part of storytelling through the ages. Examples of this so-called journey can be seen in nearly every work of modern and classical narrative, serving as the starting point of some of the most iconic pieces of fiction ever written.
That's why it isn't so strange to see two widely different stories that share some core similarities: the story of an orphan who decides to become a superhero after a family tragedy could be attributed to either Spider-Man or Batman, for example.
However, there are some cases where mere similarities aren't the only thing that two stories have in common. Sometimes, two narratives are so overwhelmingly similar, and so distant in time, that some suspicions of plagiarism are bound to arise. Such is the case of the Harry Potter and the Star Wars franchise.
A Wizarding Galaxy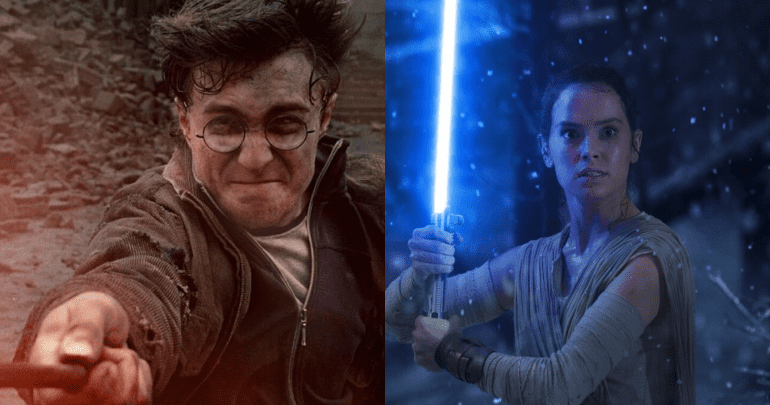 The timeless story of a gifted young boy who goes to live with his aunt and his uncle, hidden from the evil forces of a corrupt group of people – that's the origin story of both Luke Skywalker and Harry Potter. While this fits with the overall structure of the Hero's Journey, Campbell never wrote about the protagonist having to live with his relatives in The Hero with a Thousand Faces.
It might sound like just a nitpick, but things only get more similar from here on out. Both Luke and Harry have a call to action that comes from the character that left them in their relatives' house in the first place (Hagrid and Obi-Wan Kenobi.)
While the concept of the Force and magic (as seen in the world of Harry Potter) are vastly different, the main character's ties to their special abilities play an integral part in both Star Wars and Harry Potter. It's worth mentioning, however, that Luke eventually becomes quite fluent with the Force, while Harry could hardly pass his finals in Hogwarts.
A Meaningful Villain
Perhaps one of the most disappointing aspects of the whole Harry Potter saga is how forced the connection between Lord Voldemort and Harry feels. While the story of The Boy Who Lived has him tied to the evil wizard through some form of magic tie, Luke's relationship with Darth Vader is just so much more effective on an emotional level.
Granted, there would be more than a few eyebrows raised if Voldemort suddenly revealed that he was Harry's father, but, at the very least, a more consequential connection would have made their feud much more interesting.
Friends And Romance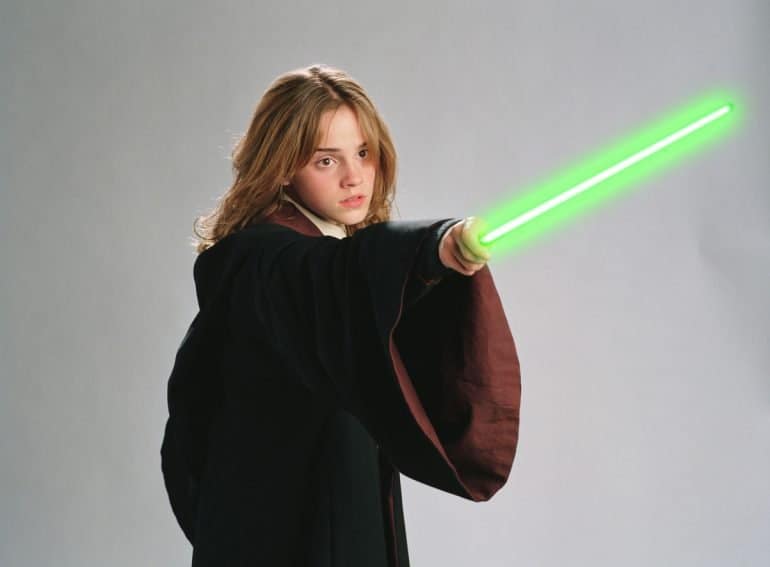 Here's one area where Harry might actually have an advantage over Luke. While Jedi can't have romantic partners, Harry manages to establish a happy family with his best friend's sister.
On the other hand, most fans thought that Harry was destined to end up with Hermione, who chooses Ron instead. This strange love triangle bears some resemblances to the one we see with Luke, Leia, and Han Solo. The good news is that, in Harry Potter, there are no uncomfortable kisses that everyone would love to pretend never happened. Skywalker family reunions must be extremely awkward indeed.
What do you think, is Harry Potter a Star Wars rip-off?