After The Amazing Spider-Man 2's lacklustre reception and Tom Holland's subsequent rise as the MCU's Web-Head, no one would've expected Andrew Garfield's Spidey to be lighting up the internet in 2021. Yet, thanks to No Way Home, we've all been reminded that Garfield was a great Spider-Man, who just happened to be in a mixed bag of movies. While the film acted as a fitting send-off to his version of the character, it did make fans wonder what The Amazing Spider-Man 3 could've been. Well, the Multiverse is in effect now, so why shouldn't it be a possibility? 
The angry Spider-Man
In No Way Home, Garfield's Spider-Man reveals how he somehow lost his way after the Gwen Stacy tragedy. He mentioned how he stopped holding back when he fought crime—kind of like the Dark Knight in Batman V Superman: Dawn of Justice if you think about it. It certainly would've made for an interesting premise in The Amazing Spider-Man 3. Especially since all that anger and rage would've made for the perfect setup for him to bond with the symbiote Venom.  
In fact, a lot of the audience has suggested that he might be a better fit to battle Tom Hardy's Venom than Holland's Spidey. If the Multiverse is in full swing, why can't Hardy's symbiote become the main antagonist in the Garfield universe, especially since Holland's Spidey will be preoccupied with the likes of Kraven the Hunter and Morbius? It would make for an unexpected twist and surprise, that's for sure.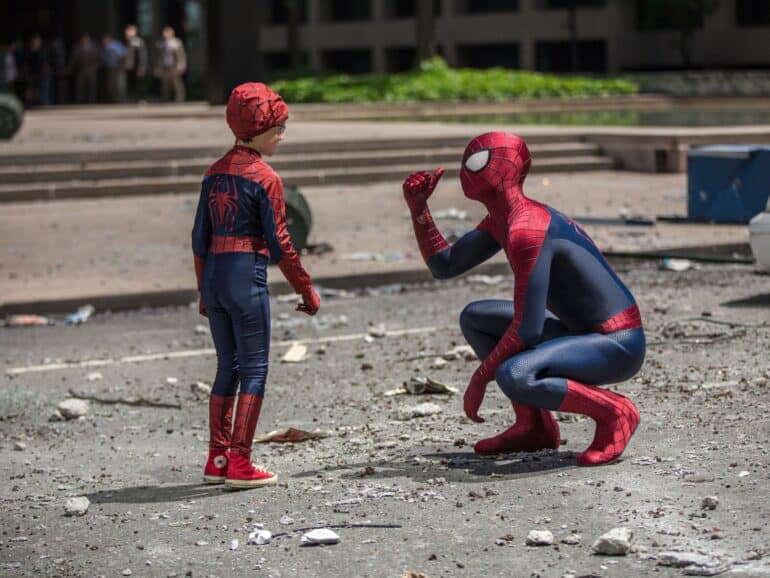 The Amazing Spider-Man 3 could tie up loose ends
Even though Garfield's Spidey got the chance to save MJ in No Way Home and atone for failing to save Gwen, he's effectively gone back to his world—alone. He has no best friend since Harry Osborn betrayed him and became the Green Goblin and he lost his first love. While a deleted scene from The Amazing Spider-Man 2 would've introduced Shailene Woodley as Mary Jane Watson, fans still haven't met the character nor has the Peter Parker of that universe. For all intents and purposes, she doesn't exist. 
Well, The Amazing Spider-Man 3 would be the right time to bring MJ into Peter's life. Sure, it doesn't mean that he's over Gwen or her passing, but it would allow him an opportunity to have someone new in his life.  
Also, this film could address the two elephants in the room from the previous movies: Are Peter's parents actually still alive since that was the suggestion at some point? (According to some reports, that was even a reveal in the original draft of The Amazing Spider-Man 2's script.) And what happened to the Sinister Six? While it's unlikely that Sony would want to explore the group in a film now, since that's something that would best stay suited to Holland's Spider-Man, there's the chance to at least close the loop on that story thread in a creative way. 
Spider-Man vs. Venom but #SpiderMan is Andrew Garfield.

Think about it.

— Rob Keyes (@rob_keyes) December 19, 2021
Spider-Man fans are now planning an online campaign to try and get Sony to make The Amazing Spider-Man 3 with #AndrewGarfield! They'll be using the hashtag #MakeTASM3. pic.twitter.com/QMPRpEsaZ5

— Binge Watch This (@BingeWatchThis_) December 20, 2021
But will The Amazing Spider-Man 3 happen?
Two years ago, the answer would be an emphatic no. But now? Anything is possible. 
Looking at the box office returns for No Way Home now, it's something that will have Sony's attention. The studio could've never predicted the hit that it would have on its hands. Thanks to the rumour mill, the film practically sold itself and had everyone eagerly anticipating what was to come. Plus, it also helped that the movie was spectacular at the end of the day. 
The only question is, would Garfield be keen to return for The Amazing Spider-Man 3? In a past interview, he admitted that the Spider-Man experience broke his heart after he witnessed how it became all about money. However, his return in No Way Home indicates that something positive happened between him and the studio. Maybe this time he might have a chance to live out his childhood dreams in a movie he approves of and to close the chapter on his superhero adventures on his own terms? 
Tell us, would you like to see The Amazing Spider-Man 3 happen?