It's a question many fans are asking: Brandon Routh Superman vs Henry Cavill Superman, who is the best?
Crisis on Infinite Earths reminded everyone why Brandon Routh is an amazing Superman. This reminder recalls how the lacklustre box-office reception for Superman Returns (2006) pulled the rug out underneath Routh's career and seemed to kill any chance of seeing him portray the character in film again. Luckily, he returned to the same character in the recent CW cross-over, even if it was only for television. Whatever creative mistakes were made with Bryan Singer's Superman film, Routh's charisma and natural embodiment of the Last Kryptonian shone through.
After Routh's unfortunate dismissal from the role, it was Henry Cavill's turn as Superman in 2012's Man of Steel. While the film made decent money, performing much better than Superman Returns, it too failed to live up to box-office expectations. Critical backlash hurt the film more so than financial underperformance. Nevertheless, Man of Steel was successful enough for the possibility of a sequel and enabled the character to appear within DC's shared film universe. Like Routh, Cavill gave a standout performance despite appearing in another 'underachieving' Superman film.
Both actors gave strong portrayals but if you had to choose which actor was the better Superman, which would it be?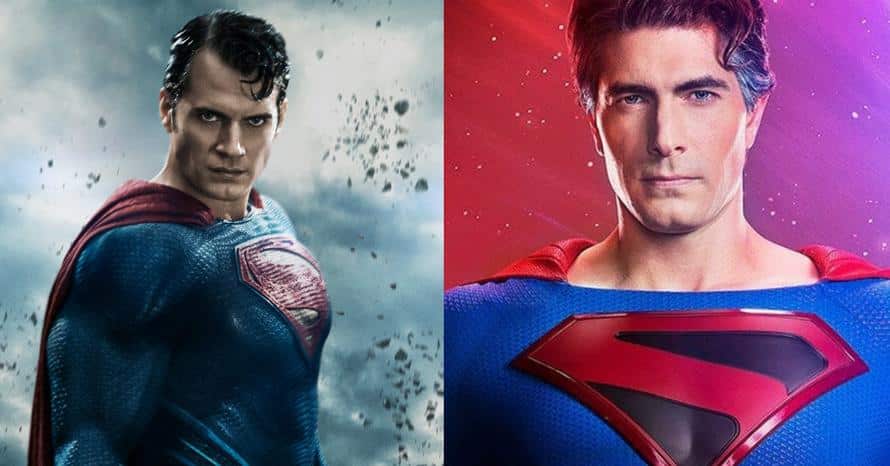 Routh's original Superman portrayal was heavily moulded on Christopher Reeves' performance. Both actors played Superman with a brightness and idealism, the classic version of the character. Routh excelled in the role. His natural, clean-cut image and ability to convey small-town charm made him a perfect fit. Routh was also able to manifest Superman's altruism and care for humanity, essential qualities for Superman. Routh reminded us of this once again in Crisis on Infinite Earths.
Cavill has similar qualities but where he shows a slightly different Superman is in portraying a Superman uncertain of his identity and place in the world. Cavil is more adept at portraying the darker, more conflicted elements of the character whereas Routh is more is able to portray the hope-filled idealism of the character.
With regards to Superman's physicality, Cavill's version was more muscular and seemed stronger, more powerful, more of a warrior and a fighter. Routh exudes a more noble persona. Yes, he is strong and a fighter as well, but Cavill conveys the power of Superman in his physical strength to a greater degree. Routh more than Cavill, however, embodies the benevolent, almost saint-like aspects.
For example, when in Superman Returns, Kal-El hovers above Metropolis with Lois Lane and explains to her how the masses call out for a saviour, it sent chills down the spine. The way Routh delivered those lines and his bearing was an amazing example of the benevolent being from another world.
Cavill's ability to convey the power of Superman is perfectly shown in Man of Steel when Superman struggles against the world engine in the Indian Ocean. This gut-wrenching scene depicts the Herculean effort and strength of will it took for Superman to destroy the machine. It left many with a single man-tear running softly down their cheek.
Superman is the ultimate man's man. Simultaneously, the wise philosopher and the farmer, the thinker and the doer, a common man and yet one of a kind. Both versions of the character were an inspiration and symbols of hope but in slightly different ways. Cavill had the pleasure of exploring an unfamiliar Superman and perhaps putting his own stamp on the character more so than Routh. Routh, however, has the classic Superman appeal, something which few individuals and actors possess.
Which Superman is better, Brandon Routh or Henry Cavill?
I suppose that depends on where your tastes lie. Either way, I'm sure fans would agree that they'd love to see more of the character on the big screen. Definitely in Man of Steel II for Henry Cavill and if Brandon Routh cannot star as Superman on film again then the CW should wake up and realise that Routh should have his own Superman series.
Both actors are too good in the role and deserve to continue in some capacity.
Who do you think is the better Superman, Brandon Routh or Henry Cavill? Let us know in the comments.