When you look at someone like Henry Cavill, the last thing that would cross your mind would be "geez, this guy looks like a total nerd." Appearances can be deceiving, however, as this man of steel is more of a nerd than your everyday gym bro. In fact, Henry Cavill's nerdiness levels are somewhat legendary among the ranks of Hollywood.
From PC gaming to reading fantasy novels, Henry Cavill would be perfectly at home with the rest of the cast of The Big Bang Theory.
Let's take a look at some events that revealed that Henry Cavill deserves the title of the World's Biggest Nerd.
1. He Was A Chubby Nerd
Cavill wasn't always seen as the man of steel he is today. On the contrary, his addiction to geeky pastimes, his strict education at St. Michael's Preparatory School, and because he was a bit chubby, he was known as "Fat Cavill" for most of his childhood.
Needless to say, the Superman star lost all of the excess weight, becoming a paragon of fitness in the process. His days as Fat Cavill were enough to give him some perspective into the issue with bullying, turning him into a stern advocate against the practice.
Despite being the role model for men's fitness, and an all-around nice guy, the actor has had a hard time finding a special someone. He was one of Hollywood's most coveted singles for a time, but that changed in 2021 when he began a steady relationship with executive Natalie Viscuso.
2. Henry Cavill Is A Nerd For Superman
In preparation for his role in Man of Steel, Henry Cavill took advantage of his vast nerdy knowledge of comic books to better understand how to play the man of steel. Although the name of the writers evades him – something quite usual among comics fans, – Cavill did mention which Superman comics he considered an inspiration for his version of the character.
After mentioning classics like Red Son and The Death of Superman, Cavill singled out The New Krypton Saga as his favourite comic among the whole history of Superman's publication. A thing that might trigger some purist comic fans is that he reads the comics digitally, but that's to be expected from someone as tech-savvy as Cavill.
It's not every day that we hear about an actor who reads comics, much less one that's so in love with the source material. This only proves that Henry Cavill is a huge nerd first, and an actor second.
3. He Loves to Cosplay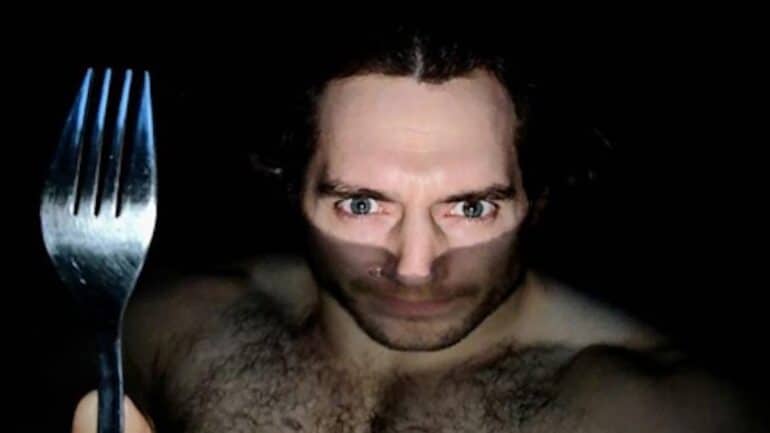 A popular story about the making of Superman Returns is how Jude Law came very close to playing Superman in that film. However, he changed his mind once he saw himself wearing the legendary costume, as he didn't feel like he was the right man to wear the suit.
For Cavill, who also plays Sherlock Holmes in Netflix's adaptation of Enola Holmes, wearing a costume comes easy enough. He's said that he loves to wear Superman's iconic suit, and he certainly looks great wearing Geralt's costume in Netflix's The Witcher show.
Solid proof of Cavill's love for cosplay can be seen in some of his Instagram posts, like the one he made to congratulate Jason Momoa for the release of Aquaman. Cavill quickly improvised a costume to celebrate Momoa's character: armed with a fork and a pool, Cavill demonstrated his cosplay skills in a lovably comedic manner.
Henry Cavill is such a nerd.
Speaking of Geralt of Rivia and video games …
4. Henry Is A Hardcore Gamer
Not only is Cavill an avid comic book reader, but he's also a devout video game enthusiast. When he was chosen to play the role of Geralt of Rivia in Netflix's The Witcher show, not only did he read most of the books in the series, he also played over 100 hours of CD Projekt RED's fantastic The Witcher 3 video game. This gave his Geralt a striking resemblance to the one in the game, something that fans genuinely appreciated.
He's also a proud member of the distinguished "PC Master Race." Cavill has built his own gaming PC, even doing so on his Instagram page streams (check out the 5-minute video). He's no novice, either, choosing some enthusiast-grade parts that show that he knows perfectly well what he's doing.
Last year, he surprised his fans with the news that he had bought an Nvidia GeForce RTX 3090, one of the most sought-after graphics cards in the market. Seeing Superman himself building a PC that's superhuman in its own right feels a bit unfair, but one can't help but love the dorky enthusiasm he shows in his tech-related Instagram posts.
As a true gaming aficionado, the actor has said multiple times that he's not a huge fan of consoles but prefers to play most of his games on his OP PC. Truly a man of culture.
Other than The Witcher 3, the Batman v Superman star has also mentioned that he's a fan of some of Activision Blizzard's most popular games, namely World of Warcraft and Overwatch.
These highly competitive games are further proof of Henry Cavill's dedication to the hobby, even if it isn't his only nerdish pastime.
5. Miniature Enthusiast
2020 was a rough year for all of us, and that's why so many chose to spend most of the lockdowns leaning onto our favourite hobbies. For Henry Cavill, that meant painting and playing with Games Workshop Warhammer figurines. This tabletop game mixes the exciting narrative of campaigns like Dungeon and Dragons and the attention to detail of painting extremely small miniatures of all the fantastical creatures that inhabit The Fated Place.
Cavill is no amateur in this, either, as he's shown his painting and modelling skills in several social media posts. This is a job that requires extreme attention to detail, though, and it's impressive seeing someone that's so familiar with action movies take his time painting small plastic figures.
He's not alone in this hobby, however. Another superhero-related celebrity who's impressed with Cavill's skills is none other than Spider-Man's Tom Holland. In an interview on the Graham Norton Show, Cavill spoke about his love for all things Warhammer. Holland, who's also been known for being a pop culture nerd himself, expressed his interest in the Man of Steel's pastime, asking him when they could meet up to see Henry Cavill's figurines.
6. Henry Cavill Inspired A Playable Character In Total War: Warhammer 2
In 2020, British video game developer Creative Assembly revealed that The Warden and the Paunch DLC for Total War: Warhammer 2 would feature a playable character modelled after actor Henry Cavill.
Richard Aldridge, the game's creative director, told PCGamesN that he thought it would "be fun to somehow inject [Cavill] into the game, like we have with a number of developers over the years".
Aldridge noticed that the actor "mentioned that he enjoys nothing more than firing up Total War: Warhammer or painting a few models in his spare time" and decided to include him in the game.
That's right, Henry Cavill is now an Easter Egg in one of his favourite games.
7. Henry Cavill Turns To Gaming To Escape The Public Eye
While the Superman actor can be seen on billboards, posters, comics and all sorts of media, it seems he is a little bit of an introvert too.
"Every time I step out my front door, I'm hyper-aware. Even if I'm not looking terrible, you still realise there are people taking sneaky photos of you, because that's what people like to do."
His escape? Computer games. Hours and hours of gaming. You know, nerdy things!
"At home, I get to sit playing games for ridiculous amounts of hours and escape there because going outside has the opposite effect."
The 38-year-old (whose recent roles include Enola Holmes 2, Argylle, and Zack Snyder's Justice League) revealed that he has played Warhammer all the way through six times already. That's hundreds of hours of gameplay.
8. Nerdy Franchises Henry Cavill Should Be A Part Of
It seems like Cavill might be taking the world of pop culture by storm these days, and fans have already begun to notice how comfortable he seems playing the nerdiest of characters. Here's a list of other geeky franchises that we think would be great if Henry Cavill works on their live-action adaptations.
Warhammer (And Warhammer 40,000)
The intricate and fascinating fantasy world of Warhammer is full of larger-than-life characters that would be even better if they were played by someone like Henry Cavill. Luckily for fans, Cavill has mentioned in multiple interviews that he is a die-hard fan of the Warhammer franchise, and also a huge admirer of its sci-fi spin-off, Warhammer 40K.
When it comes to the original Warhammer, I think Cavill would be great in the role of Karl Franz, the Emperor and Elector Count of Reikland. As the leader of one of the biggest human factions in the world of Warhammer, Cavill would have to show off his abilities as a leader, giving more than one passionate speech. As for Warhammer 40,000, Cavill would be amazing as anything from the sci-fi epic: from a Space Marine to the Emperor of Mankind himself.
In a recent interview where he shared a little of his nerdy side, the 38-year-old revealed that he would love to star in a big-screen adaptation. "There are a lot of characters from the Warhammer universe that I want to be."
"[Warhammer] is obviously character-rich, and especially the 40K universe," he continued. "I suppose I could play a different character from the Warhammer Fantasy universe versus the 40K universe, but I'm now just dreaming. I'd have to speak to the guys at Games Workshop (the British miniature wargames company behind the Warhammer Age of Sigmar) and see what happens."
Halo
It seems hard to believe, but Halo is now 20 years old. The franchise that redefined multiplayer gaming and brought upon us a new generation of console gaming has always been one of the most important pieces of nerd fandom – in fact, it might have been responsible for erasing the stigma of videogames being just for geeks, seeing how popular LAN parties were during the early 2000s.
Cavill would absolutely fit the role of John-117, better known as Master Chief. The (helmeted) face of the Halo franchise, Cavill would be mostly voicing the Chief rather than showing too much of his face in a live-action adaptation of Halo, but that would be more than enough to please the fans of the epic shooter franchise.
Mass Effect
BioWare's legendary sci-fi RPG series Mass Effect was one of gaming's landmarks for the better part of a decade. Seeing Commander Shepard facing off against the reapers was an epic moment that will be remembered by gamers for generations – even if the ending of the franchise was one of the biggest letdowns in entertainment history.
Seeing Cavill step into the role of Shepard would be a dream come true for fans – and it could happen sooner than anyone could've guessed. There are rumours going around about Amazon working on a live-action Mass Effect show, and it also helps that Cavill is a huge fan of the franchise.
Red Dead Redemption (And Grand Theft Auto)
Recently, Cavill mentioned that he enjoyed playing through the story mode of Red Dead Redemption 2: the game that could be considered Rockstar Games' greatest masterpiece.
An adaptation of RDR2, or even Grand Theft Auto, Rockstar's most popular series, has always been somewhat of a dream project for many fans. Even though they're not explicitly "nerdy" franchises, there's no denying how awesome it would be to see Henry Cavill playing John Marston's story of revenge, redemption, and deceit on the big screen. That would also give the British actor the chance to live the experience of starring in a western film – which, honestly, I think that's everyone's dream.
Then there's also those Bond rumours. "You don't know which direction they want to take Bond in and so I like to say that everything's always on the table," said Henry Cavill in a recent interview. So it seems like he is definitely keen on playing 007. That's good news for fans. Plus, his recent role in Mission: Impossible – Fallout definitely seemed like good prep too.
But don't be surprised to see him in other fantasy worlds soon too. Cavill is certainly getting a lot of badass roles.
9. His Dog Kal is One of His Best Friends
10. Henry Cavill is Breaking Nerd Stereotypes
In a world where the word "nerd" is getting more and more diffuse, it's nice to see someone like Henry Cavill demonstrating that not every geek looks the same as they did just a few years back.
It would be hard to imagine someone like Cavill (who usually plays tough guy characters) being a big nerd and playing with miniatures, building his own PC, or even reading comics in his free time, but if actors like him and Terry Crews have taught us fellow nerds something it is that appearances can be truly deceiving.
His latest project, Enola Holmes 2, is coming to Netflix in 2022. After that, he will also play Connor MacLeod in a Highlander reboot. There are also rumours that Henry Cavill is being considered for the next James Bond movie.
What do you think? Is Henry Cavill the world's most famous nerd?