Nobody really knows exactly what's happening at Warner Bros. and DC Entertainment anymore. Today Henry Cavill is still Superman. Tomorrow he is not. Today Ben Affleck is not our Batman. Tomorrow he is. It's really hard to tell exactly who is in and who is out. On September 12th, the internet exploded with the news that Henry Cavill is supposedly stepping down from the iconic Superman role. While some believe it is nothing more than a publicity stunt, follow-up reports claim that the company is already looking at replacements. Why has nobody considered Christopher Reeve's son, Will Reeve, for Superman?
RELATED: Christopher Reeve Turned Down A Cameo In The 1984 Supergirl Spin-off
At this point, I'll allow you to ask, "Who is Will Reeve and can he act?"
After one quick look at 26-year-old Will Reeve, you'll be convinced that he could play Superman. With his broad shoulders, athletic build, earnest face and resemblance to his father, it's pretty easy to see him as the iconic superhero. In fact, when you put his face side-by-side with the latest Superman comics, you'll be impressed by how much he looks like the famous Kryptonian.
Will has been active as an actor since starring as Danny in 1997's In the Gloaming, directed by his dad. He went on to play two other roles before beginning his career as a reporter at ESPN.
Unfortunately, there is one big problem. He isn't a very big Superman fan. In an interview with Jeff Pearlman, Reeve discussed his disinterest in superheroes. I'm not a huge Superman fan or fan of superhero movies generally.
Still, I can totally see it. Perhaps Warner and DC will take note. Perhaps Will Reeve would be interested. Maybe.
Take a closer look at the photograph below where Will is seen, in the right corner, at a fundraiser for the Christopher & Dana Reeve Foundation. That's Superman! Or at least Superman's son!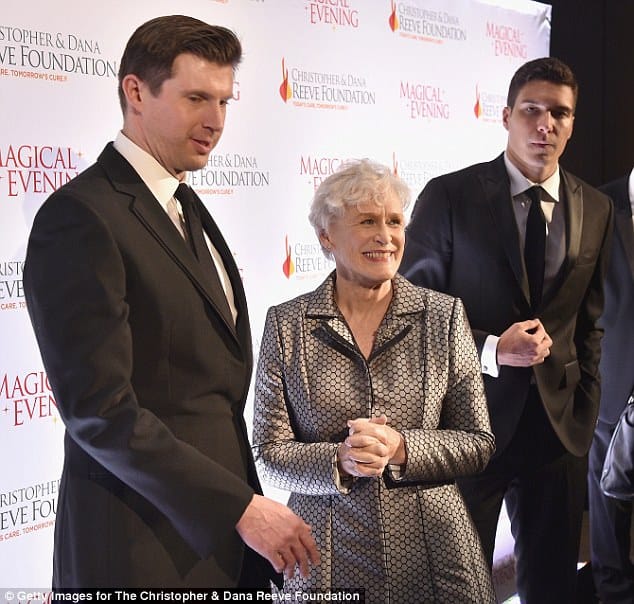 RELATED: The Flash Theory: Supergirl Is Christopher Reeve's Superman's Daughter
What do you think, would you like to see Christopher Reeve's son, Will Reeve, as Superman?