With two Captain Marvels hitting the big screen within a month of each other, there's been plenty of debate over who's the best: Marvel's Carol Danvers, better known as Captain Marvel, or DC's Captain Marvel, the world's mightiest mortal currently known as Shazam.
Marvel's Captain Marvel film has been facing a negative campaign of pre-release review-bombing from internet trolls, but as a lead-in to Avengers: Endgame there are high hopes for its success. DC's SHAZAM! is hoping to continue the positive trend set by the unlikely blockbuster Aquaman, but was drawn into the controversy of Henry Cavill possibly leaving the DCEU as Superman. Regardless of their successes or failures at the box office and with movie-going audiences, they're two characters linked by a common name and a convoluted comic book history.
Carol Danvers wasn't Marvel's first Captain Marvel. She's technically the seventh, and for years was known as Ms. Marvel before assuming her current title. Her comic books have been critically praised, and as a character she's earned an enormous amount of respect from comic book readers. She's become one of the cornerstones of the Marvel Universe, and outside of comics she's been featured in animation and games, and is available in various toy forms including a Build-A-Bear Workshop version. It's been a slow, steady and ultimately successful rise for the character.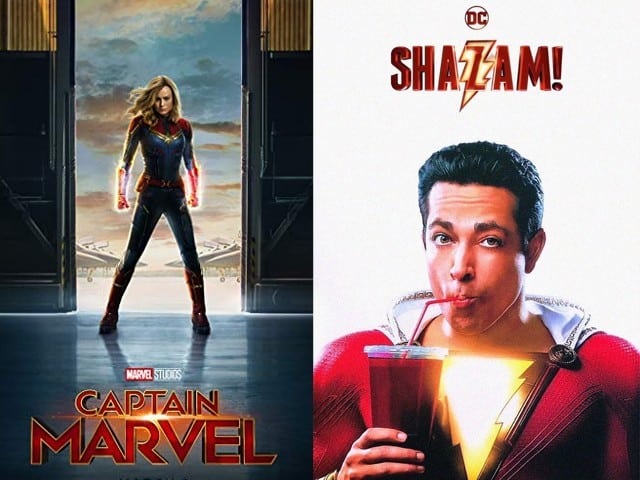 Meanwhile, DC's Captain Marvel (before the name change to Shazam) was the original superhero using that name. In the 1940s, his comic books outsold those of Superman and Batman, and he was the first superhero to make his way to the big screen in the classic Adventures of Captain Marvel serial. At the time, he was owned by Fawcett Comics and the legal battle surrounding his existence (and subsequent events) reads like both a tragedy and a comedy of errors. Ultimately, the original Captain Marvel became the property of DC Comics… and ironically led to trademark conflicts, Marvel owning a character with the same name, and DC having to use the word SHAZAM! on comic book covers to identify theirs.
But which is better? Both have plenty of merits to recommend them. But when it comes to the worst Captain Marvel ever, that's a different matter entirely. After all, they aren't the only Captain Marvels to have existed and there's one in particular who stands out. He's neither a Fawcett, DC nor Marvel Comics creation… although arguably there's a bit of all three in him.
Meet Professor Roger Winkle, better known as M.F. Enterprise's Captain Marvel.
Published in 1966, M.F.'s Captain Marvel – created by Marvel's original android Human Torch creator Carl Burgos – followed the adventures of an alien android on Earth. Possessing the astonishing abilities of super-strength, super-speed, super-hearing, force fields, sonic blasts, super-intelligence, and being able to shoot laser beams from his eyes, he was well-equipped to be a superhero. Plus, he could fly thanks to a pair of rocket boots. Those are impressive skills, but when he shouted a special word he had one ability that none of the others have wanted:
His arms, legs, head and various other body parts could fall off.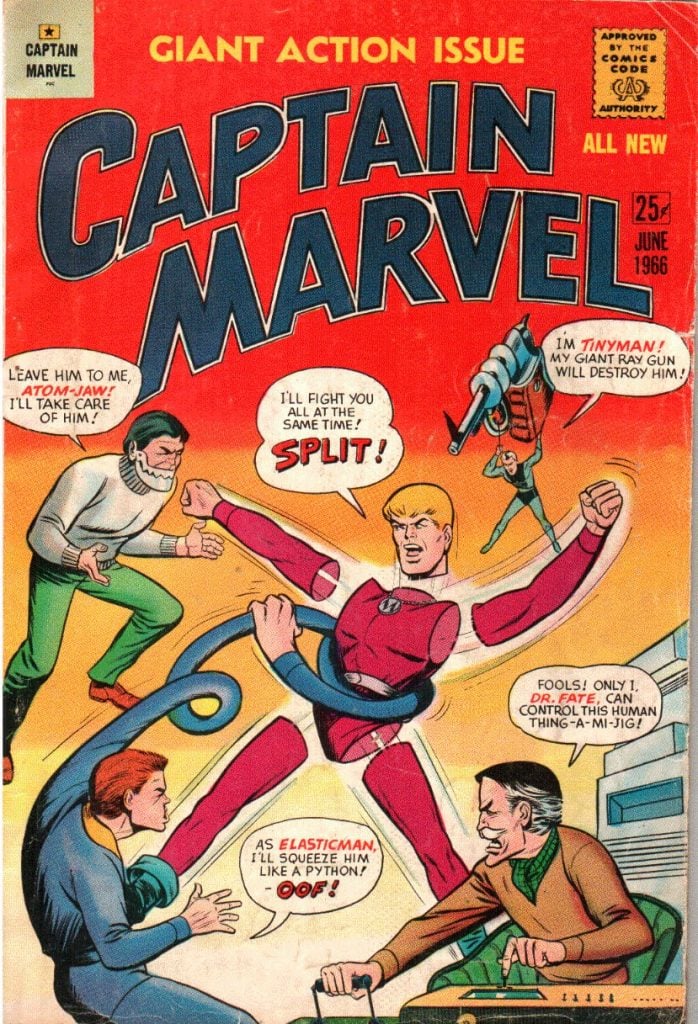 To detach them, he would shout the word "SPLIT!". Once his severed limbs were finished doing whatever they had to, he would shout "XAM!" and they would re-attach. As if saying a "magic" word wasn't enough of a similarity to the SHAZAM! Captain Marvel, his kid sidekick's name was Billy Baxton, a name suspiciously similar to his more famous counterpart's childhood alter-ego Billy Batson. Also, this Captain Marvel needed to recharge himself once every 24 hours much like a Green Lantern power ring, while his enemies included Plastic Man, Dr. Fate, Colonel Cold and The Bat… the last of which so closely resembled Batman that DC Comics attorneys allegedly threatened to sue M.F. Enterprises for plagiarism. M.F. Enterprises relented and renamed the character as The Ray, the same name of a Quality Comics character… who later became a part of the DC Universe. Ultimately it made no difference.
After just four issues and an even more brief continuation with Captain Marvel Presents The Terrible Five, M.F. Enterprises as a brand stopped publishing comic books. Company owner Myron Fass continued as a publisher, however, and sadly the cover of issue #4 is the last recorded comic book work of Carl Burgos. The character, or at least a representation of him, was briefly shown in issue #27 of DC's The Power of SHAZAM!, by Jerry Ordway and Pete Krause. In that issue, a character with his "splitting" ability is shown as a throwaway alternate reality version of the original Captain Marvel, alongside other alternates like Captain Thunder and Hoppy the Marvel Bunny.
Who's the best Captain Marvel? That's impossible to say. But when it comes to the worst, let's be thankful that the M.F. Captain Marvel isn't getting a film too.