The purpose of video games isn't rocket science. While developers tinker with multiplayer modes, microtransactions, and trying to reinvent the wheel with each release, every gamer just wants one thing: fun. The fun they had when they played single-player campaigns on their Sega Genesis or Nintendo 64. The fun they had when the game transports you to another world and becomes escapism. The fun that Marvel's Guardians of the Galaxy offers.
Eidos-Montréal didn't want a repeat of last year's ambitious Avengers project. Rather than try to be too much to everyone, it identified what fans want from Marvel's Guardians of the Galaxy the most. It drilled to the core of what this superhero franchise is about: a ragtag group of misfits having a cosmic good time. And that's exactly what it delivered.
There are no microtransactions or multiplayer modes here. This is all about the single-player experience as you control Peter Quill, aka Star-Lord, as he leads his team in a hilarious, breezy adventure. It's a laugh-a-minute marathon as the writing absolutely captures the tone and wit of the characters. While it's a tale that'll easily appeal to MCU fans, Marvel's Guardians of the Galaxy isn't confined to the cinematic version of these characters as it explores the comic book universe too. Don't be surprised to find Easter eggs like X-Men's Dazzler lurking around where you least expect them…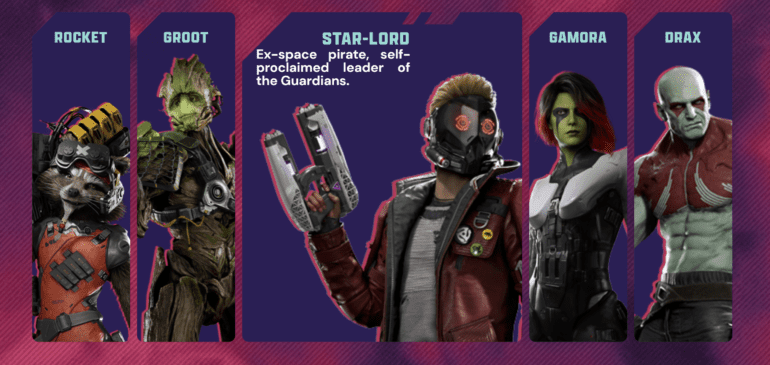 What's particularly impressive is how the developer commits to the '80s authenticity of Marvel's Guardians of the Galaxy. The soundtrack is nothing short of amazing as you'll find yourself singing along to Europe's "The Final Countdown" and playing air guitar to the fictional Star-Lord band's brand of hair metal. There's also a neat feature where Peter can call a team huddle in the middle of a battle to inspire his teammates and the subsequent song will get you rocking out as you mash those buttons to victory.
While there was a lot of controversy about the fact that you can only play as Peter in this action RPG, it makes sense in the grand scheme. Since you're experiencing the story from his perspective, it allows for more immersion and for you to influence the story through your decisions. That doesn't mean the rest of the Guardians are statues here. You'll need to summon them for their specific abilities both in battle and regular situations. For example, Groot can create platforms to get across, while Drax is able to carry heavy items around that no one else can.
That said, don't expect a rewarding combat system in the same vein as Marvel's Spider-Man or the Batman Arkham games. While it's fun, it isn't a revolutionary experience by any means, choosing to err on the side of caution. There will be moments when you feel as if you're doing the same thing a little too often for your liking. Thankfully, the innovative and colourful designs of the levels and monsters more than make up for this shortfall.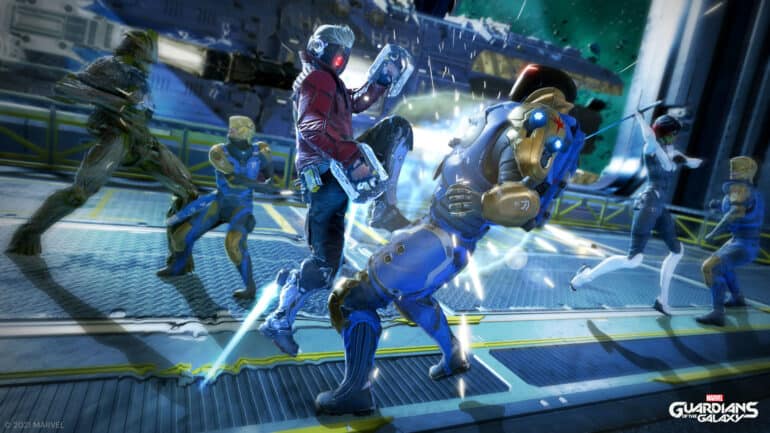 Speaking of which, Marvel's Guardians of the Galaxy is gorgeous to behold. Sure, the characters might not look like their cinematic counterparts, but newsflash, they existed for a long time before the MCU even had them as a twinkle in their eye. The intense attention to detail deserves special praise as well. From the lighting and lens flare beating against the ship's windows to the box of used Kleenex on Peter's bedside table, it's these small but relevant things that make the experience so much more than expected.
There's nothing quite like being surprised by a title that no one had high hopes for. Much like the 2014 film, Marvel's Guardians of the Galaxy comes out of nowhere and captivates you with its heart. You can't help but smile as Groot pats a goofy-looking space llama and you sense that the developer just gets it. This is the quintessential Guardians experience.
Tell us, have you played Marvel's Guardians of the Galaxy yet? Let us know your thoughts in the comments section down below.