With every new console, there is a flagship gaming title to show off the best of its abilities and features. Marvel's Spider-Man: Miles Morales is exactly that for the PlayStation 5. It's a title that not only boasts next-gen graphics but also delivers on innovation. And, best of all, it does so in style.
Although Insomniac Games' first foray into the Spider-Verse, Marvel's Spider-Man, set the benchmark, Marvel's Spider-Man: Miles Morales breaks new ground and serves as a technical improvement (booting up in less than 10 seconds) over the defining PlayStation 4 release.
But it's also more than that.
Miles Gonzalo Morales, as a character and a protagonist, is a lot more fun than Parker. This friendly neighbourhood Spider-Man is also a lot more relatable. Strutting down the Harlem suburbs in Adidas sneakers, oversized hip hop-styled jackets and a makeshift costume (which, of course, can be updated later), the half-black, half-Puerto Rican teenager is uber-cool. And the fact that he is still learning the ropes in this release only adds to the experience.
Although we've seen Miles before in the 2018 release, this is the web-slinger's origin story and his coming-of-age story.
Marvel's Spider-Man: Miles Morales picks up after the events at the end of the last game, with Miles trying to find his feet as "the other Spider-Man" in New York City.
He is guided by Peter, who has a lot of faith in Morales becoming the city's next big saviour. When Miles rescues Parker from Rhino during an introductory mission in the game, the "real" Spider-Man decides to take a much needed holiday with MJ. This of course means that the young masked vigilante has to step up his game and become everything he was destined to be. But does he have what it takes?
If that wasn't enough, Miles is also starting to display unique abilities. Unlike Peter, the newest Web-Head can disappear for short periods of time (cloaking) and has developed venom shock – bio-electric blasts from his body.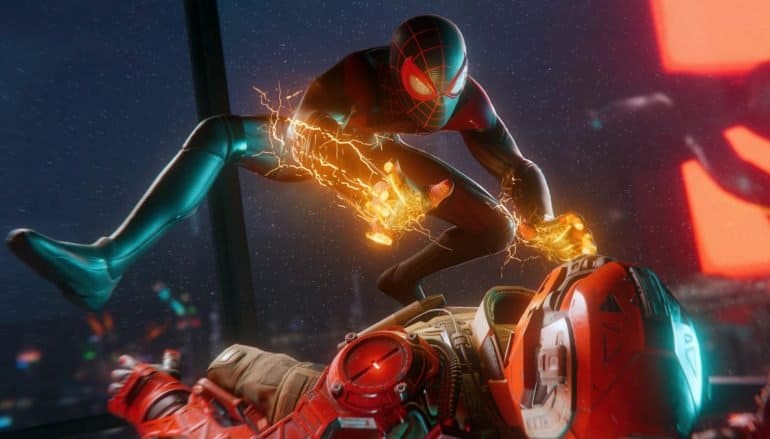 Thanks to these new abilities and a few different enhancements from his suit, gameplay with Mile's Spider-Man feels a lot different to playing as Peter Parker Spider-Man.
Of course, this is really great. Those who were concerned with the game feeling repetitive and too similar to the previous adventure are in luck. It seems no two Spider-Men are alike.
What the two do have in common is that they both have to manage juggling life in one hand and web-swinging in the other. Work and play mix in Marvel's Spider-Man: Miles Morales too, with our protagonist entangled in a number of deceitful webs that involve family and friends.
There are some really great characters here and the performance actors do a great job of bringing them to life. Morales is especially likeable as a self-doubting youth who just wants to do what's right. You can't help but sympathise with him and root for him to win.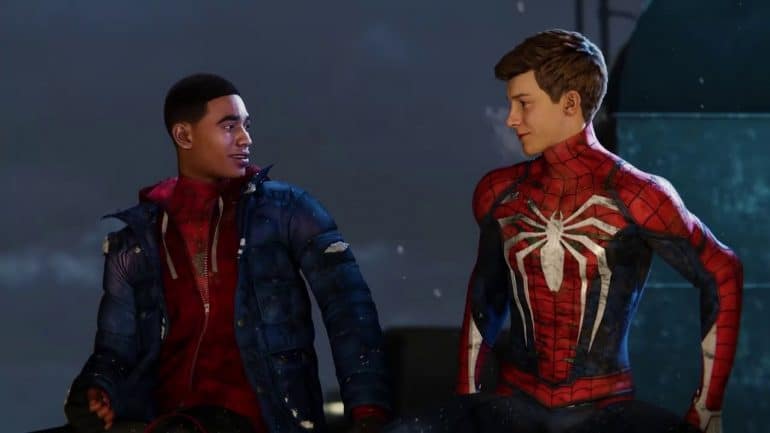 Overall, it only takes about 10 hours to complete. But thanks to the open-world structure of Marvel's Spider-Man: Miles Morales, you could be playing for a good while before you truly become bored with the game. There are hidden treasures to find, various suits and tech to unlock, and plenty of subplots (narrative-driven side-quests) that involve rescuing the citizens of the wintery and festive New York City.
It's rather hard to believe that this standalone title is merely an expansion of Marvel's Spider-Man. It's incredibly dense and there's a lot of content packed into the game. Fans would have been satisfied with just a copy and paste version of the previous title, but Marvel's Spider-Man: Miles Morales is so much more.
It looks stunning (at 30 frames-per-second with raytracing or 60 frames-per-second without). The story is gripping. The gameplay is fun and exciting. The characters are memorable. And, most importantly, it's the perfect definition of what a next-gen gaming title should be.
Furthermore, this game cements the young Web-Head as an important part of the Spider-Verse. He is not just the "Black Spider-Man". Miles Morales is Spider-Man.
https://youtu.be/3_t0hjVlTRQ
Gamefinity provided a review unit to Fortress of Solitude for the purposes of this review.
The Review
Marvel's Spider-Man: Miles Morales
Spider-Man: Miles Morales showcases the best the PlayStation 5 has to offer. This is the perfect game to launch next-gen gaming.
PROS
Miles Morales
Great action sequences
Fun gameplay
CONS
The main story is only 10-hours long
Review Breakdown
Gameplay

0%

Graphics

0%

Replay Value

0%

Sound and Music

0%

Story

0%