If you're looking for some hunky, macho characters to feast your eyes upon, you're in the right place. Buff anime characters are always a charm to have around.
In this list, we have no shortage of pure brawn and muscle to keep your love for strong physiques alive. It's a rare treat to see super buff characters in a medium that favours slimmer frames for male designs. Thankfully, when we get buff anime characters, they live up to their figures in the most awesome ways.
Our list of the most buff (muscular) anime characters
Baki Hanma – Baki the Grappler
The protagonist of the Baki franchise, Baki Hanma is a mixed martial artist in a world filled with peak physical prowess from allies and dangerous enemies. Baki is from a family of fighters, and at just 18 years old at the start of the anime series, he's proven himself to be the world's strongest kid. The franchise heavily focuses on hand to hand combat, and there are a lot of characters from there that deserve a spot on this list. Baki gained his muscular physique thanks to the ruthless training regime he followed from his father. This strength allows him to perform godlike feats of destruction.
Escanor – Seven Deadly Sins
Escanor, the lion sin of pride is a character that lives up to his title. When the sun reaches higher in the sky, he transforms into the large muscular figure we are familiar with. He's uncontrollable when it comes to boasting, but he has the strength and physique to put his words to the test. Unlike the conventional loudmouth, he's usually right. If you ever watch the Seven Deadly Sins, you'll observe Escanor consistently racking up victories. It's unnatural for a good guy to be this consistent with wins in anime. But then again… who decided that?
Superalloy Darkshine – One Punch Man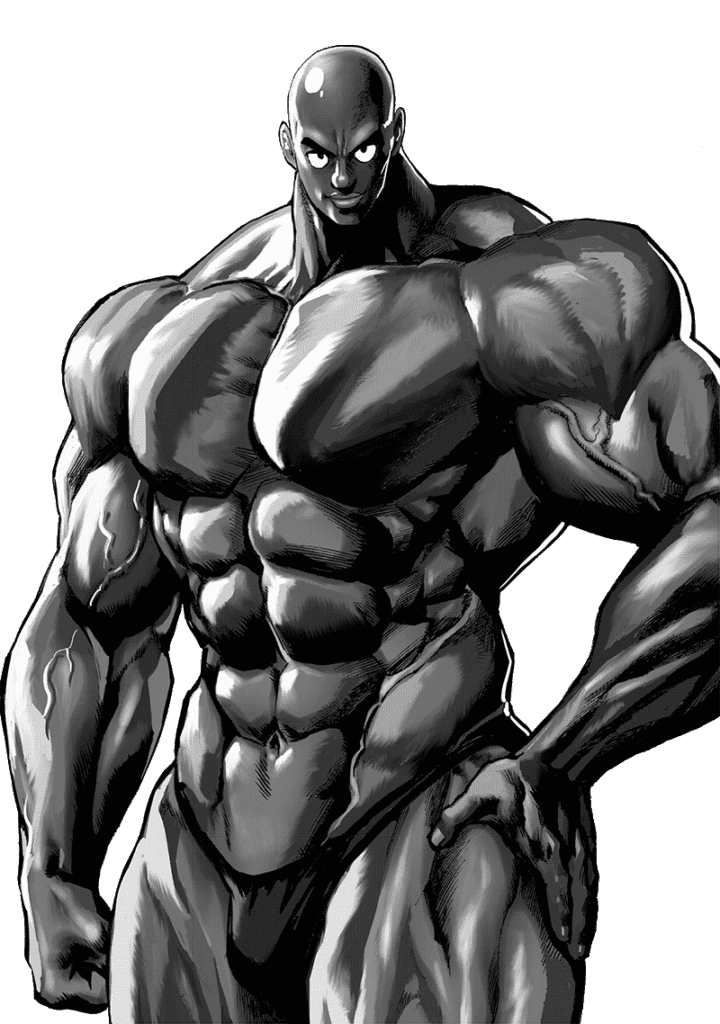 An epic hero in every sense of the word, Superalloy Darkshine stands above the rest of the pack thanks to his awesome physique that is basically inhuman. He's the hero with the best muscular frame, and his body is practically indestructible. He can withstand attacks from even the most dangerous dragon level threats, and he's extremely physically gifted. His battle with the Hero hunter Garou is arguably one of the best in the One Punch Man series. Other than Saitama, he might just have the most indestructible physique in the series.
Muscular – My Hero Academia
Sometimes, there's no other name deserving of a character, and Muscular fits this mould perfectly. A villain that has terrorized the world of My Hero Academia for years, Muscular is an absolute menace with a quirk that enhances his destructive tendencies. This is one of the buff anime characters you should never hope to encounter in real life. He has a weird habit of suffocating his victims with the sheer pressure of his muscles. His regular physique is a buff and muscular build, but with his quirk activated, he's a completely different beast.
Yami Sukehiro – Black Clover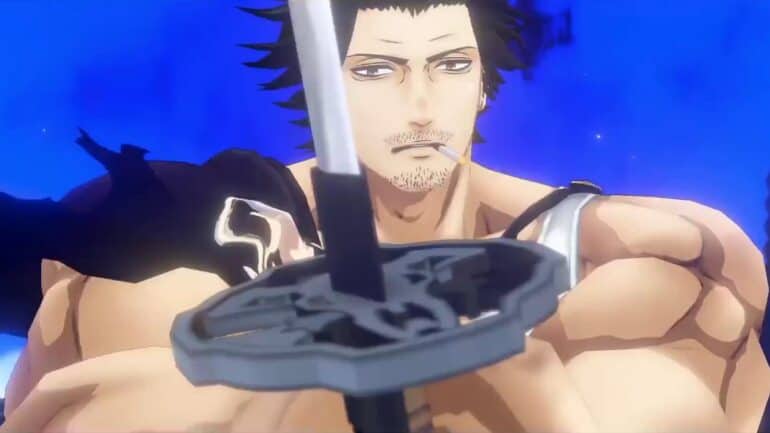 Captain of the Black Bulls and one of the most revered magicians in the world of Black Clover, Yami is a legendary Magic Knight with outstanding abilities. He's a user of dark magic and his skill with the arcane makes him capable of defeating most villains in their universe. Other than his intimidating magic, Yami is also able to put pressure on enemies thanks to his monstrous physique. Yami uses a combination of his magic along with his superior physical prowess to totally overwhelm enemies. Only a few can be said to rival Yami in the Clover Kingdom.
Guts – Berserk
Aptly nicknamed the Black Swordsman, Guts is one of the best anime characters ever written and also one of the most buff. Through the unspeakable horrors and adversity, he has always managed to come out on top. Even in situations where he couldn't clinch the victory, he has the spirit to do everything in his power to achieve his goals. In a world filled with eldritch and demonic horrors, Guts relies on his physical strength to handle his blade and plant some critical hits in his enemies. For a regular human facing demons, he's no slouch, and his peak physique shows that in all the best ways!
Broly – Dragon Ball Super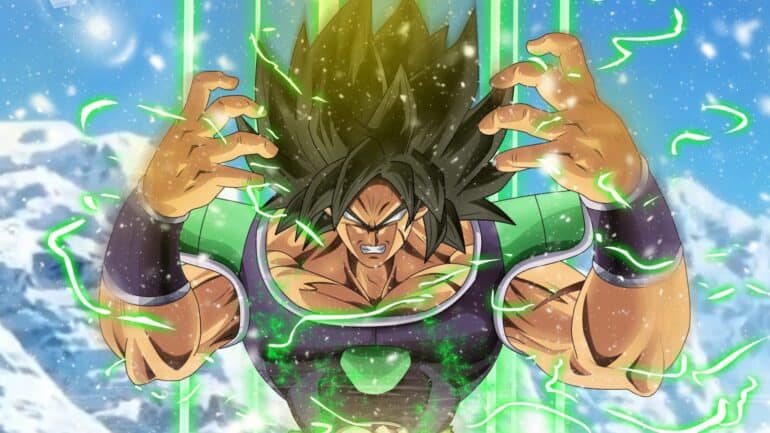 A legendary Super Saiyan and a warrior right from birth, Broly is the peak physical version of a Saiyan. He's an absolute tower next to the likes of Goku and Vegeta. He's a much more savage fighter than the martial artists in the show, and this is shown to be a great advantage for him. From all the versions of Broly we've seen so far, the one featured in the Dragon Ball Super movie is one of the buff anime characters we can't help but give the highest respect to. He's basically a god and a damn powerful one at that.
All Might – My Hero Academia
There's a reason why a buff dude was given the title of the Symbol of Peace. All Might is a love letter to American comic book heroes in the best ways possible. His peak physique and unrivalled physical strength are some traits that make him the number one hero. However, the true source of his strength is his strong sense of justice and willingness to save everyone. He is idolised by both heroes and even some members of the villain community. He's a hero blessed with muscles and a good heart. As his power has been fully passed down to Midoriya, we might never see him in battle again but we appreciate the awesome battles he gave us.
Alexander Armstrong – Fullmetal Alchemist: Brotherhood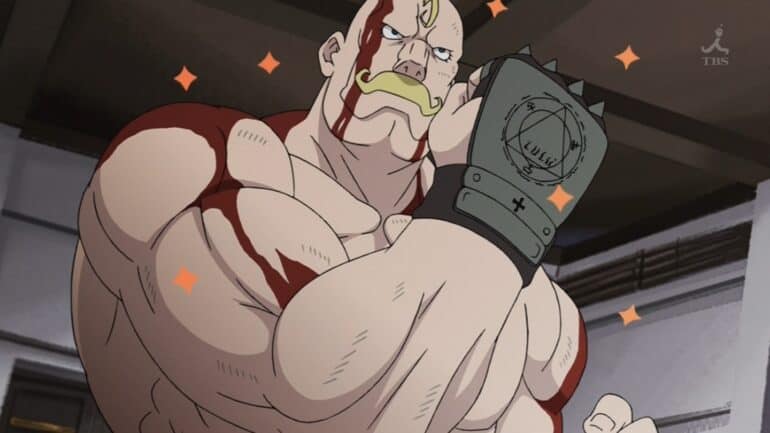 A master of alchemy and physical strength, Armstrong is one of the most remarkable muscular anime characters on this list. He's a tall figure at a whopping figure at 6ft 9inches. His little tuft of hair and godlike frame will make him easy to spot in a crowd, and he's always happy to show off his muscles to anyone who mildly acknowledges him. We can't help but respect him though. Armstrong is gifted with speed and strength that borders on superhuman. His strong combat alchemy is super helpful in battle when stacked with his physical strength, making him an essential ally in fights against the homunculi.
He has earned his place on this "buff anime characters" list.
The Armored Titan – Attack on Titan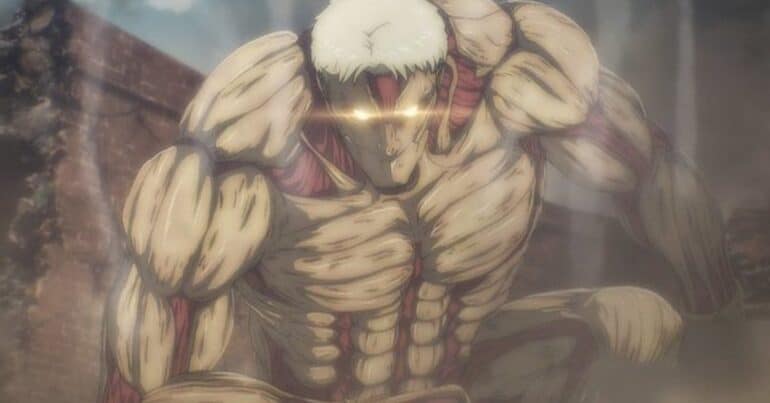 In a world filled with goofy looking, flesh-eating monsters, we are always happy to witness an appearance from this guy. The armoured titan is a total badass with unreal physical strength and armour plating. He's able to punch holes through solid rock walls, take direct shots from ballistic cannons, and endure intense physical pressure. The armoured titan's body is inspired by WWE Wrestler turned MMA fighter, Brock Lesner, according to Attack on Titan author Hajime Isayama. Since that's the case, it's no surprise why he's the pinnacle of top physical performance in the Attack on Titan universe.
Thorkell – Vinland Saga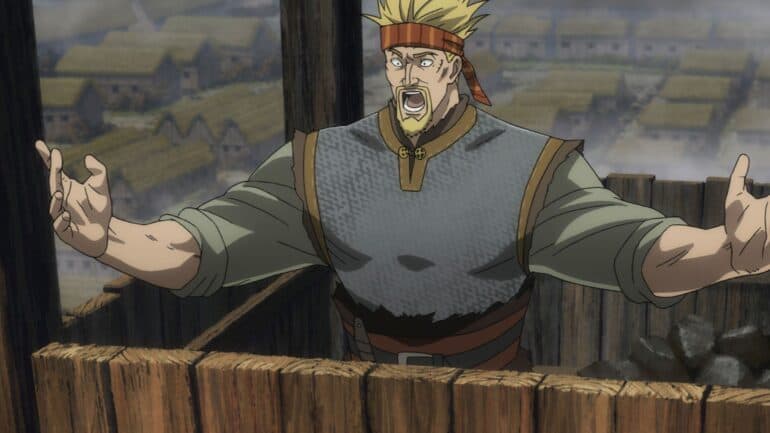 This absolute maniac is a character you should never look to engage in a fight. His burly and towering physique are menacing. Combining his physical attributes with his animalistic fighting style makes of a combination of pure savagery. He's a character that has rarely lost any battles, which makes him a bad choice to pick a fight with. Still, any that would dare challenge him are sure to earn his respect as can be seen in his battle with Thorfinn. Even when things aren't going his way in a fight, he's not the type to squirm when he takes severe damage like losing a few fingers. Thorkell simply laughs it off and keeps swinging his axes.
Goku – Dragon Ball Z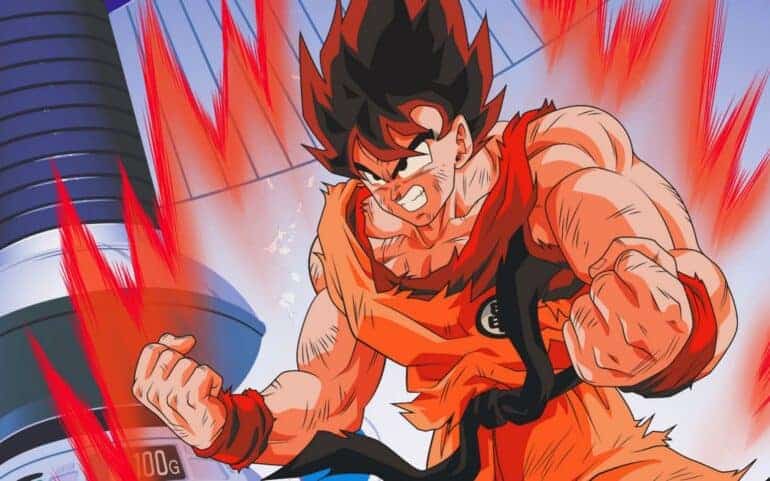 It's a no-brainer to have Goku on this list. Arguably the most famous anime character of all time (and also one of the most buff), Goku is a beast in every sense of the word. This Saiyan began his training right from the day of his birth, and he hasn't slowed down since then. Throughout his time in the Dragon Ball franchise, he has constantly made efforts to get stronger. This love for battle and strength has paid off with a strong muscular physique. He's able to consistently go beyond his limits in order to protect Universe 7, and he looks damn good doing it.
Yujiro Hanma – Baki the Grappler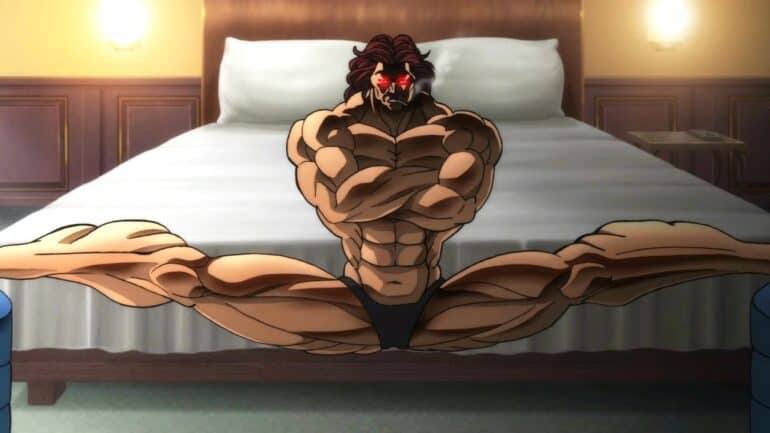 A total embodiment of primal strength, Yujiro is barely acknowledged as a human to most who know him. Father to the world's strongest kid, Yujiro is deservingly titled as the world's strongest man. He's a well-built man weighing 300 pounds and has an extremely muscular physique. He's at the top of the rankings for buff anime characters thanks to the source of his strength being pure physical prowess and dominance over any who may oppose him. He may not be as tall as other characters in the franchise, but his body has been trained to its utmost limit, and his abnormal muscles give him a demonic shape when he's ready for a serious fight.
If you're a fan of anime, you're sure to have encountered your fair share of buff characters.
Do you agree with our picks? Let's discuss and know your personal favourites!