It's wild how we're getting Shang-Chi in the MCU before the X-Men and Fantastic Four. But after watching Shang-Chi and the Legend of the Ten Rings, you might not want to watch another Marvel movie again.
Let me preface this by saying I never had an interest in Shang-Chi in Marvel Comics. I always found him to be a deliberate rip-off of Bruce Lee and there was hardly any desire to make him anything more.
Well, Shang-Chi and the Legend of the Ten Rings isn't sticking to the origin created by Steve Englehart and Jim Starlin. It brings with it something new, tying Shang-Chi's history to the Mandarin—or in this case, Wenwu. (There's quite a funny line about the meaning of the Mandarin in the movie, but I won't spoil it for you here.) While exploring this curious family dynamic, the story also dives deep into Asian mythology and fuses it with some familiar Marvel lore to create a fresh and much-needed update for the original Master of Kung Fu.
After watching Black Widow, I complained to a friend how all the MCU movies were starting to look and feel the same. It was the Marvel formula in full effect—kind of like drinking Coke because you always knew what to expect. And I feared the same thing would happen with Shang-Chi.
Turns out I was wrong. Dead wrong.
What director Destin Daniel Cretton has created, though, is not only the most eye-catching and visually unique Marvel film to date, but also the best in every other department. Shang-Chi isn't just a good movie—it's utterly fantastic.
There are scenes in this film that look like they've been pulled straight out of a dream world. The vivid colours and unbelievable attention to detail will have you watching these moments over and over again. Everything you see in a frame is entirely deliberate and Cretton, along with cinematographer William Pope, crafted the type of film that highlights just how important composition is in every shot.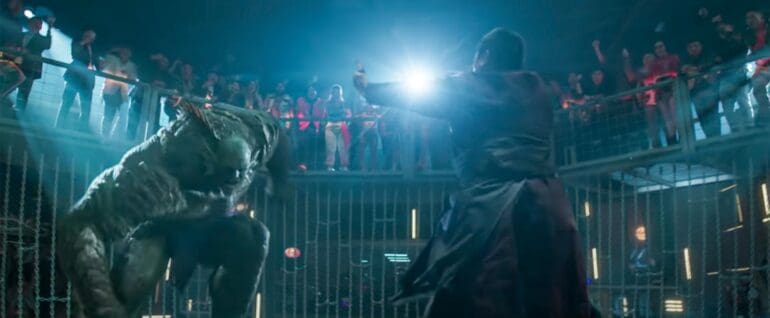 Of course, the other main talking point is the action. If you think you've seen it all in the MCU, Shang-Chi raises the bar to another level. This is top-tier martial arts with world-class choreography. Without diving into too many spoilers, but if you thought the hallway fight in Daredevil was the best fight scene in the MCU, prepare to have it replaced by at least three action sequences from Shang-Chi. And this isn't shaky cam nonsense that plagues many action films with poorly choreographed fights. No, this is the real deal that'll have action stars nodding in approval.
Shang-Chi also proves what I already suspected after watching Kim's Convenience: Simu Liu is a star. Not only is he comfortable in the light-hearted moments, but he also displays a sense of vulnerability that'll have the audience believing his journey towards self-discovery as well as his periods of self-doubt.
Next to Liu, Tony Leung's Wenwu is another standout performer. Much like Killmonger from Black Panther, his character operates in a grey area where you can sympathise but also criticise their methods. And despite all the doubts, Awkwafina's Katy put in a convincing and superb performance as well. Her journey is closely tied to Shang-Chi's and she's also on the path to finding out more about herself and what she's capable of.
We're living in an age where superhero movies and shows arrive every other week. As a result, most of them end up being entirely serviceable but hardly spectacular. Shang-Chi and the Legend of the Ten Rings is the rare comic book movie that simply takes your breath away and shows the genre still has something original to offer. Quite simply, it's the best MCU film to date by a country mile.
https://youtu.be/MKygAHWtaYs
Tell us, are you excited for Shang-Chi and the Legend of the Ten Rings? Let us know in the comments section!