It isn't often that you find something that's both nostalgic and original at the same time. Yet, The Spine of Night ends up being a throwback to adult animations of the past while also introducing a brand-new generation to a genre-fused style of filmmaking that doesn't feel out of place now.
Remember Heavy Metal? It was a generational film that opened up the mind's third eye to many teenagers in the '80s. It unlocked the door to a world that lived beneath blockbusters and family-friendly animations, showing the potential of the medium to be more than what you'd come to expect.
In a similar way, The Spine of Night aims to do the same for a modern audience craving something different from the norm. While the anthology film is deeply rooted in the dark fantasy genre, it isn't afraid of getting ultra-violent or featuring adult material when required. From full-frontal nudity (both male and female) to faces being burnt off and gory violence, these stories have no boundaries as they explore unrestrained territories and should become staples of any midnight marathon.
This isn't for kids in case you were wondering…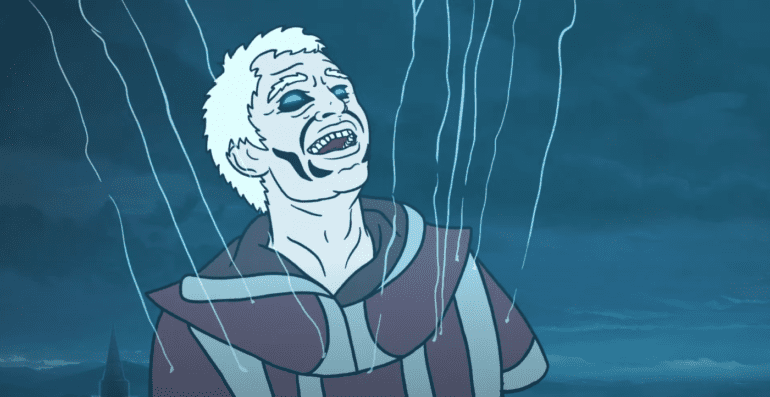 Looking at the artwork, there's no doubt that the past played a heavy influence in the design here. The rotoscoped animation could've been pulled straight from an era gone by as even the linework feels like it dipped its brush in a late '80s/early '90s rock music video.
While the characters and basic designs might be retro in appeal, the backgrounds harness the power of modern technology to shimmer as lavish new worlds begging to be explored. There's simply no other animated film that looks anything like The Spine of Night, especially not from the past decade at the very least.
But it doesn't only look good, it sounds incredible as well. Featuring the likes of Richard E. Grant, Lucy Lawless, Patton Oswalt, Betty Gabriel, and others, The Spine of Night isn't short of a talented voice cast. And even if they don't appear throughout the whole movie, there's no disputing that the cast's ability and influence is felt in the overall final product. Listen closely to hear if you're able to identify the actors' parts without checking IMDb.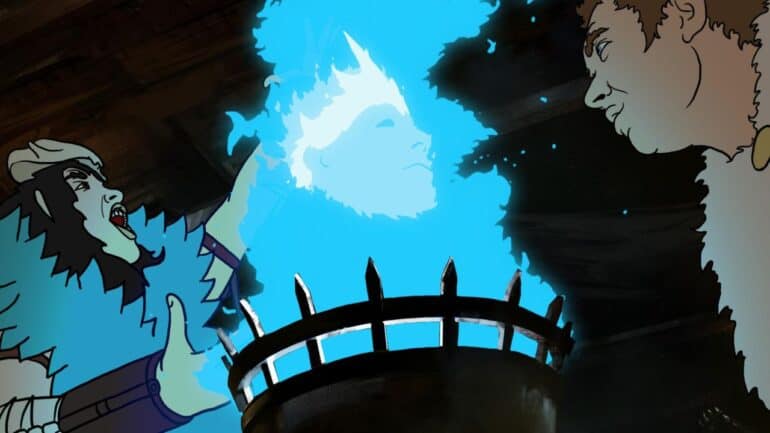 From a storytelling perspective, the tales are loosely connected by a tiny thread. There's an overarching narrative that combines everything, but this isn't one of those anthologies where every piece is pivotal to understanding what comes before or after it. Whether this bothers you or not is likely to be down to personal preference. Though, The Spine of Night flows fluidly and never feels like a smorgasbord of stories smashed together for the sake of it.
It's no surprise to see that co-director and co-writer Philip Gelatt worked on Love, Death & Robots as you can see a similar sort of influence here. Maybe not in the visuals but certainly in the story. Overall, there's something special about Gelatt and Morgan Galen King's The Spine of Night and you'd be doing yourself a disservice if you didn't check it out.
The only question is, will it be a modern-day version of Heavy Metal? Well, that might be too early to tell, but you never know…
Tell us, are you keen to check out The Spine of Night? Let us know your thoughts in the comments section down below.