Of all the Marvel films and TV shows released, I'd say Captain Marvel was the most difficult film to get through. For me, personally, it lacked originality and felt like a filler film in the franchise. Baring this in mind, Ms. Marvel was completely off my radar. Why would I watch a Disney+ TV show about Kamala Khan, a teenage Muslim superhero who idolises Captain Marvel?
On paper, it just didn't work for me at all. Imagine my surprise when Ms. Marvel turned out to be one of the best Marvel TV shows to date.
I'm certain the showrunners and the studio are fully aware that this wasn't going to be the easiest series to sell to Marvel fans. And while there's been a fair share of marketing for the new Phase 4 MCU show, there was no big reveal about how good this show could possibly be.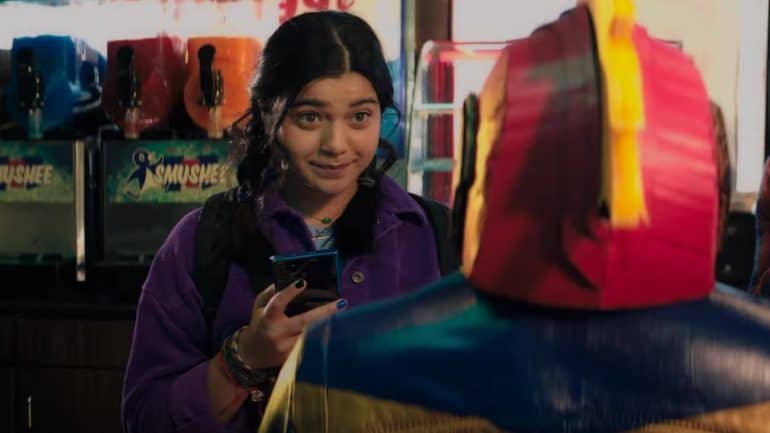 Firstly, Ms. Marvel is definitely the most creative Disney+ Marvel show thus far. From its imaginative art style to its clever camera work, every frame oozes creativity and adds life to the scene. When Kamala Khan, an aspiring artist and avid gamer, is walking to school, the graffiti around her comes to life. When she draws something, the sketches pop off the screen. And when she imagines something, we're transported to a world of endless possibilities.
There's a ton of experimentation. The talented directors here are definitely inspired by Sony's Spider-Man: Into the Spider-Verse. But it totally works for live-action too.
Secondly, Iman Vellani is incredibly wholesome, charming and engaging. Not every superhero has to have a dark and tragic backstory. And Kamala definitely doesn't. The worst she has to deal with is her overbearing family who are trying really hard to protect her from the dangers of the world. Her mom is very traditional. Her dad is . And her brother is overly religious.
Basically, Ms. Marvel is you and me — an everyday person geeking out over superheroes, video games and art.
But what happens if a normal geek girl gets superpowers? Well, that's the basic premise here. Kamala's life is about to change forever when she discovers a magical bangle that allows her to harness cosmic energy and create constructs. Overnight she becomes exactly like her idol, Captain Marvel.
Personally, I loved every minute of this first episode. It's such a fun show. There's a ton of Easter eggs and fan service too. But mostly, it just feels fresh and exciting. Sure, there are plenty of stereotypes but they all work really well here.
Marvel is experimenting again, and that's really good news for fans — especially teenage fans.
Episode 1 of Ms. Marvel just might be one of the best pilot episodes on Disney+.