Well, how do we feel everyone? Tired? Overwhelmed? Exhausted? Still squinting at the screen trying to figure out what happened? Don't worry, you're not the only ones. Let's recap and try to make sense of what we've just experienced in Game of Thrones.
Before Season 8 of Game of Thrones started, there was a lot of discussion about how the conclusion would handle its two main conflicts: that of the White Walkers, and that of the North vs the South. What's been revealed is that those two conflicts aren't going to intersect in any meaningful way directly – we got three episodes for zombie antics, and three episodes to see Cersei (hopefully) get stabbed in the face. I'm not even particularly fussy who does it.
That's right, the Night King is dead. And like most load-bearing boss, all of his employees shattered into nothingness the moment he died. Hundreds lie dead, but only a few of our named characters lie amongst the corpses.
The episode begins with the armies of the living at Winterfell preparing for the arrival of the army of the dead. Jon and Dany have taken position on the two living dragons on top of a nearby cliff, to survey the battle and attack the Night King when he arrives. Bran has been taken to the Godswood, to be defended by Theon and the Ironborn. Those unable to fight are in the crypts below the castle, and everyone else is standing in front of the castle or just inside it.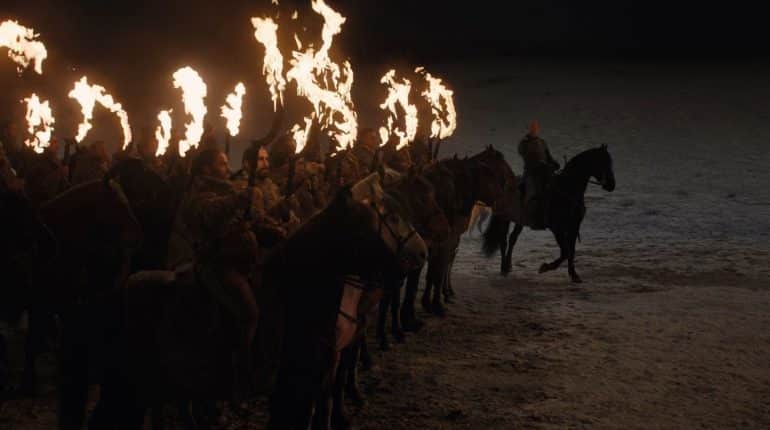 Lady Melisandre makes a return, and adds magical fire to the weapons of the Dothraki screamers. She assures Davos that she will be dead by morning – well, that's one surprise taken care of. RIP red woman, even if we don't know how yet. Her magic is probably one of the less explained aspects of the entire series so far, and whether her god is real or not, she gets the power from somewhere for sure.
In a preposterously silly charge, the entire Dothraki cavalry, led by Jorah, rush off into the darkness and immediately die, all except Jorah, who somehow makes it out again. Well done Dothraki, you really showed us why you needed to come all the way from Essos. The lights of their swords being picked off one by one was quite cool to see, but it just made no sense tactically – they should know what kind of enemy they are fighting, they charge on their horses far in front of everyone else, even before the siege weapons have fired, and accomplish nothing. The Dothraki just seemed like wasted lives.  Ghost was also running with them, and I'm quite concerned about him too. (However, I think I saw him in the preview for next week, so here's hoping Ghost made it out alright).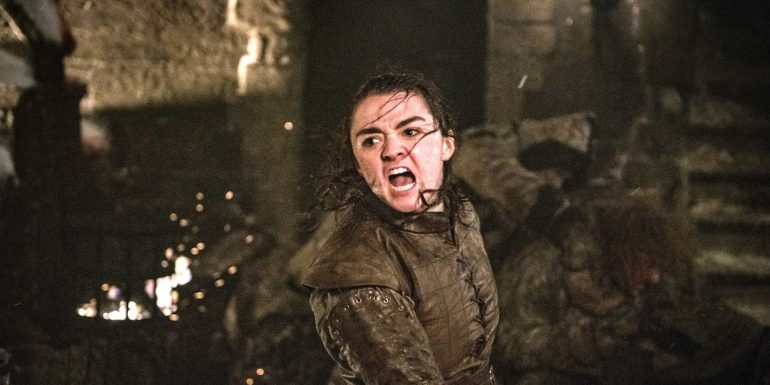 This episode has a big problem with the darkness of scenes, and it's especially bad at the start of the episode during the initial few attacks and when the Night King calls in a blizzard to support his troops and put out some fires. It really is very hard to see what's going on, or always to track who is a zombie and who is a living soldier. I will give them credit though – the darkness does work well in one particular scene, which is when the cavalry have silently all been taken out, and then the huge mass and wave of zombies just breaks over the human defenders so swiftly and violently. It's a great scene that really reminds us that this is not a human enemy being fought, that follows human rules. For the White Walkers, the zombies are a tool and means to an end, and any number of them can be thrown away to accomplish a goal.
The humans quickly realise they are outnumbered and rush back to the castle gate. During this, Edd stops to help Sam and dies for his efforts. RIP Edd, I'm sorry to see you go, but you were on my expected death list for this episode. You were just expendable enough.
The Unsullied hold the line as the rest of everyone retreats, and I was so sure that Grey Worm was going to eat it too. He expressed hope and happiness for the future in the previous episode, and it seemed a bit too much like tempting fate. Nevertheless, he survived, but many of his Unsullied comrades did not. Dany is now down pretty much two of her best armies.
Dany and Jon now use their dragons to run interference, but are distracted by the magical blizzard and by the Night King, who arrives on his own undead dragon. The dragon-on-dragon fights are a mixed bag in my opinion: some of it is, again, very hard to see, but we do have a couple of great shots sprinkled throughout the episode.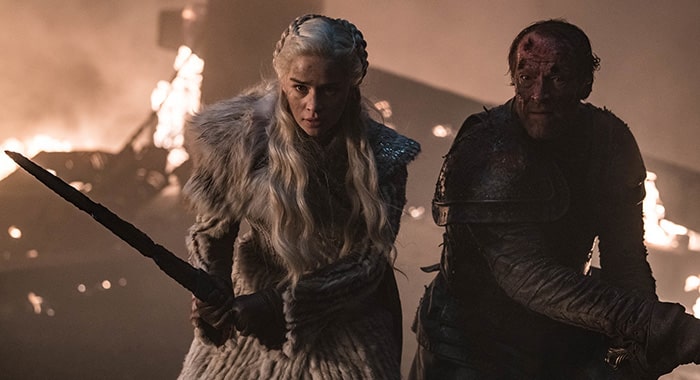 The rest of the battle now takes place inside the castle walls. We see Arya make great use of her two-headed spear, twirling and slaying monsters from all sides. We don't have much time with Brienne and Jamie, but they have a couple of back-to-back support moments, and despite my belief that one of them would be eaten or something, both of them make it out the other side alive. Arya is eventually injured and retreats into the castle interior.
This next one might hit some people the hardest – RIP Lady Mormont. The pint-sized warrior lady was a fav for lots of people, and while some people would say that you shouldn't send children to the battlefield, what killed her would have killed anyone. And she didn't die in vain – she was grabbed by an undead giant, and in her last moment, put it down with a dragonglass dagger to the eye. Well done Lyanna, we will miss you.
Arya meets up inside the castle with Beric and Sandor. As they flee, fighting wights in the interior rooms, Beric ends up holding them back, so that Arya and Sandor might flee. RIP Beric. But as the Red Woman always said, the Lord of Light kept on bringing Beric back for a reason, and that reason becomes quite clear by the end of the episode.
Meanwhile, Jon and Dany are still trying to engage the Night King. He takes a full blast of dragonfire to the face, but I don't think any of us except Dany expected that to work. The Night King doesn't emote much, but he has a wonderful almost-smirk when he feels victorious, and he does a lot of it here. Jon pursues him on foot, but is blocked by the Night King raising to undeath all those who have died in the area, blocking Jon's path. Dany is similarly besieged, but her loyal Jorah Mormont comes to her defence.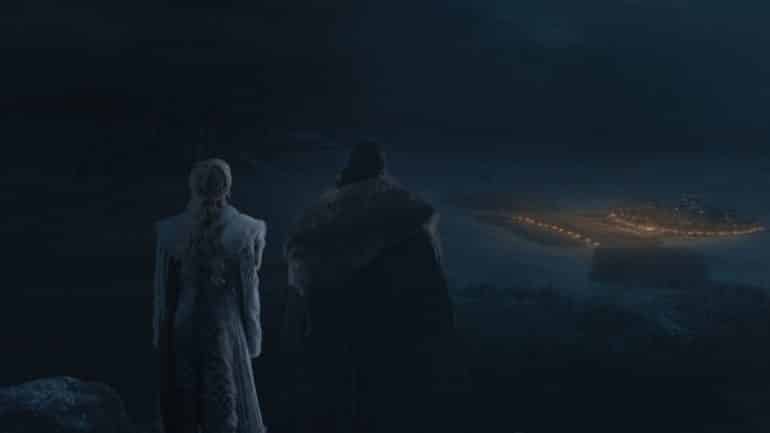 When all the dead are raised, this ends up including all of the Stark dead buried in the crypt, where a lot of non-combatants are hiding. There were memes this whole past week making a joke out of hiding in the crypt when the enemy can raise the dead, so if it's that obvious an oversight, it seems a bit weak. A few nameless people die though in the crypts, and Tyrion and Sansa have quite a sweet exchange together, just as they think they are going to die. But it doesn't come quite to that.
The Night King and his White Walker lieutenants now walk triumphantly through to the Godswood. We know Theon is doomed, but he makes a damn fine showing of it at the end. He takes out a whole wave of wights and charges down the Night King himself. Damn fine showing Theon. RIP.
The Night King advances slowly on Bran. Raises his sword. Jon is pinned down by an undead dragon. Everyone else is almost at their limit with wight attacks. The episode gives a great sense of oppression at points, and it really does feel like an unwinnable fight. That is, until Arya leaps out of the darkness at the Night King, holding the Valyrian steel dagger she was given in an earlier episode. The Night King pivots and grabs her firmly, and I thought I was about to write her in the "dead" column I was tracking. That is, until she drops the knife to her other hand, stabs him in the chest, and wins the day for everyone. Out of all the expectations I had for the episode, I was never guessing that Arya would be the one to finish off the big bad. But it does fulfil a prophecy given by Melisandre years before, and restated this time. And Beric did serve a purpose in the end – even just by keeping Arya alive at the crucial moment.
At the end of the episode, Melisandre fulfils her promise. She wanders out into the snow, whether her powers have faded or if she's just tired of it all. She takes off her necklace and dies. It's also sadly the end for Jorah – he dies of his wounds taken while defending his beloved Khaleesi. He was near the top of my personal "likely to die" list, but I am sorry to see him go regardless.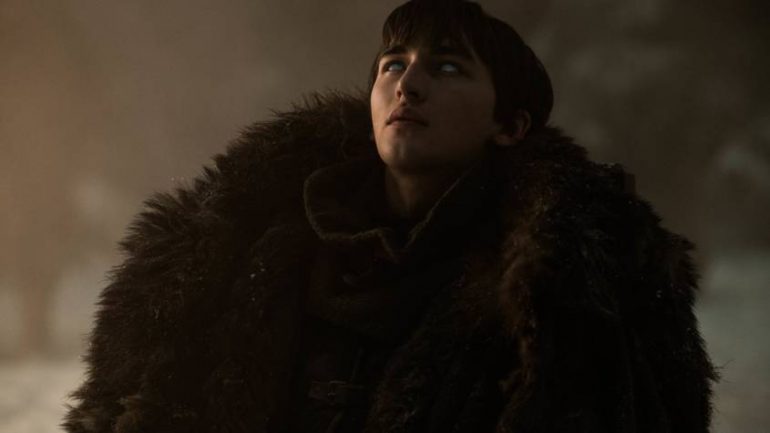 As far as negatives for this episode, I think the first 20-30 minutes were just very hard to see because of the darkness, and there were moments of extremely bad illumination during the rest of the episode. I also found myself disappointed by Bran – he literally sat there warging for most of the episode, eyes rolling back in his skull, clearly doing something…and it came to nothing? Thanks for the help, Bran.
I also think the first few movements of the battle were startling stupid, like the cavalry charge and the defences outside the wall. The battle got better overall once everyone was inside, but I don't like seeing characters be stupid when they shouldn't be. I understand that a lot of the tone was meant to be crushing, overwhelming fear at facing this enemy, but we have characters who have fought them before, and should have known better what was coming and how to deal with it.
As for the rest, well, I was mostly satisfied. There were a few great shots and scenes, and characters doing some great battle-y things. Arya will be ranked a bit higher now by most people; I honestly never anticipated they would go in that direction with her. The death list is also fairly satisfactory for me. In total, it was:
Most of the Unsullied
Almost all the Dothraki
Edd
Lyanna Mormont
Beric
Theon
Jorah
Melisandre
Not a bad innings by any means, although I have not included all the countless nameless soldiers and peasants who will now make it easier for Cersei's revenger in the following three episodes. I'm personally glad they didn't drag out the White Walker element of the story. While some people had constructed elaborate theories about who the Night King was and how this battle would happen, most of them were too outlandish for my tastes. The human-vs-human conflict is a better way to finish things off right at the end, I think.
I personally think Battle of the Bastards is still my favourite Game of Thrones battle scene, and Hardhome comes second. But this one is third, and for the sake of all the build-up that reached this point, I can still overlook a few minor personal quibbles. The mass of swarming zombies hurtling towards the walls of Winterfell has been many years in the making, and I'm glad I was here to witness it.