A Knight of the Seven Kingdoms, the second episode in this season of Game of Thrones, feels like a companion piece to last week's introductory episode. The only setting is Winterfell, and the characters that didn't have much chance to share in the spotlight last week get their turn this time. Not only is this cathartic to have nearly everyone of importance finally sharing the same space and speaking to each other, but there's also the very real chance that next week many of them will be killed off. So is the last bit of downtime before that; where we can spend time with our characters in more relaxed circumstances.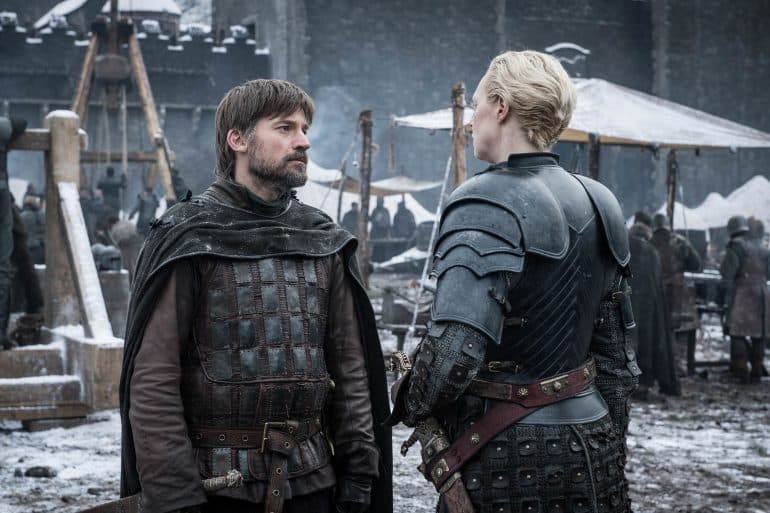 My personal favourite characters this episode were Brienne and Jamie, perhaps unsurprisingly, but there were plenty enough small interactions that I'm sure you'll be able to choose your own. We start off with Jamie hauled before Daenerys and her entire court at Winterfell to decide what to do with him. Daenerys and Sansa seem united in turning on him, with Tyrion not even able to affect much of a reaction. That is until Brienne speaks up and defends Jamie passionately, sparing him from a premature execution. Later on, Jamie meets with Brienne and asks for her permission to serve under her command during the battle. It's a nice turnaround from their positions as jailor and prisoner when they first met.
I had personally always hoped that Brienne and Jamie might be paired up, but I can't shake the feeling that Jamie is going to die soon. He has a Game of Thrones brand stench of noble death hanging over him. We shall see.
Jamie brings news that Cersei has recruited the Golden Company, and Tyrion is berated again for his mistaken belief in his sister seeing past her own pettiness. Personally, I'm a bit tired of this maudlin, defeated, easily tricked Tyrion. I'm sure I'm not the only one who would like to see him be the cunning and pragmatic tactician he was in earlier decisions. He's just been a bit too down in the dumps the past few episodes.
While this episode does acknowledge the mistakes he's made, Jorah also comes to Tyrion's defence in front of Daenerys, and by the end of the episode she does seem to have taken Tyrion back into her confidence. There are hints that Tyrion might be thinking of the long game ahead, and I would love to see that come to a plot point later on in a meaningful way. There may not be so many opportunities against the White Walkers for trickery, but when it's just Cersei they face, I'd be keen to see Tyrion come out ahead again.
There's an interesting moment when Tyrion stops and speaks to Bran, asking Bran about everything he's been through – not only does it show Tyrion's love of learning and hearing about the fantastical, it also reminds us of the way Tyrion was one of the few non-Starks to have any kind words or thoughts for Bran back in Season 1 after his accident. He felt a kinship with the crippled boy, and although Bran is much more than that now, I found it surprisingly sweet.
Jamie also reconciles with Bran – he comes to apologise, and Bran basically tells him that neither of them would have become the people they are now if it wasn't for Jamie hurting him first. So basically it's all cool, don't worry about it bro, btw zombies might eat us later but let's try not to let them. I am interested in Bran and what the plot will do with him, but I sincerely hope he doesn't become a deus ex machina by the end of this all. What we do know is that he's a magnet drawing the Night King in – the White Walkers are desperate to have Bran become one of the undead, and because the Night King can track Bran, they will essentially use him as bait for the battle ahead.
Most of Winterfell throughout the episode is engaging in building defences and weapons, turning as much dragonglass into weapons as possible. There's a very nice touch during one scene, where we can see that the battlements themselves have had dragonglass placed on the top of the castle walls in long spikes.
Gendry is hard at work in the forge, with Arya still waiting for her special personal weapon to be made by him. He eventually does so, revealing it to be a two-headed spear that Arya can twirl around in what will no doubt be a lovely dance of death in later episodes. What follows between Arya and Gendry is possible one of my favourite scenes in a while – and one of the first sex scenes in ages that actually serves a plot purpose and is not superfluous, gratuitous, or exploitative. Arya, who has also been irritatingly taciturn for most of the time, lets the slightest bit of her emotional defence drop, and reveals to Gendry that she doesn't want to die a virgin. He obliges.
For those of us who were hoping for some sort of resolution to their relationship, it's fitting. It's not a romantic moment, not really, as Arya doesn't seem quite capable of those feelings anymore.  But the look in her eye as she lies in bed afterwards is telling: for all of her bravado, and service to the Many-Faced God, I don't actually think she wants to die any more than anyone else does.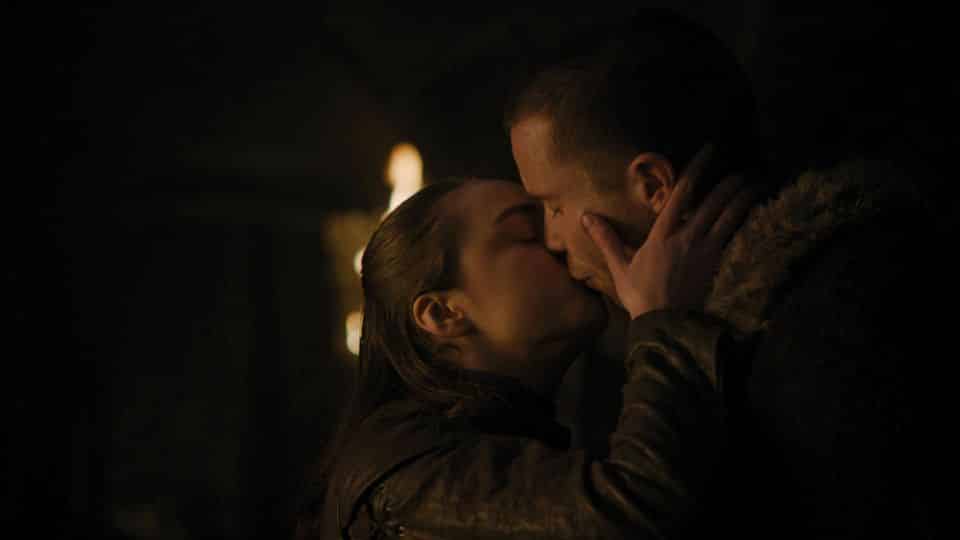 There are lots of other small moments throughout the episode that I found quite charming. The Night's Watch remnants get to Winterfell, and we have Jon, Edd, and Sam all sharing in their brotherhood on the walls of Winterfell. Most importantly though, Ghost is in the scene. He's still alive! He wasn't turned into Daenerys' fluffy white cloak! Oh, we have missed you Ghost. I hope you bit a zombie next time and don't immediately die.
Although Sam defends his masculinity and bravery quite well in that scene, showing his own personal growth, he remains pragmatic: he understands that he cannot even hold his huge Valyrian steel sword, and so lends it to Jorah to use in the upcoming battle. As Sam is heading down the stairs to do so, he hears an argument between Jorah and his niece, the fiery Lyanna Mormont. The argument between the two perfectly demonstrates the character of the diminutive warrior lady of Bear Island, and she resolves herself to fight in the upcoming battle, complete in a child's sized suit of armour.
Grey Worm and Missandei have a couple of brief, touching scenes. They both reflect on their otherness within the North, and the Seven Kingdoms. There's talk of them returning to Missandei's home island once this is all done, and I personally quite hope that happens for the two of them. As Grey Worm marches out to battle, he shares a passionate kiss with Missandei. The perfect warrior who had his emotions destroyed now shows love when he wants and talks about his desires. Good for you Grey Worm.
Jorah encourages Daenerys to resolve her differences with Sansa. They share a conversation where they lay out their feelings and common difficulties as female rulers. Sansa is worried about the influence Daenerys has over Jon. Daenerys counters by saying that she has followed Jon all the way North because of his influence over her. Just as they seem to start becoming friends, a sticking point presents itself but is not resolved: what is to become of the North? Will it have its independence? Personally, I think they should worry about the Army of the Dead first but, for Sansa, the cause of Northern Independence is especially strong. Before any conclusion is reached, they are interrupted: Theon has arrived to pledge himself to the war. He and Sansa have a very touching and warm reunion. Later on, Theon assigns himself and his men to serve as Bran's personal bodyguard during the battle ahead. He once tried to murder Bran and take his home, and now he will defend that home and Bran himself, with his life.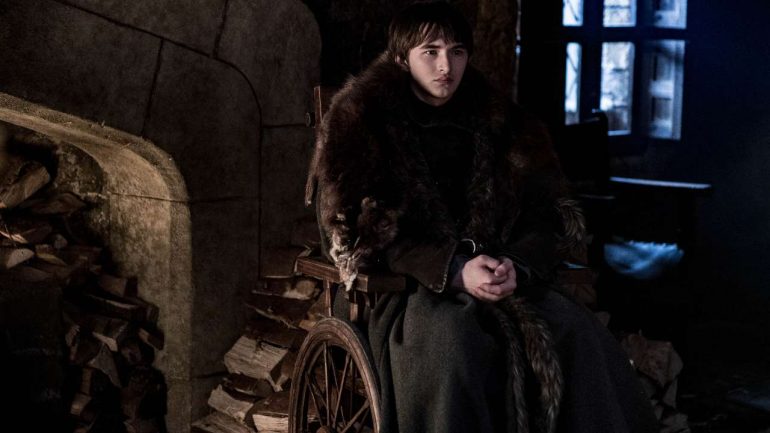 The centre point of the episode is a scene in the great hall of Winterfell, where Tyrion, Jamie, Brienne, Davos, Tormund, and Pod all congregate. Over some drinks and fellowship, we first have a delightful moment where we can see that Tormund feels Jamie is competition to him for the heart of Brienne, and he reacts the only way he knows how: telling a ridiculous story of manliness and quaffing his drink from a huge drinking horn. The ways in which the rough and ready Tormund tries to woo Brienne is one of my favourite little subplots in this bleak world the characters live.
The conversation turns to why Brienne is not a knight, because of cultural tradition. Jamie insists there is nothing stopping him from knighting her right then and there. Although she doesn't outwardly make much of it, you can see in Brienne's eyes the importance this moment has for her. In some ways, she maybe would often have wanted to have been knighted by Ser Jamie Lannister, and although that moment has happened very differently than anyone could have expected, it has still happened. She has gained the validation she always deserved for who and what she is – a knight of noble character. And in the Game of Thrones world, where so few knights deserve their titles, it was always a crime that she who deserved them most was not allowed them. That has all been rectified, even if a lot of these characters will die next week.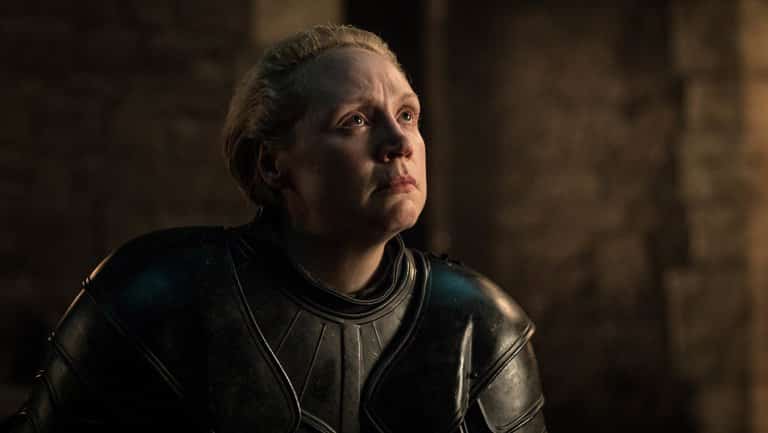 Later on in the evening, there's a great scene where Pod sings an in-universe song called Jenny of the Oldstones. It's a hauntingly mournful and fitting song, and as he sings, we see various characters acting out their last moments before battle commences. It reminds me (perhaps intentionally) of the scene in Lord of the Rings where Pippin sings a similar song during the build-up to a possibly doomed battle. There's a version of Pod's song that plays over the credits from Florence and the Machine, and I'm still trying to decide which version I liked more.
Jon has been avoiding Daenerys for much of the episode, as he tries to reconcile his true identity as heir to the Iron Throne (and her nephew). He does finally tell her in this episode, standing in front of a stature of his mother in the crypt of Winterfell. I find this a huge relief, because I was not looking forward to having that plot point drag out for ages. I dislike when characters know things but don't speak to each other about them. Daenerys is understandably shocked, but before she can react, the horn sounds: The Army of the Dead has come.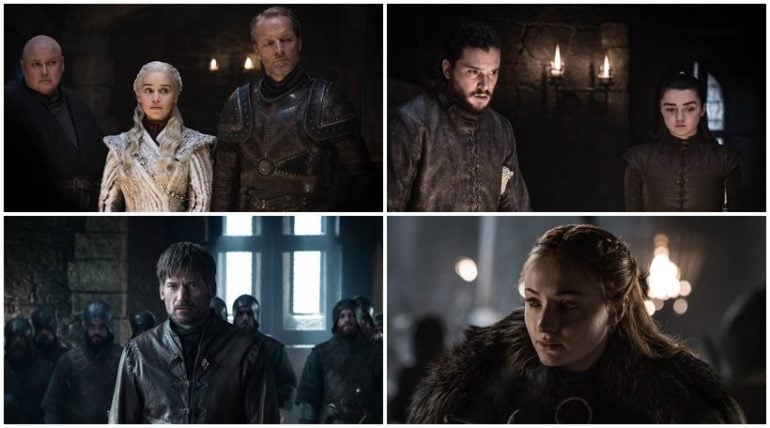 Next week is the 1-hour and 30-minute nighttime battle that we are told will take up the majority of the episode. I will be interested in seeing if the White Walkers are resolved then and there, outside Winterfell, leaving us only with Cersei as a competitor for the final three episodes. I'm torn about which approach I would prefer, whether to do it that way or to keep the Night King until episode 6, but I guess we will have to wait and see.
The past two weeks have been entirely build up, and the first huge climax for Game of Thrones both as a Season and an entire show comes next week.
The Review
A Knight of the Seven Kingdoms
Some of this episode may need to be reassessed in hindsight, but for now, all the pieces are in place, and I'm excited that we won't drag it out any more.