Marvel fans are begging to see more of Antman and the Wasp alum Randall Park alongside Thor's Kat Dennings after they reprised their roles as Jimmy Woo and Dr Darcy Lewis for a sci-fi detective-style episode of WandaVision.
Episode 4 of WandaVision sees Jimmy Woo working with Darcy Lewis to investigate a strange missing person's case in an attempt to solve a bizarre mystery, and fans can't seem to get enough of the duos unmistakable comedic chemistry.  Originally, Jimmy and Darcy filled in supporting roles in the MCU, but fans have started a viral social media exchange in the hope of seeing this duo in their own X-Files style mystery series with a Marvel touch.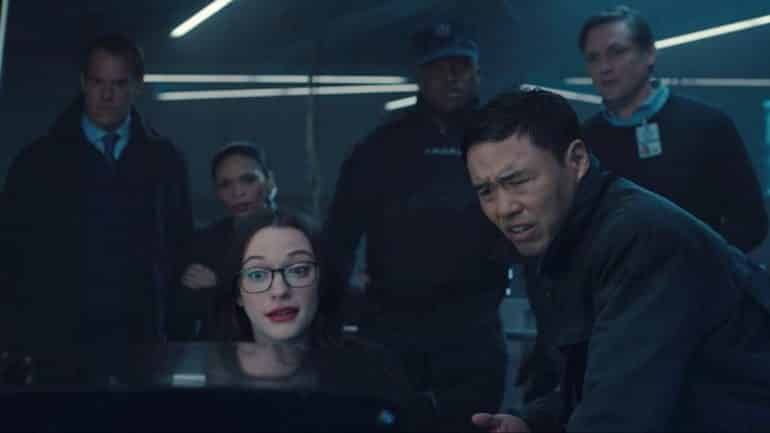 Actor and filmmaker Stephen Ford, who appeared in the Teen Wolf TV series, started the social media exchange by tweeting his idea for a new series set in the MCU.
"Hear me out: An entire Disney+ show about Jimmy Woo just working weird cases in the MCU. Like a fun X-Files. Make it happen," Ford pitched on Twitter.
Marvel fans were quick to jump on board with the idea, with numerous fans indicating they wanted Darcy Lewis as Jimmy Woo's whacky mystery-solving partner.
During the initial press tour for the Disney+ series, Wandavision creator Jac Schaeffer revealed the return of Park and Dennings' to the MCU was suggested to the writer's room by Marvel Studios.
"Randall and Kat were suggestions that I was like, '100% yes is my answer to that suggestion.' And that's sort of what I've seen on the other properties at Marvel, they have ideas of where they can put different characters and different storylines," Schaeffer says. "That doesn't always work out. That's not always how it is. I would say that most of the wonderful players in the MCU stable — if they get the call — they're going to show up because they're excited to. But yeah, it starts as a general idea, and then we see if we can make it work.
Although the unlikely duo come from vastly different MCU franchises, fans reactions to episode 4 of WandaVision has proven the pairing to be a smart move by Marvel Studios as it sets up the two to be a duo that fans never knew they needed.
Alternatively, fans have also highlighted interest in seeing the marvel comic Agents of Atlas adapted into a series which would follow a team of superheroes led by Jimmy Woo. According to Geeks Worldwide, juggernaut studio is in early development on Agents of Atlas and is either bringing them to the big screen or Disney+, however, nothing concrete has materialised from this report as yet.
Whether it be a joint series or their own standalone shows, there is no mistaking that fans can't wait to see more of these two marvel characters.
Which series would you watch? Do you want to see Jimmy Woo and Darcy Lewis reunited to solve mysteries? Or would you rather see an Agents of Atlas series with Jimmy as the lead?