It's been 20 years. Surely, studios are ready to consider an Equilibrium sequel or even a reboot. Well, we're ready for more gun kata (gun fu) neo-noir sci-fi action in Equilibrium 2.
The early 2000s were rife with high concept action blockbusters — they had to be; after all, this is the same generation that saw the release of the entire Matrix trilogy. The popularity of oppressive dystopias in films was at an all-time high, which might be the reason why movies like 2002's Equilibrium became such considerable box-office successes.
A story based on the Orwellian model of totalitarianism and abolishment of free will, Equilibrium perfectly balanced a high concept setting with just the right amount of bombastic set pieces to appeal to almost every kind of audience.
Recently, the revival/reboot/sequel The Matrix: Resurrections enjoyed some modest critical and commercial success. Considering this, could Equilibrium 2 be a thing sometime in the future? Well, there are some good reasons to think that an Equilibrium sequel could happen, and it mostly has to do with the current change in blockbuster dominance.
Ever since Avengers: Endgame in 2019, superhero movies have taken a hit at the box office. While there are the expected spikes in popularity like what happened to Spider-Man: No Way Home, movies like Eternals and Morbius have had some massively disappointing box office performances.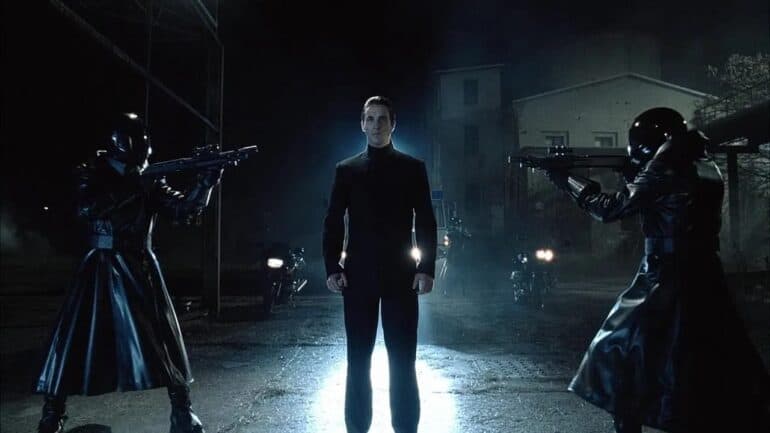 This is where Equilibrium 2 comes in. Films like Dune have proved that there's a renewed interest in seeing dystopic blockbusters on the big screen again. It's no coincidence that two massive blockbuster films that shared similar dystopic backgrounds, like Dune and Matrix: Resurrections, were released so close to each other.
The themes of freedom of speech and social liberties are also quite present in the modern media discourse, so it makes sense that a movie like Equilibrium 2 would add quite a lot to the conversation. An Equilibrium sequel would arrive at just the right moment to feel even more relevant than even its prequel was back when it was released.
Fans of the movie have been claiming for an Equilibrium sequel for close to twenty years now. However, the bad news is that director Kurt Wimmer has been against the idea of continuing the franchise pretty much from the get-go. In a 2002 interview, the filmmaker mentioned that he was sure the studio would eventually produce an Equilibrium 2, but that he believed that such a film would probably be a straight-to-video affair. As far as Wimmer was concerned, he had absolutely no interest in participating in the making of an Equilibrium sequel.
"I'll bet you money they'll make a second one. It'll probably be straight-to-video, I don't know, but they're not thinking of it now, but I'll bet you they will and it'll be horrible", he said. "I have no interest. It's one of those things that I don't think requires a sequel. The ideas I like in the movie, I will take them and I will continue them – maybe not quite so specifically, but there's a whole history and depth to the gunkata that I didn't even get to scratch the surface of in Equilibrium because I just didn't have the time or the money to do it, but I have just so many ideas that I think are super-cool that are based in that sort of realm that I want to put in a number of films."
On the other hand, we also have to take into consideration that Equilibrium was produced by Dimension Films, which has very close ties to Paramount Pictures. What this means is that Wimmer's vision might eventually come true, only not in the way he pictured it in 2002.
Paramount's streaming platform, Paramount+, has been releasing a good batch of original programming recently, including some fairly unexpected South Park specials and even a live-action Halo series. It would not be too surprising to see the platform adding some sort of Equilibrium sequel or revival to their roster sometime in the future — even if that means we're losing Christian Bale and some of the things that made the original so good in the process.
As enticing as the idea of having an Equilibrium 2 might sound, the truth is that perhaps it would be better if we just remember how good the original one was, without tarnishing its reputation with a forced continuation. If an Equilibrium sequel ever comes to pass, however, at least we know that the fascinating sci-fi world constructed by the original film has room to spare when it comes to fresh ideas and narrative possibilities.
Tell us do you want an Equilibrium 2 or is it too late for a sequel?