Ahead of its release on HBO Max and in theatres later this summer, the final trailer for James Gunn's The Suicide Squad recently released online. In it, in addition to getting further introduced to the cast of characters in this new iteration of the property, we got our first extended look at Bloodsport, the character in the film played by the world-famous Idris Elba.
It's no normal introduction either. No, within the first thirty seconds of the trailer we learn why Bloodsport is in prison in the first place and being considered for a spot on the Suicide Squad: he shot Superman with a Kryptonite bullet and put the hero in the ICU.
Now that's an impressive feat on its own, and it's one that's pulled straight from the comics. However, it does bring up an interesting question: which Superman did Bloodsport actually shoot? Was it Henry Cavill, the Superman that we all know and love from Man Of Steel, Batman V Superman and Justice League? Or was it a different Superman altogether? Where does this film take place in the timeline, and in what universe does it exist?
#Bloodsport #TheSuicideSquad #KryptoniteBullet @idriselba 😱 pic.twitter.com/mGlW3KRfHk

— James Gunn (@JamesGunn) June 22, 2021
Well, it's been confirmed that The Suicide Squad is in fact part of the DCEU Extended Universe, and therefore part of the official DC movie canon. So, that should answer the question, right? If the film takes place in the same world as Justice League, then there's only one Superman to shoot, right? Not quite…
"Bloodsport is in prison for putting Superman in the ICU with a kryptonite bullet," director James Gunn said in an interview with IGN following the trailer's release. "I don't know which Superman it was, because I don't cast the next Superman. So, it could be Henry. It could be somebody else. It's whoever people decide upon other than me."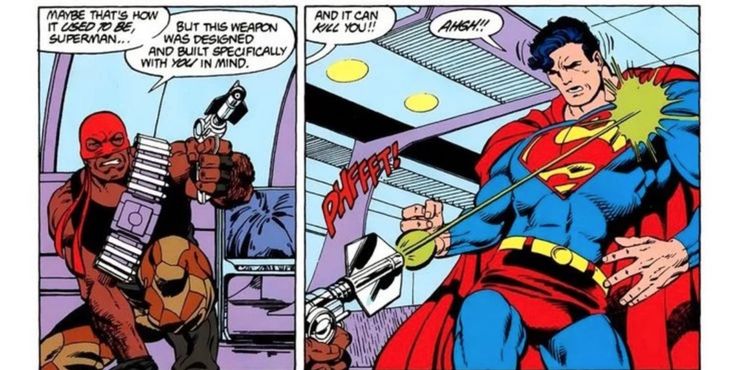 Vague and frustrating as that answer may be, it may be the best we've got for now, if for no other reason than that we have no way of knowing when or if Henry Cavill will be coming back as Superman. Perhaps the executives above Gunn who make those decisions don't even know yet. DC also has been known to ret-con or change its various in-universe connections (one need only to look at the abandonment of Zack Snyder's DC Universe to see that) so perhaps this instance is yet another example of poor planning or mismatched creative ideals.
In the end, shooting Superman, no matter the version, is a pretty major crime, so, either way, Bloodsport is probably happy that he has the opportunity to shave off a few years of his sentence. And who knows — maybe we'll never really know which Superman came falling out of the sky that day.
Do you think The Suicide Squad's Bloodsport shot Henry Cavill's Superman with a Kryptonite bullet? Or is it a different Superman?