The question that many DC fans have wondered over the years is really quite simple: why does Harley Quinn love the Joker? Why does she stay with someone who treats her so terribly? Why does Harley Quinn continue to be attracted to him even though she knows he is going to emotionally and physically hurt her? I think there are a few factors that play into this answer, but overall it comes down to one main reason: power.
Is she an enabler or a predator? A clown or a tragedy? An innocent victim or an accomplice? The truth is that she moves between these interpretations depending on the story – and some might say that none of these portrayals are fundamentally wrong.
"It soon became clear to me the Joker, so often described as a raving, homicidal madman … was actually a tortured soul crying out for love and acceptance. A lost, injured child trying to make the world laugh at his antics." – Harley Quinn
Joker
Even if you've never read a comic book in your life, you know who the Joker is. It's the world's most popular case of cultural osmosis, as it is not too unlikely to say that the Joker is the world's most popular comic book villain. As iconic as the character is, much of his backstory has been permanently shrouded in mystery, perhaps as a way to keep the character alive more as an ideal rather than a person.
One aspect of the Joker that has remained constant in many iterations of the character is his love/hate abusive relationship with Harley Quinn. Sometimes abusive, other times submissive, the question that many fans have wondered over the years is really quite simple: why does Harley Quinn love the Joker?
After all, this is a homicidal maniac we're talking about here. Falling in love with the Joker would spell tragedy for anyone — or anyone that's not Harley Quinn, it seems. Over the years, the reasons why Harley Quinn loves the Joker, and the dynamics of their relationship, have been revisited by multiple writers, each giving their toxic affair a new look depending on their stories' needs.
"Don't get me wrong, my puddin's a little rough, but he loves me, really." – Harley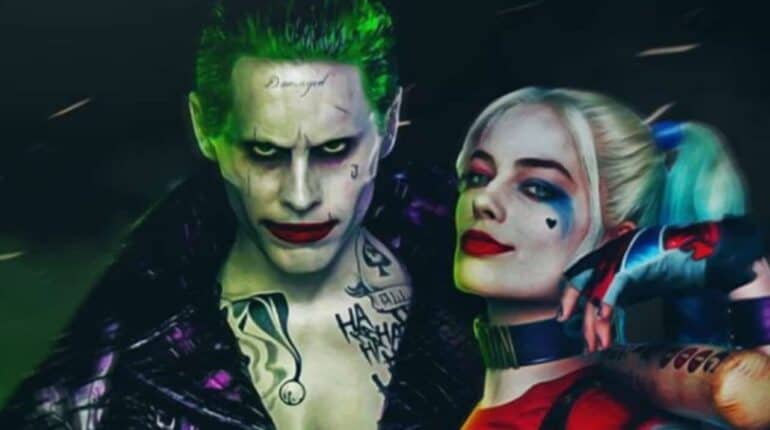 Dr Harleen Quinzel
Harley Quinn is arguably one of the most popular DC Comics characters and she isn't hard to figure out. This clown-faced character is known not just for her trademark mallet, but also her flirty yet aggressive attitudes toward her "puddin'.
Before she became the Joker's most trusted sidekick, Dr. Harleen Quinzel (her real name) was a renowned psychiatrist working in the infamous Arkham Asylum. She was assigned the undesirable task of taking care of the Joker — an assignment that would change her life forever.
In some versions of Harley's origin story, she becomes infatuated with the Joker because he's one of the only few people that seems to actually care for her. Although it could be argued that the reason why Harley Quinn loves the Joker is due to the manipulation of the Clown Prince of Crime, a better option would be explained by the Florence Nightingale effect.
So, why Does Harley Quinn love the Joker? According to some writers, the Mad Love between the two jesters began as a perfect storm between the two, one where everything that could have gone wrong actually went worse. As we mentioned before, the power dynamics in their relationship have changed quite a bit over the years, depending on who writes their characters, but Joker and Harley seem to be destined to be perpetually entangled, despite their conflicting personalities.
Before she became a bona fide villain on her own, Harley's meek personality often led her to doubt her skills as a psychiatrist. It could be said that the Joker nurtured all of Harley's negative personality traits: he didn't turn Harleen Quinzel into a villain, he merely unlocked her true potential as one.
Harley Quinn is a character who has fallen in love with her arch-nemesis. Even though the Joker is cruel to Harley, she will always love him. This can be traced back to the original Batman: The Animated Series and has continued through to current stories. One of the main reasons why Harley Quinn loves the Joker is due to his destructive personality. In one instance, the Joker set everyone in Arkham Asylum free and then blew it up. It didn't make much sense until you realize that he had also submerged his own heart in ice water and was slowly killing himself. To Harley, this was romantic as she wanted to be with him forever.
"I'm the one they should be scared of. Not you, not Mr. J. Because I'm Harley freaking Quinn." – Harley Quinn
So, why does Harley Quinn Love Joker?
Even if some writers have decided to emancipate Harley from the Joker, it's safe to say that, despite their relationship being over, it's easy to see why does Harley Quinn love the Joker: he's part of the reason why she became a villain in the first place. The Joker, on the other hand, rarely harbours any real feelings for Harley, which is why Quinn's affection often goes unnoticed.
Maybe it's because he's the man who gives her purpose. Maybe it's because he makes her laugh. Maybe it's also because she honestly loves her beloved Joker. Regardless of what the reason may be, the dynamic Gotham City couple make for interesting big screen movies, video games, TV shows, and comic books.
In short, the main reason why Harley Quinn loves the Joker is that their personalities allow each other to become the worst versions of themselves. Harley gets to feel like she's in control of the Joker's destructive side, while Joker is just a sadistic thug who finds pleasure in making people feel as miserable as possible. Truly a match made in hell, there's no denying that the title of The Batman Adventures: Mad Love was right in how it defined the deranged relationship between Harley and the Clown Prince of Crime.
So, the answer to this question is as confusing as the Joker himself.
Tell us, why do you think Harley Quinn loves the Joker?