Episode 9 of WandaVision, appropriately titled "The Series Finale", concludes the series. Was it worth the watch?
Here are our thoughts.
What happens in the WandaVision finale episode?
WandaVision may be Wanda's artificial sitcom reality/coping mechanism, but the dangers in it are very real.
Agatha Harkness, an ancient witch and current wielder of the Darkhold, intends to drain Wanda's abilities from her. For the citizens of Westview, it means a chance to regain their freedom as Agatha gains unlimited power, but for SWORD's Director Hayward it's also an opportunity to attack using his rebooted weapon: The Vision.
Thankfully, Wanda isn't facing this danger alone.
As her own recreated Vision enters the fray against his real-life counterpart, Agent Monica Rambeau learns more about Pietro's recasting. With Wanda understanding the consequences of her actions, and battling forces beyond her comprehension, it's time for her own series finale. But will it have a happy ending, or will WandaVision be cancelled permanently?
It's probably fair to say that, oh, plenty of people will be disappointed by the ending of WandaVision – and all for lots of different reasons.
After all, as a traditional Marvel product, it doesn't provide anywhere near the spectacle that fans would expect. In terms of effects-heavy action, there are a couple of half-baked Super Saiyan/Matrix sky fights which look a bit dated, and one villain is dispatched of in a moment which worked better for Argyle in Die Hard.
But then, regardless of the impression some people may have of them, Marvel films have never been all about the action.
Likewise, in terms of the plot and writing, it disappointed on that level too. Some key plot elements were glossed over, some were swept under the rug or altered, and others were ignored completely – resulting in a stunning failure to answer many key questions that viewers may have. It's one thing to entrust fans to watch a series multiple times so that they can join the dots from the clues which were scattered throughout; it's another to hope that fans can fill in the blanks with their own answers based on almost no clues at all and nothing but their imaginations and an encyclopedic knowledge of comic books.
Seriously, why couldn't they just explain things in a normal, logical manner?
Because, in terms of story, this one doesn't hold up the minute you start scrutinizing it.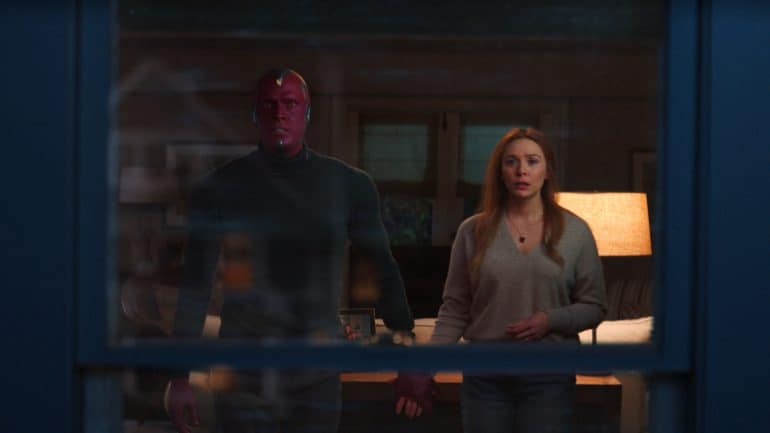 Unfortunately, it also doesn't help when the show appears to troll some of its own primary audience, while simultaneously asking them for a leap of faith. On the one hand, it's telling them to simply accept what's being delivered, no questions asked; on the other, it practically mocks the hopes and fan theories of the more hardcore Marvel base. That's a serious problem and shows a disconnect with Marvel fans.
Yes, viewers have whipped themselves into a frenzy as they over-speculated about Avengers cameos, secret villains and the debut of the Fantastic Four and the X-Men… and yes, that's on them; but some elements of the finale feel like it's blatantly giving them the middle finger, and that's not cool.
And then there are other issues.
For a show which started off with so much creativity, it became humdrum. While the finale of WandaVision had Westview play a visual game of jump-rope with its sitcom-era setting, there was no artistic tweaking of the audio to create a Lynch-style cacophony of disturbing laugh tracks and musical cues.
Why not?
The horror elements of the show, subtly present since the start, barely got a mention beyond one disturbing moment, and the episode failed to properly address the underlying themes. Add an absent Darcy and a rushed lack of answers, while failing to take time to explore the circle of trauma that's been created, stir, shake, and serve lukewarm.
Now, some people can say that it's just a TV show, after all, and not a movie. What did anybody expect? Only that argument doesn't quite cut it.
In terms of Marvel shows, Agents of SHIELD managed more movie-quality action in small screen finales; Legion, while not an MCU production, still managed to continuously bring creativity to a Marvel-based show without ever second-guessing itself; more comprehensive, tightly-knit plots were told through all the Marvel Netflix shows, while Jessica Jones delivered more in addressing issues of the cycles of grief, unchecked power and abuse.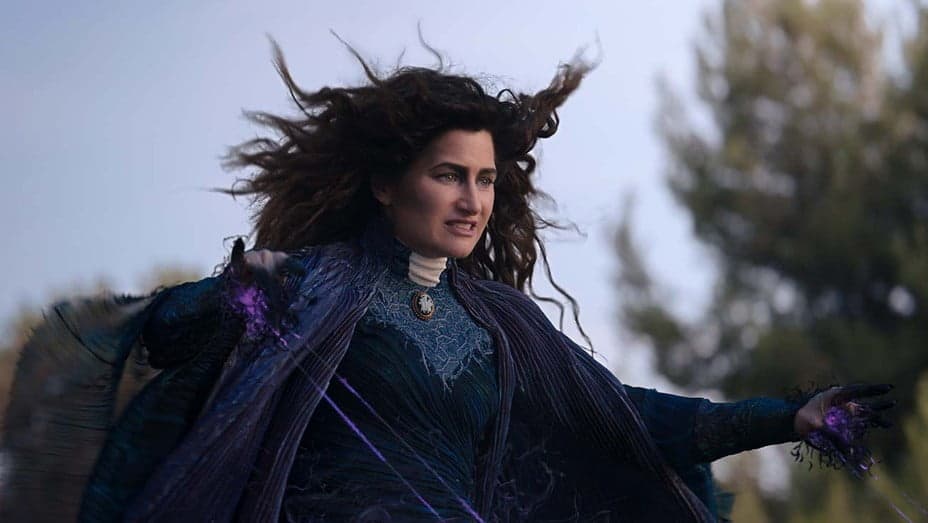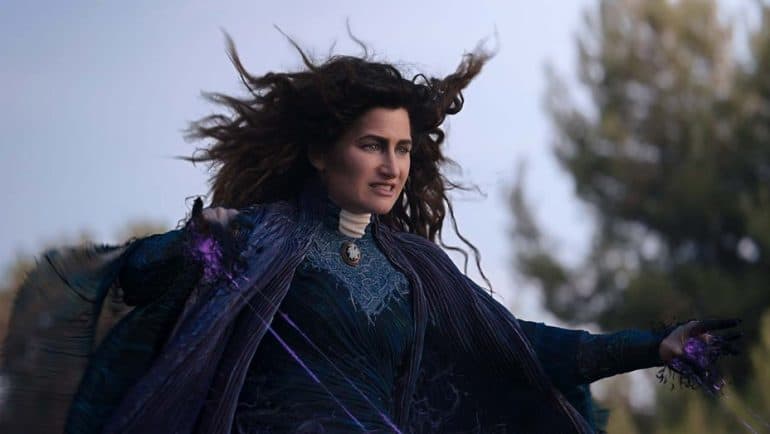 So being a TV show is no excuse.
Of course, there are other excuses. Ones that are deeper, more serious, and far more tragic, and you only have to turn on the news to understand some of the possible reasons as to why this may not have ended as hoped for. Still, for whatever reason or reasons, The Season Finale felt like a disappointment.
And here's the kicker: having said all of that, the amazing thing is that it still isn't bad. Disappointing? Sure. Great? No. But bad? Nope, not at all.
In fact, regardless of Wanda's rather pedestrian boss fight against Agatha and the plethora of other problems, there's also a whole lot more going on under the hood. Ways in which this totally work on an emotional level, and with some perfectly tuned dialogue, performances and character beats. Just because it's a Marvel finale, that doesn't mean everything is about the CGI and the fighting.
You've also got to give it up for the better moments and sly touches which abound. Vision on defense against The Vision, ultimately going to the Captain Kirk playbook in a debate, is possibly the most Vision moment ever; they reference The Wizard of Oz and Blade Runner easily, but can also still crack a dumb, dirty junk-joke; and several further Easter eggs and references appear for fans, adding a whole lot to debate about.
Really, the finale of WandaVision is still a pretty entertaining episode and, at the end of the day, that's what count. It's just unfortunate that it also continues to show the divide which exists between Marvel's movies and its TV shows.
WandaVision, even at its finale (aside from the final tag scene), looks and feels like a small screen, not a big screen, production – even with some glitz and gloss thrown at it. For all the hype of Disney and Marvel Studios about their shows now being more connected to the films, there's still an obvious gap between them. That's worrying, because it's that sort of arm's length mentality which hurt Agents of SHIELD and the Netflix shows in particular. Hopefully, Marvel Studios will learn from their mistakes and start showing a bit more love to the small screen.
So, was WandaVision worth it? As a series on the whole, it was still worth watching. The finale WandaVision episode though? The end lets it all down, regardless of whatever reasons. There's a lot of positives, and some stunning performances in there too, but on the whole, it didn't quite deliver everything it should have.
Tell us, did you enjoy the finale of WandaVision or was it a letdown?
The Review
WandaVision Episode 9 - "The Series Finale"
A decent but disappointing ending.