2020 might have been the year of Baby Yoda but going by the reaction to James Gunn's The Suicide Squad, 2021 looks like the year of King Shark.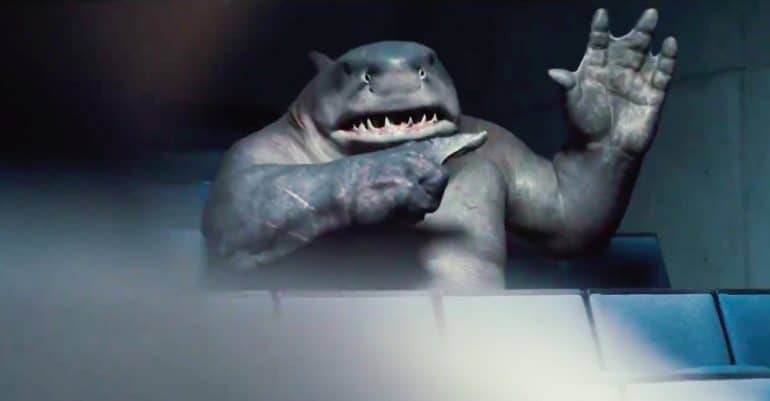 The Suicide Squad Trailer
Warner Bros. finally released the very first glimpse of James Gunn's The Suicide Squad last Friday.
Based on Twitter's response to the violent, humorous and profanity-filled trailer, it seems as though many are excited for the release of the upcoming film (including Suicide Squad comic book creator John Ostrander).
While the star-studded clip boasts many new DC villains including Idris Elba's Bloodsport, John Cena's Peacemaker and a nightmare-inducing weasel played by Sean Gunn (seriously, what's up with that thing!), there is one super baddie in particular who has already stolen the limelight – King Shark.
King Shark Trending
Despite being a finned foe of few words (as well as gruesomely murdering at least three people in the trailer alone), the anthropomorphic shark voiced by Sylvester Stallone has won the adoration of DC fans with many admirers taking to Twitter to express their love for the character.
Some on the social media platform have been referring to the bloodthirsty shark as "adorable" including @FabianGabrielR6 who posted, "I really never thought @TheSlyStallone as #KingShark HES FREAKING ADORABLE…" and @shrutiraoart who wrote, "THIS IS ADORABLE AS F*** WTH (many crying faces) LOOK AT HIM STANDING THERE IN HIS CUTE LITTLE SHORTS AMONGST THOSE CUTE LITTLE FISH WHAT A BABY…"
Others have used the social media platform to express their admiration for the character. @FloridaMan4040 tweeted, "I have known this Shark for less than 2 minutes and I would already die for him." While @The_Jandolorian shared, "My world currently revolves around a bipedal anthropomorphic shark of royalty. He is my spirit animal."
Many have even gone so far as to crown the fishy foe as the new king of DC. @reneiscursed states, "He runs DC now. Bow down to your king. #KingShark #TheSuicideSquad". Meanwhile @immwk shares, "Forget Batman, Superman or Wonder Woman. #KingShark is the new flagship of DC. It's he's world, universe/multivariate we're living in. #TheSuicideSquad"
Will King Shark Die In James Gunn's The Suicide Squad?
Fans also seem genuinely concerned about the fate of the beloved character. The film's director already warned viewers that none of the characters are safe in the upcoming film (as mentioned in an article by Den of Geek) and that does not seem to be sitting well with many King Shark supporters.
@JeffFermin made an oath writes, "If @JamesGunn kills King Shark, I'll never watch his stuff again."
Whereas @DiegoNeverMiss posted a gif of characters from various films angrily walking with the quote, "Me and the boys on our way to raid Warner Bros HQ if they kill King Shark in #TheSuicideSquad."
The Suicide Squad will be released in theatres and on HBO Max on August 6, 2021, and one can already tell just how excited fans are to see this film – mostly because we want more King Shark.
Is King Shark the new Baby Yoda? Maybe. He sure is cute enough. Warner Bros. can expect to sell a lot of toys.
Are you excited to see the upcoming The Suicide Squad film? What are your thoughts on the King Shark character?