Amazon Prime Video has been busy making deals with companies like Warner Bros., making it possible for them to bring some of the intellectual property that WB has been hoarding over the last couple of decades to life. Some of the content they have gotten their hands on includes Batman: Caped Crusader, Bat-Family and a fantastic holiday movie for the whole family, Merry Little Batman.
RELATED: The 27 Most Powerful Characters In The DC Universe Ranked
Since Warner Bros. Discovery has been scrapping shows on HBO Max left, right and centre, they have started a new strategy model that allows other production studios to license content and Warner Bros. and DC IP materials to continue on other platforms. Some fans think that WBD is slowly robbing HBO Max of the opportunity to create new films and projects, slowly shutting them down. Still, many customers already have Amazon Prime Video, so they are happy that they will have the new content available on their preferred platform.
Sam Register, who is the president of both Warner Bros. Animation and Cartoon Network Studios, as well as Vernon Sanders, head of TV Amazon and MGM Studios, have both released official statements detailing how excited both companies are to be able to work together on the project, and what they are hoping will come of it.
From WB Animation's side, the company was happy that their projects could move forward in some regard, through "cinematic noir storytelling" to "comedic adventures." Warner Bros. Animation is happy that Amazon is willing to continue Batman's animated story "to excite fans of all ages."
RELATED: Why Wes Anderson Could Direct a New Charlie and the Chocolate Factory Movie
Amazon Prime is also excited to be working with Warner Bros. and adding to the global story of Batman in their own way. Vernon Sanders, head of Amazon TV and MGM Studios, shared, "We are thrilled to collaborate with Warner Bros. Animation to offer a variety of takes of the Batman mythos to our global Prime Video customers."
Merry Little Batman is an animated action comedy set to be directed by Mike Roth, a name that you might remember if you are an avid fan of Cartoon Network productions like Regular Show. Another big name you might recognise is writer Morgan Evans from Teen Titans Go! Suppose these names weren't enough for you. In that case, it's also executive produced by Sam Register, the president of Warner Bros. Animation and Cartoon Network Studios.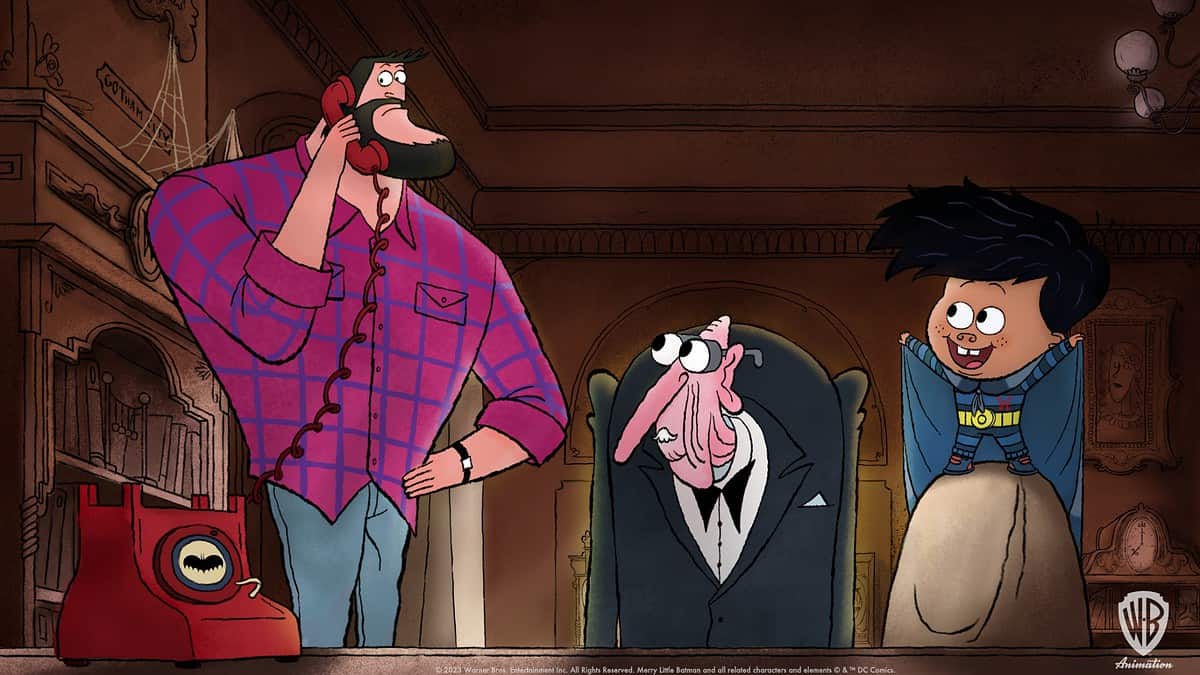 The cast includes talented voices like David Hornsby, James Cromwell, Luke Wilson and Yonas Kibreab as the voice of young Damian Wayne, to name a few that have been officially listed. Together, they bring the sweet holiday tale to life, telling the tale of a young Damian Wayne who finds himself alone in Wayne Manor over Christmas, specifically on Christmas Eve.
RELATED: Here's a Taste of Dracula Untold: The Animated Series
Seeing an impending threat that crooks and supervillains are posing on his home, Gotham City, and the Christmas holiday, Damian must transform into "little Batman" to defend the peace and ensure that Gotham still has a Christmas.
There isn't a specific release date for the film yet. However, we will see it before the end of the year, and Amazon will most likely do a fitting December 2023 release.
Are you looking forward to the holiday season and the all-new Batman movie, Merry Little Batman?