The Burtonverse and Michael Keaton's Batman run came to a close with Tim Burton's Batman Returns in 1992. While Burton served as an executive producer on 1995's Batman Forever – and it's technically considered a direct sequel – even the useless Gotham City Police Department can see it's a different kind of Dark Knight story. There might be a few returning faces from previous movies and the storyline continues in a linear fashion, but make no mistake about it, this isn't the same Caped Crusader.
RELATED: How Michael Keaton's Batman Saved The Flash Movie
Keaton reprises his role as Batman in The Flash movie, where he portrays an older and experienced crimefighter who still likes to get nuts. Yet, there's a big question that everyone has in mind: What happened in the 31 years since Batman Returns and The Flash? Three decades is a long time, and it's unlikely this version of Bruce Wayne sat around and watched reruns of Seinfeld until the Bat-Signal lit up in the sky again.
He finds a new partner
Sam Hamm is a screenwriter who worked with Tim Burton on his Batman films. In 2021, Hamm received the opportunity to finish the story he started in the Batman '89 comic book series, where he collaborated with artist Joe Quinones, colourist Leonardo Ito, and letterer Clayton Cowles. One of the major parts of the book is introducing Batman's famous sidekick, Robin.
It's widely known Burton planned on casting Marlon Wayans as his version of Robin before cutting the character. "I was actually supposed to play Robin, in Batman Returns," Wayans told io9. "But there was too many characters. I was cast, I was paid and everything. I still get residual checks."
In Batman '89, the character that becomes Robin is known as Drake Winston. He is a young vigilante from the neighbourhood of Burnside who works at an auto shop. This version of Robin is more like a combination of all three Boy Wonders – Dick Grayson, Jason Todd, and Tim Drake – as Hamm pulls a little from each of them in crafting Drake's personality. In this story, he figures out that Bruce Wayne is Batman on his own and the two end up working together.
RELATED: Why Michael Keaton's Batman May Doom Robert Pattinson's Dark Knight
Batman faces a familiar but different face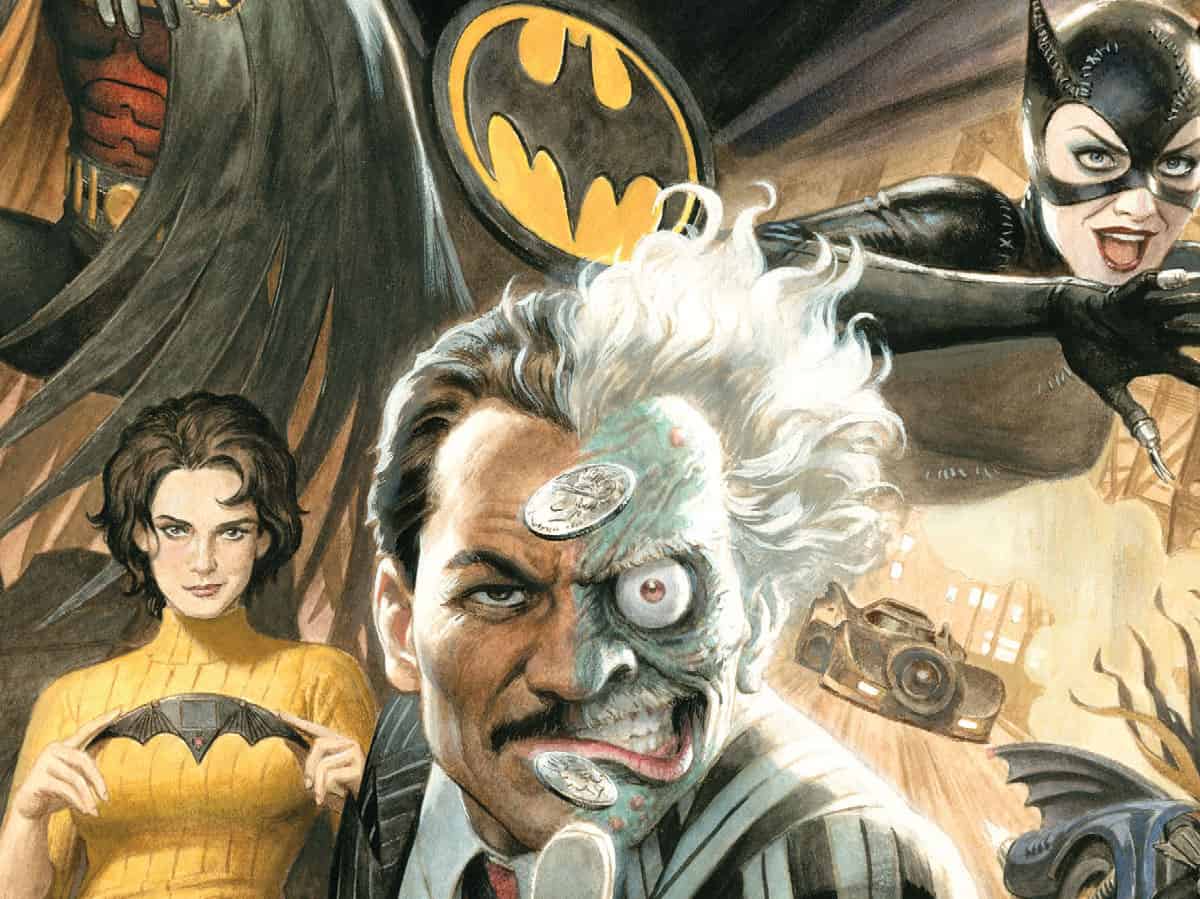 No one needed to flip a coin to decide if Billy Dee Williams' casting as Harvey Dent in Tim Burton's Batman was perfect or not. In fact, most fans couldn't wait for Dent to turn into Two-Face and go up against Michael Keaton's Batman. Unfortunately, Williams never received the opportunity, as Burton and Keaton left the franchise, while Joel Schumacher cast Tommy Lee Jones as the duplicitous rogue in Batman Forever.
In Batman '89, Williams' version of the character returns. In the beginning, he is still Gotham's district attorney as he tries to get a handle on the violence between Joker copycats and Dark Knight-inspired vigilantes that plagues the city. He wants to find the real Batman and bring him to justice for driving Gotham to the brink. Oh, and he's also engaged to Barbara Gordon – Jim's daughter.
However, Dent experiences an accident that turns him into Two-Face after he goes into the burning auto shop to save Drake Winston. He is knocked out and battery acid spills and burns his face. It is Batman and Drake who save Dent from total disaster; however, the incident awakens the darker side of Dent and he becomes a villain. Ruthlessly, he shoots and kills Jim Gordon before trying to blackmail Bruce Wayne with the information that he knows he's Batman. In the end, it is Catwoman who drops the giant penny in the Batcave, believing he will kill Bruce and forcing Two-Face to fall to his demise.
RELATED: Michael Keaton's Batman Returns: The Best Christmas Movie Ever Made
He still can't find love
After the events of Batman Returns, there's no disputing that Selina Kyle/Catwoman is Bruce Wayne/Batman's soulmate. The last scene of the movie indicates she's still alive, and she does indeed return in Batman '89. There are still romantic feelings between them, and with both of their secret lives out in the open, it appears like they will be able to finally be together without the hassle of the cape business.
Unfortunately, their differing methods cause consternation. Catwoman wants bloodlust and revenge, while Batman still believes in non-lethal justice. After Harvey Dent's death, he loses his cool and gives up on her doing the right thing. Selina lashes out as well, judging Bruce for being all high and mighty from his place of privilege. She walks out – and it looks like their relationship is well and truly over for good this time.
RELATED: 6 Reasons Michael Keaton Is Still The Best Batman Ever
Have you read DC's Batman '89? If you want to find out more about what happened to Michael Keaton's Batman after Tim Burton's Batman Returns, you should.