Many card games have popped up over the years, but somehow Solitaire has always managed to remain a classic choice. In a sea of constantly changing ideas and family rules, Solitaire stands out as a well-rounded traditional card game experience. Easy to pick up, consistently fun. That's why we love Solitaire.
In celebration of its timeless nature and fun gameplay, we've decided to compile 10 interesting facts about the Solitaire card game that you should know. But before we do, if you're looking for the best place to play Solitaire for free online, we recommend www.freesolitaire.com.
1. Origins of the word Solitaire
The word Solitaire originates from the word Solitarius which can be traced all the way back to Latin and French. It gets a bit more complicated as Solitarius comes from two words: solus and solitas. These names are pretty interesting as solus actually means alone or separated from others, while solitas means isolation. By the time humanity reached the 18th century, this word became Solitaire as it is called today.
Considering that the game is pretty much the only traditional card game designed to be played by a single person, it makes for an interesting background that it has always been a beacon of shared experiences for many people. Even Napoleon was rumoured to have played Solitaire while in exile on St Helena.
2. Winning is far more likely than losing
It's rare to find a game where the odds are in your favour, but Solitaire is just that type of experience. In this game (the traditional and free version we grew up playing on Windows computers), some smart individuals have carried out interesting research. From their findings, we now know that a vast majority of solitaire card games are very winnable, and the best way to take advantage of these odds is by playing your cards right. Obviously! But hear us out, following the rules and mastering them brings consistently great results.
3. Microsoft Solitaire was developed by an Intern
Microsoft may be a juggernaut within the tech space, but back in 1988 the company was a lot more receptive to ideas from all corners of their offices, and this netted them the iconic Solitaire game that has come with every OS released.
Microsoft Solitaire was developed by an intern named Wes Cherry who programmed the game onto Microsoft Windows and to the company's surprise it became a big industry hit. Solitaire was a part of Windows 3.0 when PCs began to emerge in households.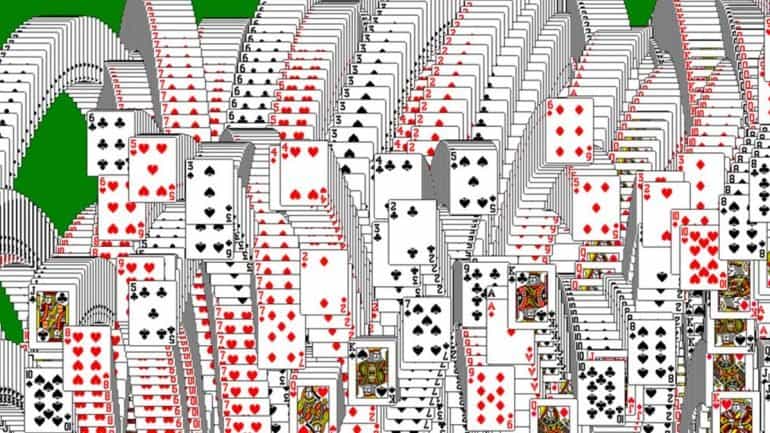 4. The highest possible score in Classic Solitaire is 24,113
Classic Solitaire is the most played version of the game, so you'll definitely be quite surprised to learn just how many points you can accumulate. Players earn 10 points with every card placed on top of an ace pile, and another 5 points are presented every time a card is moved to a column. On top of that, the game places time bonuses on sessions that are more than 30 seconds. With all these factors combined, the highest score you can get while playing the classic solitaire card game is 24,113.
5. There are 5 major versions
Solitaire games have existed for 100s of years now, but they don't all share the name Solitaire, so they are called other names depending on their own rules and regional differences. The main 5 variations are Spider Solitaire, Pyramids, Klondike, FreeCell and TriPeaks. Any one of these games could provide a similar experience each with their own quirks to work around. For example, Spider requires 8 piles while FreeCell has no stockpile. Dozens of variants exist for the game and it's no surprise considering that it was made to be played solo. Of course that gives leniency to change the rules!
6. Another name for Patience
While there are many spins on the Solitaire card game, one interesting development is the game of Patience. While one may just assume that it is another one of the many variations, Patience is actually just Solitaire in its regular form. However, in England it goes by the name Patience. Similarly, it is called Réussite in French, pasjans in Polish and kabala in Norwegian and Icelandic languages respectively.
7. Fortune Telling
Tarot cards are now the poster child for bedroom Fortune Telling, but Solitaire was once a part of that scene as the game does rely on some level of randomness thanks to the shuffled deck. How it could actually predict the future or help with important life decisions, we may never know. Still, once upon a time, Solitaire was just that type of game and it is kind of interesting to imagine it now.
The card symbols represented the following: hearts implied love, Diamonds implied being courted, clubs implied marriage and spades symbolized being single. It really does make for a fun concept.
8. Professional players exist
While eSports is rising in popularity, Solitaire kind of breaks the expectation for what an eSports game should look like. Yet, we've got some solid tournaments hosted in dedication to the best players in the world. As much as $100,000 dollars were up for grabs in a mobile Solitaire gaming competition, so it can be a valuable profession if you've got the skills to match.
9. Digital Solitaire has created the best generation of players
While the game has a large historical influence and many players that are sure to be considered the best in their time, modern Solitaire is mostly played digitally, so this has allowed the game to be learned faster and more efficiently. In the digital version, players do not have to spend as much time dealing with the hassles of handling cards or ever-changing rules. Instead, the game is straightforward, making people get more valuable practice than would be possible back in the day.
10. Solitaire can never get stale
The card game is something that was made to be played alone. While that was something that could get exhaustive back in the day, modern Solitaire is synonymous with new rules and that means we get to see and enjoy the likes of bowling Solitaire and other cool digital variations of the game.
www.freesolitaire.com offers many variations of the classic card game (including Classic Solitaire, Spider Solitaire and Klondike Solitaire). If you've got some time on your hands, it's the perfect place to visit to enjoy a game or two and try out a different version of Solitaire. Let us know where you rank on the leaderboards.