Two months ago, Samsung announced the Galaxy SmartTag alongside the next-generation Galaxy S21 smartphones.
On paper, it seems simple enough, a Bluetooth low energy-powered tracker. The premise is that when paired to your Galaxy smartphone, you're able to track whatever it is you've attached the tag to. But there are a few other features that come with the Samsung Galaxy SmartTag.
While the question is always asked, it's even more applicable here: Is the SmartTag is worth its price tag?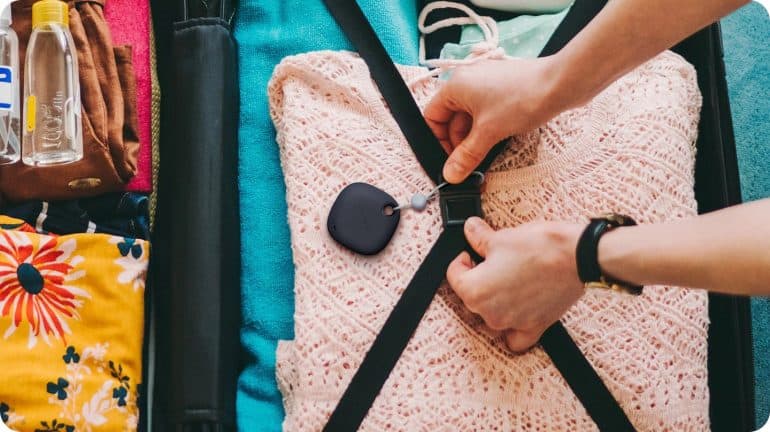 Samsung Galaxy SmartTag Build and Design
At first glance, there's seemingly not much to look at. A simplistic rounded square with a button in the middle. There are, however, a few things to consider about its design and build.
The first thing is its size. It's not as small as one would have hoped. While it fits into your pocket and hangs easily enough on a dog chain, it's not as inconspicuous when placed in your wallet.
The Samsung Galaxy SmartTag measures around 39.1×39.1×9.9mm (can be rounded to 4x4x1cm). It's that 9.9mm thickness that's the main factor when considering how to utilise it. That said, it weighs just 13g. This makes it extremely easy to place anywhere other than your wallet and simply forget about it. On your car or house keys, your dog or cat, even in your backpack, bicycle and other gear. The keyring on the top makes it convenient to attach to any of these items.
You needn't worry too much about the weather conditions. It includes an IP53 rating, which provides the basic water resistance, so it can be left outdoors in the rain, wind, dust, etc. if required. However, you'd want to avoid dropping it in any standing water.
The unit is crafted in matte plastic, which is soft to the touch. The plastic covering on the rear can be removed by unclipping the bottom. This will reveal the CR2032 battery on the inside, which will eventually need to be replaced.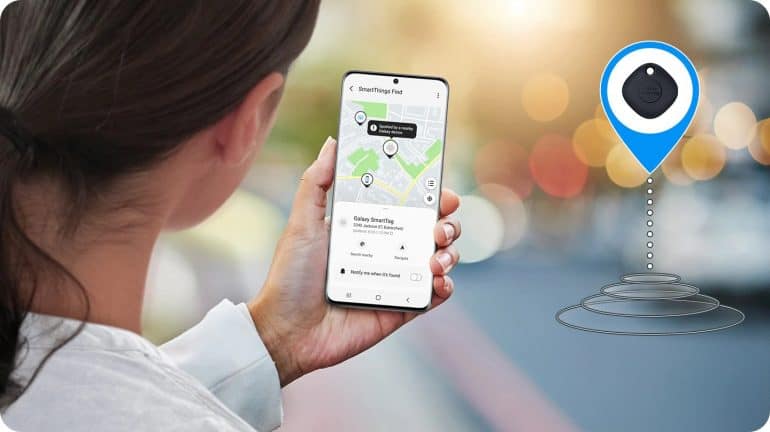 Configuration Setup
Setting up the Samsung Galaxy SmartTag isn't as straightforward as many other Bluetooth peripherals.
For starters, you'll require the SmartThings app to be installed on your Galaxy smartphone. Yes, it can only pair with a compatible Galaxy smartphone, which limits the number of users who will be buying the device.
Once the device has been downloaded, you'll press the button on the SmartTag to indicate that pairing is now available and it will connect accordingly via a few prompts onscreen. Thereafter, you'll be presented with a menu of all the options and settings available with the unit. This includes finding it on the map, options on button configuration, the ringing volume and the battery status, to name a few.
Overall, it's not a difficult process to follow, but some users may be a bit confused, especially when switching from the default settings out the box.
Samsung Galaxy SmartTag Performance and Features
When it states that the Samsung Galaxy SmartTag has tracking capabilities, it's a bit of a misnomer.
Instead, its proximity to your smartphone will give the device it's positioning. Once you've gone out of range, the unit will state its last known position on the map.
This means that if you've put the SmartTag on your dog and it runs away, it'll be a bit of a task to track it down.
Where the unit does play its part is that if the dog is still within the vicinity and within range, it'll update the positioning on the map, as well as sound the alarm, hoping that the surrounding area isn't too noisy if it's some distance away still.
Samsung has a trick up its sleeve to overcome this. With other Galaxy smartphone users having downloaded and activated their SmartThings app on their devices, the SmartTag will piggyback off this signal to update its location. The user passing by the SmartTag won't store any of the encrypted information on their device, which will alert you to where your device was last located.
This is a neat feature but requires that other Samsung users allow for this connectivity via their app settings. This is something of a community play, seeking to build an ecosystem around some of its SmartThings-enabled devices.
There's another feature-set on the Samsung Galaxy SmartTag that many other trackers don't include. It can double as a remote for certain tasks via the SmartThings app. With the included button, there are three options of usage, single press, double press and long press.
The double press is reserved for the "find my phone" feature, where it will send a notification to your smartphone to ring so you're able to find it around the house. This means that you're left with the single press and long press options to enable other Samsung IoT devices around the house.
Samsung suggests that the included battery will last about a year. But since it's already connected when received in its packaging, the time may vary by a few months. That said, it's an inexpensive, albeit possibly annoying, replacement when the time comes.
Conclusion
The Samsung Galaxy SmartTag has a few neat tricks up its sleeve. And it needs those to justify its R499 price tag. It's not an easy purchase for most users but comes in handy for someone who's prone to losing their possessions or has a pet that is constantly going missing every so often.
If you're not going to be using the device to its full potential, there are quite a few cheaper alternatives. These options are for those looking for a simple ping to find the device within proximity.
This doesn't mean that the Samsung Galaxy SmartTag does not warrant its price tag. It does, actually, especially when you consider how it will be able to track items it's attached to even when out of range.
There is, however, another option coming soon.
Samsung has confirmed the release of the Galaxy SmartTag+ sometime in 2021. However, at present, it will only be compatible with the Galaxy S21 Ultra or Galaxy Note 20 Ultra smartphones.
The unit will have support for Ultra-Wideband tech, which means it'll have support for UWB positioning. Effectively, users will be able to pick up the SmartTag+ on a map, show its location and what direction the unit is in so you can track it better.
The Review
Samsung Galaxy SmartTag
The Samsung Galaxy SmartTag is a useful device for those in need of the technology. It may have a slightly hefty price tag for what it does, but with a number of features under the hood, it is more than justified.
PROS
Nifty tracking features when not in range
Loud ringing when required
CONS
Not the most affordable
Difficult to track items on the move (such as pets)
Limited to Galaxy smartphones
Review Breakdown
Ease of Learning

0%

Ease of Use

0%

Design

0%

Performance

0%

Enjoyment

0%

Value for Money

0%