Year after year, manufacturers compete to create the best smartphone, competing not only against other leading brands but also itself. Last year's Samsung Galaxy S10 marked the brand's 10th anniversary of the Galaxy S range. At the time I reviewed the S10+, I compared it against the S9, which I felt was a really good device. When Samsung launched its new range Galaxy S20 range, the same presented itself again – me wondering whether there are sufficient upgrades over the previous model to warrant replacing an already great smartphone just 12 months later. Having received the Samsung Galaxy S20 Ultra for review, I got to experience the brand's latest flagship smartphone to answer my own question.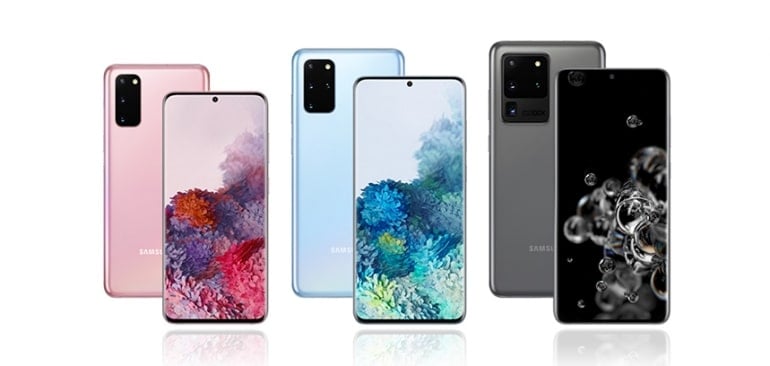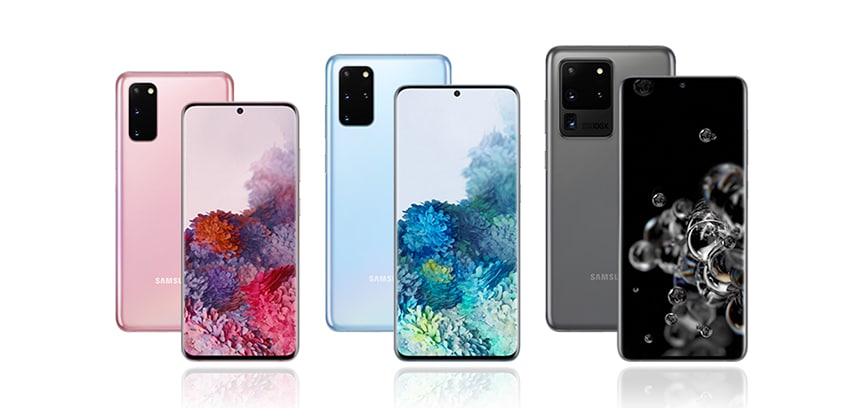 S20 Ultra Build and Design
The Samsung Galaxy S20 Ultra continues the line of S Series smartphones since overhaul in 2017 with the S8. Having said that, it's hard to see how much better or different the design could get. The S20 launched in three variations – technically five if you include two additional 5G models – that includes the standard S20, the S20+ and the S20 Ultra. Knowing anything about the S Series, the Ultra features a larger screen, more features and the likes. The Ultra is available in just two colours, Cosmic Gray and Cosmic Black. The Cloud Blue is exclusive to the two smaller units, with Cloud Pink only available on the S20. The design is very similar to the previous models, but at the same time, there are numerous tweaks. The curvature around the edges is slightly less curved. Although it does seem crazy even typing it out, it becomes noticeable over time. Given the S10 variants being prone to some accidental touches, the reduced curvature minimises this issue.
Being the top of the S20 line, it also means that there's more real estate in hand. The device measures 166.9x76x8.8mm, which is 1mm thicker than both the S20+ and S10+ units. But that's not a big drawback.
The biggest issue with the Samsung Galaxy S20 Ultra is its weight. At a hefty 220g, it's 20% heavier than the S20+ and almost 30% over the S10+. Most of the extra weight, however, is due to the much battery capacity as well as an additional lens on the protruding quad-lens camera. I've read a few complaints about the glass front and rear is a magnet for fingerprints. In 2020, however, this doesn't really phase me, with almost all flagship smartphones having both front and rear glass finishes. It's not much different on the S10+ either, something I've become accustomed to. What does annoy me, apart from the bulk and weight the camera adds, is that there's a fair amount of build-up around the edges.
In terms of the ports and button layout, there are a few changes as well. The S20 Ultra switches back to the old layout with the volume rocker above the power button on the right-hand side. The left-hand side has been left empty as a result. Having removed the 3.5mm auxiliary port on the Note10, the trend continues on the S20 range. Although I have quite a few Bluetooth audio devices, including headphones, I still miss the audio jack, as it's quite useful at times.
Overall, the design stays largely the same, with a few small changes to make it easier to use in one hand despite its larger size. There's no getting around the fact that it's quite a heavy smartphone and does take some getting used to at first.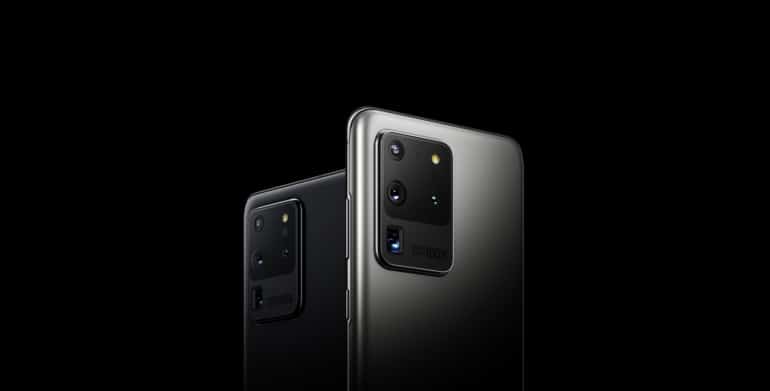 S20 Ultra Screen and Display
As with all previous Samsung smartphones over the past decade or so. That said, the device features a very impressive screen with a few new features to the range. The first of these is the 6.9" Dynamic AMOLED 2X screen. That's even bigger than the Note10+. While the screen may be bordering on crossing over as a tablet but still feels comfortable enough in hand. The bezels have been reduced over the previous S10+ with an 89.9% screen-to-body ratio. That said, it's not enough to dethrone the Note10+ with its 91% screen-to-body ratio, which can be attributed to its much more pronounced curved edges. The screen's design features the same Infinity-O hole-punch camera as on the Note10 as well, while protected by means of Corning's Gorilla Glass 6 technology.
Although not a massive jump in the display department, Samsung has squeezed in a few additional pixels for a 1440x3200pc display at 511ppi density. This in comparison to the 1440x3040px resolution on the Note10+ and S10+ units. The unit keeps it's HDR10+ support, but does offer one big improvement over its predecessors, the enhanced refresh rate. The range now boasts an impressive 120Hz display, which is a step up from other leading flagships, including the OnePlus 7 Pro, ASUS ROG Phone 2 and Google Pixel 4, all at 90Hz. There is, however, a small drawback in that the maximum refresh rate cannot be used at full resolution, where users are required to switch to FHD to enjoy the smoother animations, etc. of 120Hz. The QHD resolution is limited to the standard 60Hz.
On paper, it may seem like quite a bit of a downgrade to FHD, but in the real world, it's not really that easy to notice a huge difference. FHD still offers a resolution of 2400x1080px, which is still great on a fairly small screen compared to your laptop, monitor or TV, where there would be a clear difference. There is, however, a noticeable difference when doubling the refresh rate, which looks brilliant. This is great for watching movies and videos where it's supported. But that's the main drawback, not all content for your smartphone has been upgraded as yet to support devices with higher than 60Hz refresh rate. That said, with the hardware being capable, it's only a matter of time before developers and content creators start making the switch for more mainstream use. As such, the S20 Ultra, as well as the other S20 variants, are future-proof in this regard.
Another of Samsung's great advantages of being a screen manufacturer is that it can offer some of the best colour reproductions across all its hardware. The Samsung Galaxy S20 Ultra is no different. With results at 231.1% of the sRGB colour space according, the unit is one of the most visually appealing available on the market, both in the real world and on paper.
Compare that to the iPhone 11 Pro Max's 118.6% and you start to see the difference. Users are able to tone down the colours in the settings menu for a more natural profile. In terms of its maximum brightness, the result is down 20 nits to around 670 nits compared to the Note10+ at 690 nits. This is also down from the iPhone Pro Max at 740 nits. It is worth noting, however, that maximum brightness is only really used when in direct sunlight, oftentimes far too bright to be used at such high levels when indoors.
S20 Ultra Performance and Battery
If I'm honest, most modern smartphones are quite over-powered. So, there's very little doubt that the hardware capabilities on the S20 Ultra would be more than sufficient deliver the best results for all your daily tasks, as well as any 3rd-party software you may want to run. Irrespective, it's still quite interesting to me what the team are able to deliver on paper. The smartphone features Samsung's new Exynos 990 with its 7nm+ SoC. The processor is an Octa-core Exynos unit with x2 2.73GHz Mongoose M5, x2 2.50GHz Cortex-A76 and x4 2.0GHz Cortex-A55 CPUs. This is ably supported by means of a Mali-G77 MP11 GPU, 12GB RAM and 128GB internal storage. Samsung also runs the latest Android 10 with its own One UI 2.1. Most prospective buyers won't be too fussed about these specifications, but in short, it's a decent bump across all areas, even when switching to lower-powered modes.
In real-world tests, the Samsung Galaxy S20 Ultra was able to handle everything I was able to throw at it. No matter many additional tabs I opened in browsers, or apps opened into memory, there was nothing that impacted the overall performance. And that's not surprising at all, given an impressive 12GB of RAM under the hood. Even when playing multiple games at the same time, such as Fortnite and Asphalt 9, the results were still the same – accurate and smooth. Interestingly, the overall benchmark scores fall short of the Apple iPhone 11 Pro Max, especially when it comes to GPU performance and frames per second. Safe to say, most modern smartphones are more than capable of handling daily tasks, more often over-powered for our conventional use. As such, new features and other performances such as battery life play larger roles in its success or perception.
That's a good segue into the discussion on battery life. The unit sports a non-removable, Li-Po 5000mAh battery. As expected, the results are good. Under conventional load, one can easily last the entire day, plus a little into day two before requiring a recharge. There are, however, quite a few different modes in which to operate the smartphone that affect results, some of which can extend battery life to almost a complete two days, while others pushing the usage a bit higher and reducing it to a standard day's charge. Changes to the screen modes, using QHD vs FHD as well as 60Hz vs 120Hz, are two of the biggest changes to battery life under standard usage, especially with that 6.9" screen.
To put this into perspective, stress testing under default settings drains the battery in around 12 hours. This is the typical average for most flagships, including those of Samsung. However, switching to 120Hz mode, it reduced this to just over 9 hours on average. That's a drop of 20-25%. That said, unless you're planning on using your phone under constant load for 9 hours, you're pretty safe to survive a standard workday.
One of the concerns many people will have is the time it takes to charge a 5,000mAh capacity battery. Using the older S10 fast-charger, the unit takes approximately 100 minutes to fully charge. With the S20 range, Samsung has now included a super-fast-charging adapter, at 25w. It now allows for charging in around 70 minutes, a more than 30% reduction. Interestingly, Samsung also has a more powerful, 45w charger sold separately, if the charge time is really an issue for you.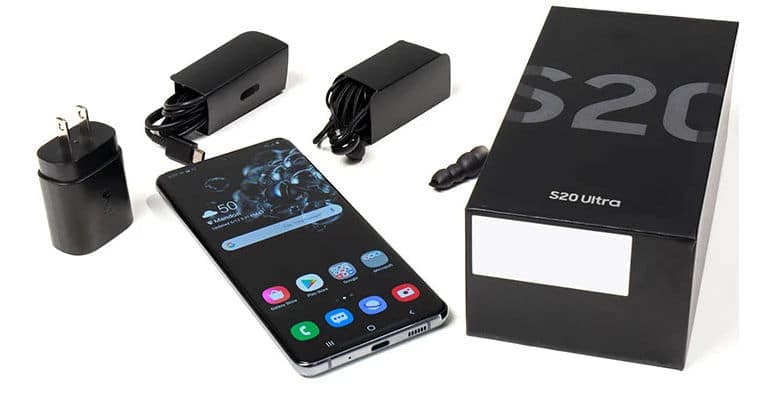 S20 Ultra Software and Features
Samsung launched its updated One UI 2 with the release of the S20 range. The update simplifies quite a lot of tasks, especially with multitasking activities. The UI builds on Android 10's streamlining features, such as new ways to respond quickly, privacy options and notification controls across all apps. Samsung has always been pushing its one-handed support for its large-screened smartphones, which always a nice-to-have, considering the S20 Ultra's 6.9" screen. There are also a few new features in the dialling app, which include Google Duo integration. This has been a push from Google as a competitor to FaceTime.
The company has been pushing its Bixby assistant for quite a few years now. While I'm still not sold on the app, I am a big fan of Bixby routines. What's great about it is that you don't really need to set it up. Instead, it picks up on your daily habits and adjusts itself over the first few days of use to make recommendations or automatic switches at certain times or locations. With the latest update, Bixby routines now also integrate Spotify, which will base your playlist on contextual cues and other scenarios. A new feature Samsung released is its Quick Share app, allowing you to share files across multiple devices without having to pair Bluetooth on those devices. However, with the feature limited to the S20 range, for now, I wasn't able to test its effectiveness as part of the review.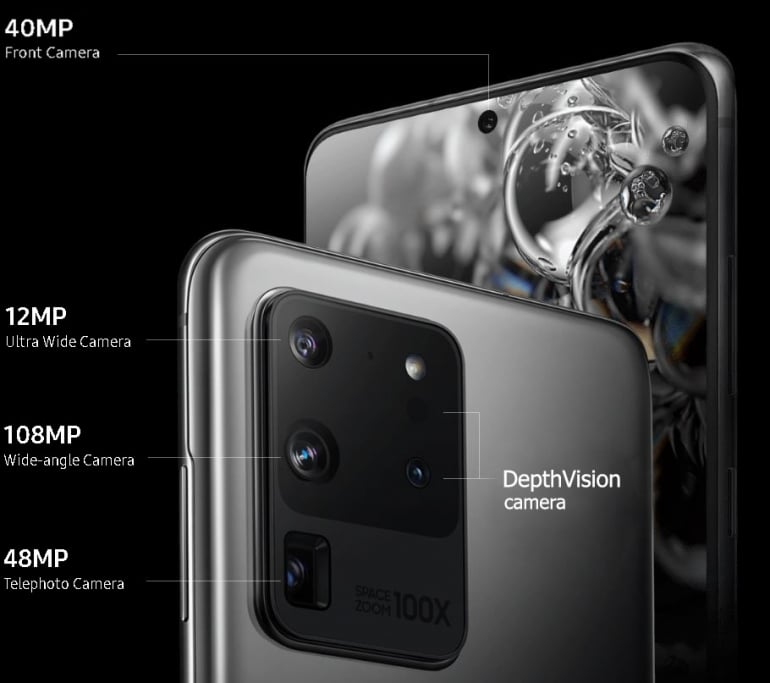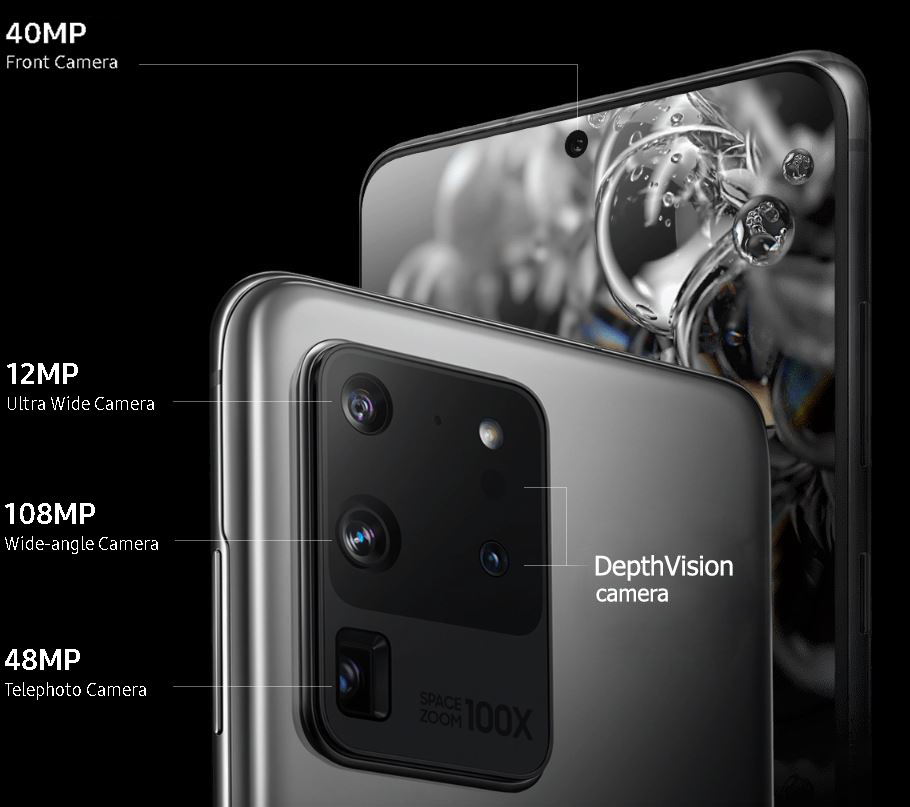 S20 Ultra Camera
The Samsung S20 Ultra has a total of five cameras, four on the rear and one upfront. The front-facing camera has a 40MP lens – compared to the 10MP on both the S10 and Note10 ranges. But it's the quad-lens rear camera that Samsung has been touting. This includes a 108MP main sensor, a 48MP telephoto lens, 12MP ultrawide lens, as well as a 0.3MP depth sensor. Across the setup, the device offers 10x lossless zoom and a massive 100x digital 'Space Zoom' capability.
During my testing, however, the results are a bit of a mixed bag. For starters, the auto-focus takes longer than its predecessors to accurately focus. I put this down to the integration of the four cameras along with the crazy zoom capabilities. Speaking of which, I loved this feature. Being able to zoom with ease from my balcony at various points, such as the moon, joggers and tall grass with beautiful results, especially for a smartphone. While users are capable of turning the zoom all the way to x100, the results are quite vague, although interesting. Still, it's a great feature to have.
The 108MP camera delivers great results, especially in broad daylight. Opening up the images also allows you to zoom in closer, which reveals even more detail than at face value. Interestingly, the large-sized images are often blocked by social media apps as too large or too high a resolution. Switching to low light conditions and those same details are now missing, blurring it together into a smudge-like finish. Another issue with detail comes in the form of how the camera's software interprets faces, smoothing them out a little too much.
In addition to the camera's actual shooting capabilities, Samsung also has a few features that tie in quite well. For starters, there's the Single Take mode, which takes a 10s video and generates the best photo as a result. But, instead of just a single image produced, as with other such features, the result is a mix of images including an ultrawide image and a Live Focus image. The camera is also capable of shooting in 8K mode at 24fps, which is great for any content creators out there. In addition to this, the app also allows you to create 33MP still images from said video.
Conclusion
Undoubtedly, there's a lot to talk about the Samsung Galaxy S20 Ultra, quite a bit that couldn't fit into this review. All said and done, the team has done quite a bit of work in terms of creating a more feature-rich ecosystem for Samsung users, while at the same time still developing hardware components that are already overkill on a 6.9" screen. You won't lack for performance and battery life while enjoying content on the large screen. While there are some tweaks to be made on the software side, the unit definitely improves over the previous generation of Samsung flagships.
At an RRP of R26,999, the price of the Samsung Galaxy S20 Ultra may be a little steep for some. That said, there are some good deals available on the market currently.
The Review
Galaxy S20 Ultra
The Samsung Galaxy S20 Ultra is extremely big, bold and beautiful. With a 6.9" screen size, it crosses into tablet territory without feeling like it. There are a host of additional features, especially for its quad-lens camera. Minus a few shortcomings and price, the S20 Ultra is a great smartphone.
PROS
Brilliant 6.9" screen
120Hz refresh rate
10x lossless zoom, 100x digital zoom
Battery life and super-fast charging
CONS
120Hz limited to FHD
Low light photos
Bulky
Review Breakdown
Ease of Learning

0%

Ease of Use

0%

Design

0%

Performance

0%

Enjoyment

0%

Value for Money

0%