Play the classic Pacman game and relive the childhood memories on its 30th anniversary! Celebrate with Google's interactive playable version of Pacman (Pac-Man) as an Easter egg.
RELATED: Atari Breakout – The Secret Google Search Easter Egg Game
As one of the most instantly recognisable games ever released, Pac-Man (Pac-Man's name was originally Puck Man in Japan but had to be changed for distribution purposes) is a true testament to the impact video games can make on a generation of players. As an ode to the iconic arcade game, the Pacman 30th Anniversary Google Doodle was brought to life in 2010, celebrating its success since its original release in the early 1980s, becoming the world's leading game of that year.
Bandai Namco Entertainment America Inc. also remastered the game for the PlayStation (PS4) and Xbox One to commemorate Pac-Man's 30th anniversary. So the world can continue to enjoy the classic arcade game all these years later.
RELATED: Google Snake Game Easter Egg: How To Play & Rules Explained
History of Pac-Man
For a game that follows a yellow ball eating and running away from ghosts, it sure has made its mark with gamers. The pop culture icon was created by a young video game designer named Toru Iwatani, a visionary well before his time.
According to him, when he first began drafting the title, "arcades were filled with violent video games that had you killing aliens." Toru Iwatani was already in the industry at this time, working for Namco. He further described the arcades as gloomy places where only boys wanted to hang out. Therefore, he set out to fight that stereotype by creating a game that women and couples could also enjoy, and for beginners in general.
And he did just that. Pac-Man was the first video game that brought women into the arcade to play at the Pac-Man cabinet (the arcade machine), because it was something that they felt comfortable playing in an environment that was dominated by pinball machines and boys. Little did Iwatani know that he would be making video game history.
Inventing Pacman
As for the design of our main character, well, Iwatani claims that staring at a Pizza inspired the iconic shape we've got. The pizza was missing two slices and this resembled a mouth to Iwatani, so he decided to create "Pakkuman", a character that is an onomatopoeic reference to the Japanese term "paku-paku taberu". The term is usually used to describe the sound made by your mouth when it is opened widely and closed in quick succession, which became the iconic "paku paku" noise that we hear today in this perfect game.
It's a brilliant way to come up with a character and that type of inspiration still holds up today after the Pacman's 30th anniversary, really speaking to the innovative design and fun of Pac-Man.
Rather than making our little pizza-slice boy fight off some menacing alien invaders or terrifying creatures from deep below, Pac-Man is really just running away from four ghosts. While this doesn't sound like an intimidating adversary, the gameplay still invokes a real fear of getting caught off guard and losing a life to one of these guys.
Pacman's signature move is his wide mouth. With this as his only weapon in the arsenal, players need to strategically chew their way to victory and Iwatani designed the game in such a way that Pac-Man could chomp away at pills, fruits and power pellets, sometimes known as a power pill.
In North America, the classic game was released by Midway Manufacturing (Midway Games) as part of its licensing agreement with Namco America in the United States. It went on to become a global phenomenon and one of the most successful classic arcade games and video games of all time. The original Pac-man went on to become a cultural icon that changed the gaming industry forever — spawning a board game and card game, comics, Saturday morning cartoons, TV shows, online games, stationery, lunch boxes and more. Even the game's sound effects has revolutionised pop culture.
Midway also went on to create later games like Ms. Pac-Man, a hit that also took the pop culture world by storm, and only feeding into the Pac-Man fever that surrounded the arcade classic. Since then there have been cries from the community to bring Ms. Pac-Man back, and it looks like the 40th anniversary will do just that. The release of Ms. Pac-Man caused a bit of an uproar with Namco as the distribution went against their terms of service, but it seems they have sorted things out. Midway also produced Super Pac-Man. While still keeping the same iconic Pac-Man character, almost everything else in the game was changed, including new modes. In this version, players had to eat keys that opened doors to where their 'fruit' was, the basic 'coins' that had to advance to the next level where the fruit is worth extra points. While Pac-man was the first character in the Pac-Man world, they went on to include others like Professor Pac-Man, Baby Pac-Man and other playable characters.
With each anniversary, they seem to be adding to the game, adding difficulty modes, tournament mode, themed events, new mazes (of course keeping the original mazes), exclusive skins, weekly maze challenges, Story mode, Pac-Man battle royale, adventure mode, classic 8-bit arcade mode and so much more. You can access these and many more in the Pac-Man Museum + created by Bandai Namco to showcase all of the great games that they have developed in Pac-Man's image since the late 1970s.
RELATED: Atari Breakout – The Secret Google Search Easter Egg
How The Game Works

Like most computer games in the 80s, Pac-Man was primarily made for the arcade, so the game was played with a joystick or keyboard arrows on PC. The goal of the game is to move Pacman's character around the screen to consume the 240 dots (coins). To achieve this goal, players need to make inputs to change the direction of Pacman who is perpetually in motion. Oh, and of course, to try and get the high score.
The four ghosts (who have their own names by the way) are Blinky (red), Pinky (pink), Inky (light blue), and Clyde (Orange). While you may be familiar with the ghosts as AI that simply chases you, you might be surprised to find out that each of these four have their own attack strategies.
Each of the ghosts will always be in one of three modes, Chase, Scatter or Frightened. Yes, you read that right, frightened. But that info will really feel like bait in the heat of the moment because you can never instantly tell what strategy a ghost is using.
Still, according to some Pac-man enthusiasts, these are some traits of each ghost. Check them out as you prepare to revisit it on the Pacman 30th Anniversary.
Blinky (red): Also nicknamed Shadow, he favours trailing behind Pac-Man but his strategy changes to cruising at Pac-Man's speed and even faster once you've eaten a lot of dots.
Pinky (pink): She follows Pac-Man's direction but doesn't directly follow Pac-Man himself. Instead, she will manoeuvre around the closest walls in order to catch you off guard and take him out.
Inky (light blue): Inky might perhaps be the most dangerous of all the ghosts because he is a wildcard. His strategy is a mixture of every other ghost, so he can be extremely dangerous.
Clyde (orange): Clyde has the nickname 'pokey' thanks to his strategy of leaving the box and heading to Pac-Man but changing directions shortly after for a "scatter" phase. He is particularly dangerous in the lower left part of the maze.
RELATED: Gartic Phone: What Is It & How Do You Play?
The Impact of Pac-Man
The acknowledgement of its impact with a Pacman 30th Anniversary game celebration is a testament to the beauty of the classic video game.
The Pac-Man game can be attributed as an inspiration behind the use of Power-Ups in video games and how they motivate players to think strategically.
We can also attribute the popularity of cutscenes to the iconic game as they never really existed until this game came along.
Most importantly, Pac-Man introduced game designers to the real importance of the main character and how they can create a staple in gaming.
William James Mitchell Jr., known to his friends as Billy Mitchell, was the first person / Pac-Man fan to claim a perfect score of 3,333,360 points (the highest score possible) on the Pac-Man video game.
How to Play Pacman 30th Anniversary in your Google browser

One of the more interesting Easter eggs to have come out of the Google Doodle feature has to be their addition of the full Pacman game on the Pacman 30th Anniversary.
Today, all you really need to do is open your Google Chrome Browser and type in "Pacman" from your search bar to get a view of the Google Doodle (in other words, Google Pacman). Following this, simply click on the button that says "I'm Feeling Lucky", sometimes depicted as an insert coin or simply "Play" and you'll be presented with a new game at a beginner level that was never present in the original game. This level is a way for Google to show off its hard work in creating the doodle. If you wait long enough, the game will just start up on its own, and players can move Pac-Man with the arrow keys.
It looks like they have been adding to the retro arcade game, making it possible to access a multiplayer mode that allows for two players. To access this, you go to Pacman online and click two times. The second player will be able to move their own Pac-Man with the WASD keys, while the first plays as normal with the arrow keys.
On Mobile, the steps are pretty much the same — you will need to open Chrome on your phone and type in the search bar "Pacman" and here you will also be presented with the "PAC-MAN Doodle" right at the top of your search results. This is the same Google doodle from the Pacman 30th Anniversary, so tap Play to begin enjoying the first level. Mobile users control Pac-Man simply using swipe gestures. The benefit of the Google Browser version of Pac-Man is that it is still free today.
Namco Limited's PAC-MAN video games (including the original Pacman game) are now accessible or available for download on all major gaming consoles and platforms, including the PlayStation 4, Xbox One, as well as the PC (STEAM), Nintendo Switch, Apple iOS devices (via the App Store), and Android devices (via Google Play store).
FAQs About Google Pac-Man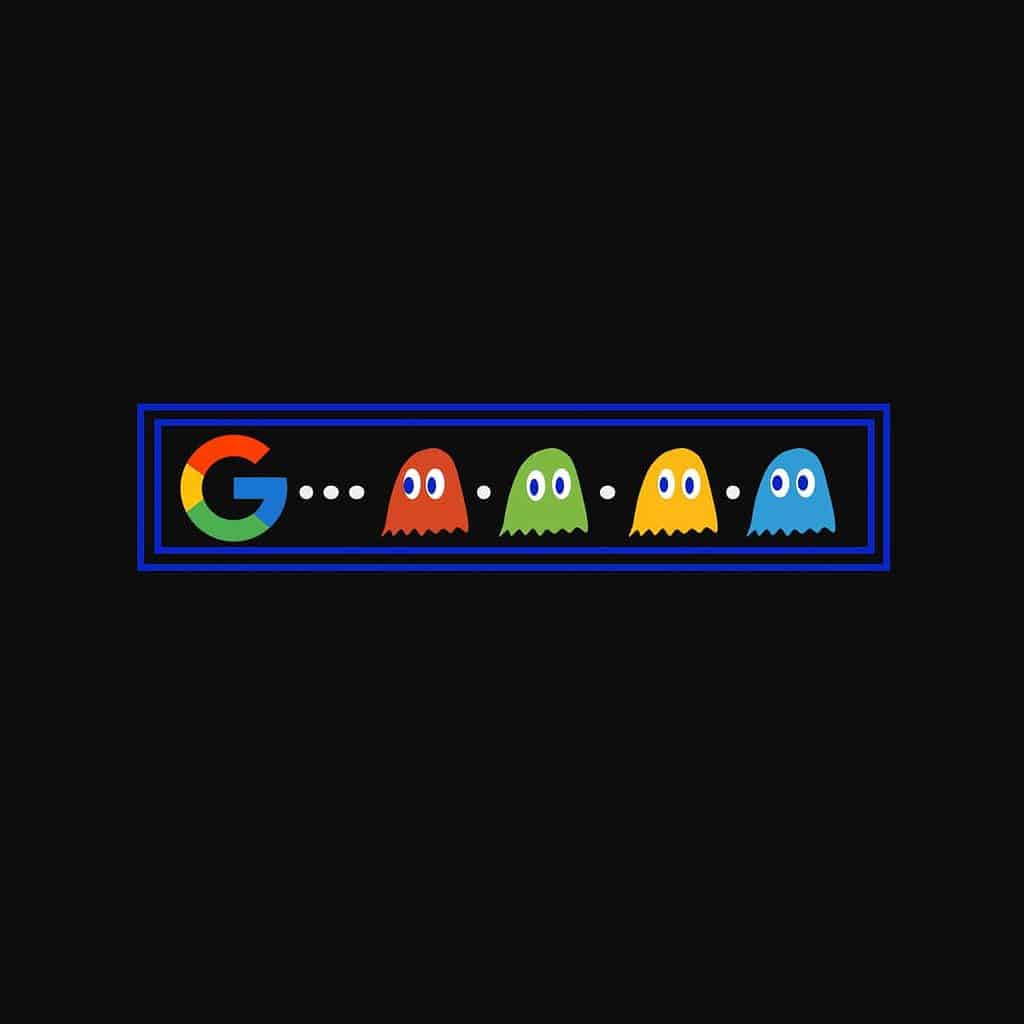 Is there a cheat code for Google Pac-Man?
One of the most frequently asked questions about Pac-Man is whether there is a cheat code for Google Pac-Man. Unfortunately, there is no official cheat code for the game. However, there are some tips and tricks that you can use to increase your chances of getting a high score. For example, you can try to stay near the power pellets to get the most points, or you can use the tunnels to outmaneuver the ghosts.
Is Pac-Man a boy or a girl?
Another question that often comes up is whether Pac-Man is a boy or a girl. The answer is that Pac-Man is male. In the original game, he was depicted as a yellow, circular character with a large mouth and two eyes.
Does Pac-Man ever end?
One of the unique features of Pac-Man is that the game does not have a traditional ending. Instead, the game continues indefinitely until the player loses all of their lives. This is known as the "kill screen," which occurs when the player reaches level 256.
What is the highest score on Pac-Man Google?
The highest score on Google Pac-Man is constantly changing as players continue to try to beat the previous record. However, as of the time of writing, the highest score on the game is held by David Race, who scored 3,333,360 points in 2019. This score is considered the maximum score possible in the original Pac-Man game.
What is the Pac-Man level 256 glitch?
The Pac-Man level 256 glitch is a bug in the original game that occurs when the player reaches level 256. At this point, the game becomes unplayable, with the right half of the screen filled with random symbols and letters. This is due to a coding error in the game, which causes the level counter to roll over to zero and overwrite the game's memory.
Is it impossible to win Pac-Man?
While there is no traditional ending to Pac-Man, it is still possible to win the game by achieving the highest score possible. This requires a combination of skill, strategy, and a bit of luck. However, it is important to note that Pac-Man is an arcade game, and its main purpose is to provide entertainment rather than a definitive victory. The game is designed to be challenging and to encourage players to keep coming back for more.
In conclusion, Pac-Man is a beloved classic game that continues to intrigue players even after all these years. While there is no official cheat code for the game, there are still plenty of tips and tricks that players can use to improve their gameplay. Additionally, the game's unique features, such as the lack of a traditional ending and the level 256 glitch, make it even more fascinating to play. Whether you're a seasoned player or a newcomer to the game, there's always something new to discover in the world of Pac-Man.
Are you going to get your retro arcade action on and try out Pac-Man on Google?