DC Comics writer James Tynion IV has revealed that yet another new character will be showing up to wreak havoc in Gotham City.  Tynion IV and Jorge Jimenez have been working tirelessly to create a string of new villains for the brooding vigilante to battle, and their latest offering, Miracle Molly, seems to be pretty hardcore.
The colourful villain is set to be a part of a high tech gang of thieves called Unsanity Collective.  The gang is said to use technology to expunge their memories and reset their minds in an attempt to let go of all the fear and anxieties restraining them.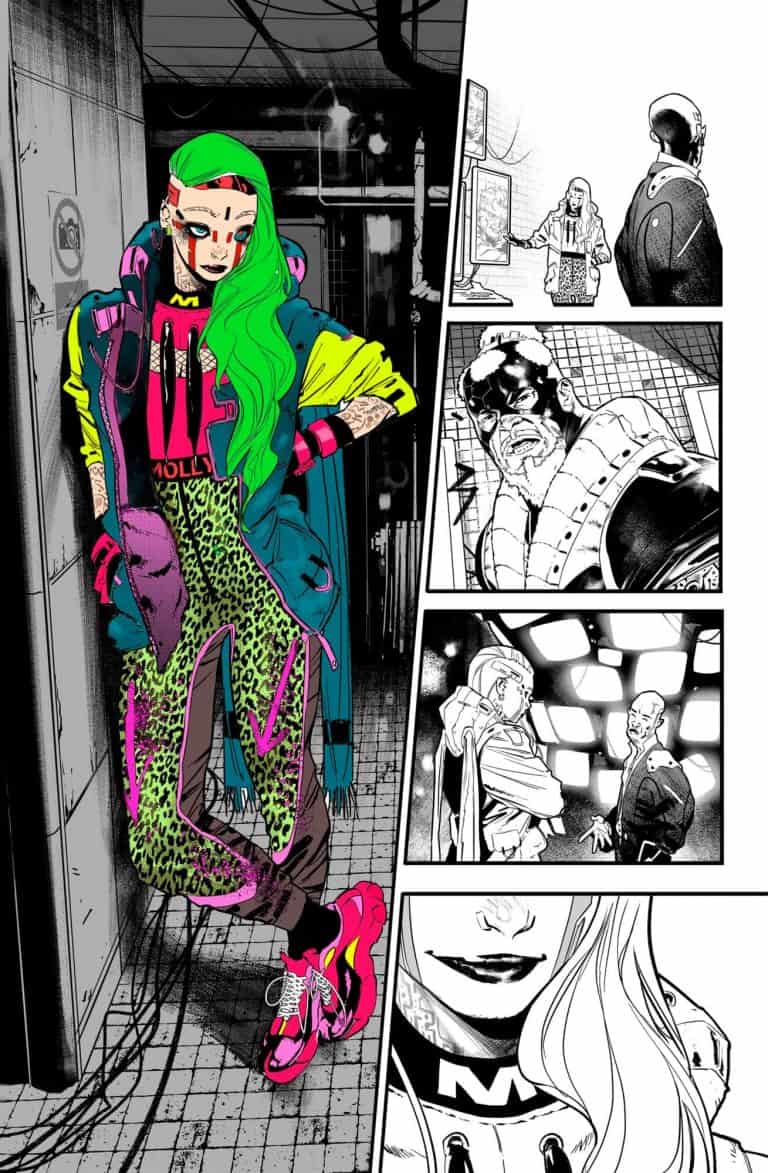 Tynion IV writes of his newest character: "She's unlike any of the other characters I've written in and around Gotham, and I f**king LOVE her. So I hope you love reading about her, too…"
Molly Miracle's design is certainly an eyeful. Her long-half shaved- green hair, intricate body art and leopard print pants have surely been designed with future cosplayers in mind. However, it is indeed her robotic eye that stands out the most. The inclusion of this modified feature may subtly allude to the idea that Molly could have numerous other tech features modified into her body and is certainly fitting for the cyber-punk persona they have seemingly given her.
So… On top of Razorblades: The Horror Magazine #3, this week's newsletter offers some tantalizing glimpses at what's to come in Gotham City… And it asks a question I am very excited about: Who Is Miracle Molly?https://t.co/LpVKAjdrQy pic.twitter.com/EOkoml5SDd

— James Tynion IV (@JamesTheFourth) February 4, 2021
The creative duo, Tynion IV and Jimenez, have made quite an impression by creating various new characters since taking over DC's main Batman title last year. The pair have introduced nuanced new heroes such as the young and ruthless, Clownhunter, and wicked new foes such as Joker's cunning partner, Punchline.
Molly Miracle will be making her first cameo appearance in Batman #106 and her first full appearance in Batman #108. If her daring looks are anything to go by, Bruce Wayne's iconic metropolis is about to get a whole lot more exciting. Tynion IV and Jimenez's Batman returns March 2nd, 2020