After Joker crushed the box office to become the highest-grossing R-rated film of all time, Warner Bros. and DC must be rubbing their hands in delight. The DC Black project worked and proved that standalone comic book movies can work. Undoubtedly, there will be more to come, but how about a Batman Beyond film starring Michael Keaton?
Recently, a rumour dropped that DC is considering a Batman Beyond live-action film with Keaton reprising his role as Bruce Wayne. While nothing is confirmed by official sources and it does sound extremely premature, it'd be wild if it came true. After all, Keaton is one of the most beloved Dark Knight actors and numerous fans have called for his return in an adaptation of The Dark Knight Returns or Batman Beyond.
If you think about it, though, Batman Beyond with Michael Keaton makes the most sense. Warner Bros. has toyed with the idea of adapting it for years, but there's always been a resistance—presumably because it'd create confusion for the main timeline, i.e. the one where Bruce is still Batman.
You see, the Caped Crusader is the most prized franchise at Warner Bros. and DC. Slap a Batman label on a movie and it translates into money—even if the film is rubbish. This is why there's always been a reluctance from the studio to introduce a TV version of Batman in The CW, because the film world is where the gravy is at and no one wants to dilute it. When it comes to the Dark Knight, every decision made is careful and relatively risk-free.
DC Black throws a spanner into the mix. It isn't meant to be a shared cinematic universe like the DC Extended Universe or the MCU; it's all about standalones and directors telling their one-shot stories. If it's popular like Todd Phillips' Joker, it's a win. If it isn't, it's over and done.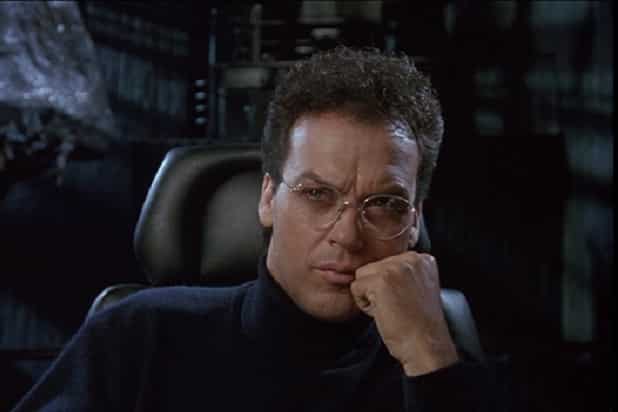 Imagine a Ridley Scott or Denis Villeneuve tackling a sci-fi superhero story set in Neo-Gotham, where an older Bruce trains a young Terry McGinnis to take over the mantle. It doesn't need to connect to anything bigger or larger; it'd be a passing of the torch and something different for comic book movie fans.
But would Keaton want to return to the part that turned him into a global superstar? He retired the cape and cowl over 25 years ago and moved onto another superhero property, portraying Adrian Toomes/Vulture in Spider-Man: Homecoming. That being said, he's always spoken about his time in a positive light and continuously jokes that he is Batman, so there's definitely an affinity to the role.
-BEYOND- @MichaelKeaton #batmanbeyond pic.twitter.com/lpQoV8ab0p

— BossLogic (@Bosslogic) August 28, 2018
The lure of it only being one movie could seal the deal. Someone of Keaton's clout wouldn't want to commit to a long-term franchise now, so this is the sort of project that he'd gravitate towards.
In terms of the decision-makers, it's no coincidence that The CW's "Crisis on Infinite Earths" features a newspaper headline of a world where Keaton is the Dark Knight. This shows that he's still considered the definitive Batman and he'd be welcomed back to the part with arms wide open.
Michael Keaton as an older Bruce would be a dream casting. At the same time, there's no proof that a Batman Beyond film is even in the pipeline, and this is firmly in the what-if compartment of the imagination. Still, wouldn't you rather see a movie about the Batman of the Future as a one-shot than one about the Riddler or Mr Freeze? Yes, Joker was great, but let's not give every villain an origin film.