There's another new Batman in town (that's the 4th actor currently playing the Dark Knight, if you were counting) and he is voiced by The Matrix actor Keanu Reeves.
Sure, Christian Bale was amazing as the Dark Knight, and Ben Affleck's misunderstood embodiment of the Caped Crusader has its own legion of loyal fans all over the internet. Currently, Robert Pattinson is killing it as a younger version of the Bat — but if there's one thing that all of these performances seem to be missing is a healthy dose of Keanu.
Fans of the internet sweetheart might be about to get a first look at what a Batman played by Keanu Reeves might look like, even if it's not exactly what they have been expecting.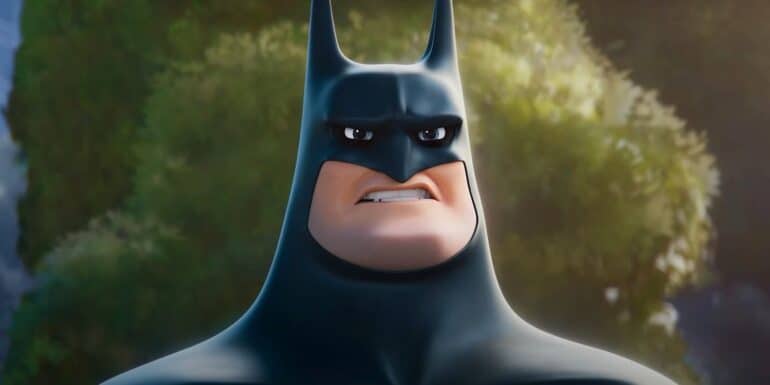 The upcoming DC League of Super-Pets is truly a monkey's paw when it comes to dream fan castings. Not only would fans be getting a Superman played by John Krasinski, but there's also a considerable amount of star talent included in the cast of this animated feature — enough to kickstart a new DC animated universe, one could say.
Dwayne 'The Rock' Johnson is set to play the lead as Krypto the Superdog. One of DC's most beloved pet characters, Krypto is set to meet with the pets — and owners — of some of the most iconic members of the Justice League. Of course, we can't talk of the League without mentioning the perpetually-brooding Dark Knight of Gotham, Batman.
Instead of choosing one of the previous Batman actors to reprise his role, DC League of Super-Pets will have a Dark Knight played by none other than John Wick himself, Keanu Reeves. A trailer has already been released, giving fans a glimpse of what to expect from another excellent Keanu performance, this time in an animated DC flick.
It seems that, like most of the characters in this film, this Batman won't be taking things as seriously as his live-action counterparts. There's still tons of silent brooding involved — that's a Batman signature, after all — but this Caped Crusader will also be preoccupied with things like trademarks and his hero popularity. In a nutshell, it seems like DC might be keeping some remnants from how Batman used to behave in The LEGO Batman Movie.
The similarities between Keanu Reeves' Batman and the LEGO one are more than a mere coincidence, however. The team responsible for the animation of DC League of Super-Pets will be the Canadian studio Animal Logic, which was previously responsible for the gorgeous visuals of the LEGO films.
Joining Keanu is Kevin Heart as Ace the Bat-Hound, Batman's loyal canine companion. The movie revolves around Krypto and Ace, as they must join forces and assemble a team of super-powered animals to rescue the Justice League from the clutches of the evil Lex Luthor.
As mentioned before, the movie is a gold mine of acting talent, featuring the voices of Dwayne Johnson (as Krypto), Keanu Reeves (as Batman), Kevin Heart (Ace The Bat-Hound), John Krasinski (as Superman), Diego Luna (as Chip), and Marc Maron (as Lex Luthor), among other yet-unconfirmed voice talents. The film is set to be released in theatres on May 20, 2022, with its HBO Max premiere happening 45 days after its theatrical release.
Coincidentally, DC League of Super-Pets was set to be released last year, but its release conflicted with that of The Matrix Resurrections. It has definitely been a busy season for Keanu Reeves. As for what his role in this film might mean for the future of the series, well, only time will tell. For now, the movie looks promising enough to guarantee the franchise treatment by Warner Bros, so we can only hope that the DC Pets cinematic universe continues to grow after this flick — with Keanu as the lead, of course.
What do you think of Keanu Reeves as the new Batman?