"Jingle bells, Batman smells!"
Over the years, Batman has fought his fair share of lunatics and murderers in Gotham's most unsavoury of places. Despite all of his crime-fighting and emotional trauma, Batman always finds time to celebrate Christmas – in his own way.
A surprising number of Batman stories take place around the holiday season. The cheery lights and warm fireplaces are a stark contrast against the Caped Crusader's stern face and perpetual melancholy, Christmas and Batman are more closely related than most people would like to admit.
But why do these two things always go hand in hand? It's not like we've had a lot of Halloween stories featuring Superman (that distinction also goes to Batman,) so why do we associate the Yuletide season so close to such a dark and brooding character? Let's take a look at some of the best Christmas stories featuring Batman, as we try to understand the Dark Knight's fascination with the season.
"Jingle bells, Batman smells… Robin laid an egg!"
'Twas the Night…
The relationship between Batman and Christmas is nothing new. In 1944, Batman #27, the Dynamic Duo investigate the reason behind Gotham's skyrocketing Christmas tree prices. As it turns out, a young orphan has been cornering the market, forcing every other retailer in the business to sell their trees at an outrageous seven dollars.
Batman #27 is a combination between It's A Wonderful Life and A Christmas Carol, where Batman and Robin change a young Scrooge's life for good. It's a touching Golden Age story that's full of holiday charm and would set Batman on a path of Christmassy adventures for years to come.
"Jingle bells, Batman smells… Robin laid an egg! Batmobile lost a wheel. And Joker got away!"
Next up, we have 1996's The Long Halloween. Don't let the name deceive you: this is a story about every popular season of the year, not just the spooky ones. A killer breaks loose in Gotham, killing a criminal in every festivity, and it's up to Batman to stop the Holiday killer before he strikes again.
The comic's third issue is aptly titled "Christmas," and deals with Batman solving the murder of one of Carmine Falcone's bodyguards.
Perhaps the most well-known Batman Christmas comic of them all is 2011's spectacular Batman: Noël. This is a proper retelling of the classic Christmas Carol story, complete with the three "spirits" and Batman as Ebenezer Scrooge. Written and illustrated by Lee Bermejo, Noël is one of the most beautiful Batman comics ever written, perfectly encapsulating the difficult relationship between the brooding hero and Christmas time.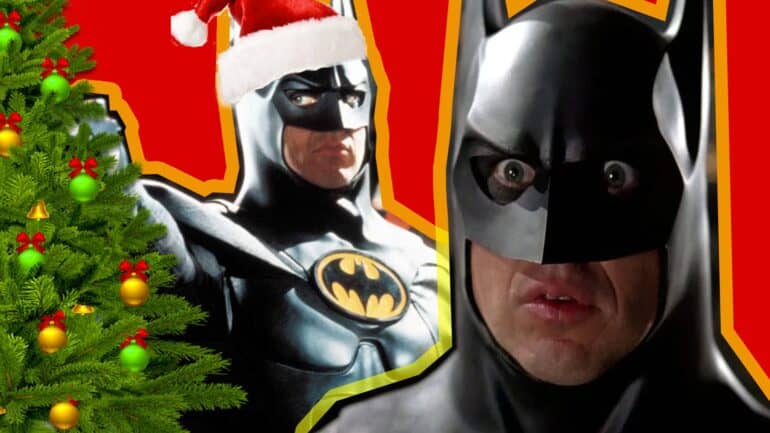 In Other Media
Batman is more than a comic book character: starring in multiple films and video games, the Dark Knight has been dealing with the Christmas season outside of his comics too.
Thanks to Tim Burton's Batman Returns, the mainstream fans quickly noticed that Batman and Christmas go together like coffee and cream. Although it was darker and more violent than its 1989 prequel, Returns captivated the holiday spirit in a way that only Burton can.
All together now: "Jingle bells, Batman smells… Robin laid an egg! Batmobile lost a wheel. And Joker got away!"
Some episodes of Batman: The Animated Series also feature Christmas in their stories. The classic Christmas With The Joker not only contains references to It's A Wonderful Life: it also sees Joker escaping from Arkham Asylum riding a rocket-powered Christmas tree.
And how could we talk about Batman without mentioning the incredible Arkham video game series?
In Batman: Arkham Origins, a rookie Dark Knight faces off against a legion of assassins on Christmas Eve. The game lets players see Gotham in all of its Christmassy splendour, with some of the thugs even reciting the traditional "jingle bells, Batman smells" ditty before you punch them in the face. It's truly a wonderful game to get in the spirit of the season, and the perfect way to celebrate Batman and Christmas both.
See, Batman and Christmas go together like… like coffee and cream. Really dark and bitter coffee, of course.