Everyone is super excited to find out what is happening with Superman: Legacy. And while fans are having a go at guessing who the man of the hour will be, celebrities are poking some fun as well. Jack Black posted a comedic video of himself accepting the role of Superman. And, of course, Samukarts did what he does best and gave us some epic art depicting Jack Black as Superman.
RELATED: Superman & Lois Season 3 – What We Know So Far
Jack Black as Superman
On the 25th of February, Jack Black posted a hilarious video on Instagram where he gets a call from James Gunn and reluctantly accepts the role of Superman. I suggest you go and watch the video for yourself right now because I'm about to spoil it.
The video starts in black and white with Jack Black sleeping outside on a lawn chair, under a blanket, and wakes up to a phone call. He jovially calls James Gunn 'Jamey Jamey Gunn Gunn' and acts like the co-head of DC Studios is trying to convince him to accept the role of Superman for Superman: Legacy, which he initially refuses because he has 'already been all the heroes'. Finally, he accepts, pulls the blanket away to reveal himself in a skin-tight Superman suit, and immediately takes off into the 'sky'.
Wonderfully, and in typical Jack Black fashion, the flying scene was filmed with the help of his dad making his cape "wave in the wind". At the same time, he does a horizontal Superman pose on a table, with the acapella Superman theme song playing in the background. It truly is a masterpiece.
RELATED: Brightburn 2: Why the Superman Horror Film Deserves a Sequel
Samukarts At It Again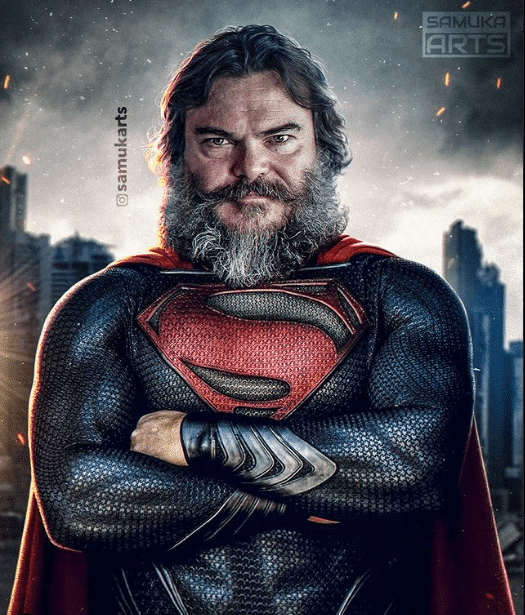 We've talked about this amazing artist before and will continue to. Samukarts on Instagram does some of the most amazing fan art that is out there, bringing fan-castings to life left, right, and centre. Some of his art looks better than the original, making you wonder why directors aren't asking him to do the castings for their movies.
Whether or not this particular post was inspired by his own ideas or the video that Jack Black posted, we will never know, but I, for one, am grateful to experience both. While Jack Black's video was hilarious, Samukarts places the actor in the world of Superman with a bit more of a serious tone, with a beautifully detailed Superman suit, and the chaos that usually surrounds superheroes in DC films.
Samukarts posted the image on the 28th of February and captioned it, "SUPERMAN LEGACY Revealed who will play the @jamesgunn of #Superman on #DCU" (translated to English). It seems like he is referencing Jack Black's video and is playfully going along with the joke and creating this fabulous fan art.
On a more serious note, we are still waiting to see what is going to happen with the casting for Superman: Legacy, but James Gunn has made it pretty clear that he is looking for a younger cast to reboot the DC Universe. Whether he is going to do this with just Superman, or is going to do this with all of the heroes that we know and love, we will just have to wait and see. Based on this knowledge, unfortunately, it seems like Jack Black is out of the running for the role of Superman, but a movie with him as the lead superhero would be amazing!
RELATED: Superman Awakens: Fan-Made CGI Film Looks Absolutely Unreal
TL;DR
Jack Black posted a video where he accepted the role of Superman.
Samukarts loved this idea and made an amazing fan art image of the concept.
We are still waiting to see who will actually be in the leading role in Superman: Legacy.
Would you watch a Superman Movie with Jack Black as Superman?