In The Dark Knight Rises, we watch Batman go up against Bane and Talia Al Ghul. It's been eight years since Harvey Dent died, and Bruce wore the mask. However, Bane's activities force Batman to come out of retirement and try to take him down. Of course, this doesn't go very well for Batman, and he loses badly. Several curious fans wondered how Batman could defeat Bane after such a devastating loss during their first encounter. Well, there's a simple answer.
RELATED: The Dark Knight Is Officially The Greatest Comic Book Movie Of All Time
Why Bruce Lost the First Time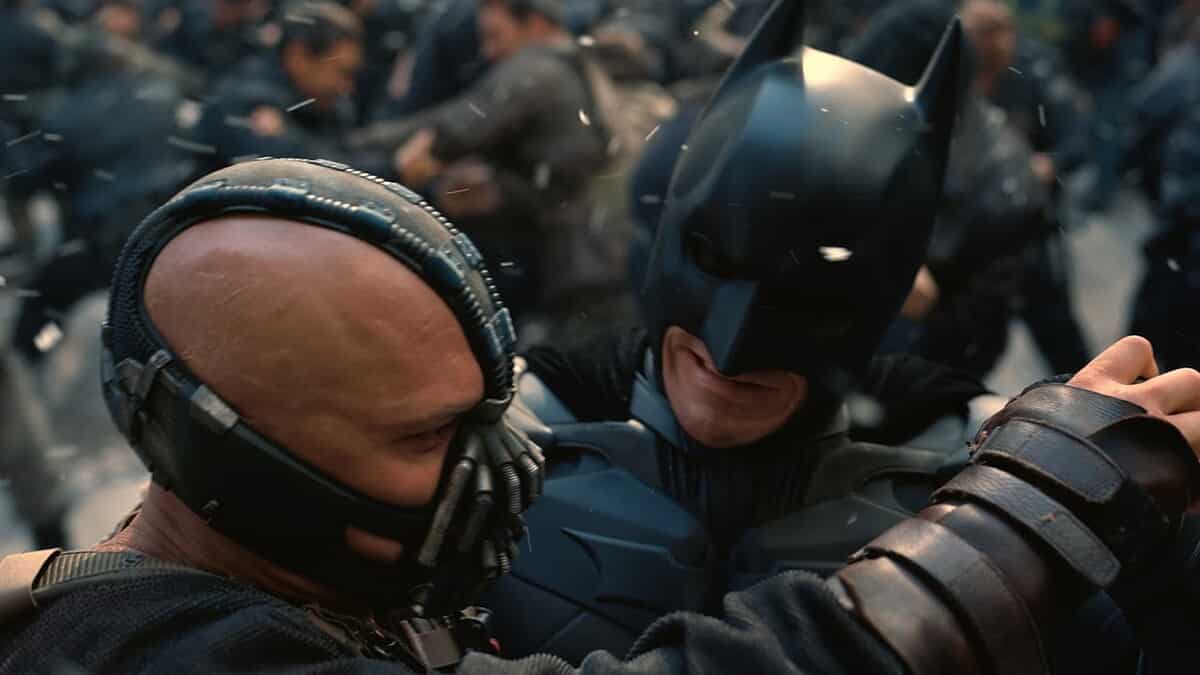 There are several reasons why Batman lost his first fight with Bane, but the biggest reason sits in the very first thing he says to Batman as the fight begins: "Peace has cost you your strength. Victory has defeated you."
Bruce's journey in the Nolanverse is balanced by the number of times he loses vs the number of times he wins. It starts in Batman Begins: he misses the opportunity to kill his parents but regains a solid moral compass through Rachael's help. Next, he loses his first fight against Scarecrow but gains immunity to the toxins. His final victory in the film isn't exactly a total victory. Batman saves Gotham, but he's lost his house and the woman he loves.
This balancing act continues in The Dark Knight. His failure to recognise how dangerous the Joker is causes him to play right into his hands. As a result, he loses support from everyone, even Gordon, and almost takes off his mask. When Harvey takes his place, it's a moral loss, but they catch the Joker.
This leads to the ultimate downfall of the heroes of Gotham: Harvey Dent is burnt to madness, Rachael is dead, and the Joker walks free. Batman's final victory against the Joker is meaningless because of what Harvey is driven to madness to do and what Batman has to do as a result. He loses his friend and his reputation for the sake of a false victory.
This "victory" causes Batman to fall to his weakest point and thus leads to his ultimate defeat during his first fight with Bane. After eight years of guilt and not being Batman, Bruce is weakened, out of shape, out of practice and not ready to be the saviour of Gotham.
RELATED: Christopher Nolan Accused of Whitewashing Villains in The Dark Knight Trilogy
How Batman Could Defeat Bane the Second Time
Talia and Bane's biggest mistake was leaving Batman alive; if the past proved anything, an angry Batman is very difficult to kill. With help from the prison doctor, Bruce's back heals, and he gains the determination to get back into shape and take down the people that would dare to bring harm to Gotham.
He also learned Bane's one weakness and took full advantage of it in their final battle. As soon as the two of them get to each other in the final battle, Batman immediately punches Bane in the face and breaks his mask, forcing him to deal with the excruciating pain of past injuries.
As a result, Bane becomes unfocused and desperate, dealing brutal punches which miss in his agony. Meanwhile, Batman is fully focused and ready to get rid of the man who has been tormenting Gotham for months. Batman's anger and knowledge of Bane's weakness lead him to ultimate victory.
RELATED: How The Dark Knight Changed Comic Book Movies Forever
TL;DR
Batman deals with an equal number of victories and losses in the Nolanverse.
His false victory against Joker and his lack of practice lead to his loss against Bane.
His anger and knowledge of Bane's weakness lead him to victory the second time he fights Bane.
RELATED: The Dark Knight Trilogy – The Batman Movie Standard
What did you think about Batman's ultimate defeat of Bane in The Dark Knight Rises?