For most DC fans, there was an odd sense of déjà vu as they watched the climactic finale of WandaVision this past week. As the two Visions fought through Westview, many couldn't help but notice how similar the fight sequences were to Zack Snyder's Man of Steel and Batman v Superman. Now, a clip from YouTuber Film Gob, titled WandaVision Copying Man of Steel and Batman v Superman, points out just how much similarities there are.
When Man of Steel released back in 2013, there were many fans from the opposite camp that found Zack Snyder's vision for Superman too dark and too gritty. And over the years that same attitude has been the basis of many online attacks against the DCEU and its creators.
While some might not be a fan of the way the Kryptonian is depicted in the franchise, it's hard to deny that the action sequences are gripping and set a new standard for superhero fight scenes.
If that isn't true, then why are we seeing so much of that influence in upcoming films?
Looking at the above footage of Man of Steel and WandaVision together, it's hard to deny that director Matt Shakman and showrunner Jac Schaeffer weren't inspired by Zack Snyder's DCEU films.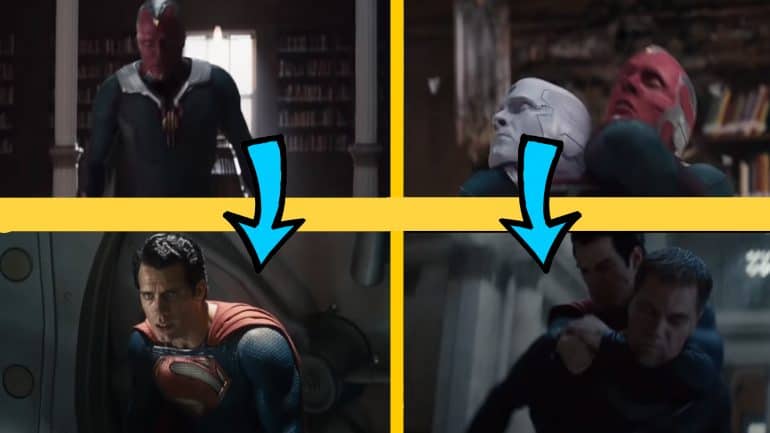 You see it, right?
WandaVision's White Vision holding up Wanda Maximoff looks very much like the sequence where Antje Traue's Faora lifts Martha Kent.
Both scenes end with the hero flying in to the rescue and then beating the bad guy into the ground as they crash into a vehicle — which causes a massive explosion.
The sequence sees Vision and Superman recovering for a brief moment before the fight continues again. The only real difference here is that instead of the good guy attacking first, it's reversed to show White Vision flying crashing into Vision.
The fight sequences in the air are similar too — although one could argue that both the WandaVision and Man of Steel scenes were inspired by The Matrix here.
The battle scenes that follow are similar too. Both White Vision and General Zod blast beams across the room.
The battle continues in the air with both White Vision and Vision blasting energy beams at each other. This plays out almost exactly as the Doomsday versus Superman fight in Batman v Superman.
And then there's the infamous head grip, chokehold shots. Doesn't that look familiar?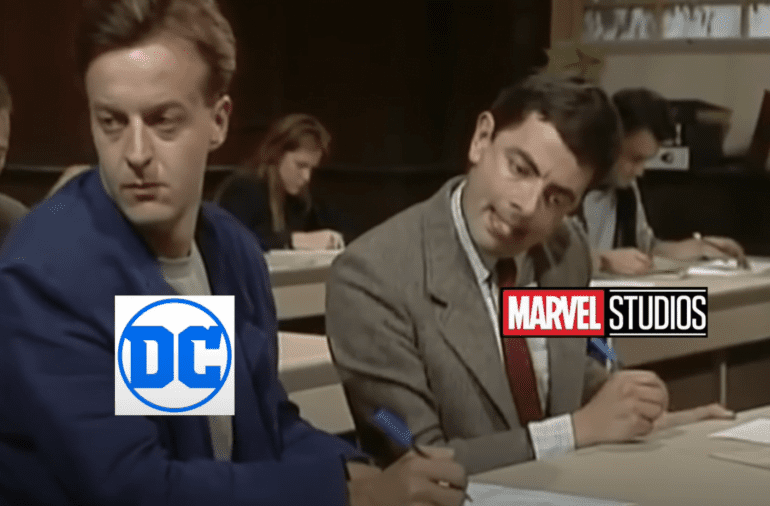 The double standard
At this point, most fans have committed to where they stand in the Marvel versus DC rivalry. While directors like James Gunn have been open about how ridiculous it is to choose sides, fans continue to do so.
So, it's no surprise that there is already a large crowd of Marvel fans that are ready to point out that the above is just coincidental.
Except, it's not. And that's okay too.
Why can't both parties learn from each other? Why is it so crazy to think that Man of Steel influenced WandaVision? And why wouldn't it be okay if it did?
Regardless of whether you believe the above sequences were copied or not, fans on both sides need to realise that it's okay to like both the dark and the gritty or the happier more fun superheroes.
What are your thoughts? Did WandaVision steal from Man of Steel & Batman v Superman?