Blah, blah, blah. Insert something about Batman's movie kill count here.
Insert random facts about why Batman doesn't kill.
Add a complaint about Batman branding guys in prison here.
The honest truth is I don't mind Batman killing in Batman v Superman at all. In fact, it made a lot of sense to me.
He's a really angry Batman that has been brought to the edge by a long history of crime and fighting bad guys. He's had enough. He is pushing up the ante and killing criminals. He is a vigilante. He is a criminal – as he puts it himself.
I can buy that. I can understand the direction.
Here we take a look at some of the "killings", "murders", "acts of justice" – whatever you want to call them. Mr. Sunday Movies breaks it down.
Ben Affleck's Batman in Batman V Superman certainly didn't shy away from the occasional murder. And I use the word occasional loosely. So here they are! All the murders in all there glory! Also here are some notes.

Here are some rough guidelines I went by if anyone cares:

1) If you're in a car and the batmobile hits you, you're probably dead.
2) I only counted the two in the backseat that gets a car flipped on it because it only hits the back end. Also, I'm not entirely convinced they're dead. But whatever non of this means anything. Also, Nick Mason said it was okay.
3) I didn't count the guy Batman punches onto his neck, he probably lived through that. Maybe I dunno.
4) The man Batman stabbed looked like it was in the shoulder, though I might be wrong.
5) I didn't count the ones branded because they're fairly indirect kills.
6) I had other things to say but I can't remember.
7) Oh right, thanks to DannyC for pointing out the two grenade kills instead of one in the Patreon cut of this.
8) Believe in yourself.
As you can see, the Batman movie kill count is quite high in Batman v Superman. But, honestly, who cares. Affleck is a really great Batman and his motivations and actions make sense.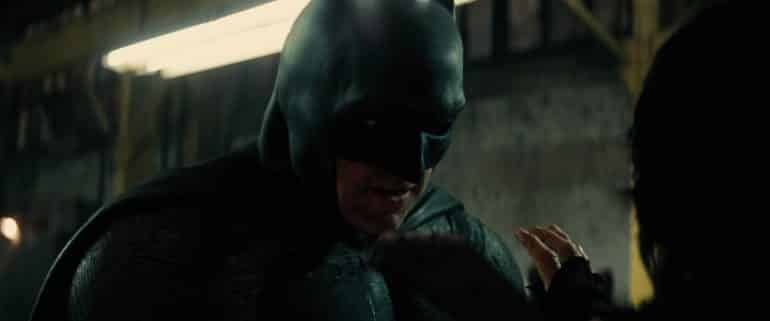 Fearing the actions of a god-like Super Hero left unchecked, Gotham City's own formidable, forceful vigilante takes on Metropolis's most revered, modern-day saviour, while the world wrestles with what sort of hero it really needs. And with Batman and Superman at war with one another, a new threat quickly arises, putting mankind in greater danger than it's ever known before.

Batman v Superman: Dawn of Justice is directed by Zack Snyder starring Ben Affleck as Batman, Henry Cavill as Superman, Gal Gadot as Wonder Woman, Amy Adams as Lois Lane, Laurence Fishburne as Perry White, Diane Lane as Martha Kent, Jeremy Irons as Alfred, Jesse Eisenberg as Lex Luthor, Ray Fisher as Cyborg with Callan Mulvey, Holly Hunter as Senator Finch and Tao Okamoto as Mercy Graves.