With more and more content creators entering the space every year, so does the need for enhanced equipment grow. Previously, most high-end monitors were explicitly designed for gaming as their core focus. However, with the rise of the content creator, the need for an all-round display has become critical. ASUS has been a leading manufacturer of displays over the years. The brand recently released a new lineup of displays to suit any individual need. One of those units is the ASUS ProArt 34″ Display (PA348CGV).
RELATED: ASUS ROG Strix XG32UQ Review – A Premium Gaming Monitor
Build and Design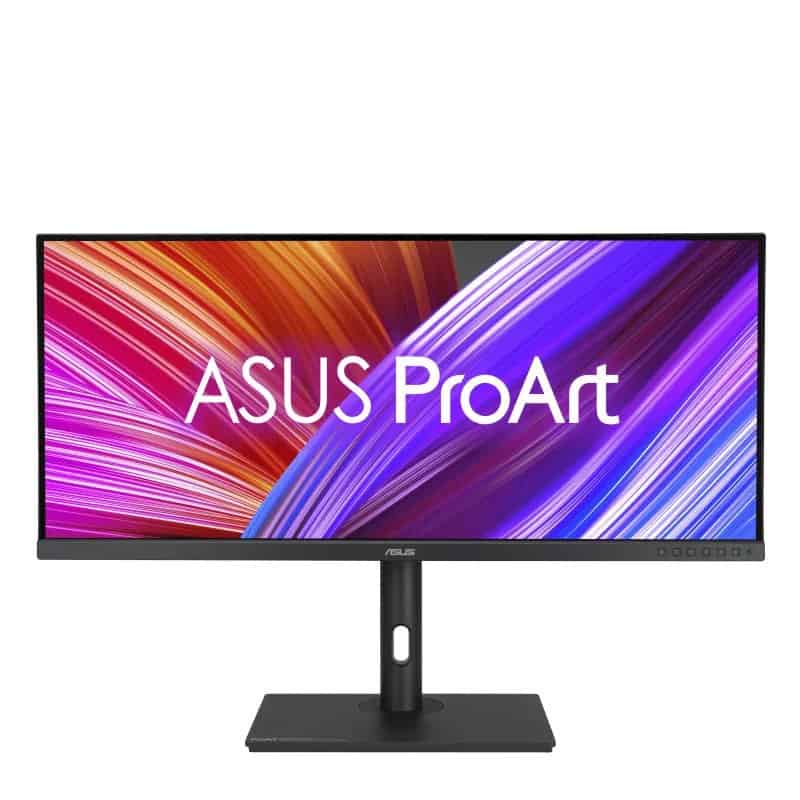 Upon receiving the delivery of the ASUS ProArt 34″ Display, I was struck by the size of its packaging. Not only that, but it was bulky and quite heavy to attempt to lug around. However, I soon learned that this weight was not a result of bad design but quite the opposite. 
As with conventional monitors, it has a stand, neck and display. These are typically assembled by joining the three elements and resting them on your desk. However, the ProArt Display has a second option, which I immediately attempted to install.
Instead of the base resting on a flat surface, it has a secondary option to clamp onto the back of your desk. With my current setup, I have a dedicated monitor stand that extends from the desk to elevate the monitor above my keyboard or laptop. This is where I attached the clamp. The clamp and neck are where most of the heft lies, crafted in metal and providing excellent stability. Once in place, you can attach the display to the top and slide it up or down to the perfect height. It works great.
While I had attached the neck to an existing monitor stand, it can also be attached to the desk at a lower height. With the unit's long neck, you can then elevate it relatively high up. It's pretty flexible.
The frame of the display isn't metallic. Instead, it has a plastic polymer finish. However, this doesn't mean that it's flimsy – on the contrary. It, too, is robust in build and feels that way as well.
Its buttons are positioned on the bottom right of the display. Each button is solid, with a firm press required to activate it.
Overall, the design of the ASUS ProArt 34″ Display is both impressive and minimalistic. There aren't any over-the-top frills to write home about, but it gets the job done well. Once I set up the monitor and placed it into position, I didn't have to tinker with it again for any reason.
Screen and Display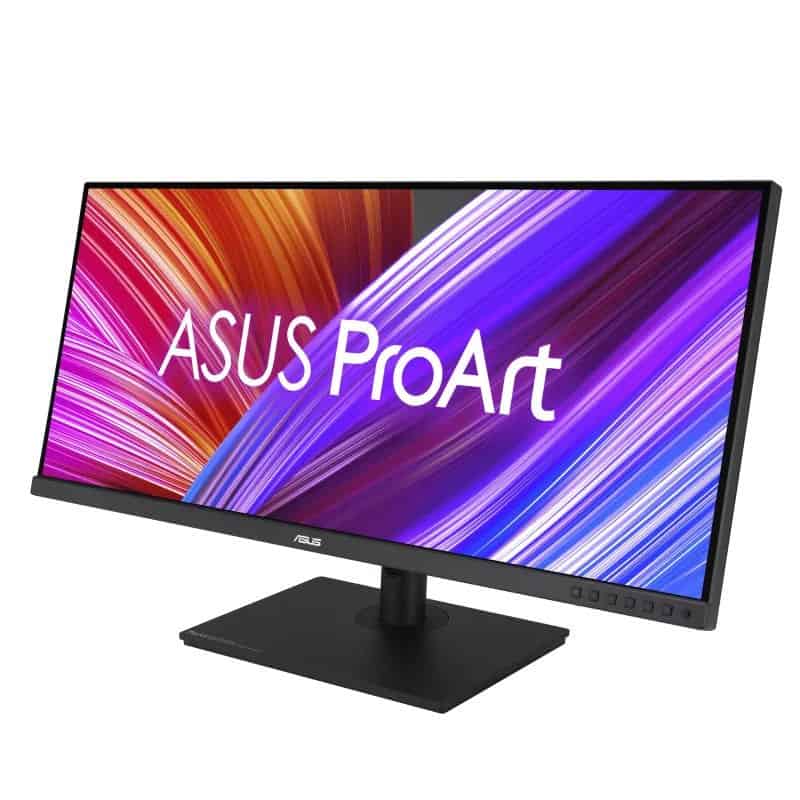 When it comes to an ideal setup for the monitor, much of it is based on preference. However, that can sometimes be dictated by the device itself. For example, the ASUS ProArt Display has a 34" panel with a widescreen configuration.
It has a 2K resolution, which can be set up as two 2K screens thanks to its widescreen configuration with a 3,440×1,440px resolution and 21:9 aspect ratio. While reviewing the unit, I connected the device to my laptop and ran a dual-screen approach on the monitor. This meant that I was effectively running a three-monitor configuration. It worked great.
Unlike most widescreen monitors, the ASUS ProArt Display does not feature a curved panel. At least, that's the option on the PA348CGV. However, there is another model that offers 1900R curvature if you do require that specific approach.
Additional specifications include a 120Hz IPS panel, HDR support, an colour gamut rating of 98% DCI-P3 as well as a colour accuracy with delta-E of less than 2, which is excellent. Furthermore, it has an impressive 178° viewing angle, even for its wide-angle design.
These are excellent specifications and impressive reading when considering your next display purchase.
Features and Options 
Even with a great list of specifications, it's not always a guaranteed sale with any tech device. However, a list of features will go a long way to adding additional value for potential customers when considering your product. The ProArt Display has plenty of features.
The first, and probably most important, are the connectivity options. It features a Type-C USB port with 90W power delivery and DisplayPort 1.4 and x2 HDMI v2.0 options. There are also x4 Type-A USB ports and an earphone jack. These are adequate for all your modern devices.
There are plenty of Menu options available as well. As previously mentioned, the buttons are crisp, with the navigation options also adding to the ease of use. To traverse the menu, there is a separate miniature joystick on end to make this quite a breeze. The menu has a great aesthetic with its navy-blue gradients and gold text.
In the Menu, you can configure the complete list of settings, including several presets. Additional options include Blue Light filtering in multiple modes, the Palette type, Image settings, Sound, Picture in Picture, Screen Fit, Singal inputs, and more general settings.
This makes customisation of your display intensive. For example, there are four colour temperature settings along with five gamma modes. Additionally, there are also six colour hue and saturation adjustments, gain and offset. These get technical if you drill down, but they can be useful if getting the precise colours is a must.
Real World Performance 
On the more technical side, the ASUS ProArt 34″ Display doesn't have all the modern trinkets. This includes Quantum Dots, a Mini-LED backlight or an OLED panel. However, real-world performances are still great for content creators. 
To start with, the unit has excellent brightness and solid colour accuracy. This makes working on the finer colour details much more straightforward. What's great about the PA348CGV model is that it offers 100% sRGB and 98% DCI-P3. Additionally, it's also a true 10-bit panel. This means the panel can offer a broader range of colour ranges with little to no noticeable colour banding gradients to achieve actual colours.
The display is a little oversaturated with its default settings. Many users will prefer this, especially when creating content. However, with all the options available in the Menu, you can finetune this configuration. The colours are vivid as a result and look bright on reproduction. During the review period, I spent little time adjusting how I liked my colour options unless I was experimenting with the range for testing purposes.
It carries a 375 nits maximum brightness, which is sufficient for most users. In fact, I only needed about half the brightness and turned that down accordingly on most days.
Being a conventional IPS monitor, it doesn't offer the same level of contrast as an OLED panel. It's still decent overall but no match for the higher-end solutions. It has a rating of 1000:1 contrast ratio but actual tests put this closer to 1120:1. This is an improvement over the advertised ratio and not bad, all things considered.
The display offers a 3440×1440px resolution on a 34" widescreen panel. As a result, it is not the crispest in terms of image quality but is also not pixelated. Nevertheless, it'll be more than ideal for most users.
Another aspect, although geared towards content creators, is its 120Hz refresh rate. This means that even if you're looking to utilise it for gaming, it will provide excellent performances as well. It also officially supports AMD FreeSync Premium Pro and also does work with NVIDIA's G-Sync when enabled.
Is the ASUS ProArt 34" Display Worth It? 
If you're a content creator and need an all-purpose monitor, the ASUS ProArt 34" Display (PA348CGV) is an excellent choice. The device has a great colour coverage map with its 10-bit panel. Although a 4K panel would have been a great option, the 2K display is still great. It'll be a joy for content creators, especially using the widescreen panel, which can be segmented into two separate workspaces.
The Review
ASUS ProArt 34"
The ASUS ProArt 34" Display is a great monitor for content creators but doubles as a solid gaming monitor as well. It offers a great set of features and excellent colour reproduction.
PROS
Ultra widescreen
Great build and stand option
Customisations
120Hz refresh rate
90W Type-C
CONS
No HDR10 support
Speakers are average
Review Breakdown
Ease of Learning

0%

Ease of Use

0%

Design

0%

Performance

0%

Enjoyment

0%